Weekly Japanese Forecast – Deep Days on the Way
Valid Thursday 13th January– Thursday 20th January
Another week, another set of snowy days for Japanese resorts. We're around the middle of January and since it started snowing well towards the end of last year there has been consistently good conditions to be found in many resorts around the country. The current 10 day snowfall accumulation heatmap is shown below and it look similar to most since these weekly forecasts began, good looking falls once again on the way for Honshu and slightly less on the way for the areas around Hokkaido. For a rough idea the top accumulations here are around 180cm in central Honshu and around 70-80cm in Hokkaido. The brunt of the large accumulations will fall Thursday/Friday then Monday/Tuesday offering some really deep powder days that we know and love from Japan. It looks like another week of quality snowfalls that many of us are itching to enjoy.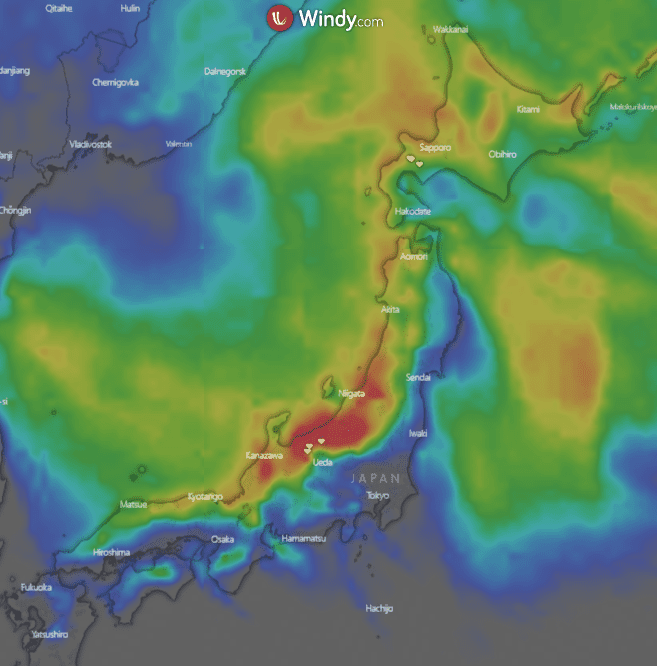 Forecast
Thursday: A snowy Thursday especially for Honshu with possible big accumulations around areas like Hakuba and Nozawa. Slight differences between models but totals could be around 30-65+cm from just today depending on where you are. Heaviest falls look to be overnight, setting up a monster Friday. For Hokkaido we are expecting snow but not to the same extent as Honshu areas. Totals around 8-25+cm possible.
Friday: After a big Thursday the snow continues around Honshu easing through the evening. Decent northwesterly winds should bring some wind chill, but the snow will be deep and the stoke undoubtedly high. Through the day totals are around 15-25+cm. Decent falls continue around Hokkaido as well with totals around 14-28cm
Saturday: Stormy conditions depart Central Honshu with some small flurries left in parts as the low pressure responsible for the past two days clears to the northeast. Some sunshine with a partly cloudy day. Up north in Hokkaido light snow continues through the day before easing into the afternoon and evening. Totals look small with flurries giving sub 6cm.
Sunday: Nice conditions for Honshu with some sun in the morning then some cloud coming in through the day, winds shouldn't be very strong. Cloudy around Hokkaido with some flurries expected through the evening.
Monday: Things ramp up again around Honshu as low pressure sits off to the northeast, driving northwesterly winds over the Sea of Japan. Snow should be heaviest later in the day through the evening and totals look to be big, around 30-55+cm providing some great conditions. For Hokkaido again they don't receive the same luck, some snow expected but totals look much more subdued with around 5-15cm.
Tuesday: Falls continue through Honshu with a little less strength than Monday. Should make for some awesome conditions with around 10-25cm in parts. Further north snow also continues with slightly less expected, totals around 8-20cm. Reasonably cool temps thanks to northerly winds.
Wednesday: The low pressure responsible for the past few days snowfalls hangs around in the Pacific, driving northerly winds and some consistent snow for Wednesday Thursday. For Honshu totals look around 8-20cm, for Hokkaido a little less around 4-15cm.
Thursday: Snow continues with some light falls up around Hokkaido, totals approximately 2-8cm. For Honshu we are looking at 8-20cm again.
Extended Outlook
A big week ahead especially around Honshu should offer a few really good pow days for those lucky enough to be out there. As I said earlier best days of the week look to be Thursday/Friday and Monday/Tuesday, with plenty of snow there should be stashes to enjoy all through the week.
After this week the snow looks to continue into the next weekend. It's a bit far out now but north northeasterly winds look to return bringing more of the consistent snow we have seen around the country this season. Stay tuned for more on next week but in the meantime, if you are able to get out and enjoy some of the snow on the way it should be well worth it.
Take care.
Grasshopper