New Zealand Forecast Monday July 26 – Wet and Windy Start to the Week
Valid Monday July 26 – Wednesday July 28
After a nice weekend today is set to be full of wet and windy weather. We see a trough and frontal system move over the country from the west, with low pressure all over the Tasman. This will induce strong northeasterly flow and deliver precipitation all over the country. The worrying thing is that this precipitation has a strong chance of falling as rain in a number of ski resorts but on the other side of the coin we could see around 4-15cm of snow in the South Island today and possibly over 20cm to fall up north if remains cold enough. Expect this weather to clear up around Wednesday in the South Island and a little bit later in the North. Strong winds will greet anyone heading out today so take care and enjoy.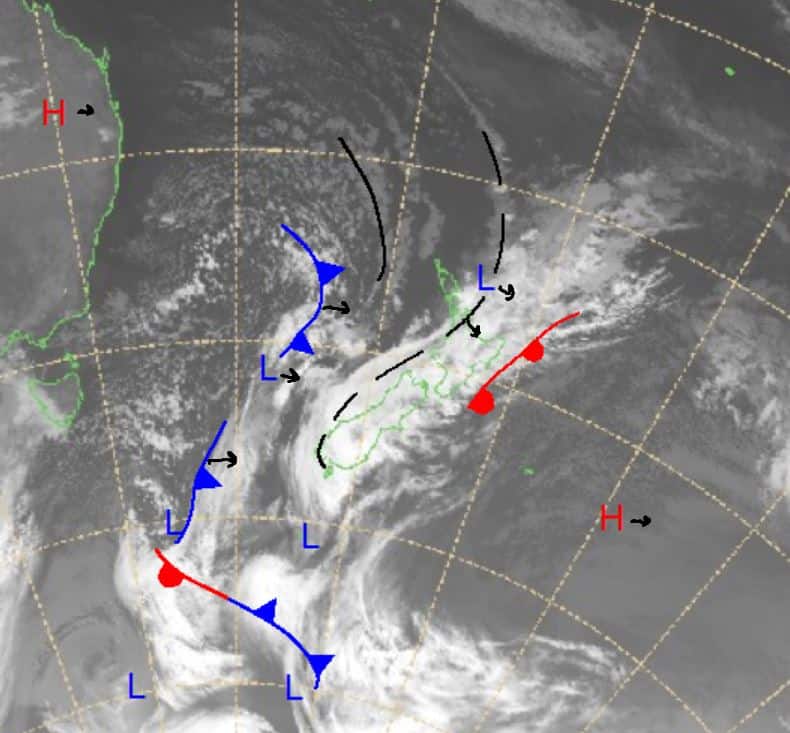 Monday July 26
Ruapehu: Strong northeasterly winds turning northwesterly through the day. Good precipitation, possibility of some rain but also a chance for 8-20cm of snow in there. Freezing level starting high, lowering to 1600m.
South Island: Wet around the Southern Lakes with precipitation probably a mixture of snow and rain. Snow totals could be around 4-14cm  but mixed in with rain will make it wet snow. In Canterbury strong northerly winds and snow is a little more likely in places like Mt Dobson. Totals will really depend on the amount of rain before it gets cold, around 5-15cm.
Tuesday July 27
Ruapehu: Some rain carrying over from Monday. Snow up high shouldn't amount to more than 2-6cm. Strong westerly winds throughout the day.
South Island: Strong to gale winds expected in places. Small totals of snow to around 1100m in the Southern Lakes. Looking like snow will miss Mt Hutt and Porters in Canterbury with some showers expected.
Wednesday July 28
North Island: Southwesterly winds and flurries throughout the second half of the day should be small totals. Cold in the early morning, warming a little through the day.
South Island: The weather clears up offering a fine day around Canterbury and the Southern Lakes. Winds west northwesterly pretty low, stronger early in Canterbury.
Extended Outlook
The system taking us through the first half of this week isn't as snowy as we would like, but hopefully resorts can squeeze as much snow and as little rain out of it as possible. Lower elevation resorts especially around the Southern Lakes could be in for a wet one but we will have to wait and see. This system should clear up by the middle of the week brining us some more sunshine taking us into the weekend.
Grasshopper