Monday 23 September – Snow showers today, then mostly fine
Synoptic Outlook
A wee little low and its trough will give the Aussie Alps a nice top up today of about 3-7cm. The previous few days have chipped away at our snowpack, but this snowfall should freshen up the place nicely.
The rest of the forecast to Thursday will be mostly fine as a high sneaks out of the Great Big Bight and over the Aussie Alps.
Image of The Day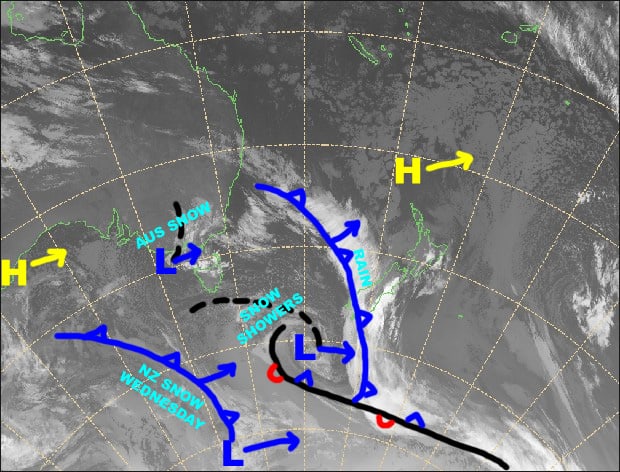 The wee little low and its trough will freshen up the place today with 3-7cm. The next few days will be mostly fine as high pressure sneaks in. Source: NZ Metservice (vandalised by the Grasshopper)
Monday 23 September
Glorious snow showers! It'll start petering out from afternoon after the NW winds have turned to the SW. About 3-7cm should accumulate.
Tuesday 24 September
Mostly fine, but SW winds will push some cloud over Vic resorts.
Wednesday 25 September
A fine start, then some afternoon cloud. Light winds.
Thursday 26 September
Plenty of sunshine with a bit of cloud about the place and a NW breeze.
Extended Outlook
Friday will see a front slip under us, then the weekend may hold a few showers as a shallow low passes by to the north.
High pressure should build next Monday with fair weather likely through until mid-week.
That's all from the Grasshopper. Wanna keep your finger on the pulse of all things snow? Join my weekly email list by filling in the box below. If you have a question or feedback for me, hit me up on facebook.