Australian Forecast Sunday 1 August – Wild Weather Today as Snow Brews for Next Week
Valid Sunday August 1 – Tuesday August 3
Yesterday held out around resorts for a what was a mostly nice day before the weather arrived last night. We have seen a little bit of snow and rain overnight depending on where you are, Buller is reporting 10cm overnight and Mount Baw Baw 15cms. It is looking like this will continue this morning before clearing up in the afternoon around Victoria and maybe a little later for NSW as the front moves over there last. Expect temps to drop through the day and we should see a cold night allowing some snow making around resorts. Strong winds are also expected so take care out there and we may see some wind hold early but it shouldn't be too bad as the winds ease a little through the day. Looking ahead there is snow in the works for Tuesday which will carry through to Wednesday. But for today expect a wild one and enjoy the fresh snow if you're in Buller or Baw Baw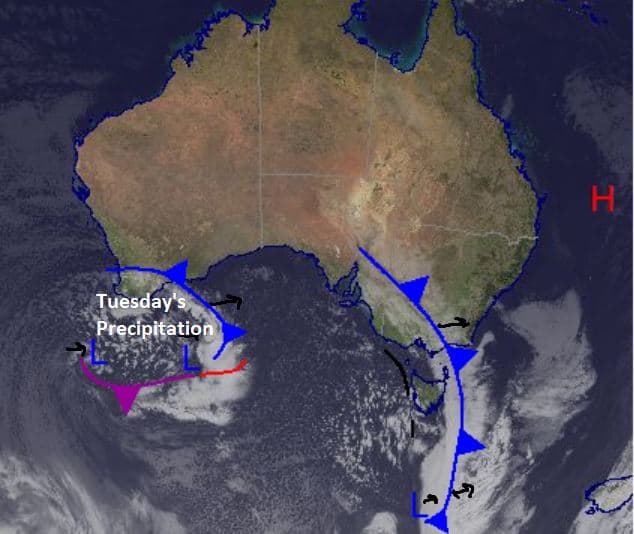 Sunday August 1
Cloudy with a very high chance of precipitation in Victoria and high in NSW. The freezing level is sitting at 1700m early in Victoria and should lower a bit through the day but snow will definitely favour higher elevations. In NSW the freezing level set to drop to  around 1400m late this afternoon.
Monday August 2
A partly cloudy day around Victoria and NSW with snow expected to develop later on and continue overnight with totals around 5-10cm. Freezing levels drop to around 1500 in NSW later in the day  and 1400m in Victoria.
Tuesday August 3
Very high chance of snow around resorts with the freezing level around 1200m early lowering to 900m most places in the evening. Totals right now looking like 10-25cm.
Extended Forecast
As I mentioned earlier there is something brewing for Tuesday. Expect some precipitation to start late Monday but best falls through Tuesday and a little carrying through to Wednesday. This is a result of the low pressure system seen in today's synoptic that's currently over southern WA. Low pressure will move south a little bit as a front develops and moves over the Alps. Right now it is looking like 5-10cm on Monday night with 10-25cm Tuesday. It could be a really nice couple of days in the Alps as freezing levels look to be cooperative. I'll keep you updated on how its tracking and in the meantime, it should be a wild one out there today, enjoy.
Grasshopper