Friday 27 September – A mild, windy weekend, followed by a wintry, snowy few days
Synoptic Outlook
The strong, chilly SW flow over New Zealand will pump another 10-20cm of snow onto Ruapehu today, where reports say 24-47cm has already fallen in recent days. This of course comes with blizzard conditions, but  will add another nice layer to the 1-3m deep snowpack.
Mild NW winds will blow a gale over the South Island this weekend, sending a scattering of rain over from the Main Divide, while a low system approaches from the Tasman Sea.
After the low passes over centre of NZ during the early hours of Monday, another surge of cold air from the SW will spread snow up the country. There is a fair amount of uncertainty regarding how much snow will fall – if the winds are tilted more to the south we'll get a lot, more to the west and Canterbury may miss out.
Image of The Day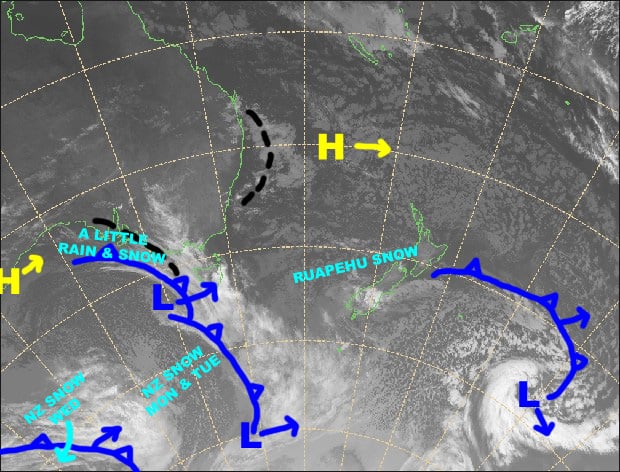 More southwesterlies today, and another 10-20cm more snow for Ruapehu. Source: NZ Metservice (vandalised by the Grasshopper)
Friday 27 September
A cloudy start for the Southern Lakes, but cloud will pop out more and more through the day, as chilly SW winds turn to the west.
Canterbury will be nice and sheltered again with mostly clear skies. Light SW winds turn to the west.
Snowing throughout the day on Ruapehu. Gale SW winds with blizzard conditions will gradually abate somewhat.
Saturday 28 September
Gale NW winds over the South Island will blow high cloud over Canterbury and scattered showers over the Southern Lakes, where snow levels will lift above 1700m.
Fairly cloudy up Ruapehu with a possible rain/snow shower or two. Westerly winds, strong at first.
Sunday 29 September
Strong to gale NW winds continue to blow scattered rain over the South Island, but it should clear up over the Southern Lakes for most of the afternoon.
Rain and drizzle at times on Ruapehu as NW winds strengthen.
Monday 30 September
Snow falling over the Southern Lakes, most likely spreading to Canterbury during the afternoon as gale northwesterlies turn to the SW.
A rainy ol day up Ruapehu, with heavy falls and W-NW gales. Snow levels lowering to about 1700m at times
Extended Outlook
Strong, cold and snowy southwesterlies continue to blow over the country during Tuesday and Wednesday. The Southern Lakes and Ruapehu will do well, but sheltering in Canterbury will see little snow falling there.
A high in the Tasman will make its presence felt during Thursday and next Friday, but doesn't actually make landfall before the next storm hits next weekend.
That's all from me for the New Zealand Season; it's been awesome. Some ski fields have already shut up shop, while others will keep cranking till mid-late October. I'll keep the Aussie forecasts going through the first week of October, then look out for Japan and North America forecasts from December. Join my weekly email list by filling in the box below. If you have a question or feedback for me, hit me up on facebook.
Grasshopper