Monday 16 September – Rain today, but 5-10cm for NSW later, then warm and sunny
Synoptic Outlook
It's warm and wet in the Aussie Alps this morning. But a front marking the edge of a frigid airmass is on its way over Victoria, and will reach NSW this afternoon, where it will turn rain to snow. Only a few snow showers will fall in Victoria, but heavier falls over NSW should see 5-10cm accumulate there.
After that, high pressure will sail through the Bass Strait on Tuesday, leaving a ridge of high pressure, sunshine and warm temps over the Aussie Alps through Wednesday and Thursday.
Image of The Day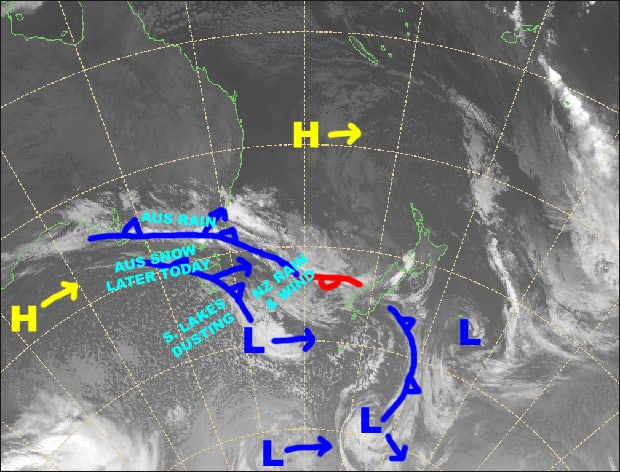 The front about to cross the Aussie Alps will bring a heap of rain, but a cold change behind it will drop 5-10cm over NSW resorts from afternoon. High pressure, sunshine and warm temps during Wednesday and Thursday. Source: NZ Metservice (vandalised by the Grasshopper)
Monday 15 September
Rain with heavy falls and gale NW winds ahead of a front, which will cross Victoria this morning and NSW this afternoon.
A lighter but freezing southerly change behind the front will drop a few snow flurries/showers over Victoria, but heavier falls in NSW should drop about 5-10cm there from afternoon.
Tuesday 16 September
Brisk, cold SE winds push cloud against the south of the Aussie Alps and up and over NSW resorts where there might be a morning snow flurry. Most Vic resorts will be cloud free however, and winds will gradually ease.
Wednesday 17 September
Blissfully sunny and calm.
Thursday 18 September
A nice day, but northerly winds pick up and push in a little bit of afternoon cloud.
Extended Outlook
We'll have warm northerlies during Friday, before a cold front brings a whole swag of rain during Saturday, although it'll briefly turn to snow as the cold air hits with just a dusting likely.
After that, high pressure is likely to dominate over the next several days while a weak front slips under the Aussie Alps Monday and Tuesday next week.
That's all from the Grasshopper. Wanna keep your finger on the pulse of all things snow? Join my weekly email list by filling in the box below. If you have a question or feedback for me, hit me up on facebook.