Friday 4 October – Nice today and Saturday, windy Sunday, then 5cm of white gold
Synoptic Outlook
Here we are guys and gals, the last forecast of the season. Resorts will shut up shop this weekend, except Perisher will keep the dream alive for another week. The snow depth chart at Spencer's Creek is taking its usual rapid dive, after what has been a great season marked by one big dump per month.
Today and tomorrow will be the nicest days left of the official season, even though a weak front will throw up a bit of cloud.
Hairdryer NW winds will go absolutely nuts on Sunday, as a low coming hot off Western Australia barges over Tassie, with severe gales likely.
After a bit of wet stuff later on Monday, cold W-SW winds on the backside of the low will surge over the Aussie Alps turning water to white gold. Snow showers should continue into Tuesday and we could see accumulations around the 5cm mark; time to head backcountry I reckon.
Image of The Day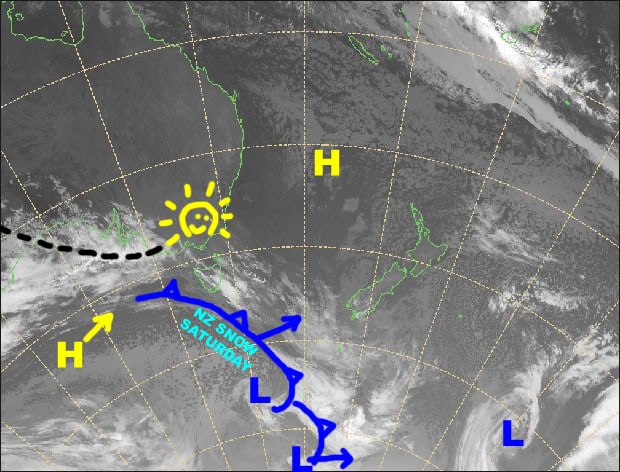 Not bad today and Saturday but windy on Sunday as a low barges over Tassie. Cold W-SW winds on the backside of the low will drop around 5cm Monday night and Tuesday. Source: NZ Metservice (vandalised by the Grasshopper)
Friday 4 October
A fine start, but it'll cloud over Victoria later this morning and NSW this afternoon as westerly winds change SW. A spot of rain or drizzle tonight.
Saturday 5 October
A bit of cloud at the start and end of the day, with sunshine in between. SW winds die away, then a light northerly develops. Another spot of drizzle at night.
Sunday 6 October
Warm hairdryer NW winds will go nuts, reaching severe gale in exposed spots, although it'll be fine with some high cloud.
Monday 7 October
Becoming cloudy with patchy drizzle. Turning to rain in the evening with snow gradually lowering to base levels overnight as strong NW winds turn to a cold westerly.
Extended Outlook
After snow showers peter out on Tuesday, cold southerlies will die away on Wednesday.
Easterlies are likely to develop on Thursday and persist through next weekend, while a low spins up in the Tasman Sea. During this time, we should see a fair amount of cloud and possibly some rain and drizzle.
That's all from the Grasshopper this season folks. Keep and eye out for my forecasts for North America and Japan, starting mid December. If you have a question or feedback for me, hit me up on facebook.