Weekly Japan Forecast – Snow Today before Spring Sunshine Sets in Again
 Written Thursday 2nd of March (Japan Standard Time)
After good snowfall over the weekend, we've had a few very spring-like warm, clear days here in Japan. It's been great!
This week will roll out in a similar fashion, and, overall, it'll be a period of comparatively low snowfall, equating to about 15-40cm for central Honshu, and 10-25cm farther north.
The most significant snowfall will come later today as freezing levels drop, followed by mostly warm, sunny skies over central Honshu from Friday, and farther north from Sunday. A couple of weak fronts will also bring a spot of mixed precip to northern Honshu and Hokkaido Tuesday and Wednesday.
This is my last forecast for Japan this season. It's been a blast. Fortunately, there is still a month or two left to go before resorts shut their doors. With metres upon metres of snowpack built up over the winter months, and sunnier, more settled skies, spring is still a great time to hit the slopes here, as our very own Nadine Robb can attest to after hitting the slopes in northern Honshu (the Tohoku region). You can read about her trip here, but be warned – you'll be adding yet another ski trip to your bucket list if you do.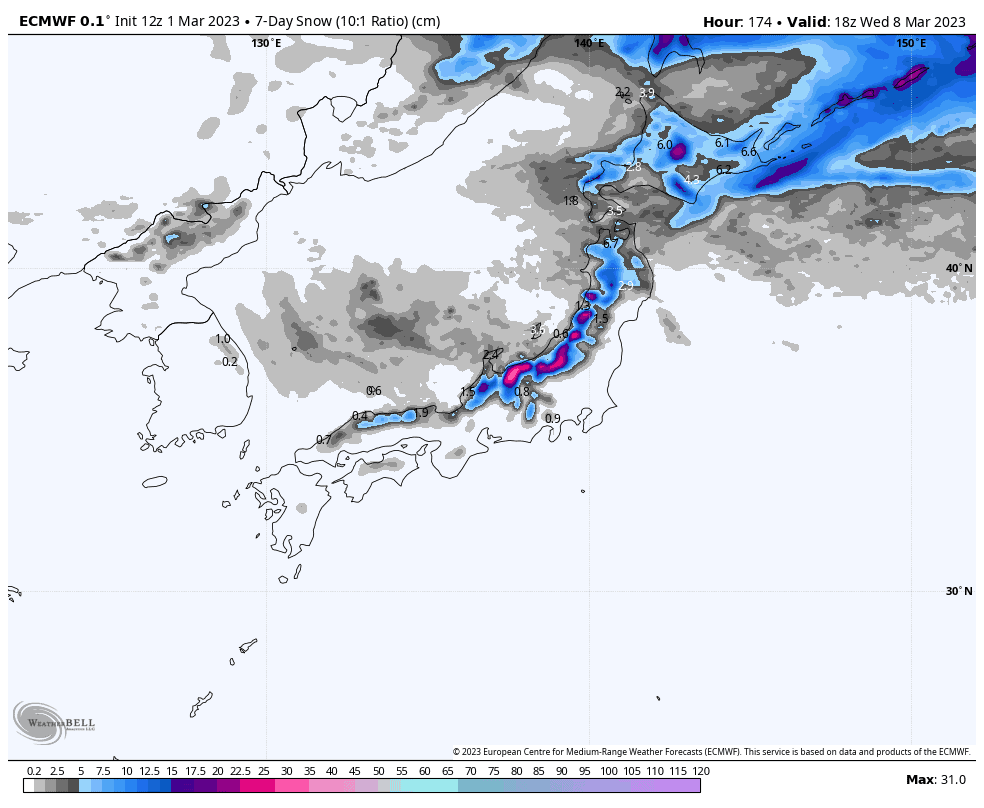 Thursday 2nd & Friday 3rd March
Today, a low will continue to skip away to the NE after having passed over Honshu last night. With the cold front still sitting just off the west coast, freezing levels over Honshu are currently up around 1000-1400m over the central region and about 600-900m in the north. Thus, we have a mix of rain + snow, which is falling rather heavily on central Honshu, especially the Hida Range.
Freezing levels will gradually drop and SW-W winds will turn to the NW as the cold front sweeps south over Honshu later today, with heavy snowfall reaching base levels of central Honshu, and light-moderate falls in the north, before it all starts to ease tonight.
Friday will be mostly sunny for much of central Honshu, but resorts in the east, as well as those in northern Honshu, will continue to see light flurries into the afternoon.
Up on Hokkaido meanwhile, a N-NE flow will see central and eastern areas copping light-moderate falls this morning, before colder NW winds clear things up this afternoon. Westerly winds during Friday will see snow showers building over central-western Hokkaido throughout the day.
Saturday 4th & Sunday 5th March
Saturday, a weakish low and cold front combo will bring mostly light-moderate snowfall to Hokkaido and northern Honshu during the morning, although a blob of heavier snowfall is likely in the north of northern Honshu. Light sprinkles should also reach the Echigo Range of central Honshu during the afternoon, while the rest of central Honshu will just see cloud after a mostly sunny morning.
Sunday, a dry high will bring sunny spring skies and lifting freezing levels – a great day out for whole the family. Winds will be calm over Honshu, but a stiff W-SW winds will blow over Hokkaido.
Monday 6th to Wednesday 8th March
Throughout this period, central Honshu will remain beautifully calm, sunny and warm, thanks to a ridge lingering over the area.
It'll be a similar story further north, but strong SW winds over Hokkaido will spread to northern Honshu during Tuesday as a weak cold front approaches. The front will bring a brief period of rain + snow to Hokkaido during Tuesday, with mostly just cloud reaching northern Honshu. Skies will be clear again for the first half of Wednesday, but another weak front will repeat the process during the latter half of the day.
 Next Thursday & beyond
The warm, fine spring weather is likely to continue until a low springs out from the west, possibly bringing a period of rain sometime next weekend. Cold air and snow should arrive early the following week, lasting for a day or three.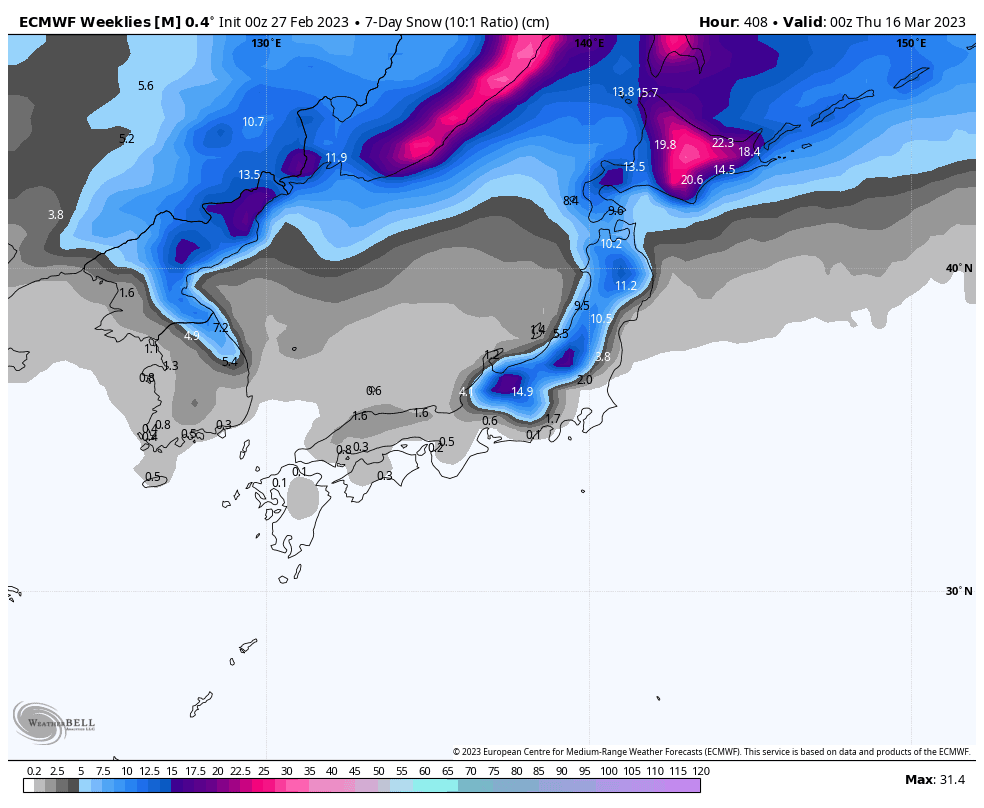 That's all from me guys. Keep an eye out for my 2023 Australian Snow Season Outlook due out in about a month.
Grasshopper