Weekly North America Forecast – Deep blower pow for most, but patient Sierras to reap the biggest reward
Valid Thursday 12th March to Thursday 19th March
This is it folks, my last forecast for the North American season. And what a way to sign off from an exceptional season; there is so much snow falling this week it was a real challenge putting it into words.
Significant low pressure stewing over the states will see an icy airmass descend southwards, providing deep blower powder for most. The big news, however, is the 60-120cm+ that is expected to fall in the Sierras. They say that a quiet winter will bring a busy spring, and that certainly looks to be the case this season.
Snow accumulations of 25-50cm+ can be found throughout the Rockies and Cascades, while the Coast Mountains of Canada will take a well-deserved breather with just a sprinkling of a few centimetres.
Thursday – Sunday
Low pressure boils up over states during the next few days. This drags a cold arctic airmass from the icy interior down over Canada, and into Idaho, Montana and Wyoming. Super fluffy, feather-like snow will follow suit.
Skies will mostly clear over these northern areas this weekend, giving you that amazing crispy winter feeling with powder to shred, but the snow will keep coming down over southern Idaho, Montana and Wyoming during Sunday and into Monday as this area marks the boundary between the icy easterly airstream, and warm moist southerlies to the south.
Sucked in by the low pressure, these warm, moist southerlies will dump snow over the southern Rockies during Friday night into Saturday. Snow accumulations will be around 15-30cm+, so a fairly decent dump indeed, although not as light and fluffy as we're used to.
Meanwhile, a sneaky low will tip-toe down the west coast, wrapping itself in that same icy airmass from the Arctic. High quality snow will spread down the Cascades and into the Sierras during Friday. Heavy snowfalls will shift from the Cascades to the Sierras during Saturday as the low continues south, and will continue through Sunday.
Monday – next Thursday
As skies clear up in most other places during Monday, it'll continue to dump in the Sierras. The eastern ranges of the Colorado will however, see some more snow late Monday.
The sneaky low will snoop farther inland from Tuesday onwards. Snow will become less widespread and button off in the Sierras, although not clear completely, while spreading inland to the Rockies south of Southern Idaho-Montana with some moderate-heavy falls expected.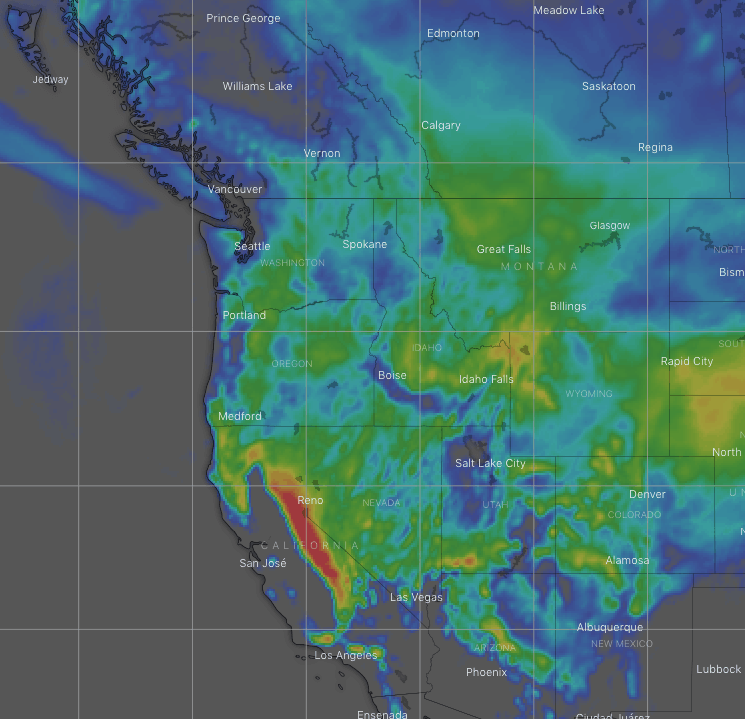 ECMWF model 10-day snow accumulations. Source: windy.com
That's all from me for North America this season. I won't be putting my feet up for long however, because the Southern Hemisphere is starting to chill off, and you know what that means!