Australian Forecast Monday July 26 – Another Day Out
Valid Monday July 26 – Wednesday July 28
I feel like a broken record with unreal conditions in the Alps right now as more snow fell yesterday, it seems to be never-ending. Around 10cm fell at Hotham and Falls over the last 24 hours. Thredbo and Perisher are both reporting 20+cm with strong winds and more up high. Weather has been a little warmer in Victoria than NSW so snow quality is best right now in Thredbo and Perisher. We expect it to get a little warmer today with some small amounts of precipitation in the forecast. Today should see the weekend's snowstorm wind down with some snow in parts, but not looking to be too heavy. After today there are more flurries in the works for tomorrow before another good day of snowfalls on Wednesday. Freezing levels are marginal around lower resorts of Victoria on Wednesday so I'll keep you updated on how that pans out. We can see in the synoptic below high pressure moving across the northern half of the country while fronts seem to be lining up as they have been for the past five days. If you can get out there this week it promises not to disappoint.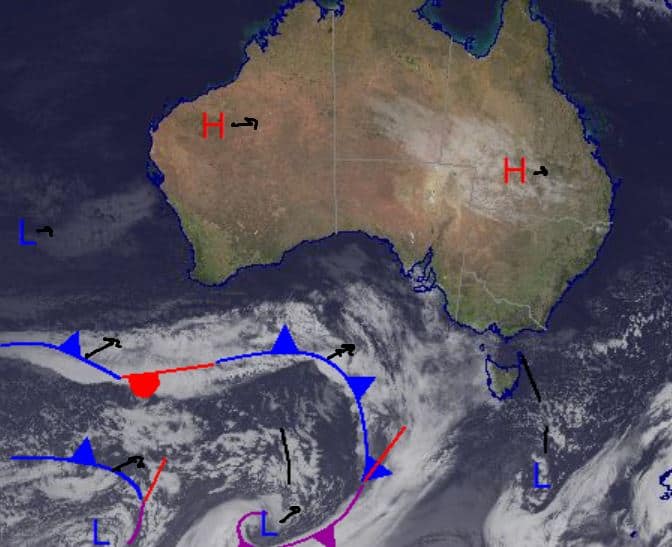 Monday July 26
Very strong northwesterly winds. Cloudy, very high chance of snow, possibly rain for lower elevations. Freezing level sitting around 1300m in NSW and Victoria, rising through the day. Totals looking low around 2-8cm.
Tuesday July 27
Snow flurries expected throughout the Alps, totals shouldn't be significant but it gives us a small break to enjoy all the snow we're receiving. Expect a cloudy day with the freezing level around 1600m. Totals 2-8cm.
Wednesday July 28
Very high chance of snow for both NSW and Victoria. Freezing level starting high around 1700m for Victoria lowering through the day. In NSW the freezing level is sitting at about 1100m. Good snow about the peaks possibly 7-25cm up high.
Extended Forecast
More of the same to come this week with the weekend's dump expected to be topped up a little on Wednesday. Good falls should grace higher elevation resorts but some lower resorts, especially in Victoria, may see marginal freezing levels. I will keep you updated on this as Victorians are eagerly awaiting the go ahead to get up there and with more snow on the way and bases of resorts getting better by the day. In the meantime, if you are one of the chosen few, make the most of some of the best conditions Australia has to offer.
Grasshopper