Australian Forecast Monday September 20 – Wintery Monday
Valid Monday September 20 – Wednesday September 22
After a return to action over the weekend resorts in the Snowy Mountains have joined Victorian resorts and are able to offer skiing and boarding to local regional visitors. There is still some base left to be enjoyed all over the Alps if you can get amongst it.
It's a wild Monday ahead for the Alps and it is lookign a lot like we are still in winter. The cold front and trough pictured below will pass over the southeast and expect snow to fall over the Alps accompanied by strong winds and low temperatures moving in to the evening. Thunderstorms are a chance to develop later in the day and snow accumulations are looking in the order of 6-20cm, with 5cms already in some resorts.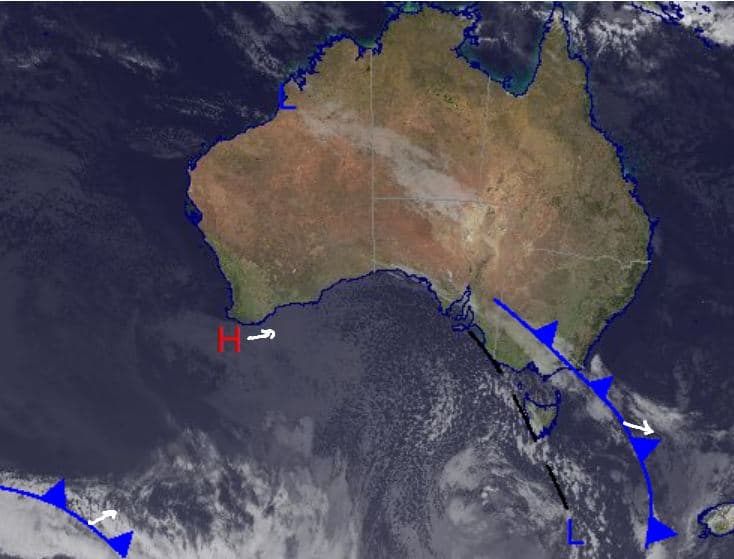 Monday September 20
Snow expected throughout the Alps above around 1300m initially but lowering to around 800m. Northwesterly winds quite strong around the peaks easing and turning westerly through the afternoon. Chance of thunderstorms developing through the afternoon and into the evening. Totals 6-20cm
Tuesday September 21
High chance of some early snow carried over from Monday. Freezing level is low early and rising through the day and so should see some cold temperatures early. Moderate westerly winds in NSW, stronger southwesterlies in Victoria.
Wednesday September 22
Partly cloudy in Victoria with moderate to strong southwesterly winds. Also partly cloudy in NSW with moderate southwesterly winds. The chance of some isolated flurries through the day but shouldn't amount to much.
Extended Forecast
After this weather passes on into the Tasman it looks to develop into a low-pressure system which will hit New Zealand. At the same time a large high-pressure system approaches the southeast which is responsible for the expected settled conditions through the rest of the working week until Friday. The weekend is looking to include some sun with clouds clearing Saturday and Sunday offering some fine spring weather. Definitely some nice weather ahead to get out and enjoy some late season turns.
Grasshopper