Australian Forecast – A fine, calm weekend to see out the Aussie season
Written early Friday 22nd September, valid to Monday 25th September
Well it's been a rough week. Heck, it's been a rough season in term of snow cover. That's not to say we didn't have a hoot, mind you. Snow depths at Spencer's Creek topped out at 131cm after that dump way back in mid-July. The thin snowpack was just no match for these strong, hairdryer northwesterlies of late, and we've witnessed one of the fastest meltdowns and abrupt endings to the Aussie snow season ever.
As such, this is my last forecast of the season. Only Perisher remains open, and will hold the fort until Monday. However, the back-country is open slather, and that's where I'm heading for a long deserved break until the northern Hemisphere kicks into gear.
For those of you heading up the hill, high pressure drifting over the Aussie Alps will bring nothing but lovely, fine weather and light winds today and throughout the weekend. Only on Monday will northwesterlies strengthen with the potential of rain showers, as a weak front approaches from the Bight.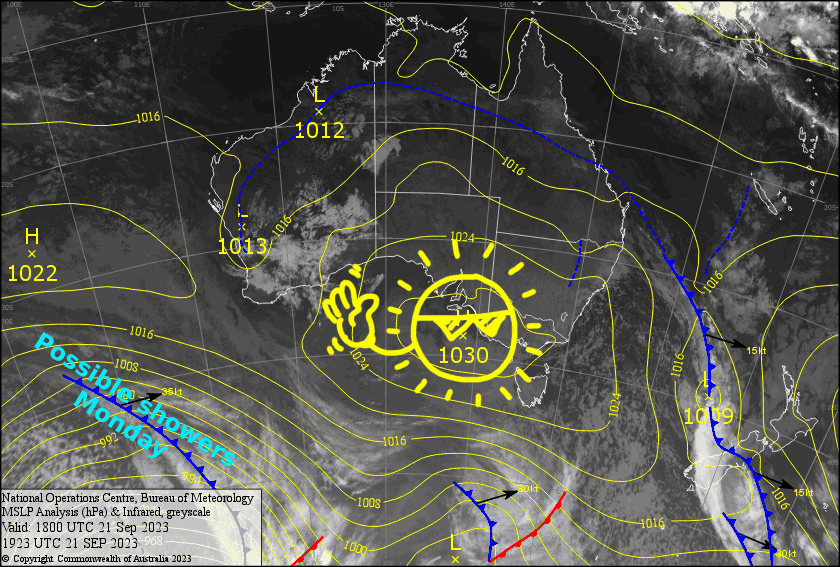 Friday 22nd
A blue-bird day with light breezes.
Saturday 23rd
A nice, calm day, with just a little high cloud.
Sunday 24th
Another blue-bird day, with a light northwesterly breeze.
Monday 25th
A clear start, but a little cloud will build over Victoria in the morning, and then NSW in the afternoon, with potential rain showers. NW winds will get quite strong in exposed areas.
Extended Forecast
Next week, high pressure will dominate, bringing mostly fine weather. However, as some models suggest, it could be rather windy, starting off from the SW, then gradually turning to the NW by next weekend.
That's all from me, folks. It's been a real pleasure, and I can't wait for next season – I've already crossed my antennae that it'll be a better one. In the meantime, keep an eye out here for content about the northern hemisphere snow season over the coming months. When I can pick up a decent signal on my antennae, I'll let you know how the climate is shaping up and who might score it big in my outlooks for Japan and North America. Until then, au revoir!
Grasshopper