Australian Forecast Friday October 1 – Late Season Wet Weather
Valid Friday October 1 – Sunday October 3
It's been a wet end to the working week all over the east coast thanks to a low-pressure system that has seen humid conditions and widespread thunderstorms. Around the Alps the story is the same, with some solid rain unfortunately accelerating the end of season. Some precipitation is expected all through the weekend as this system remains overt the southeast and eventually moves off into the Tasman, but the rain shouldn't fall as heavy as it has over the past few days. Over the beginning of next week more precipitation will be caused by an approaching low currently off the coast of Western Australia, with chance of snow instead of rain (more on that down below).
This is my last forecast for the season as it winds up in the Southern Hemisphere. Thanks for following along and, hopefully, if you haven't had the chance for some local turns the borders will open up in time for some Northern Hemisphere action very soon.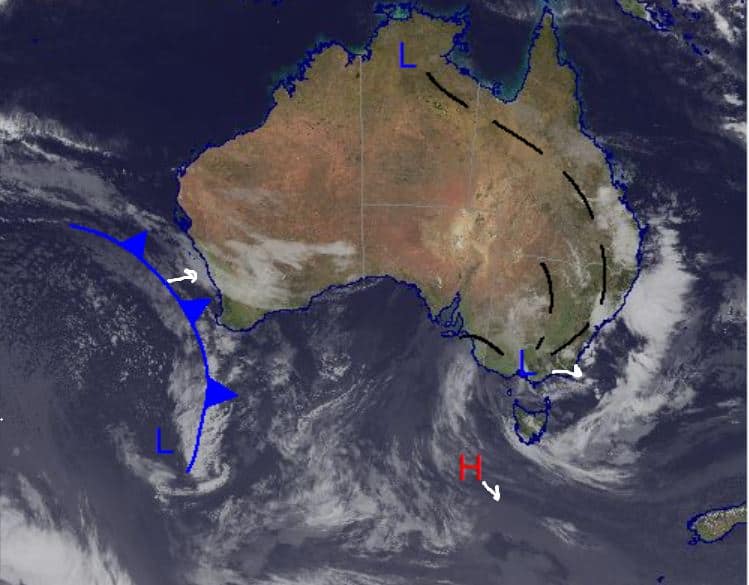 Friday October 1
High to very high chance of showers about the Alps with the chance of a thunderstorm early for both Victoria and NSW. Moderate northerlies warming the temp through the day.
Saturday October 2
In NSW another very high chance of showers with thunderstorms possible throughout the middle of the day and light winds. Similar story in Victoria with a cloudy day and showers expected. Chances of a thunderstorm through the middle of the day and afternoon.
Sunday October 3
More showers in NSW with moderate northwesterlies increasing in strength through the evening. Another cloudy day with showers also in Victoria with moderate northwesterlies in the morning increasing through evening.
Extended Forecast
As the season winds to a close we end on a sour note with consistent rainfall expected through this weekend. As this current low-pressure system moves off into the Tasman another one arrives from the west and we may see some good amounts snow early next week to possibly keep the backcountry stoke alive at high elevations, with possible best case accumulations of 25+cm. This snow has the best chance of falling over Monday night into Tuesday with high winds expected to accompany it through the start of the week and continue right through the week.
With the Snowy Mountain region back in lockdown, it's just the Victorian resorts that will close for the season on the usual closing day on Sunday. This will be the last forecast for the tumultuous 2021 Australian season. Thanks for sticking with me and here's to a less interrupted 2022 and the possibility of some overseas travel very soon and I will be back with northern hemisphere forecasts in December. Until then, take care.
Grasshopper