Australian Forecast – More rain next few days as a low passes to the north
Valid Monday 26th September to Wednesday 28th September
Well folks, the next few days will bring periods of rain as a weak cut-off low passes just north of the Aussie Alps. Temperatures will be too warm for any real snow unfortunately, but there should be some windows of bright and dry weather for you keen beans to sneak in some good turns. Wednesday will perhaps be the worst of the bunch with the most persistent and heaviest falls expected, although if you happen to be under a thunderstorm on Tuesday afternoon it won't be that pleasant either.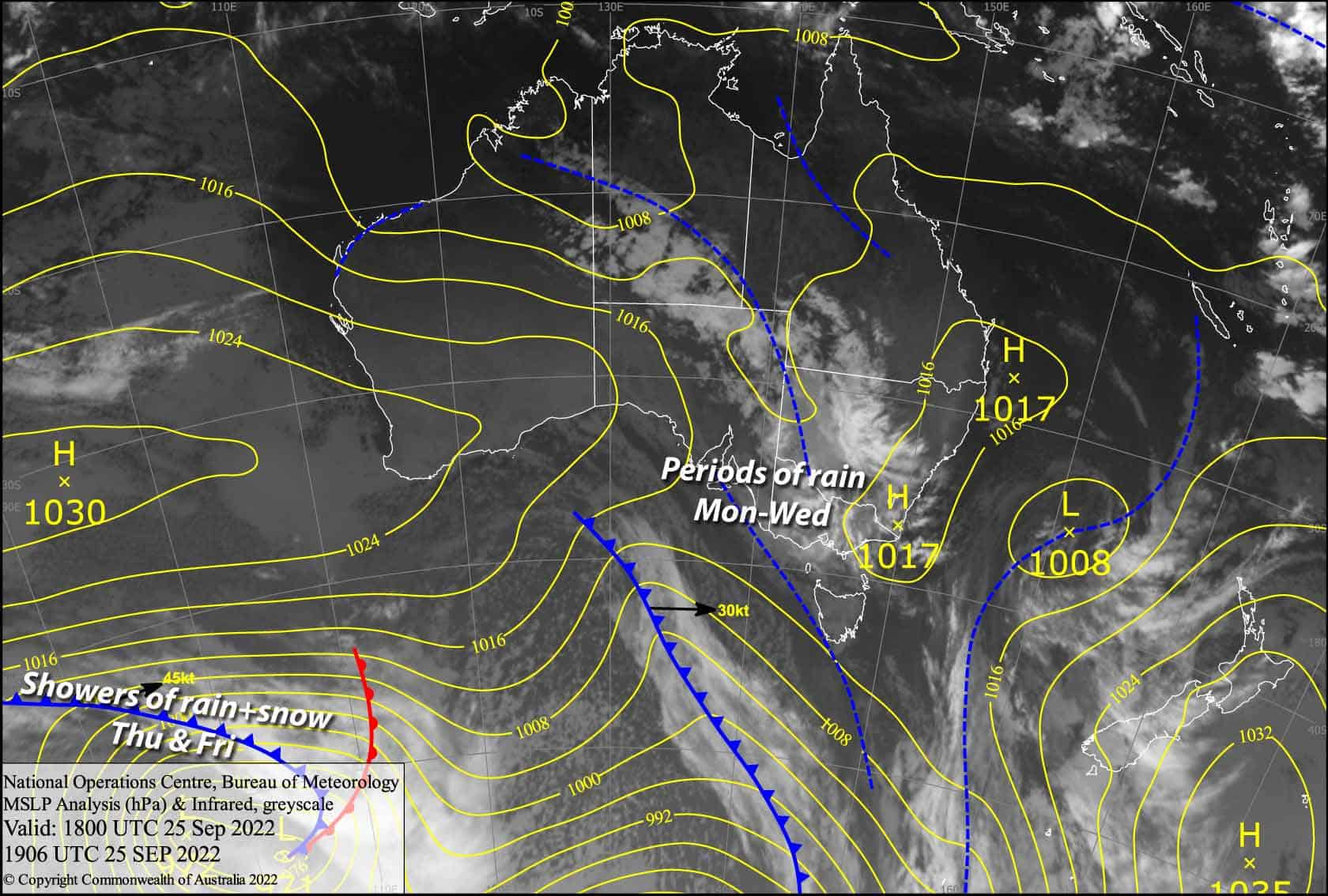 Monday 26th
It's not too bad out there at first light, with plenty of blue sky amongst the cloud, but conditions will gradually, and un-dramatically, deteriorate throughout the day as N-NW winds pick up. Rain spreads over Victoria this morning, and then over NSW from midday where not a great amount is expected and it's likely to come and go.
Tuesday 27th
Showers, with heavy falls and thunderstorms possible during the afternoon. Light N-NW breezes, but there could be stronger gusts if you happen to be near a thunderstorm.
Wednesday 28th
More rain, darn it, perhaps even more persistent than previous days. We should see some heavy falls, and there is a chance of thunderstorms during the afternoon, although Buller won't see much rain at all. Southeast winds becoming strong.
Extended Forecast
As the low spins off into the Tasman Sea, E-SE winds will persist over the Aussie Alps during Thursday and Friday, pushing in more showers and a cooler airmass, which should bring snow levels to at least mid slopes, possibly as low as 1500m for a time.
High pressure passing by to the south next weekend will see that winds drop off, bringing mostly fine weather for the last days of the season.
That's all from me today, folks. It's the last week of the season, and although the weather isn't particularly nice, make the most of what's out there because it's a long time between turns otherwise. This week I'm sending out the forecasts Monday, Wednesday and Friday. Have a great day.
Grasshopper