Friday 20 September – An ugly couple of days, but snow on Monday
Synoptic Outlook
Our snowpack will take a battering as a low + front combo dumps a whole swag of rain over the Aussie Alps during Saturday. Not to mention warm northerly winds will go absolutely berserk too.
However, colder air following the front will see a teeny little bit snow falling mostly on upper slopes from late Saturday afternoon into Sunday.
Things will look a lot prettier after another surge of cold air during Monday powders up the place with a few centimetres of snow.
Image of The Day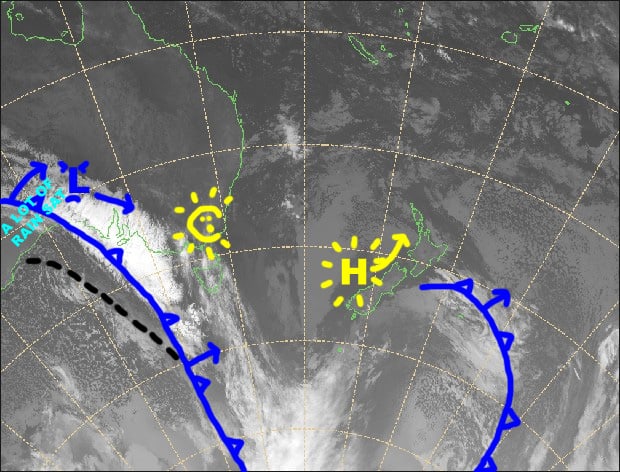 Things are about to get a whole lot uglier as that low + front combo swing past the Aussie Alps tomorrow. Things will look a lot prettier after a few centimetres of snow powders up the place during Monday. Source: NZ Metservice (vandalised by the Grasshopper)
Friday 19 September
Warm northerly winds with sunshine and variable high cloud.
Saturday 20 September
A horrendous day! Northerly winds reaching severe gale while rain sets in during the morning, with heavy falls and possible thunderstorms during the afternoon. Rain may turn to snow on upper slopes on western resorts in Victoria from late afternoon as it starts to ease. Winds also start to abate from late afternoon.
Sunday 21 September
A partly cloudy day with a few snow flurries, which are likely to be wet and slushy on lower slopes. Stiff NW winds.
Monday 22 September
Snow showers with brisk W-NW winds.
Extended Outlook
Chilly westerlies will continue to blow through Tuesday, but it'll stay dry with just a bit of cloud around.
A weak front may brush the Aussie Alps next Wednesday, with only a few flurries at best on upper slopes.
After that, high pressure should bring settled conditions during Thursday, followed by another weak front or two next weekend.
That's all from the Grasshopper. Wanna keep your finger on the pulse of all things snow? Join my weekly email list by filling in the box below. If you have a question or feedback for me, hit me up on facebook.