New Zealand Forecast –  Massive powder day for the South Island to keep the good times rolling
Written early Friday 22nd September, valid to Sunday 24rd September
Wow, this is to be my last forecast of the season. And what a forecast to end on! For the South Island, today will be perhaps the biggest snowfall event of the season (as far as my memory serves!). Synoptically, it's the perfect storm: a low slowly creeping over the South Island, where relatively warm, moist northwesterlies aloft are undercut by an icy cold southerly, which is slowly working it's way northwards as we speak. And we need it after all of the rain we had this week, with Coronet Peak losing its snow pack and has announced it has now closed for the season.
The Southern Lakes should pick up around 20-40cm for the day, while Canterbury will see totals within the 30-60cm mark. However the smaller club fields in the Mackenzie Country, South Canterbury, such as Ohau, Dobson & Roundhill could see totals in the 60-80cm range. Snow will fall to super low levels and will affect roads, and possibly lift operations too, so you may have to hold fire and wait for Saturday, which should go down in the history books as one of the all-time epic powder days ever (if everything's up and running by then).
The cold front parks up over the North Island during Sunday as the low disappears into the Pacific, while a new low drops down out of the Tropics, approaching the country from the north along the frontal band. This leads to a light, but icy cold E-NE flow over the South Island, which will bring further snowfall to Canterbury, totalling anywhere between 5-20cm, with Mt Hutt likely sitting at the higher end of that scale.
It'll be a different story up on Ruapehu, unfortunately. The cold air appears to stop just short of the Maunga, and the next three days will be filled with miserable, clagged-in, rainy conditions, borne out of mild winds from the north.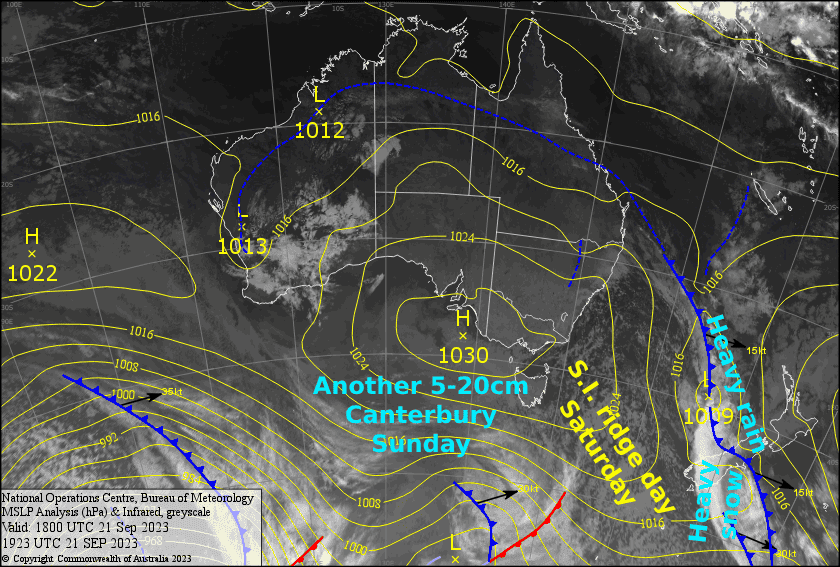 Friday 22nd
After all the rain it will be a very snowy day for the Southern Lakes! Heavy snowfall to low levels will gradually peter out this afternoon, but skies will remain cloudy. There's just a light, but icy SE breeze.
In Canterbury, rain and gale NW winds will make way for very heavy snowfall and lighter, but icy cold southerlies later this morning. Snow will settle across the plains, so driving will be hazardous. Snowfall will ease this evening.
Ruapehu is clagged in with drizzly, rainy conditions all day, with strong NW winds. Yuk!
 Saturday 23rd
For the South Island,  it'll be one for the books, with deep powder, and just cloudy skies and light, chilly breezes, mostly from the N-NW.
Another rainy day on Ruapehu, and it'll only get heavier as the day progresses, with very heavy falls at night. Strong NW winds again. Double yuk!
Sunday 24th
A mostly cloudy day for the Southern Lakes, with a few light snow flurries during the afternoon. Light n' icy NE breezes.
Mostly light, but persistent snowfall in Canterbury, along with an icy cold E-SE breeze.
On Ruapehu, heavy rain will have eased by dawn, but there'll continue to be fairly regular falls throughout the day, so still not the nicest of days. N-NE breezes.
Extended Forecast
Monday, heavy rain will fall on Ruapehu and snow will continue in Canterbury as the low out of the tropics passes southwards over the North Island. A strong, cold southerly chasing up the low will bring a dusting to country during Tuesday. Snowfall on Ruapehu will persist into Wednesday before southerlies there ease, while high pressure over the South Island will clear things up for a superb day of skiing & boarding.
Later next week, the weather looks to remain relatively cold and unsettled across the country as a strong westerly regime becomes established. We could see a couple of short, sharp top-ups Thursday-Friday, followed by a potential bigger dump next weekend. It appears El Nino has kicked in here and doesn't want the good times to end!
That's all from me today, folks. It's been a real pleasure, I can't wait for next season already. In the meantime, keep an eye out here for content coming in about the northern hemisphere snow season over the coming months. When I can pick up a decent signal on my antennae, I'll let you know how the climate is shaping up and who might score it big in my outlooks for Japan and North America. Until then, au revoir!
Grasshopper