Friday 20 September – Sweet as this weekend
Synoptic Outlook
Happy high-pressure weather today and through the weekend. Get out and enjoy the sunshine.
Monday doesn't look so happy, as a rather wet looking front will pass over the Southern Lakes during the early hours and Canterbury around midday. All the cold air lies behind the main band of precipitation, so mostly rain will fall.
Image of The Day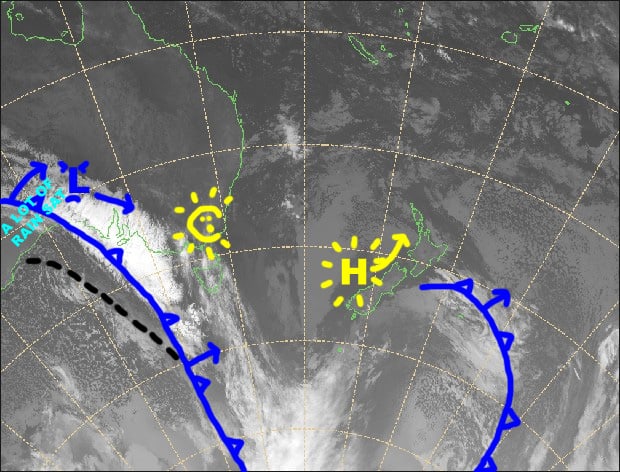 Nice weather through the weekend thanks to the happy high sitting to our left. A wet looking front will bring a case of the Monday blues. Source: NZ Metservice (vandalised by the Grasshopper)
Friday 20 September
Crystal clear over the Southern Lakes, but cloud will linger in Canterbury until this afternoon. Southerly winds dying away.
Mostly fine on Ruapehu with some afternoon cloud and a southeasterly breeze.
Saturday 20 September
A beautiful, sunny spring day across the country with mostly light winds.
Sunday 21 September
Fine for the south, but high cloud will increase from afternoon as NW winds strengthen.
A rare calm, sunny day for Ruapehu. Get amongst!
Monday 22 September
Rain over South Island ski fields will clear the Southern Lakes by brekkie time and Canterbury around midday as severe gale northwesterlies ease to a moderate westerly. Some snow may fall about the tops.
Stiff westerly winds push cloud onto Ruapehu and there'll be some afternoon showers, falling as snow above 1800m.
Extended Outlook
You'll be able to shake off those Monday blues because Tuesday is looking terrific – in terms of snow that is. That wet ol' front will spin up into a low, which will then scoot over the centre of NZ. Cold air on it's back and underside will bring fresh powder to ski fields across the country, with Canterbury and Ruapehu likely to receive a healthy top-up, and just a light dusting for the Southern Lakes.
Perhaps even more powder will fall across NZ during Wednesday and Thursday, as a vigorous cold front is likely to cross the country. Just what we need at this time of year.
That's all from the Grasshopper. Wanna keep your finger on the pulse of all things snow? Join my weekly email list by filling in the box below. If you have a question or feedback for me, hit me up on facebook.