New Zealand Forecast Sunday August 1 – Nice Sunday With Snow on the Way
Valid Sunday August 1 – Tuesday August 3
It has been quite warm in parts around the country lately with some isolated showers and not really much storm activity going on. Small isolated showers are expected early around the Southern Lakes with Canterbury and the North Island staying mostly dry. We may see some small showers in Canterbury later but nothing too significant. Looking to next week there is a front approaching that is expected to arrive later on Monday hitting the Southern Lakes first then moving up into Canterbury. Snow totals will depend on freezing levels with many resorts forecasted to sit at around freezing. With a bit of luck it stays cold enough and there is the possibility for 5-15cm as the front passes through. For today enjoy a partly cloudy day around Canterbury, fine day in Ruapehu with mild winds. If you're in the Southern Lakes expect small amounts of precipitation early, clearing through the day.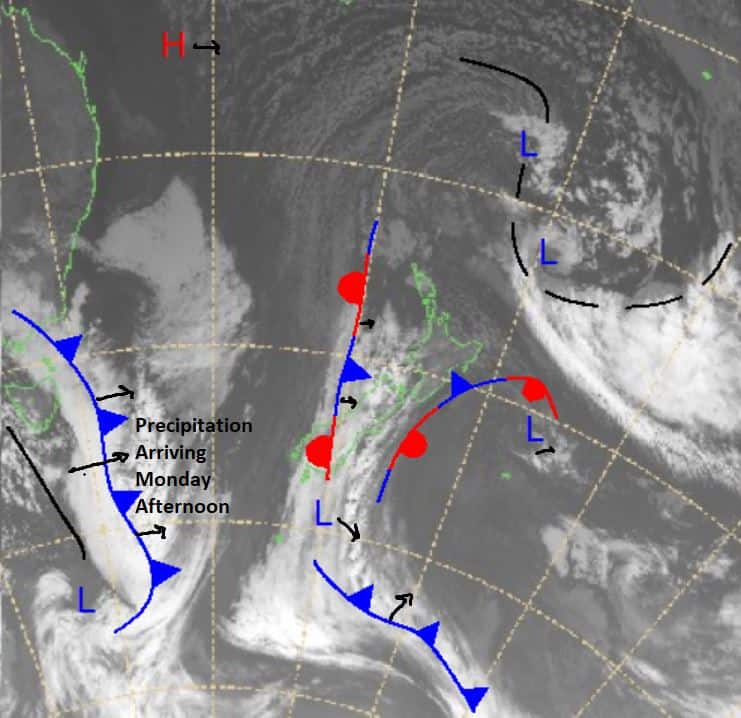 Sunday August 1
Ruapehu: Mild southerlies with an otherwise fine day. Maybe some clouds through the morning and later towards the evening.
South Island: Low winds with some showers early on for the Southern Lakes. Maybe a little bit more snow overnight before it clears up later in the day. For Canterbury some cloud early clearing up through the day, moderate westerly winds persisting.
Monday 2 August
Ruapehu: Some showers on the way most likely in the afternoon,  falling as snow on the peaks and shouldn't be substantial totals. Freezing level around 2100m. Winds low westerly turning northwesterly.
South Island: Small amounts of precipitation with snow falling up high early. Snow increasing later in the day, the freezing level around 1600m expected to drop overnight as snow becomes heavier. 5-15cm possible through the night into Tuesday morning over the Southern Lakes and Canterbury.
Tuesday 3 August
Ruapehu: Snow in the early hours before some more later in the afternoon heading into the evening. Precipitation on and off through the day may be mixed in with some rain. Nice totals possible around 5-20cm. Winds northerly initially turning to southwesterly and strengthening over the evening.
South Island: The front passes through the Southern Lakes with a bit more left from Monday. Expect a little more in Canterbury with good snow early. Totals 4-12cm more likely in Canterbury.
Extended Outlook
It should be a mostly nice day around the ski fields today with the wind not too strong and the sun making an appearance in many resorts. As far as snow, we will have to wait until later on Monday for the South Island and Tuesday up north. It is looking like mainly snow at this stage with decent amounts possible. Canterbury could receive over 20cm along with snow and smaller totals further south. I'll keep you updated on where to expect the best falls over the coming days.
Get out and enjoy some nice weather today.
Grasshopper