2018 Japanese Snow Season Outlook – January Update
January 28th, 2018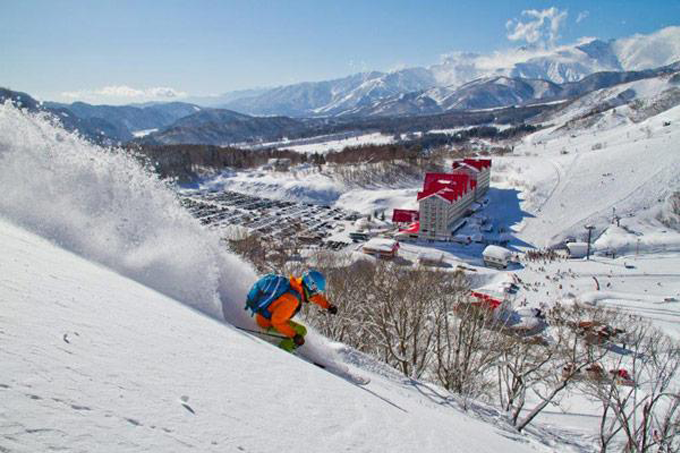 Picture perfect Cortina, Hakuba. Photo credit stillstoked.com.

Mountainwatch | The Grasshopper
Ah Japan, the winter wonderland… and what a winter it has been!
We are now into the business end of the season and the resorts are running full steam ahead. With above average snowfalls in November and December, the season was off to a ripsnorter. Snowfalls slowed down early and mid-January, particularly on Honshu Island, but the solid base and odd good snowfall has kept the froth-merchants happy with plenty of powder turns on offer. Now, let's look ahead to see what we can expect for the rest of the season.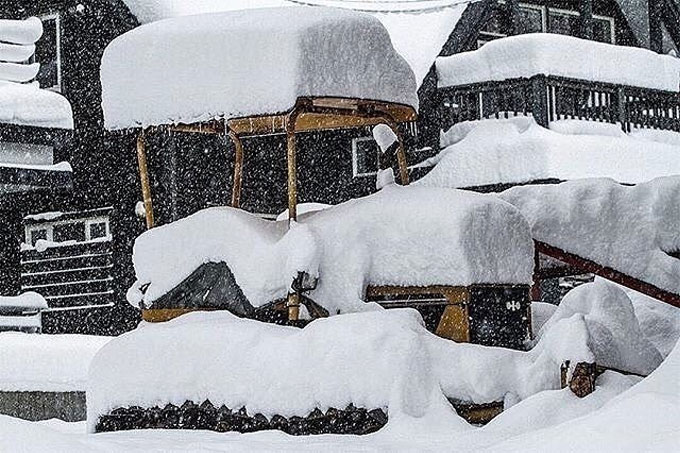 Niseko. You know it's a good day when you have to clear snow off the snowplows. Photo credit @nisekodotcom

ENSO
A weak to moderate La Niña is currently peaking and will eventually transition to a neutral phase of the ENSO as we head into spring. La Niña is generally associated with more snowfall in Japan, so any influence this may be having we can now expect to dwindle.
Arctic Oscillation
The Arctic Oscillation (AO) currently remains in a negative phase, meaning that the door to the Arctic has been left open and cold air is able to escape and flow over Japan. The European Centre for Medium Range Weather Forecasts (ECMWF) predicts the AO to neutralize around mid-February, making background environmental conditions for snowfall slightly less favorable. However, the National Oceanic and Atmospheric Administration (NOAA) suggests it could go negative again for a time at the end of February and start of March.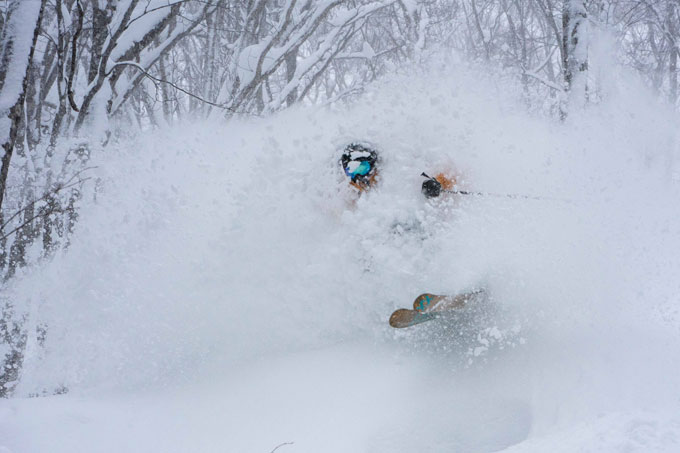 Myoko Kogen powder credit: liquidsnowtours.com
Seasonal Forecast through February
Ideal conditions for good consistent snowfalls in Japan are a strong and well-placed Siberian High and low pressure in the Sea of Okhotsk or North Pacific. A strong relationship between these two systems will send freezing northwest winds towards Japan. As the air crosses the Sea of Japan, it picks up moisture and dumps it as snow while trying to climb the Japanese mountains. Some call this the lake effect; I call this the "Japow Machine".
The Japow Machine went into low gear early and mid-January due to the Siberian High being too far west and the lack of low pressure to the northeast. The good news is short-range weather models predict the tail end of January will see the machine fired back up and put into high gear, with accumulated snowfalls of 1.5m or more at resorts in central and northern Honshu, and at least half as much on Hokkaido.
The Japow Machine continues to operate through early February, providing decent snowfalls and frigid north-westerlies. ECMWF is also picking that a low may pop out of the East China Sea and skim the east coast while another low develops in the Sea of Japan, further adding more fuel to the machine.
Long-range weather models show the relationship between the Siberian High and Pacific Low will weaken from mid-February, therefore putting the Japow Machine into low gear once again. ECMWF and NOAA both agree that the mountains of Japan are likely to receive average or lower than average snow during the middle and end of February. NOAA is speculating that temperatures will be below average however, in a classic weather modeling disagreement, the ECMWF contradicts this, forecasting higher than average temps.
The Japanese Meteorological Agency (JMA) predicts that areas along the Sea of Japan side will receive above average precipitation (snow) for the month of February. However, this could all be due to the snowfalls early in the month, which leads us to the same conclusion of average or below average snowfalls mid and late February.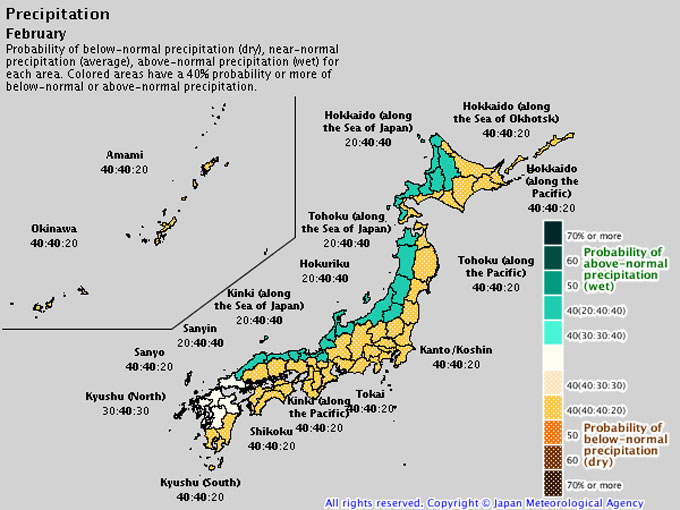 JMA seasonal forecast for February. Above average precipitation is likely along the Sea of Japan side. This may be due to falls early in the month.

Seasonal Forecast for March and beyond
ECMWF seasonal forecasts foresee that Japan will slip back into climatological normalcy during March and April with average precipitation. NOAA and JMA tell a similar story, but they indicate that some eastern areas may receive above average precipitation. This gives us the inkling that we could see more lows popping up out of the East China Sea, and skimming past Japan on the Pacific side. These lows bring warmer air to Japan, and ECMWF and NOAA also suggest we could see a few of them with good signals for higher than average temperatures.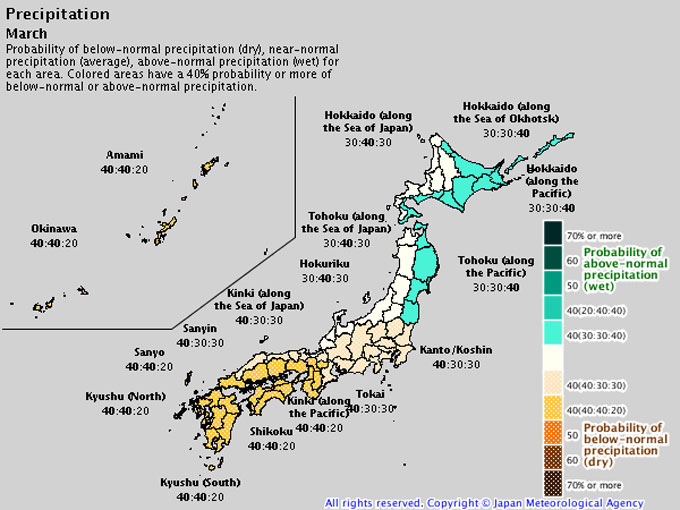 JMA seasonal forecast for March. Average or below average precipitation is likely for most regions. A 40% chance of higher than average precipitation along eastern areas suggests we may see a few lows skimming past Japan on the Pacific side.

Wrap up
As I put pen to paper, the ski resorts Hakuba and Myoko have already had about 3.9m and a whopping 9.4m of snowfall respectively, and it's still coming down hard. Further North on Hokkaido, Niseko and Furano have had a total snowfall of 7.6m and 4.5m so far. With plenty of powder falling through early February, the mountains will be full to the brim. Avalanches could be a risk for all you backcountry-bandits, so make sure you keep up to date with the latest conditions at your resort.
From mid-February onwards, we can expect average or below average snowfall; unless you're hanging out on the eastside, then you might see a few lows swing by. Regardless, when we are talking about metres of snow a few cms here or there won't dampen the spirits. Increasing hours of sunshine, and fewer crowds, will ensure the rest of the season will be a shred fest.
Get deep, have a hoot and stay safe.
Grasshopper
---
Hakuba is having one of their best seasons in recent years and it's not too late to get over there and enjoy some of Japan's best powder! Our partners at Liquid Snow Tours are offering some great value packages for March.
– The Lab Hakuba — 7 nights accommodation and 5 day lift pass from $679
– Hakuba Springs Hotel — 7 nights accommodation and 5 day lift pass from $1040
– Marillen Hotel Hakuba — 7 nights accommodation and 5 day lift pass from $1144