Australian Forecast, Monday July 6th– Sunny Skies and Man-Made Snow till Thursday
July 6th, 2020
Mountainwatch | The Grasshopper
Valid Monday July 6th– Thursday July 9th
We'll see plenty of sunshine over the next four days as a high slips underneath us. Overnight temperatures will be subzero, so snow machines will be able to get some good groundwork done.
The weather this weekend looks uncertain at this stage, with models unsure about a which way a low will go. As it stands we're likely to see snow at least on upper slopes, but rain lower down.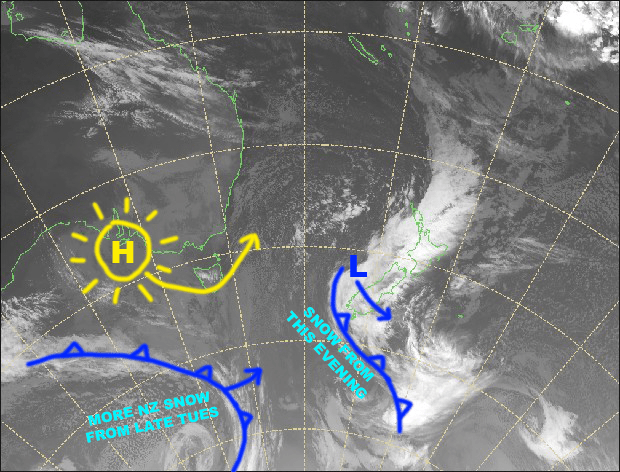 Monday 6th
Resorts will be mostly clear and sunny above the clouds below, which are being pushed in by a chilly southerly breeze.
Tuesday 7th
Clear and sunny up on the resorts again, while the chilly southerly breeze dies away.
Wednesday 8th
Fine with a light northerly breeze developing.
 Thursday 9th
Mostly fine with brisk N-NW winds.
 Extended Outlook
From Friday onwards, models aren't coping too well. It's likely we'll see a low approach from the west during Friday with drizzle developing.
The low may pass north of us this weekend without any support from the chilly south, making rain the most likely outcome, although it should fall as snow at least on upper slopes.
The next Aussie forecast will come hot off the press this Thursday the 9thof July, so definitely check back in then as the situation will be more certain for this weekend.