BLOG Taking the Piste – Aussie Snow Girls Rock
June 25th, 2010
Taking the Piste – Rachael Oakes-Ash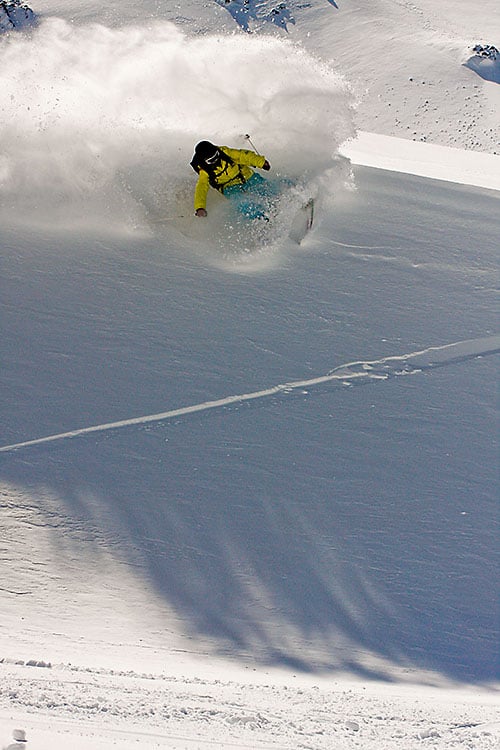 Anna Segal
Blog | Rachael Oakes-Ash
Do you mock your mates with a 'you ski or ride like a girl' comments on Facebook when they upload their latest snow pics? Well we've got news for you, they should be so lucky.
If your mate can ski like Ingrid Backstrom then you should seriously consider batting for the other team because I've yet to see too many blokes that can beat this pocket rocket down the slope, off the cliff and into the steeps without wetting their pants and calling for mummy.
Girl skiers and boarders rock because when you combine an estrogen obsession with technique and getting it right with a testosterone fuelled desire to be down the hill first you end up with the world's best.
Australia has our own snow bunnies to be proud of. Baw Baw's Andrea Binning was one of the original extreme big mountain champions, chewing on Alaskan peaks for breakfast. You can add Olympic champions Zali Steggall, Alisa Camplin and World Cup champion Jacqui Cooper to the mix. Then there's Torah Bright and Lydia Lassila who both brought home gold from Vancouver in 2010 and little Britney Cox our youngest female winter Olympian at sixteen years of age.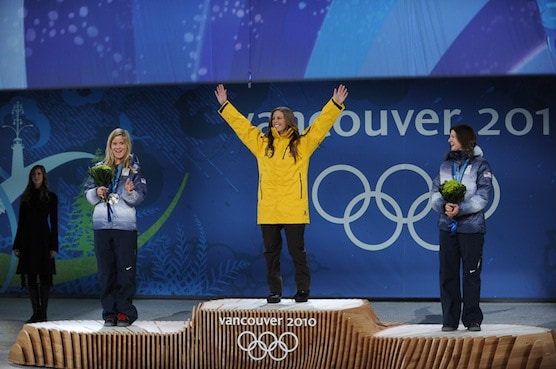 Torah on the Olympic Podium | Image:: Dan Himbrechts
Anna Segal is now the one to watch. She took out gold at the Winter X Games slope style and if the discipline makes it to the 2014 Olympics in Russia then we may see her donning the green and gold and dancing on the podium.
We could claim freeskiing legend and Canadian Freeskiing Champion Janina and her snowboarding enigma sister Maria Kuzma to our list as they were born in Australia. Sure, they live in Wanaka now and call New Zealand home but just because Russell Crowe has property in Australia doesn't mean we claim (or want) him.
Blokes, if you want to know how to ski or ride like a girl, and trust us, you do, then you could consider a close shave and a touch of mascara and rocking up to one of the all female ski and snowboard camps on offer around Australia. All the resorts offer them from weekend women's only camps to full week long intensive programs and even season long weekly coaching. Boys need not apply
Women learn to ski and snowboard differently to men. We have the 'Q Angle' which translated means the shape of our hips. It's what you love about us but it makes our centre of gravity different.
Besides, who can learn properly with all those macho types trying to outdo each other on the rails and steeps. Chicks dig learning with chicks because we're supportive, encouraging and at the end of the day we don't care if you fall on your face, because chances are we will too.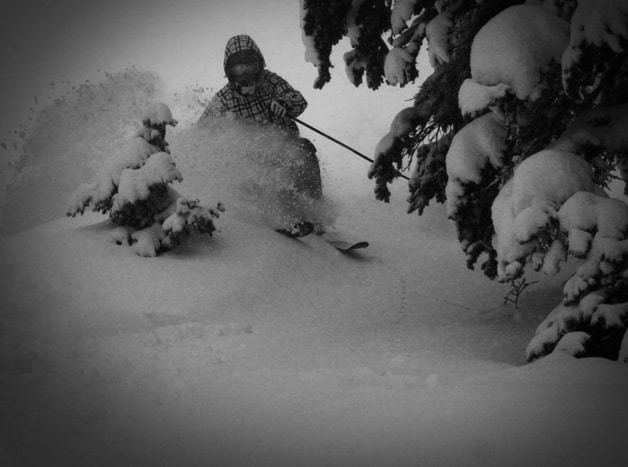 Zoe in the Park City Pow | Image:: Zoe Jaboor
Our hot tip for this season is Mt Buller's Chicks With Sticks program sponsored by Roxy. The free ski camp launches this season and targets teenage girls. International judge for moguls, aerials and half pipe, coach and athlete Zoe Jaboor will lead the way on three Saturdays in July from 3pm. All you have to do is show up at Kofflers to join in the group training. Plus it's absolutely free, nix, niente, costs nothing.
The chicks will be wielding their sticks on bumps, freeride and big mountain disciplines with guest coach appearances from Anna Segal and word is there is a competition in September, no blokes allowed. Check out the Team Buller website for more details.
That's chicks, no dicks, just sticks.
Join the Taking The Piste Facebook Fan page here for regular rants or follow Rachael on Twitter .
Chicks with Stix's Zoe Jaboor is starring in her own blog on Chillfactor.com this season. Check it out here!