Boothy's Blog – Weekend at Bernie's
July 13th, 2014
Mountainwatch | Chris Booth
Bernie Rosow is on the cover of this year's Chillfactor Magazine. It's a great shot from one of Thredbo's classic August days last winter: it's dry, light, and bluebird. As a skier, a photo on the cover of a magazine doesn't happen all that often, so I thought I'd catch up with Bernie in Thredbo to have a chat about it.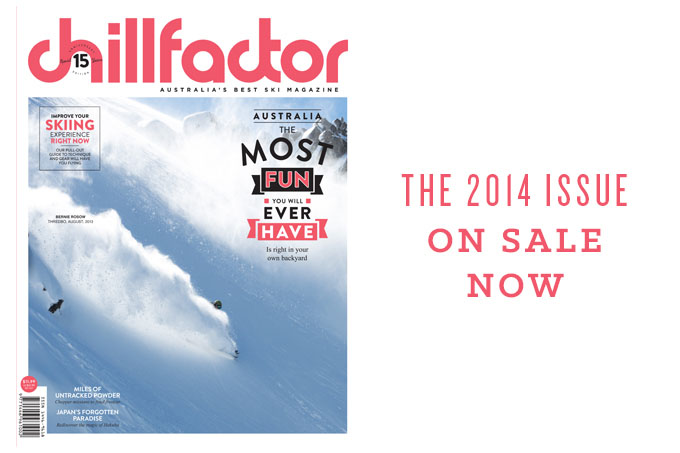 Chillfactor Magazine – in all good newsagents now.
The initial plan was to score a few runs on Kosciuszko together, but I was keen to get out to the Twin Valleys to do some field research for phase 1 of the Charlotte Pass Master Plan. Bernie loves the Australian backcountry, so he grabbed his skins and off we went.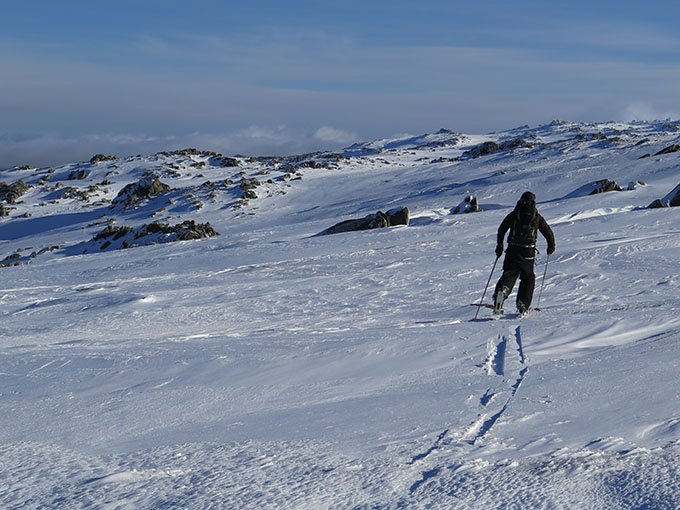 Making good time along the Ramshead Range towards the Twin Valleys – Australia's ski resort of the future.
It was a funny interview, because for the first half an hour, as we traversed the Ramshead Range North East from Thredbo, we barely said a word to each other. What's really interesting about Bernie is that he's not your typical sponsored pro dude with an energy drink sponsor and an Instagram account. He's sponsored, sure, but he's a bit more salt of the earth, less an endorser of things and more a guy who just loves, and lives, to go skiing.
"I'm so sick of those milky espresso things you guys drink. I just want a huge filtered black coffee," says Bernie breaking the silence. The other interesting thing about Bernie is that he is from Mammoth, California. He could literally go anywhere for his summer – Chile, New Zealand, Argentina… Ibiza – but he chooses Thredbo. Curious, I ask him why exactly that is, "The money," he says, "I can make more driving snowcats here in three months than I can make in Mammoth for six, and I've been working there for 15 years… I can actually work here and come out in front for a change."
Damn, I was kinda hoping he would say, "The raw epicness of skiing pow among the Eucalypts," or, "Because Australia has the most unique and underrated alpine range on earth." But it's not like Bernie doesn't love skiing in Australia. Bernie froths on Thredbo – ask anyone. He charges around alone dressed in dark colours, going really fast doing enormous airs. And he doesn't just ski, he skis everywhere; whenever you get to a spot expecting to find fresh tracks, you see Bernie's tracks – he already skied it an hour ago and is currently tearing up the next spot you plan to ski. In many ways, Bernie has emerged as the dark lord of Thredbo.
We skinsition into downhill mode and link a few turns down the South Valley. The snow is chalky and has that blower feel to it, I'm impressed by Bernie's skiing – you don't often ski with people that good. "I can't believe people don't get out here," he says at the bottom, "I don't understand why there's not a backcountry scene here. Australia has some of the easiest ski touring in the world, literally anybody can do it."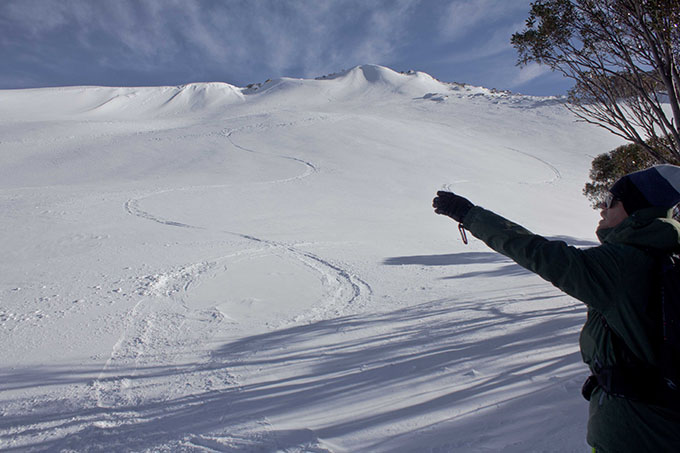 Boothy explains phase 1 of Charlotte Pass Master plan, pointing to the area the Twin Valleys Express 8 seater is set to be built.
We continue down the South Valley into the tree-line. Because the Ramshead range is flat on top, the best fall-line skiing is further down, same as how Carols and the Basin are pretty cruisy, but then The Bluff, Golf Course Bowl and Funnel Web, all situated slightly lower, plunge down steeply. We are at about that elevation when we stumble upon a beautiful opening with interesting rock features that give on to a little pillow field. Below in the distance is the Alpine way, how good is skiing in Australia.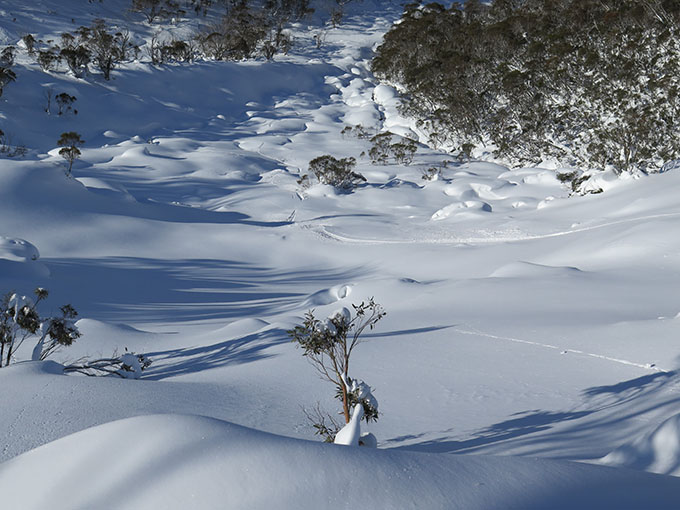 How good is skiing in Australia
I ask him about the turns from the covershot. "Pretty good," he says, "I don't know, I had a lot of good turns that day, nothing as good as this though." Bernie then drops in, makes a couple of turns, then launches a sizeable 360 off the main cliff in the middle.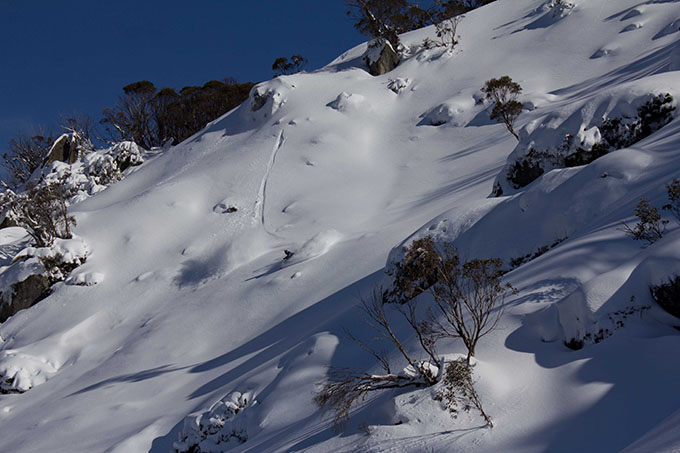 How good are first tracks. Bernie lays a big 'ol turn after hitting the cliff in the middle.
I ski an easier line behind him, making some longer turns down into the pillow zone.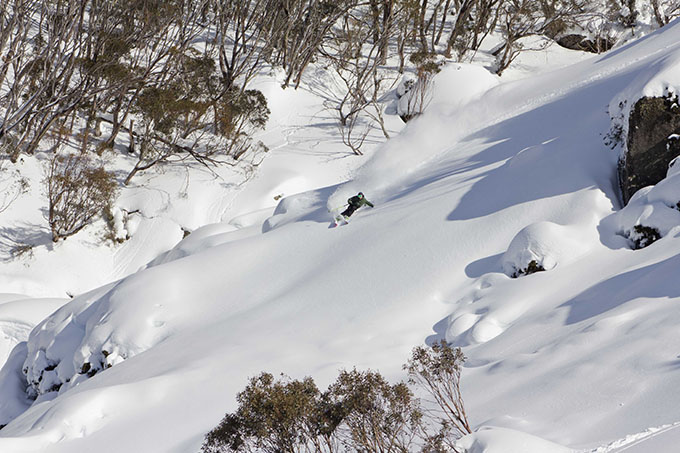 Boothy got a few long ones in round the skier's right. It's actually me (Boothy) writing these captions, isn't that weird!
At the bottom Bernie is frothing; "That's the thing man, you just gotta be here when it's good! If you're not here when it's good you're just not going to see it like this."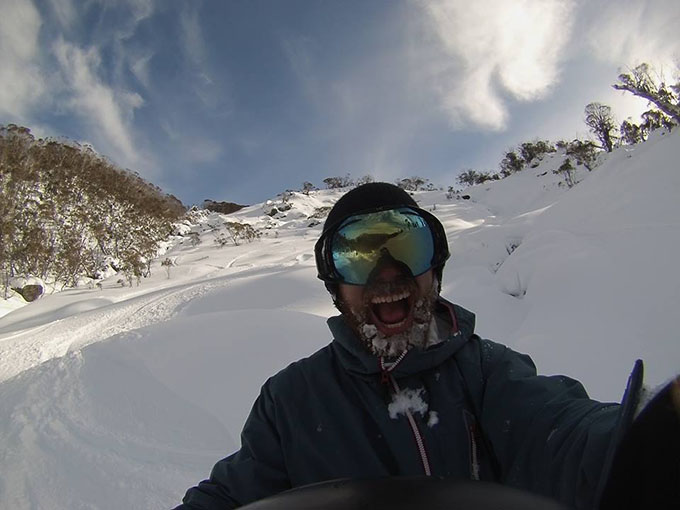 Bernie, frothing.
We skinsition and start making our way back up for another lap. Bernie stops for a moment to take it all in. "It's amazing to think this will all be lift accessed one day," says Bernie referring to the Charlotte Pass Master Plan, "I just hope they name this one after me."
Me too Bernie, me too.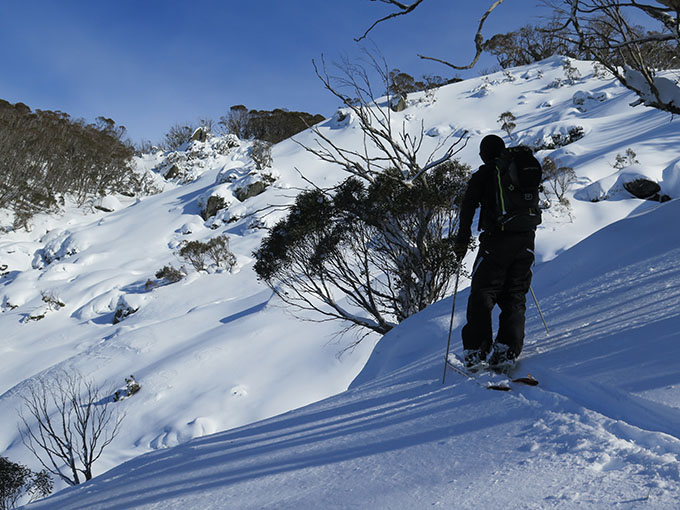 One day there will be a sign at the top of this zone saying "Bernie's".