From Paralysed to Paralympian in Five Years – Meet Sam Tait
March 9th, 2018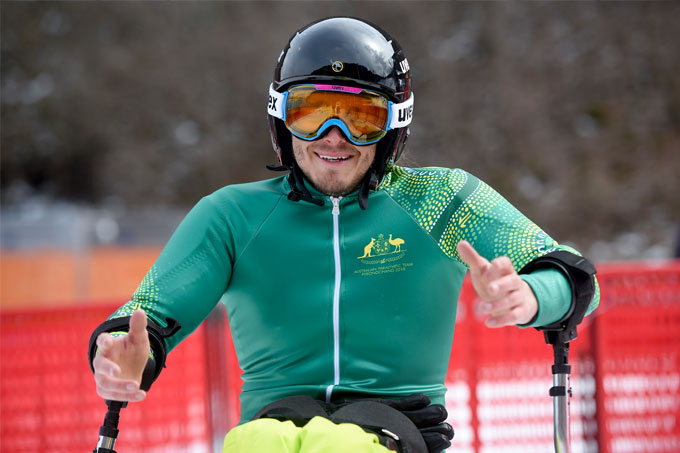 Sam's in PyeongChang now and ready to roll. Photo: Australian Paralympic Committee
Mountainwatch | Kate Allman
Paralympic sit-skier Sam Tait is about to compete in all five alpine skiing events in the 2018 PyeongChang Paralympic Games in South Korea. But his journey has not been easy. Sam was a keen, unimpaired skier until a motorbike accident in 2013 left him paralysed from the waist down. Sam had to re-learn how to ski in a bucket suspended over a mono-ski, holding two outrigger skis to help him turn. His former pre-school classmate Kate Allman caught up with Sam to learn more about the crazy sport of sit-skiing and how his life has changed since his accident.
In 2013, Sam Tait was your average 22-year-old. A fit, sociable guy from NSW's Southern Highlands who loved hitting the gym and the ski slopes.
That was until he went out for a motorbike ride with his friends and woke up three days later with a severed spinal cord.
"The last thing I remember is riding across a bridge," says Sam, who has zero memory of the accident itself.
"When I woke up, I kind of knew something serious had happened because my whole family were around me. They said, 'You had a motorbike accident. You're not going to walk again.' That was the basic gist."
The news that he would be a paraplegic for the rest of his life had come as a devastating blow to Sam's family, but Sam was determined not to let his accident change the way he lived. He renewed his CrossFit membership in 2015 as well as his car license – this time with paraplegic hand controls. He was also eager to return to the ski slopes as soon as possible.
"I decided early on that I was going to ski again," says Sam. "I saw videos of sit-skiers on YouTube when I was in hospital and I said to my parents, 'I'm going to do that. I'm going to go to the Paralympics.'"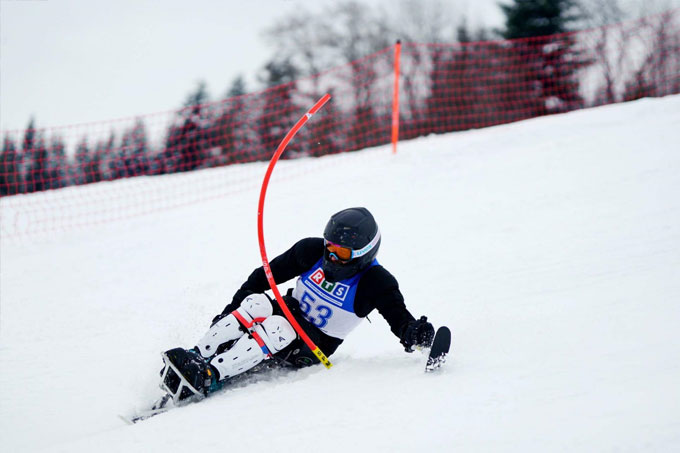 Sam hooking in during a recent slalom race
When Sam's parents bought Corroboree ski lodge in Perisher in 2014, Sam began to ski more regularly. One day an Australian Paralympic coach saw Sam skiing past him at Perisher and invited Sam to a talent camp. Since then, Sam's life has been a whirlwind of training, skiing overseas and competing in international events.
"Things have just progressed each year and got more and more serious," says Sam. "Now I'm at the Paralympics and it's crazy. Beyond exciting. The vibe here is unreal."
Sam trained with the Australian Paralympic team for two years in Perisher, Europe and the USA before finding out in February that he had qualified for the Paralympics with a number of lightning-quick times in World Cup and international events. He is now preparing to make his Paralympic debut in all five alpine skiing events at PyeongChang – the Downhill, Super-G, Super Combine, Slalom and Giant Slalom.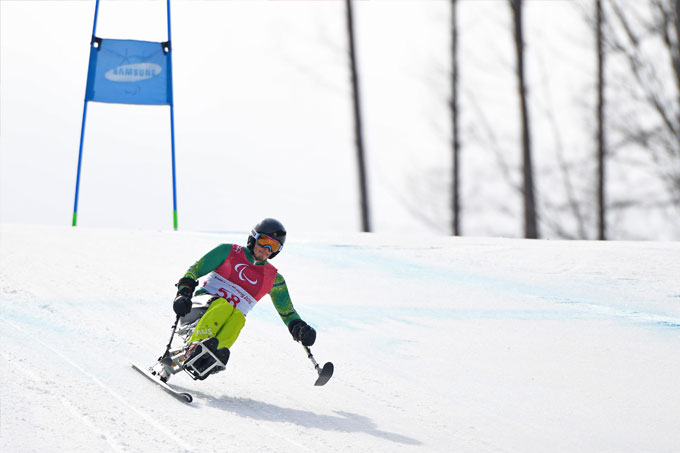 Sam during training this week on the Olympic course. Photo: Australian Paralympic Committee
Five minutes with Paralympian Sam Tait
Age: 26
Impairment: physical – paraplegia
Sport: Alpine skiing
Events qualified for in PyeongChang: Downhill, Super-G, Super Combine, Slalom and Giant Slalom
Top five pre-race tunes: Two Minds – Nero, Symbolism – Electro-light, High – JPB, Spectre – Alan Walker, Cover me – Nicole Millar
What do you remember about the motorbike accident that paralysed you?
Three mates and I had planned a big ride where we would go from Bowral to Nowra, Wollongong and along the Ocean Road to the national park south of Sydney. The day started at about 10am when I set out from Bowral, and the last thing I remember is riding across a bridge on the way back. Then, waking up in hospital three days later.
I remember little snippets of being in the helicopter and being in an intense amount of pain in the MRI machine. Then, vaguely talking to the doctor before my surgery. I think he was saying it would be a six-hour surgery. I also remember laughing with him, but I don't know what he said or what was going on. I was on some pretty strong painkillers.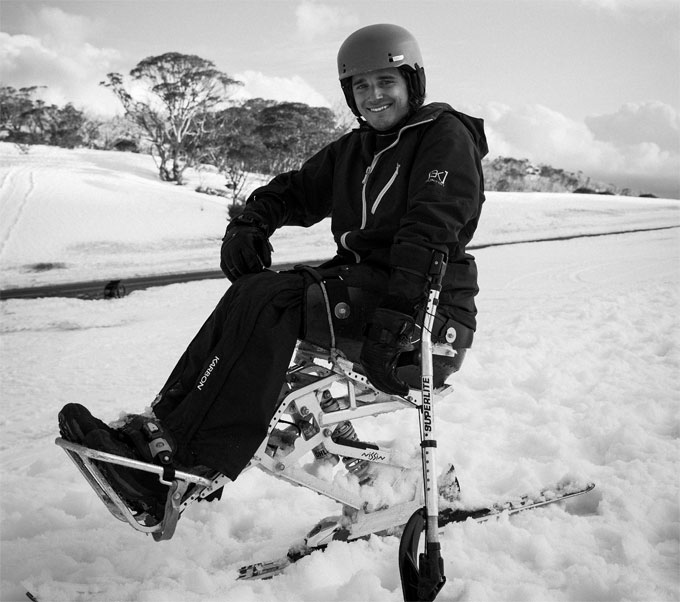 At home in Perisher
How did you find readjusting to life after the accident?
Everything was pretty hard. I found it especially hard to regain the confidence to get back out into the community. I had to see my friends from a wheelchair and that was a big adjustment for me, though it wasn't for my mates. To their credit they treated me the same. But there is still some part of me that doesn't like to be out in the community as a paraplegic, so to speak.
I've come to terms with it now, but I definitely had some dark days. I don't really know how I dealt with it. I would just try and take in the grief then try to move on. My attitude was, "Shit happens, you have to move on."
I've seen your videos of you doing pull-ups with a wheelchair attached. Pretty impressive! How did you manage to regain your fitness after the accident?
I had always been into the gym and CrossFit, so I decided I would get back into that. At one stage I was going five times a week and I was ranked sixth in the world in CrossFit. It was kind of all I had in my life for a while. As for the pull-ups, I lost probably 15 kilos in my legs, but I gained about 15 in the wheelchair. So, I guess it kind of evens out to a normal pull-up. It just looks tougher.
When did you decide you wanted to take up skiing again?
I decided that in hospital. I saw videos of sit-skiers and I said to my parents, "I'm going to do that. I'm going to go to the Paralympics."
Four months after my accident, I sat in a sit-ski and did the flattest run in Thredbo, Friday Flat. I remember thinking, 'This is going to be so hard to master.' But I stuck with it and it has been my lifeline ever since. It's been what I live for.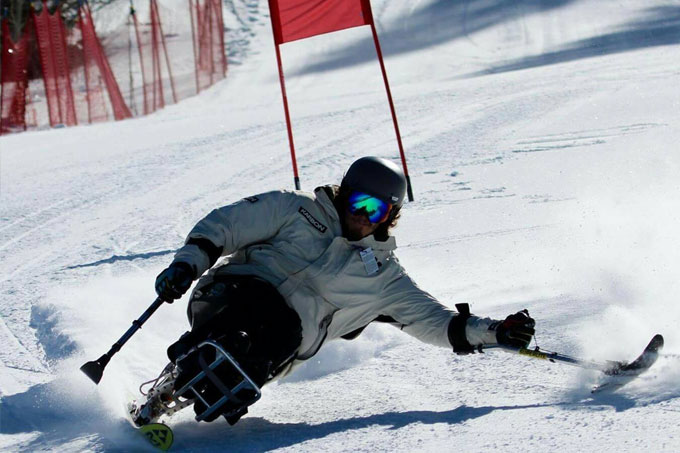 Sam is competing in all five alpine disciplines in his debut at the Paralympics, but loves the speed events
What do you love about sit-skiing?
I tell everyone I meet, if you get the chance to jump in a sit-ski, definitely give it a go. I wouldn't go back to stand-up skiing now that I've tried it. You are a lot closer to the ground, so you feel the hill more. The adrenaline when you are skiing a downhill run and the emotions when you finish are crazy. I've clocked speeds up to 120 kilometres per hour. And when you're on snow, it doesn't feel like you're disabled.
Can you still shred the powder like standard skis?
Of course, you can. It's actually better – you get more covered in it!
What are your goals for PyeongChang and beyond?
I'm definitely aiming high, I'd love to get on the podium. But I'd be happy with a top 10 finish. That would be amazing.
After PyeongChang, I'm aiming to get to the Beijing Paralympics. And I'd definitely like to podium there. Then maybe the Paralympics after that – we'll have to see how my body holds up. In the meantime, I am looking forward to getting back home and enjoying a little bit of sun before I hit the snow again!
Don't get creeped out, but I had a dream you won a bronze medal – would that be an okay result?
Well that's kind of what I have been dreaming about, so yeah, absolutely! We will see what happens.
Any shout-outs?
Obviously, Mum and Dad. Richard and Jackie Adams from Keegan Adams Recruitment who gave me a pretty decent donation to get over here. It was out of nowhere and helped me pay for a lot of this season, which was awesome. I don't have any sponsors apart from Mum and Dad.
Sam will begin his Paralympic quest with his first race on 10 March at 1.30pm Sydney time. Watch a live stream via Paralympic.org or follow his results on his Facebook, Instagram and Twitter accounts. A full schedule of the Games is available here.