Grasshopper's Weekly Japan Forecast, January 19th – Quiet Spell Coming to a Close with a Deep Week Ahead
January 19th, 2023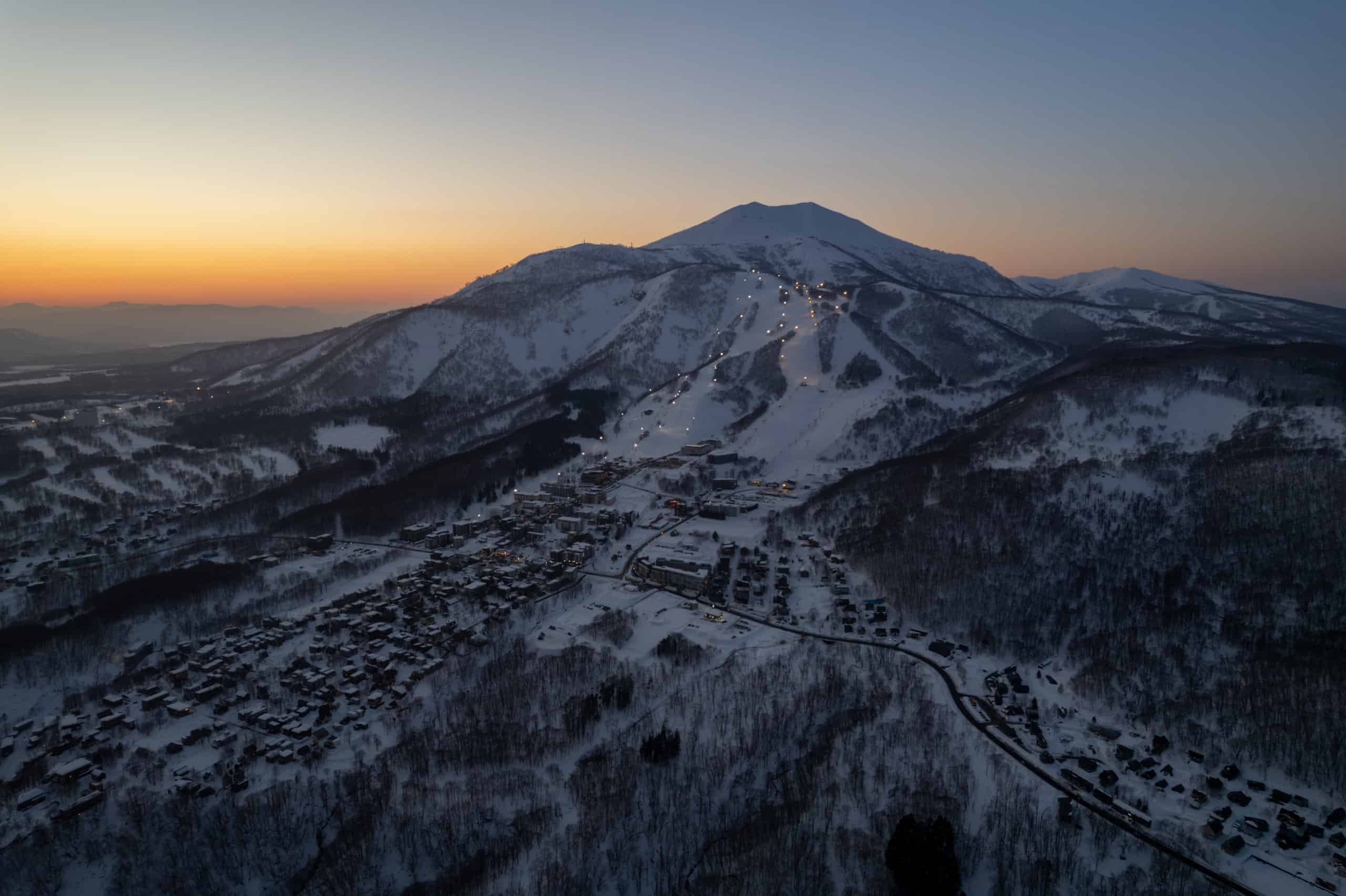 Mountainwatch | The Grasshopper 
Written Thursday  January19th  (Japan Standard Time)
It's been another relatively quiet week in Japan, but after a sunny, calm day today, northern Honshu and Hokkaido will see a wee top up tonight before a more thorough dump across the country Friday night, which should see central Honshu receiving a good 15-30cm. This will set resorts up nicely for a great weekend.
Then, from late Monday, the Japanese powder machine will kick into overdrive as an intense snowstorm gets underway, which should see us through next weekend and possibly into early the following week. That's at least 6-7 days of moderate to heavy snowfall! Daily totals should be up around 20-40cm+ mark for central Honshu and 10-25cm+ for Hokkaido. Not a bad way to make up for lost time.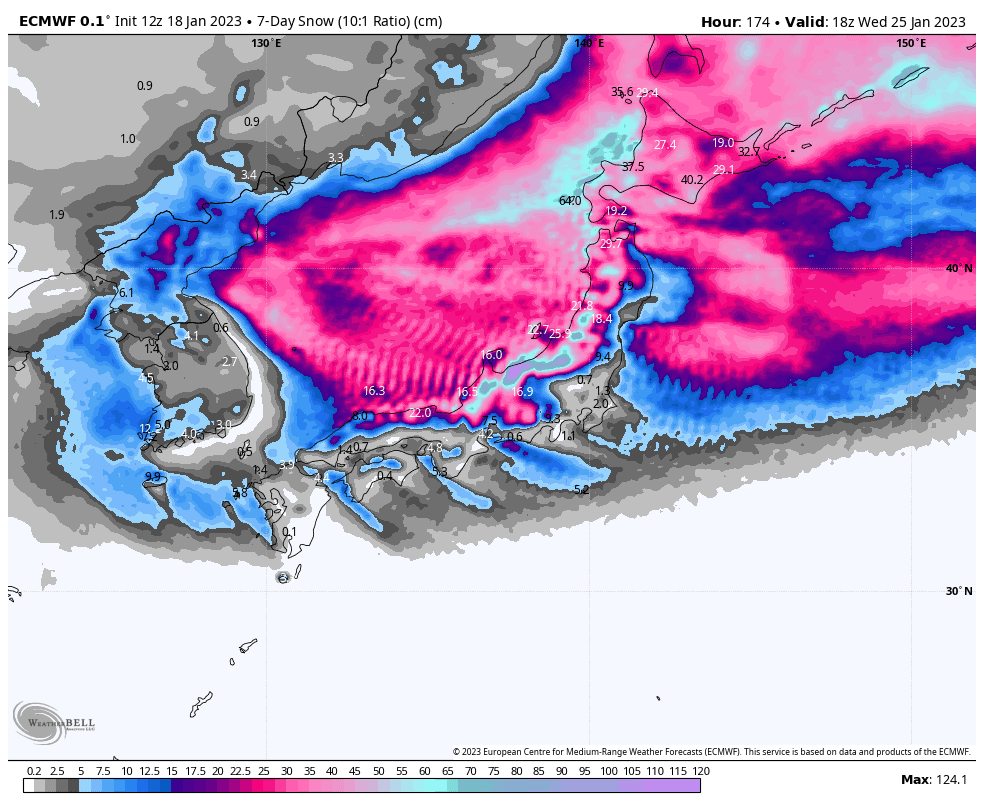 Thursday Jan 19th& Friday 20th
Today, Thursday, will be mostly fine across the archipelago as a ridge of high pressure passes over.
A weak-ish low and its' trough brewing in the Sea of Japan will start to push on tonight/overnight, bringing light flurries to central Honshu, but a period of more moderate, possibly heavy even, snowfall further north through into Friday morning.
Central Honshu and Hokkaido will actually spend much of Friday under clear, calm skies, while snow showers are likely to continue pushing into northern Honshu as another low deepens in the Sea of Japan.
The snow will start to bucket down from late Friday afternoon/evening before the low zips through the Tsugaru Strait Friday night. However, snow levels will initially be an issue for Honshu where rain will likely affect lower slopes, before cold NW winds hit that night and snow levels bottom out.
 Saturday Jan 21st& Sunday 22nd
Saturday is lining up to be an epic powder day. By dawn the heaviest snowfall and most inclement of weather will have past and it will continue to back off throughout the morning, leaving just light, occasional snow showers or flurries through the rest of the day.
On Sunday, central Honshu will see plenty of sunshine and not much wind. Further north, NW winds will continue to push in light snow showers, with Hokkaido looking more persistent than northern Honshu where it's looking more piecemeal.
Monday Jan 23rdto Wednesday 25th
Monday marks the start of what's looking like a week-long snow storm. As is typical at the start of such storms, we'll initially cop a swag of rain with mild winds from the south, with central Honshu likely seeing the worst of it.
The cold air should then hit late Monday, with winds sharply turning to the NW-quarter and temperatures dropping well below. We'll see moderate to heavy falls across the country all the way through into next weekend – that's at least 6-7 days of snow!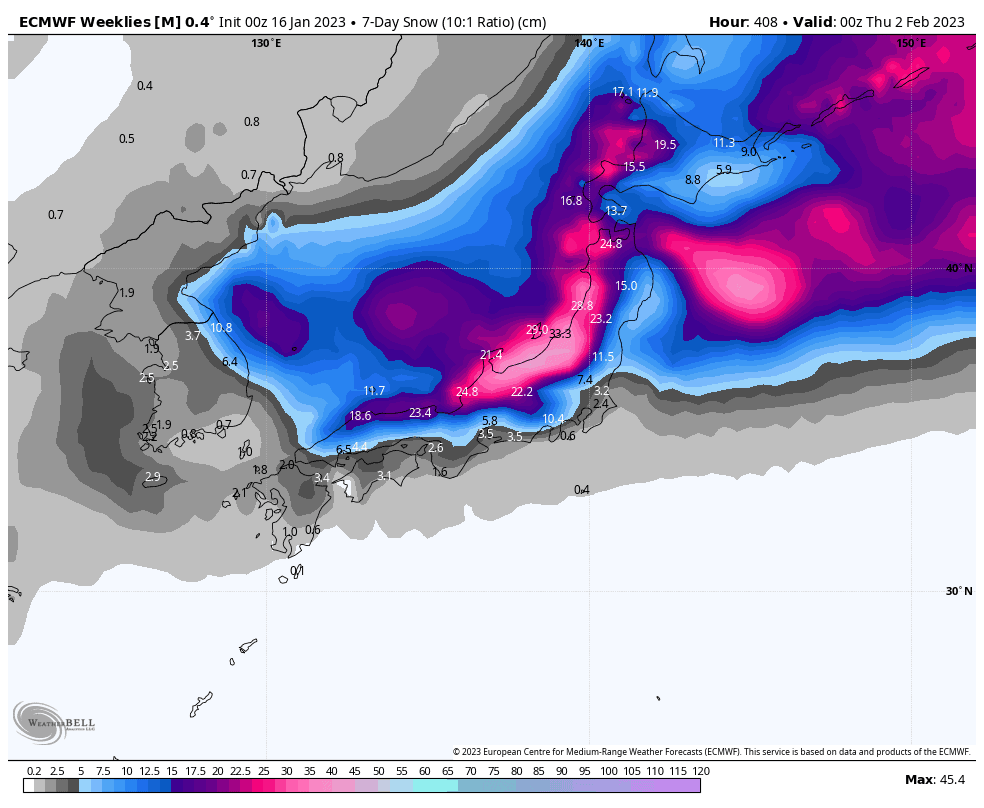 Thursday Jan 26th& beyond
As mentioned above, the snow storm will continue through next weekend, and ensemble models expect it'll continue into early the following week as our calendars tick over into February. Weekly snowfall totals for this period, from Thursday 26thJan, should be huge again, before they taper off to more "normal" levels for the following weeks.
That's all from me this week guys, see you next week!
Grasshopper