Mountainwatch Guide to Queenstown
July 2nd, 2021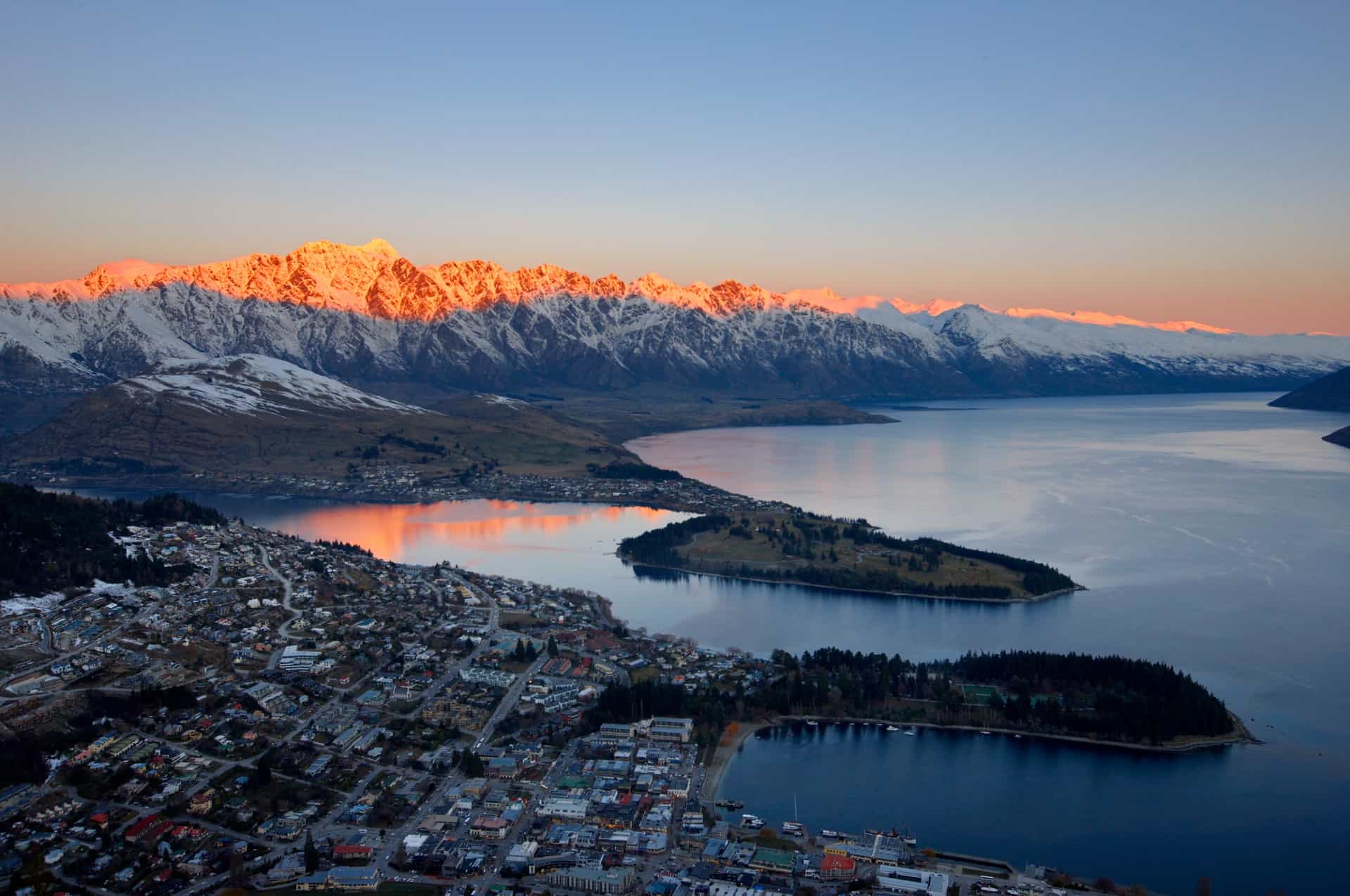 Mountainwatch | Nick Hyne
A taxi driver once told me – "If you're not having fun in Queenstown, you've only got yourself to blame". I guess what he was saying was that Queenstown is a uniquely fun-focussed town. Once you arrive, you will soon see the expanse of adventures readily available and that this is exactly what nature intended Queenstown to be adventure-centric.
Happily, tucked away at the bottom of the world, Queenstown is home to rugged mountains, pristine lakes, dramatic sunsets and a climate that has helped Queenstown become renowned as the adventure capital of the world. Regardless of the time of the day (or year), Queenstown is a magical place to be. Winter in Queenstown really shines as the mountains extend the playground for you to fulfil your adventurous desires in the day, and then navigate the world-class restaurants and bars by night.
Let's dive into 10 things about Queenstown that may provoke FOMO (or nostalgia).
The Airport.
Yes, even the arrival is worth a mention.
Queenstown Airport has recently received the title of The World's Most Scenic Airport. Sitting bang in the middle of ski resorts Coronet Peak and The Remarkables and perched on the edge of Lake Whakatipu, the flight into Queenstown is hard to not be awed by. Once you are on the ground you are only 10 minutes from 150 world class restaurants and bars in Queenstown's CBD. With night flights in full swing throughout winter, there are plenty of good options for getting into Queenstown at a time that suits your schedule.
Ski Resorts.
With night-skiing, first tracks, International level terrain parks and backcountry, the variety is incredible. Three resorts are within one-hour's drive of Queenstown.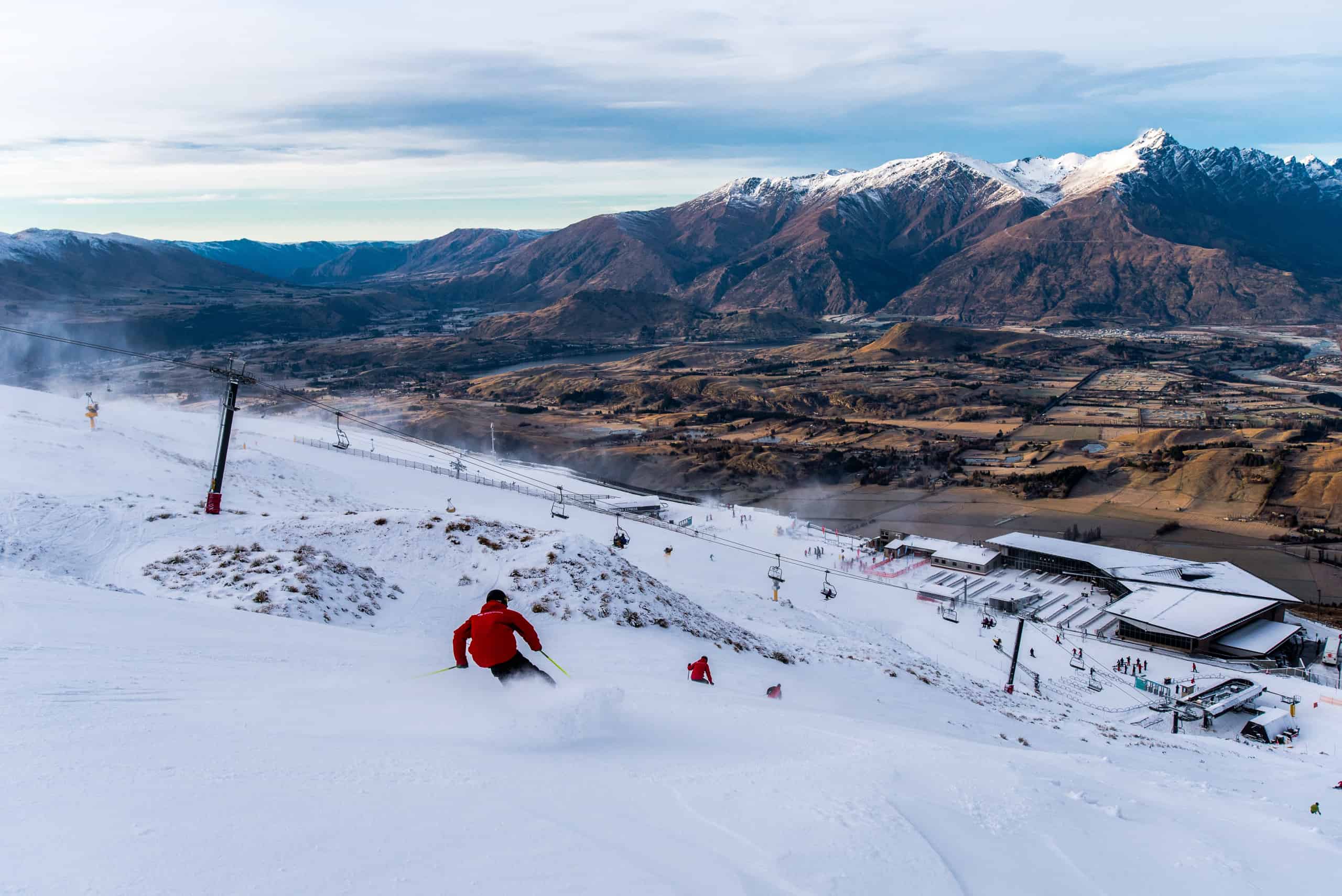 Coronet Peak
Just 20-minutes easy drive from central Queenstown, Coronet Peak has kilometres of undulating, fun rollercoaster terrain as well as steeps.  New Zealand's first commercial ski area, Coronet Peak has been around since 1947 and offers a ski experience that will cement its place in the nostalgia bank.
With steep groomer runs cascading directly beneath the chair and 360 mountain and lake views that evoke many a camera to pop out while enjoying the lift ride.
Make sure you are up early on a powder day to enjoy local favourites like Exchange Drop with its skatepark-like terrain. If steep groomers are your bag, then get amongst Hurdle some steep, speedy turns.
And just to top it all off: Coronet Peak has night skiing every Wednesday and Friday night, meaning that you can get off your flight and then head straight up the mountain until 9pm.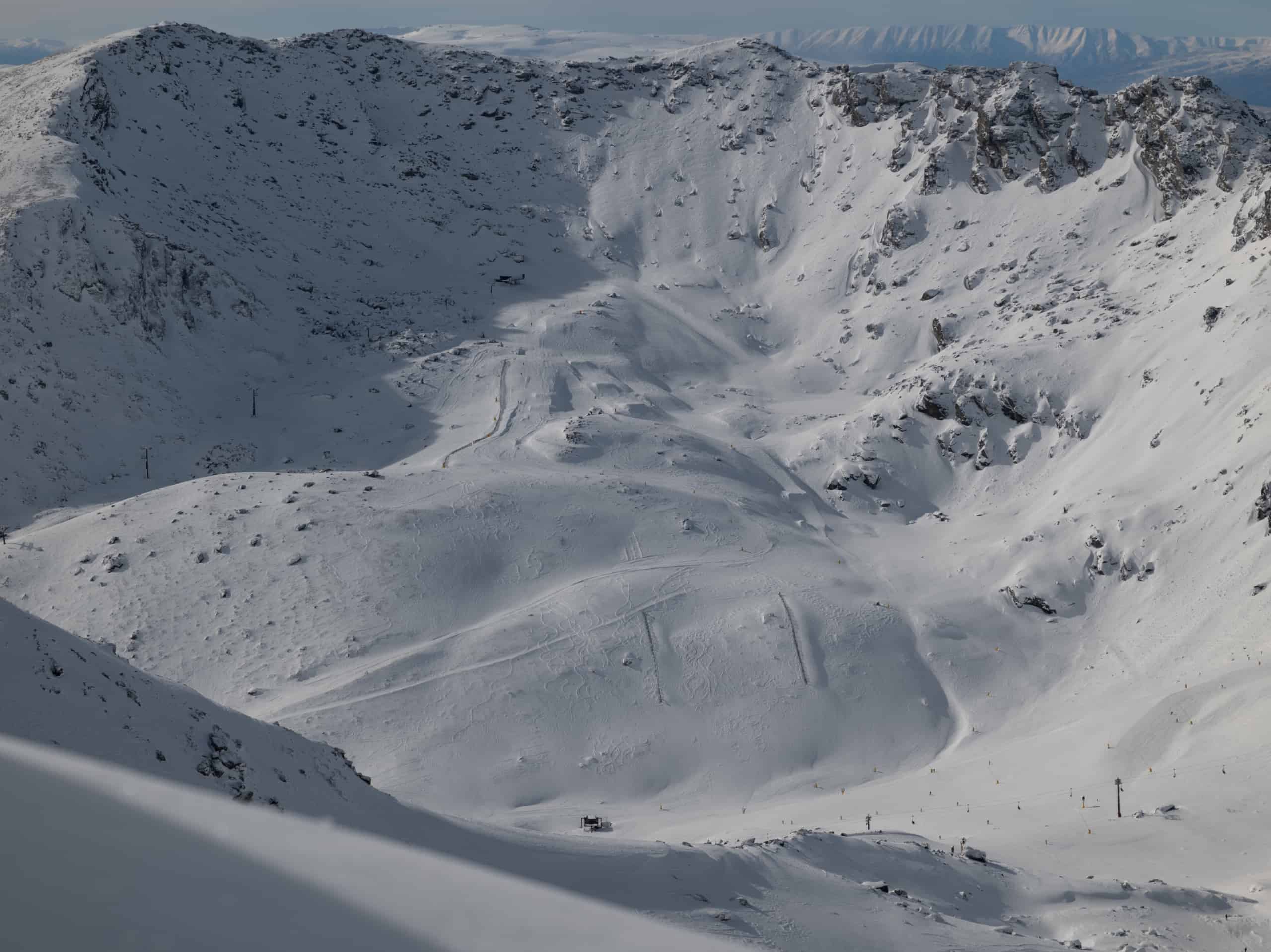 The Remarkables
40 minutes from central Queenstown is The Remarkables. With three sun-drenched bowls to choose from and a massive variety of different level terrain, The Remarkables is a fantastic for any level.
Host of the North Face Frontier, Freeride World Tour event, The Remarkables has always been renowned for its backcountry terrain, but in recent years, the amount of intermediate trails has increased hugely. Now boasting two six-seater express chairlifts that service lengthy intermediate trails, the options (and views) are great.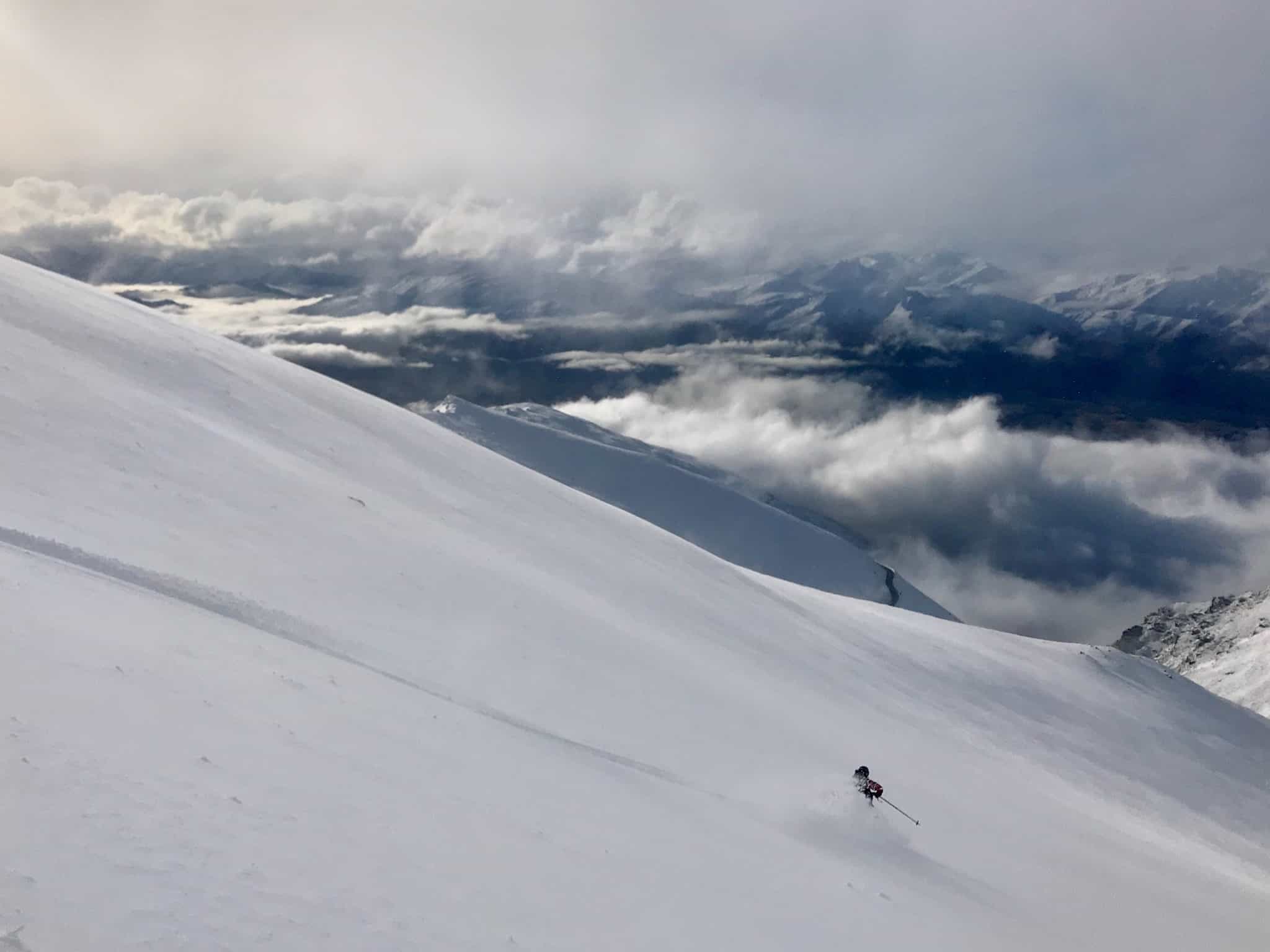 Also, for those with progression in mind, there are terrain parks for beginner, intermediate and advanced levels, including the all-natural Burton Stash terrain park.
A highly recommended, local favourite is the 15-minute hike to the Shadow lookout point. From here you can see Lake Whakatipu, Queenstown, Coronet Peak and the Southern Alps towards Milford Sound – it's a goodie!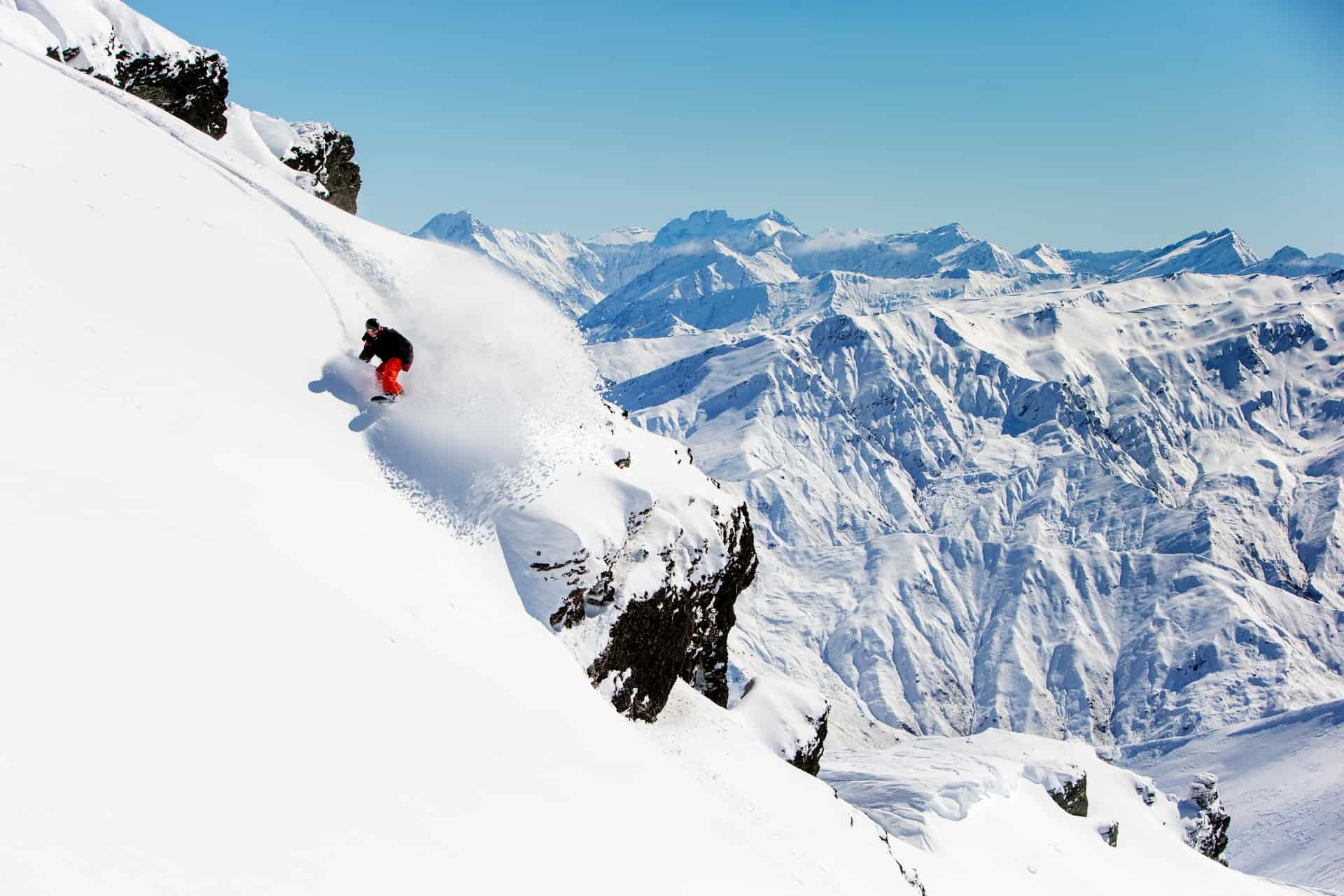 Cardrona
With 400 hectares of terrain offering an even split between beginner, intermediate and advanced, Cardrona truly has something for the whole family. With views of the snowy Pisa range and back towards Queenstown itself, be sure to explore all sides of the mountain as there and many hidden nooks and crannies beyond the wide-open beginner slopes down low.
For those wanting to explore the steeper side of Cardrona, be sure to do the quick 15-minute hike to the summit. It is great bang for your buck and on a powder day, there are some really nice rock drops and powder pockets. Captain's chairlift is another local favourite with wide steep slopes and fun bowly terrain.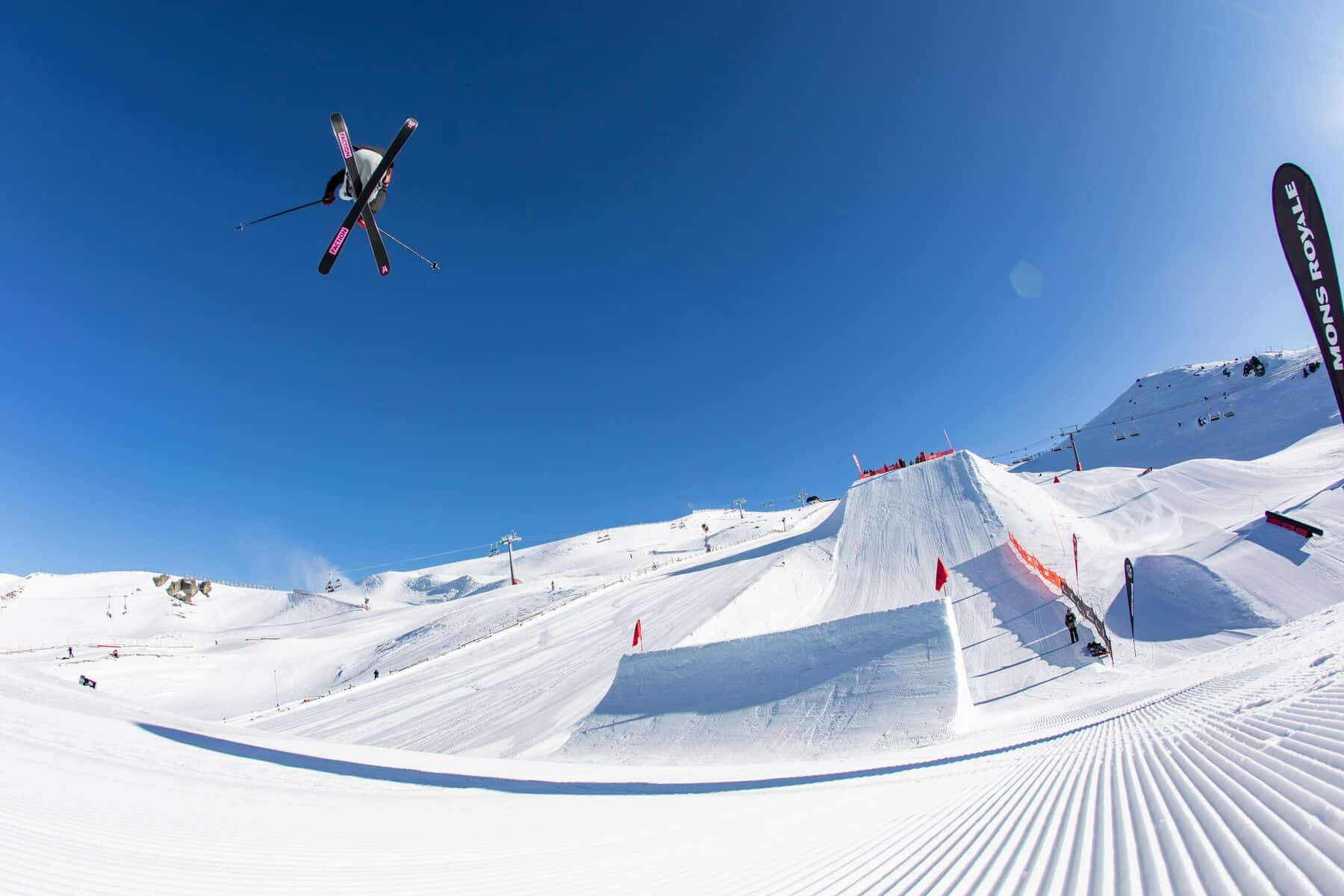 A brand new addition for 2021, is the 'Willows Quad'.  This gives access to previously inaccessible terrain over the Soho Basin (Queenstown) side of the mountain. Another new one for 2021 is the free shuttle bus service from the bottom of the access road.
With wide open beginners runs on McDougall's, and every terrain park feature from flat boxes to International World Cup level Slopestyle (jumps and rails) course and an Olympic sized 'superpipe' halfpipe, Cardrona provides an exceptional experience for anybody from complete beginner to professional athlete.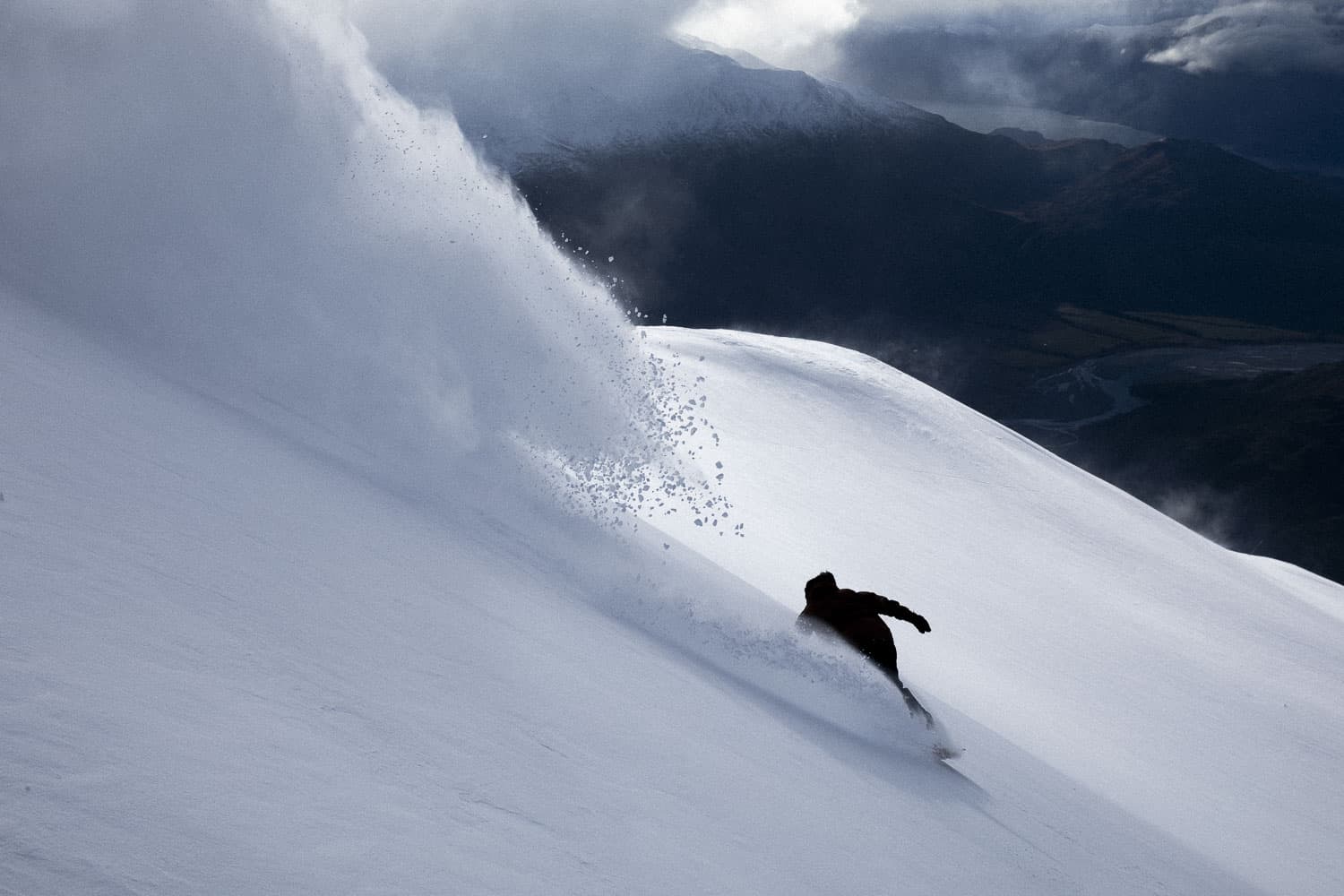 Treble Cone
Treble Cone is one the freeride gems of the South. 1 hour 45 minutes from Queenstown it sits with truly breathtaking scenery and advanced ski options galore.
The Saddle is famous for its big mountain terrain and the summit hike is one that leaves a true imprint of epic in your mind.
Rock drops, powder laps and steeps, Treble Cone is the mountain for long-time advanced free skiers and snowboarders the offers one of the world's best views.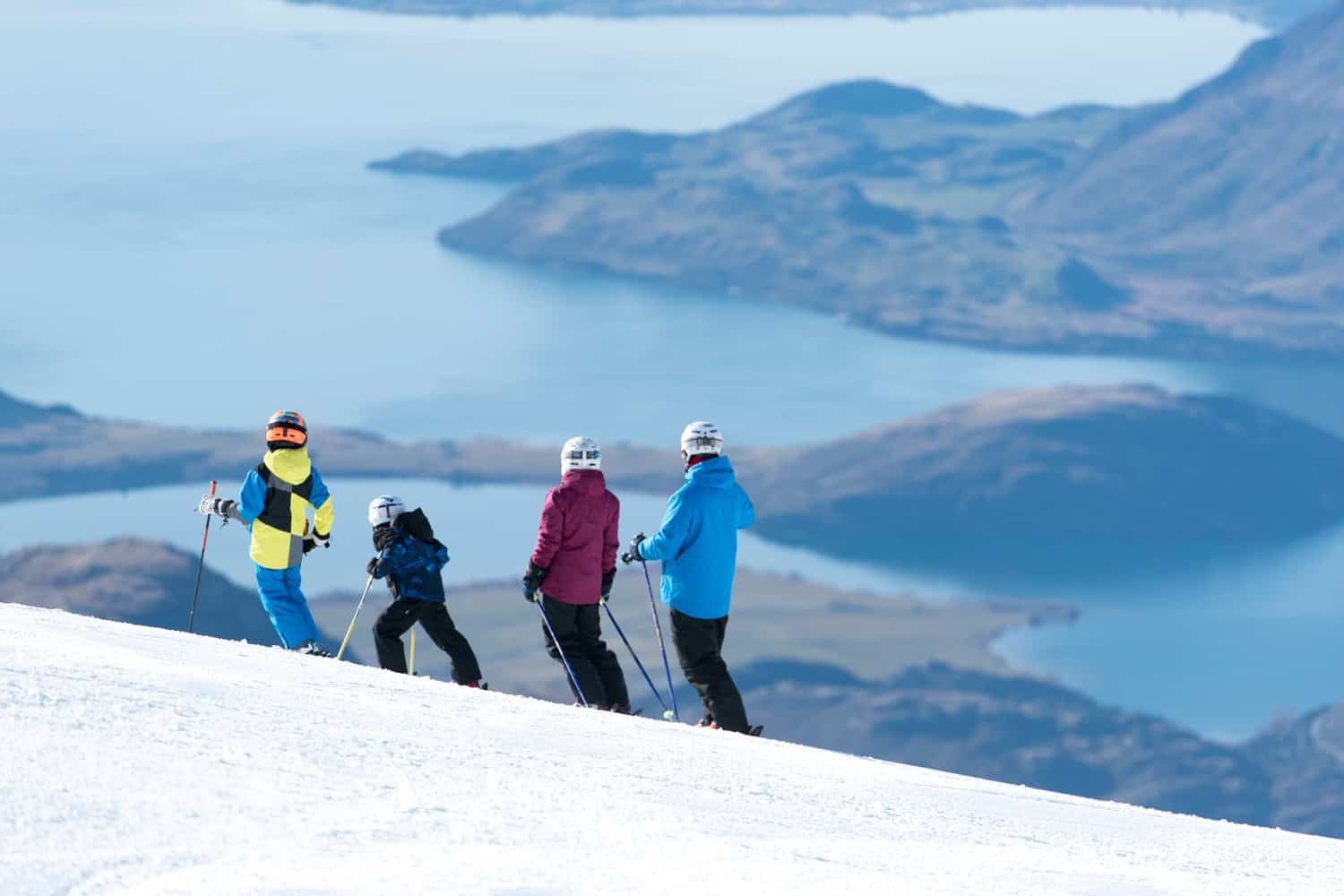 Scenery.
 So, as I have mentioned, Queenstown is famous for many things, but the crowning glory is the spectacular mountain and lake views in every direction. The scenery is good from anywhere at any time in Queenstown but to get above and really embrace the classic postcard experience, be sure to get up to Skyline Gondola. In my eyes, this the most iconic view that Queenstown offers. The gondola is an easy 5-minute stroll from the CBD and the experience is one you will never forget.
You can get a drink at the bar or cafe over-looking the landscape or try their famous buffet dinner experience. If you are on a budget, you can skip the gondola ride and make the one-hour hike to the top to get the same incredible views.
Winter in Queenstown really shines as the mountains extend the playground for you to fulfil your adventurous desires in the day, and then navigate the world-class restaurants and bars by night.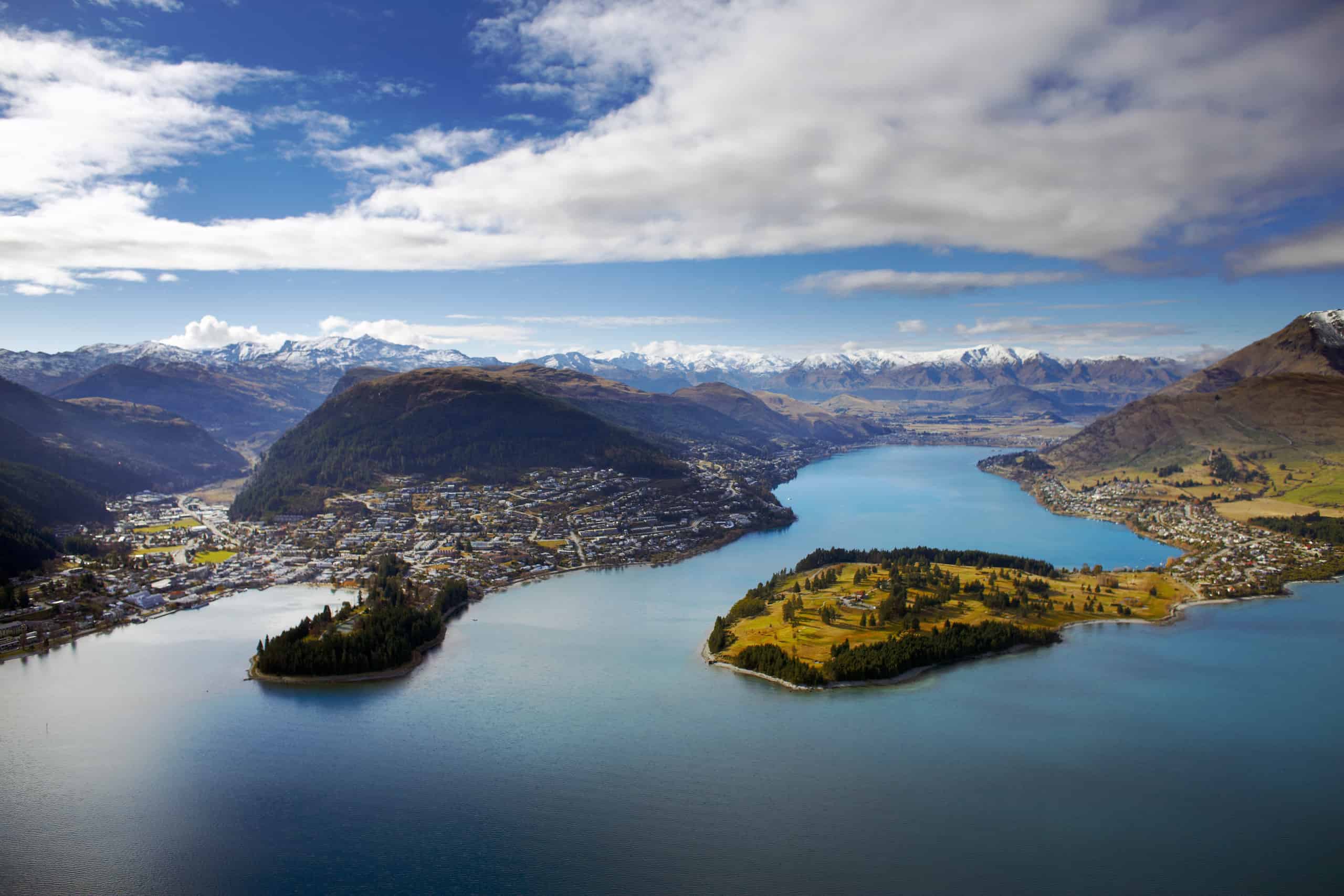 Famous food spots.
Fergburger
I couldn't create a Queenstown article without mentioning Fergburger (and the more recent establishment Fergbaker). Locals say that you can tell how busy Queenstown is by the length of the Fergburger queue. Fergburger burgers are really good. There are other fantastic options in town too but Fergburger have captured something special with their burger menu and their opening hours 8am until 5am mean that getting a Fergburger on a visit to Queenstown has almost become a right-of-passage for visitors, whether it be lunch, dinner or 4am treat.
Chilli Hot Chocolate
Maybe not everyone's cup of tea, but another worthy mention is chilli hot chocolate from Patagonia. It sounds weird and spicy and that is exactly what you get, but it's an enjoyable weird. Enjoyed on freezing cold day, this is one to warm you to the core. They have an airport store now, so you can grab one before/after your flight.
Weather day options.
Well, when you pray for snow, you may need to take a day off to let mother nature work its magic. One great option is iFLY. Perched right between the Queenstown CBD and Skyline gondola, it is essentially Skydiving without the plane and you can do it in any weather, or even after dinner in town as it is open until 10pm right throughout winter.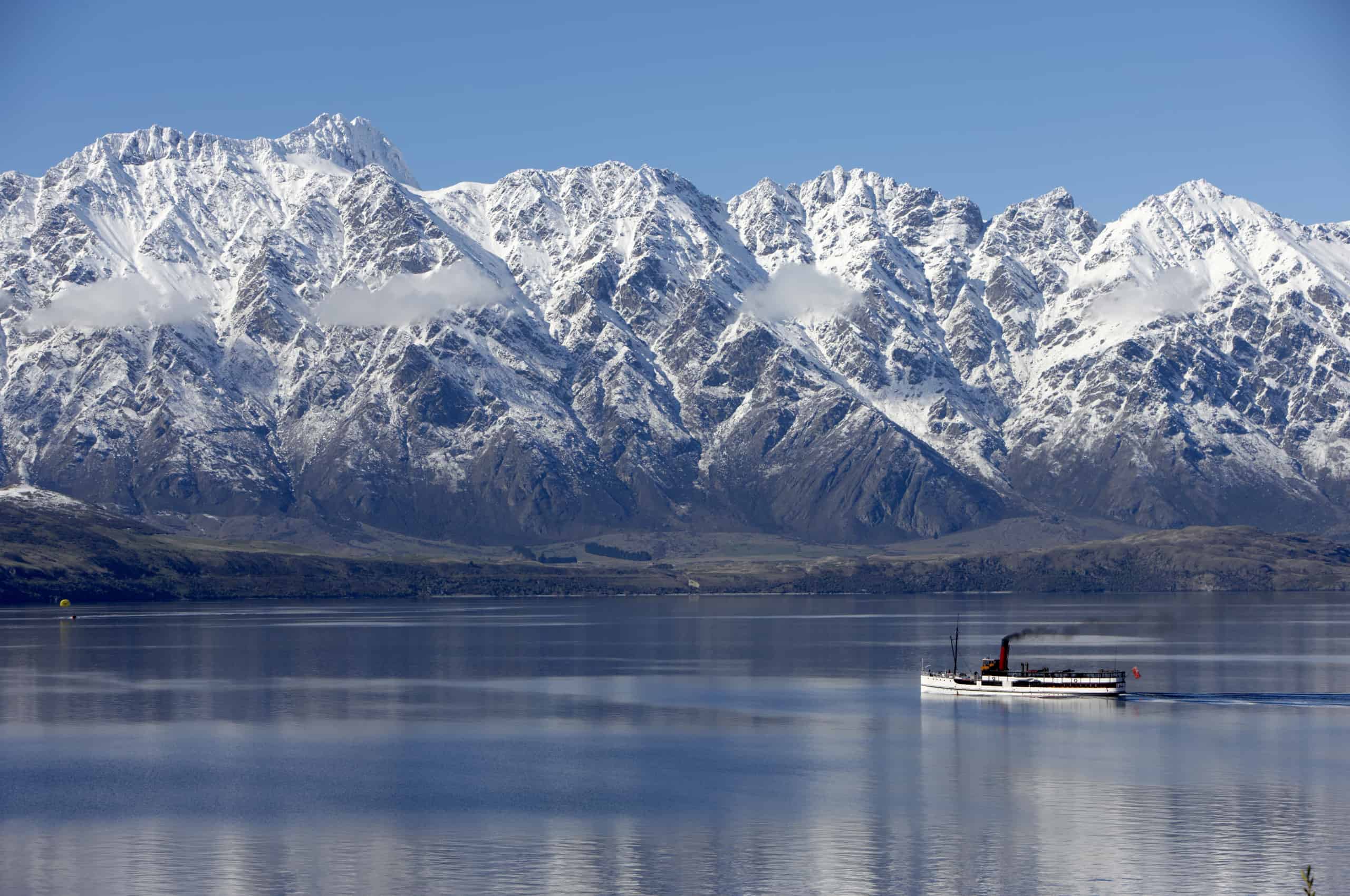 The Lake.
Just another string to Queenstown's bow, Lake Whakatipu is part of what makes a Queenstown lakeside experience so stunning. The water is crystal clear, the lake is shaped like a lightning bolt and it is freezing cold (8 degrees in summer and 11 in summer). Don't let the temperature make you shy away from a boat trip though. Several companies do boat cruises for varying budgets and is a great way to see Queenstown from angles you wouldn't otherwise appreciate. The most famous option is the Walter Peak Farm trip on one world's oldest coal-fired steamships, the TSS Earnslaw
Night adventures.
Bars, restaurants, Money Shots.
There are over 150 bars and restaurants that make Queenstown nightlife fun – everything from pies to fine dining. The Queenstown after dark options are infamous for antics. The most famous cocktail in Queenstown is the 'Money Shot'. Available from Bar-up, this delicious number has certainly become renowned as a catalyst for wild times.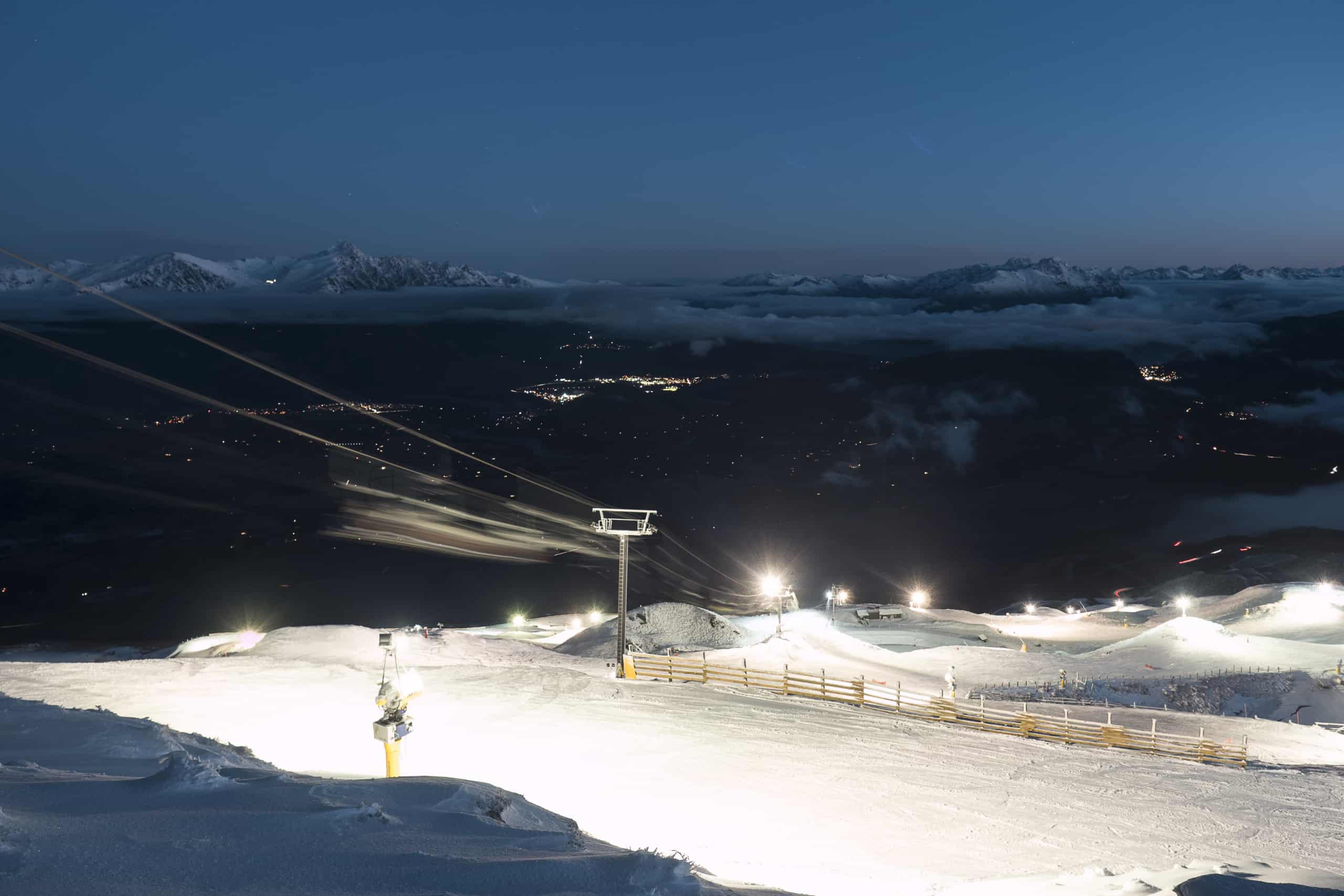 Coronet Peak Night Skiing
I failed to divulge this gem in my intro. Your reward for diving deeper is finding out that once night time hits your adventures don't have to be strictly food or booze related. Coronet Peak lights up its trails from 4pm until 9pm every Wednesday and Friday night. A mid-week favourite with locals, and surreal experience for those who have never skied under lights, this is a bucket list must-do and a great to squeeze a little more out of your time (especially if the money shots made for a slow morning).
Backcountry.
Queenstown has some great backcountry options with a everything from short steep pockets on the summit at Cardrona to the Alta chutes that have you exiting onto a frozen lake, the long, uninterrupted bowl of Homeward Bound at The Remarkables to the rolling terrain at Coronet Peak. Just a short hike can really give a whole new scope on the local terrain and your hiking efforts are often immensely rewarding. No need to do the same run twice when you are happy to hike to new zones!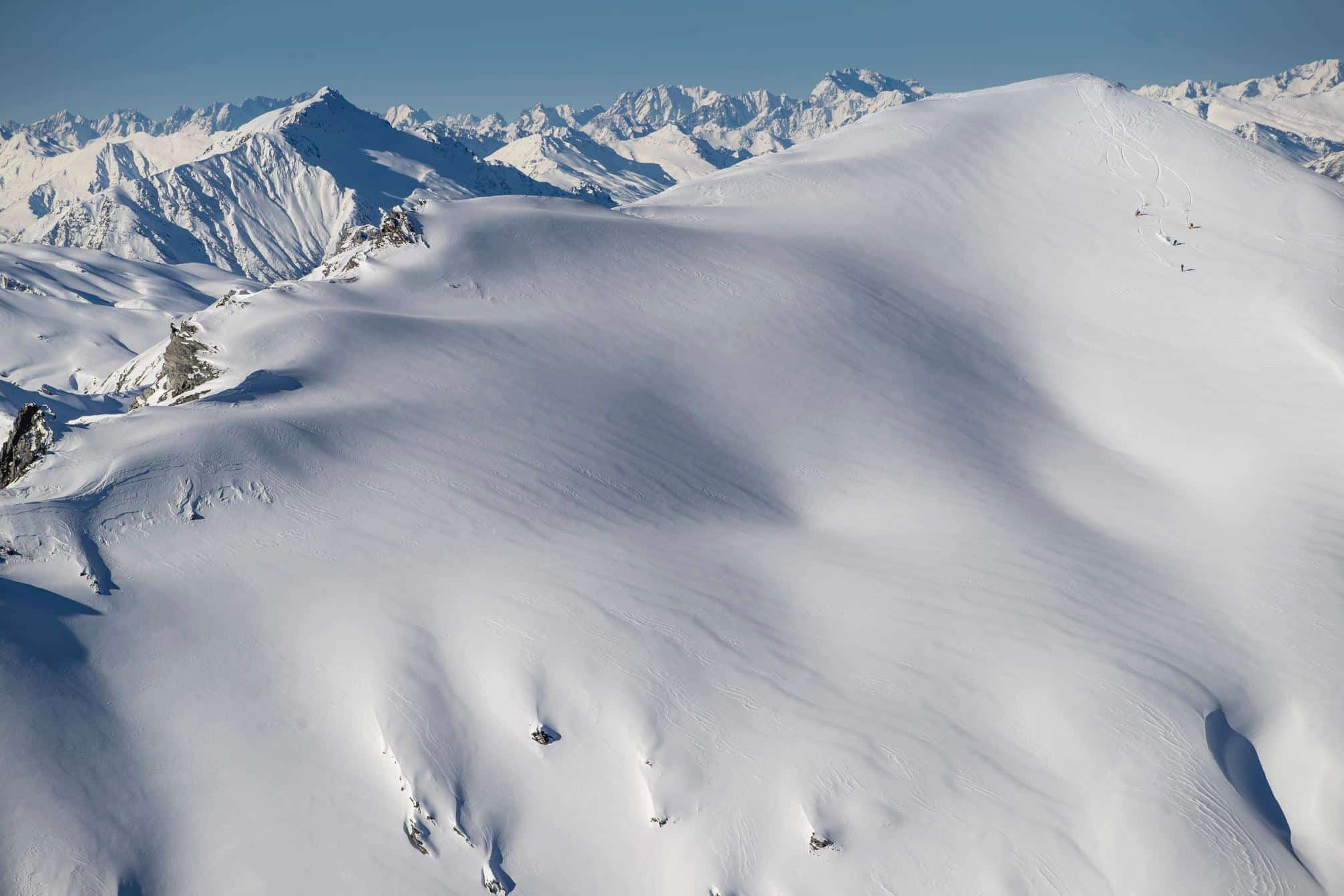 Heli-skiing
There are several heli-ski options that take off from Queenstown airport. Needless to say, this is an experience that truly takes your Queenstown experience to a new level. With options available for a variety of budgets ranging from three runs to nine in a day, heli-skiing is a way to guarantee yourself access to terrain that is explored by far less people than the resorts. The guides are extremely experienced and helpful, they know where to find the best snow and if that wasn't enough, even the lunches are amazing!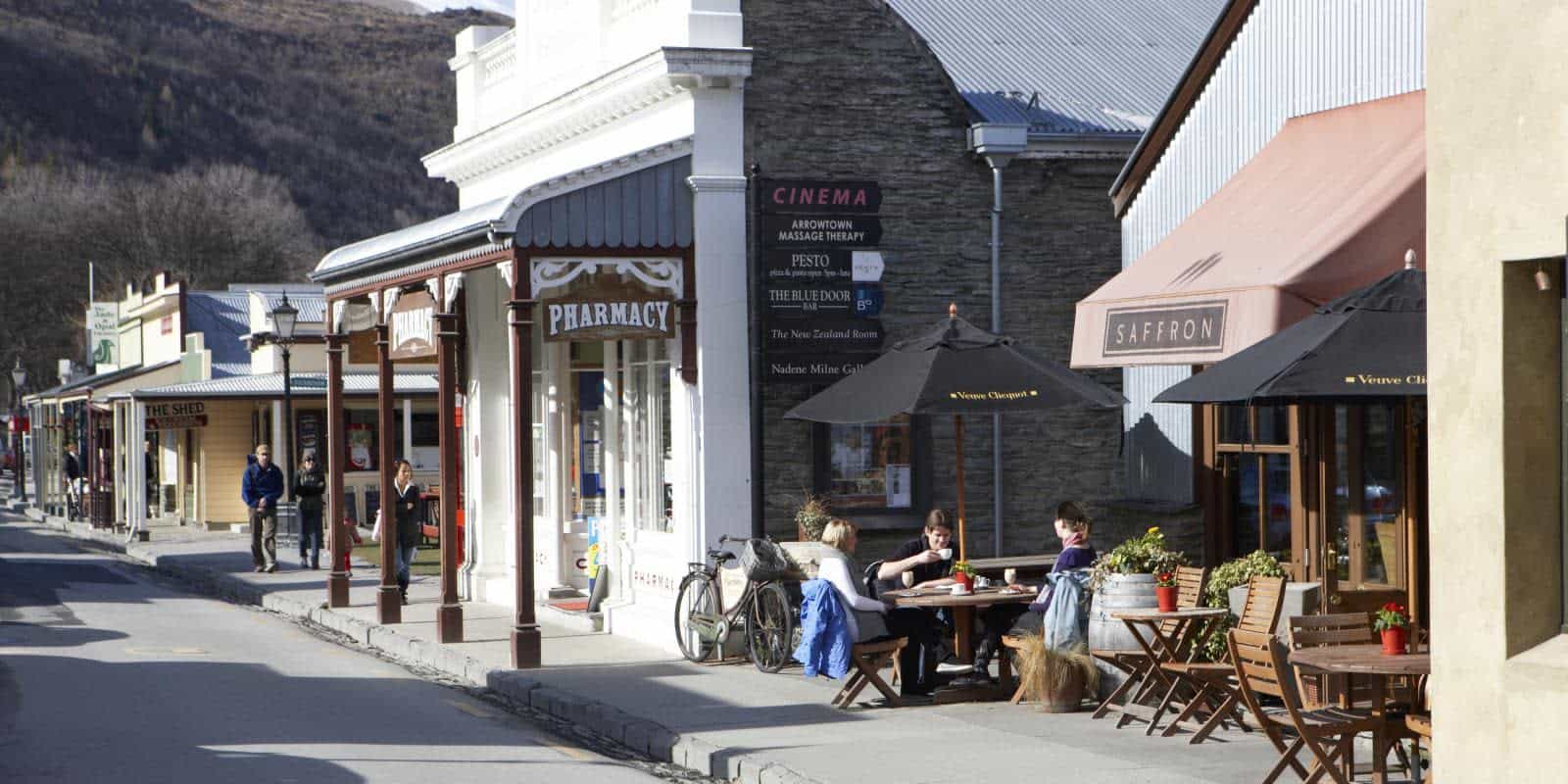 Art and History.
If you are less inclined to do adrenaline pumping activities and you like would prefer a little history and culture, look no further than Arrowtown.
Founded in 1862, Arrowtown is steeped in history from the goldmining days where around 1000 miners fled to the region. Lots of preserved buildings interesting snippets of history around and you can even try your luck at gold panning in the Arrow River, just as the settlers in the early 1900s did.
Dorothy Brown's is Arrowtown's cinema – with oversized seats and bean bags, you can grab a glass of wine to nurse throughout and order a cheese platter for half time. Once the film is over, don't be afraid to go through the Blue Door at the bottom of the stairs. What lies behind it may be of appeal, especially if you like live, local music.
*Nick Hyne is a Queenstown local and presents our weekly New Zealand video snow reports.  Nick knows Queenstown and surrounding mountains better than most and he reckons this guide just scratches the surface. You need to experience Queenstown for yourself. Head to Mountainwatch Travel for more information and to check out our Queenstown packages.