SoO AIRTIME Day 3 – Grass and…
September 2nd, 2011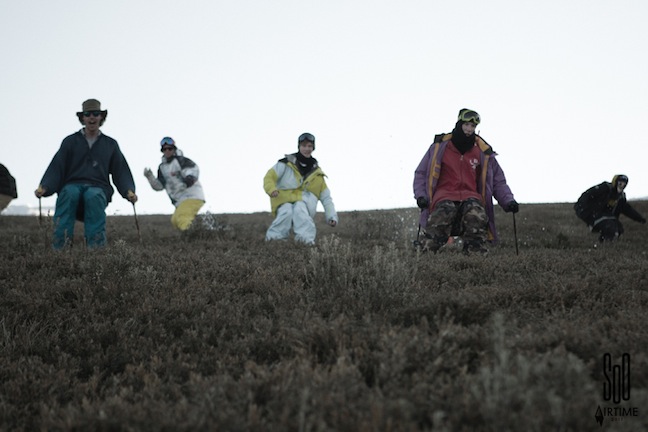 Team VIC. Image:: Charlie Payne
SoO AirTime | Watkin McLennan
It was the first day of spring and creativity was in the air. Today was about tying it all together. Both teams have been dreaming up concepts over the past few days. With the last day of filming on hand it was time to GTS.
Everyone headed back up to the summit for another glorious day in the sun. The night before de Campo had vision, we reworked the multiFUNctional… a new day a whole lotta new ways to hit it.
Pelly was out in force, salt bag in hand, shirt off and munching down AIRosaurus points. That spring sun was slushing it up real good.
SoO Airtime 2011 Day 3 from SoO AirTime on Vimeo.
Team NSW lost a couple of members today. Bryce Lewis totally held it together, O'Farrell would have been proud. As for Doodle, he may have been arrested if he was anywhere other than Buller. The real power though came from the creatives. Lucas Wilkinson and Joey worked closely coordinating shots for the soon to be released NSW edit.
Team Vic was strong. Directed by Harry Webster, the team found fun all over the mountain regardless of snow. The team was supported by nine year old Lucas Pisciotta who boosted big time off the zinga.
But today one man stole the show. Nick Parkinson got closer than anyone to a double. The poor guy sacrificed his wrist in the name of Airtime; it's not broken but it's on ice beside his bottle of sparkling.