Storm Journal – Atmospheric River Delivers Huge Snowfalls To The USA
January 12th, 2017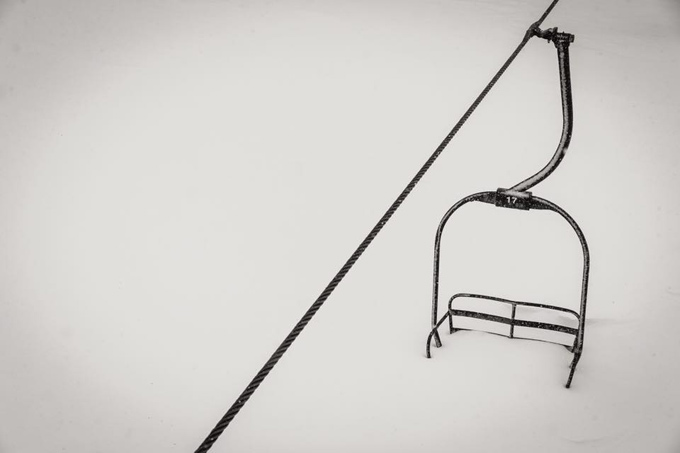 The is Chair 14 in Mammoth on the morning of Jan 11. Mammoth has received 10-15 feet in the past week and now has the deepest base in North America. Photo courtesy Mammoth Mountain
Mountainwatch | Reggae Elliss
The snow cycle continues in the US and there have been consistent snowfalls since January 3 across the Sierras and Rocky Mountains and the snow is set to continue for the next two or three days. The system responsible is called an "Atmospheric River" which is a weather system that carries a narrow-band of moisture, picked up in the Pacific and transports it over the land, bringing rain, snow and strong winds at a fast speed. This was a big one, bringing a huger amount of snow to the Sierras and the mountains in Washington state while also causing widespread flooding in Northern California.
The snow accumulation totals are amazing, particularly in California where the Sierras have had a pretty wild ride and the storms have dumped a huge amounts of snow. Last week Mammoth saw a massive 15 feet over a six-day period and the current storm has dropped another 4 feet (1.2m) in the past three days.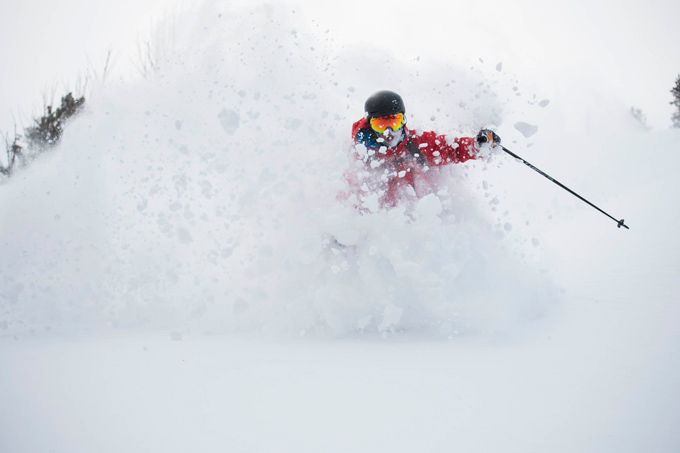 Teton Brown, deep in some Jackson pow during the first storm. Photo Tony Harrington
Further north the Tahoe resorts have been dealing with snow, rain to the peaks on the weekend, flooding, avalanches, gale force winds and power outages. This morning Squaw Valley was reporting another 3.5 feet in the last 24 hours. Not surprisingly the storm has caused operation issues and some resorts, Squaw included, have been closed a few days due to avalanche danger and the need to dig out lifts. Today a power outage meant they couldn't operate while Kirkwood is another resort closed today as they had to dig out the lifts – at the top and down at the base.
It has been a busy couple of weeks for the mountain operations and ski patrol, the crews working in difficult and dangerous conditions.
Please enable Javascript to watch this video
Road closures have also been an issue as the snow is falling so hard, the road ploughs cannot keep up with it. Over all, it has been a pretty amazing storm and while the stats on snow accumulation are incredible, the amount of water flowing into Lake Tahoe is incredible. According to the US National Weather Service, Lake Tahoe has gained 33.6 BILLION gallons of water and the water level has risen a foot since January 1.
So far this is the snowiest January for Tahoe since 2008 and only 12 days into January it is looking like the biggest snowfall month since March 2012. It is impressive but after five years of droughts many Tahoe locals are calling it a return to normal winter conditions, including pro skier Cody Townshend. "It is so awesome to see this back in Tahoe," Townshend said. "It reminds me of growing up skiing at Squaw and measuring storms, never in inches, always in feet."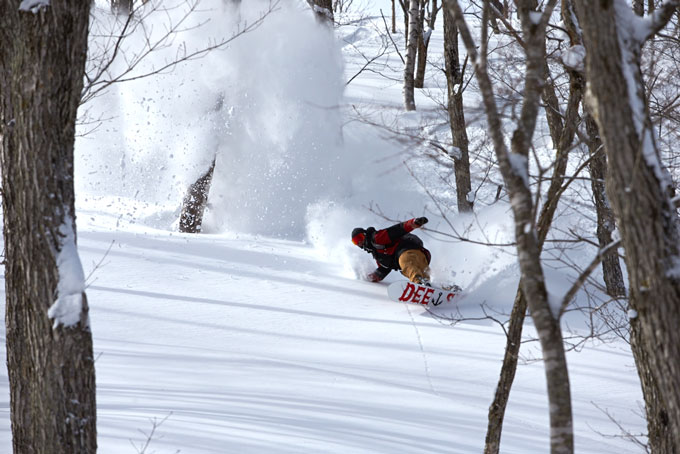 Reggie Crist finding a fresh line through the burnt out trees at Sun Valley. Photo Tony Harrington
While the might of the past two storms has been focussed on California. There was a tonne of snow falling across Utah, Colorado and Wyoming and all of which report some deep powder days. The snow totals were more manageable further inland and most resorts opened through the storm, although Crested Butte was closed on one day due to "too much snow" and Arapahoe Basin also closed one afternoon due to avalanche danger.
For those s who have been on the mountain there have been some memorable days shredding the powder. Tony Harrington, Mountainwatch and Chillfactor magazine's senior contributing photographer is based in Jackson Hole again this year, but has been chasing storms through Utah and Idaho as well, scoring a lot of powder days.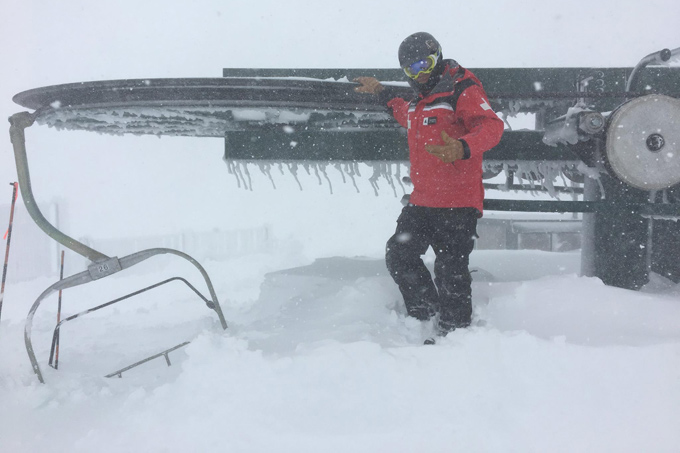 The morning of Jan 11 in Kirkwood and a good indication of the amount of work ahead to get the resort open. Photo courtesy Kirkwood Mountain Resort
"It's been many, many years since I've had this many powder days," said Harro. "By the time the season has finished I know it's going to be the best pow season I've ever had. So stoked!"
The forecast now is for more snow over the next two days and then a break across the weekend, with fine weather and awesome conditions. No doubt, the resorts will enjoy the breather, but then it could all start again with another storm due late next week.
Wow, powder to the people.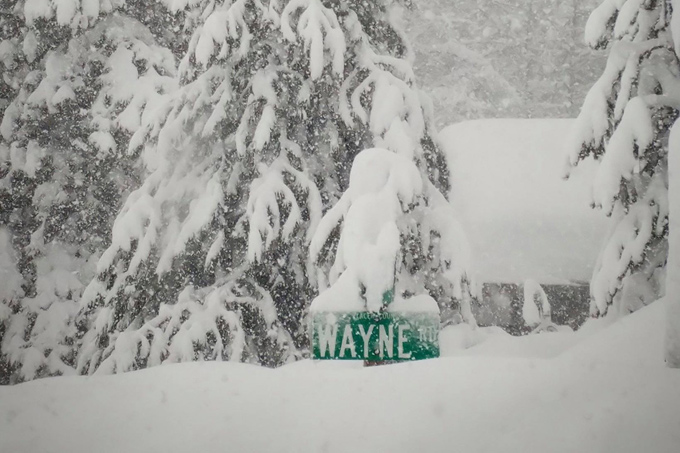 Street sign in Olympic Valley, Squaw on Jan 11. Photo Squaw Alpine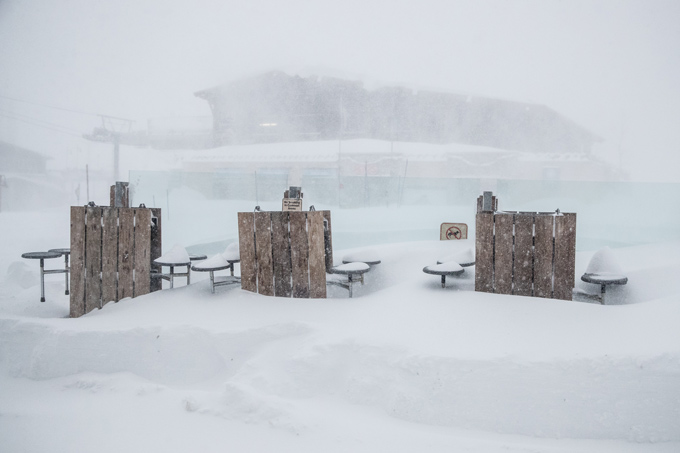 The base at Mammoth last week. There's been another 2 metres since this photo was taken on Jan 4. Photo Pete Morning/Mammoth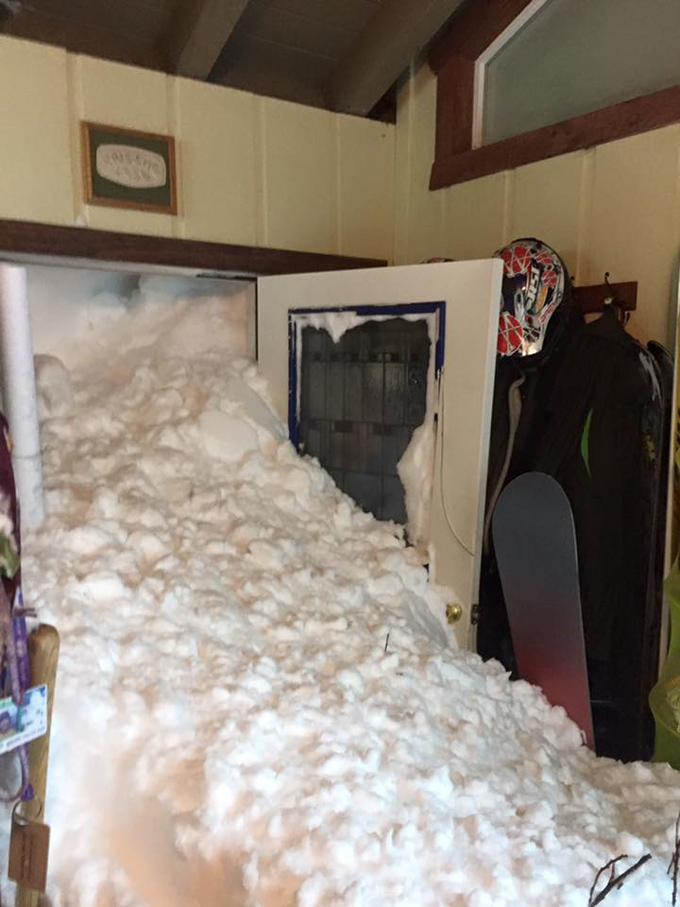 This photo has been doing the social media rounds and was taken by Siig Steven, the house owner, after a triggered avalanche yesterday in Alpine Meadows, Tahoe. Incredible.