STORM WRAP – August's Revival
August 26th, 2013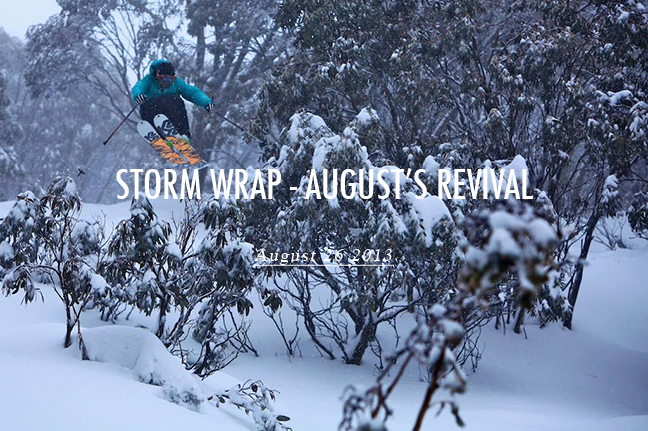 This storm really excelled in delivering snow to Falls Creek, Tom Costa out making the most of it Image:: Hocking/Falls Creek
Mountainwatch | The Grasshopper
You know it's been a big fortnight when you completely lose track of how much snow has fallen. It seems like ages ago that we started talking about August's growing potential. In fact it was all the way back in late-July that weather models started to drop hints that things were looking up after a crappy winter so far.
We gradually picked up a quiet half metre in the first week of August, taking the snow depth at Spencer's Creek above the 1 metre mark for the first time this season on Thursday 8 August (103cm to be exact).
Then on August 9 we issued a snow alert to warn that the atmosphere had some serious intentions. What followed since then can only be described as a roller coaster that saw copious amounts of snow, rain and wind, with the Spencers Creek snow depth hitting 134cm on Thursday 15 August, 170cm on Tuesday 20 August, and 186cm on Monday 26 August. There's a good chance it nudged 2 metres before the rain arrived on Friday, but since there was no one around to put a stake in, 186cm will probably go down in the record books as the peak depth of the season. No matter what way you cut it, August has been a huge month.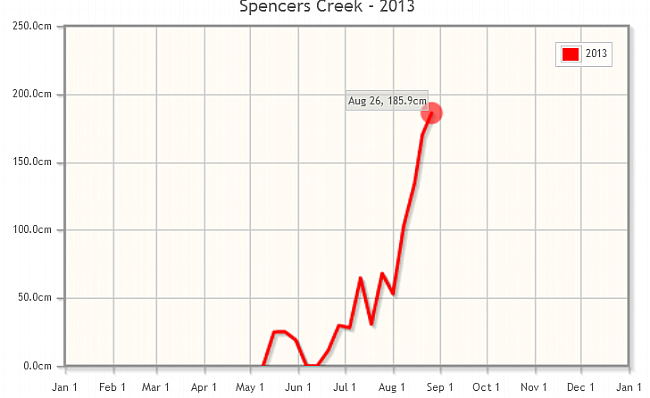 After a very rocky start to the season, the only way was up during August. Image:: Snowy Hydro
Every day since August 9 has held an important development and I feel like I can't leave a single one out, but here are the key moments:
We started with rain on the morning of Monday 12 August , but then three days of snow showers brought us accumulations around 35 to 40cm, taking Spencer's Creek up to 134cm on Thursday 15 August.
We only had to wait another couple of days for the biggest low of the year to spin up. This saw 10 to 30cm from Saturday 17 August to Monday morning (which was disappointing at the time compared to what had been forecast)
We then saw several days of snow showers from Monday 19 August to Wednesday 21 August, racking up another 10 to 25cm as that low continued to spin south of the continent. On the Tuesday Spencers Creek was measured at 170cm. For many who were lucky enough to be out there these days were the pick of the season, with the powder staying cold, light and dry and receiving a nice little top up each day.
The final act of this storm sequence saw 18 to 30cm of snow fall from Thursday 22 August into Friday 23 August. But we didn't get the happy ending we were after. Before the moisture had run out a trailing high pressure system was feeding in warmer air. It all turned to poo on Friday, with rain gradually finding its way to the peaks. In a week of twists and turns, triumphs and tragedies, this was probably the biggest kick in the guts. With all the snow building up we could handle it if the totals came in a little low at times. But a bunch of rain right at the end really did affect the quality of snow on offer.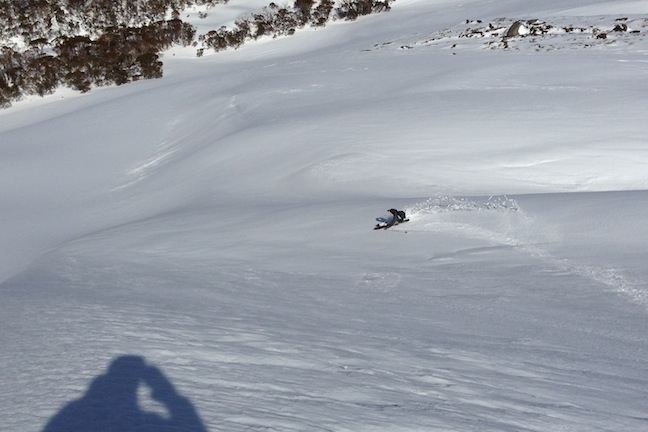 Even though it warmed on Friday, the melt freeze overnight made for some classic spring-like conditions in the backcountry, skier Chris Dillenbeck slashes some corn out in Twin Valleys on Saturday Image:: Alex Horvath
As it stands, the weekend just gone was still a ripper, even if the base was a little firm in places. We're facing some tougher times this week, but the last fortnight really turned the season around in a big way. If you want to re-live it play by play check out the sequence of images below. The most impressive thing is how relentless those low pressure systems and cold fronts are. They just kept coming, and coming and coming.

That's all from the Grasshopper. Got a question or feedback for me? Hit me up at grasshoppermw@gmail.com, on my facebook page, twitter, or join in the discussion below.