Taking The Piste – Final Blog from inside The World Heli-Challenge
September 14th, 2009

By Rachael Oakes-Ash
Photos By Camilla Stoddart
The World Heli-Challenge comes to an end for 2009
After two years of false starts the legendary event finally got off the ground in 2009 with athletes salivating at the premium conditions. They were lucky, in a winter that featured serious avalanche safety issues and an unseasonably warm August complete with torrential rain and gale force winds, the event could have gone either way. Instead the heavens blessed competitors at the beginning of September with three days of dry snow storms clearing to three days of blue skies.
There is no doubt this is an athlete's event. When they weren't taking on the big mountain and free ride terrain they were being ferried in jet boats, jumping from planes, mountain biking and bungee jumping for the cameras. Let's just say they got their $3000 entry fee's worth.
The event was scheduled from August 28 to September 12, a two week window required for weather contingency in a country that has twenty eight micro climates in the South Island alone. With the three days of competition over on the Thursday, Friday and Saturday, the athletes still had another seven days to fill before their flights home.
First up, a boat ride across Lake Wanaka followed by a beachside safety briefing then it was game on as American Ted Davenport pointed out his lines and we followed. Minaret Station features over fifty five thousand acres of prime farming land on twenty five kilometres of Lake Wanaka waterfront.
So Taking the Piste invited the overall winning snowboard female, Maria Kuzman , to join the overall male skier winner, Ted Davenport , on the Sunday for more heli ski adventure on Minaret Station off Lake Wanaka. The boys from Southern Lakes Heli Ski offered their guiding expertise on the Wallis family's private farming station.During the summer they offer mountain lodge style activities to cashed up tourists wanting a unique Kiwi experience with heli hiking, fishing, hunting and more. Come winter the jagged peaks and open bowls fill with snow and become a playground for equally cashed up heli skiers.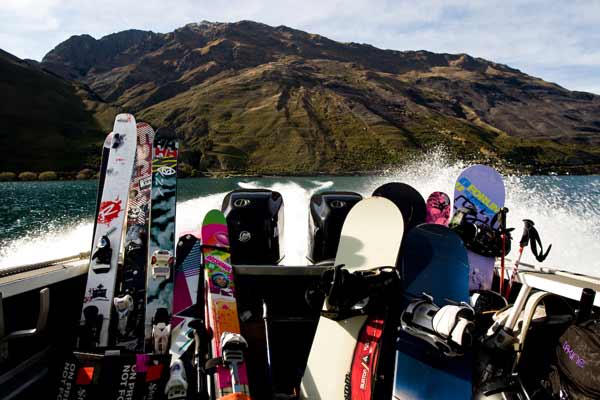 Taking the scenic boat ride to the helicopter pickup at the end of Lake Wanaka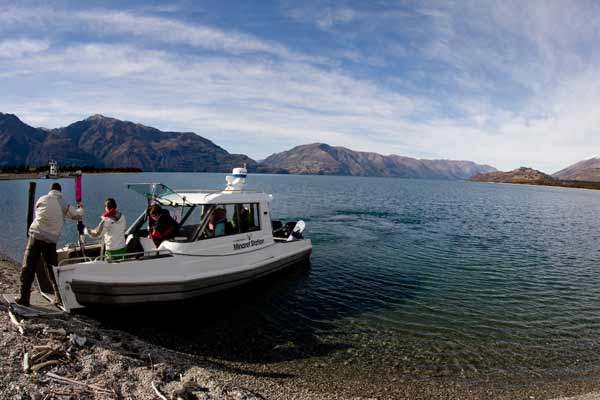 Unloading from the boat to get picked up by the heli.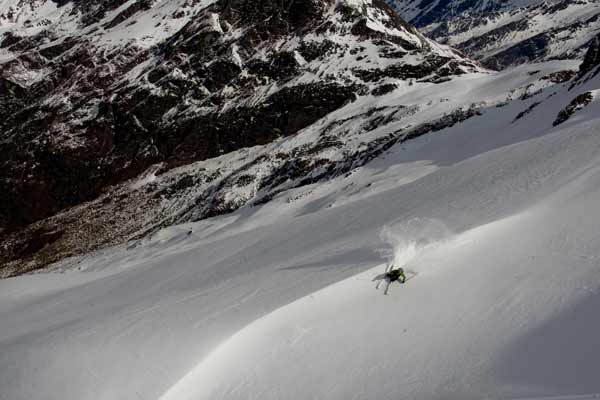 Ted Davenport has a good go at a lonely Minaret station windlip.
Ted Davenport is a mad base jumper and extreme skier and comes from skiing blue blood. His elder brother, Chris Davenport , first made a name for himself as a world champion extreme free skier before climbing Colorado's fifty four peaks over fourteen thousand feet and skiing back down each of them. Chris, or 'Dav' as he is known competed in the original World Heli Challenge competition nine years ago and while he was billed as a possible this year it was his brother that showed up and took the podium.
Maria Kuzma has an equally famous sibling, her twin sister, Janina, took out the overall female skiers category of the World Heli Challenge. Meanwhile Maria has been riding the European circuit with fantastic results in the most recent season including four podium places.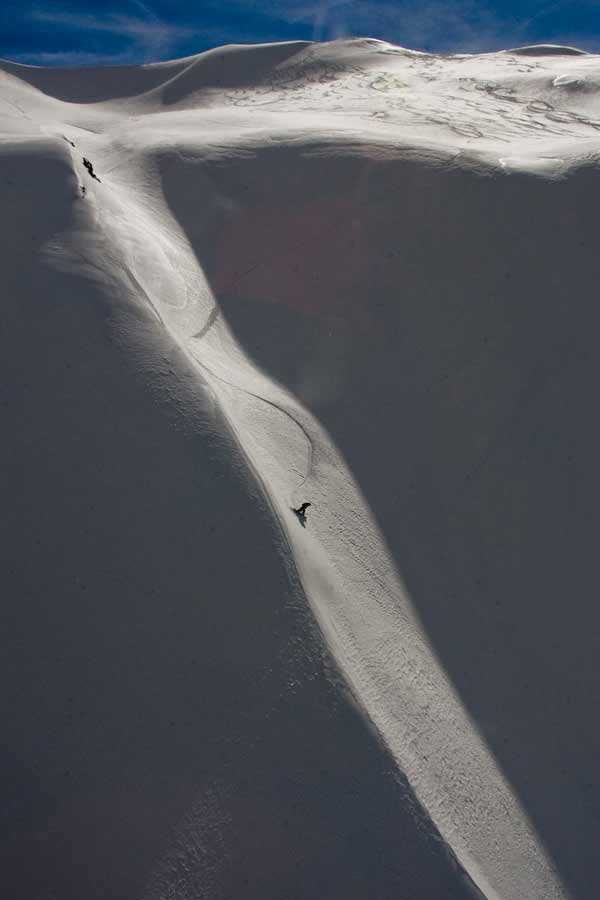 Heli-Challenge winner Maria Kuzman enjoys a sunny bowl to herself care-of Southern Alpine Heli and Minaret Station.
Our Southern Lakes Heli guide, Jeremaia Fisk, was only too happy to help get us to the chutes we wanted, dropping the athletes at the mouth of the chute and guiding myself and our photographer, Camilla Stoddart , down to suitable vantage points. After days of watching World Heli Challenge competitors steal the lines that were in my head it was good to finally be out on the snow. While we saved the best bits for Ted and Maria, Camilla and I managed to score some good pow of our own on some seriously edible terrain.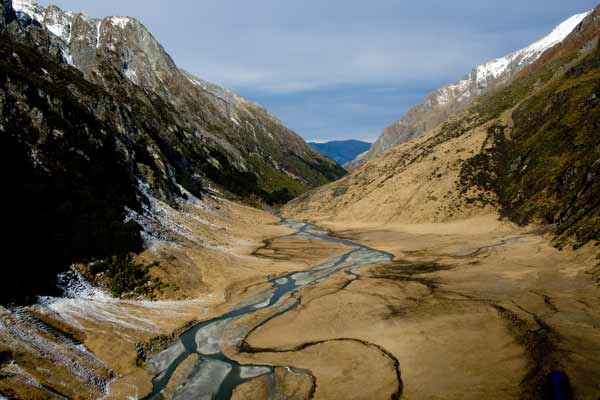 Lord of the World Heli-Challenge mountains. (just pass Helms Deep and chuck a left turn)
It's not often you get given a chopper from which to scope a world elite athlete below. As Ted Davenport prepared himself for a long sweet big mountain line that started open, narrowed into a chute complete with ice waterfall backdrop before opening again, Camilla and I praised our chopper pilot's skill as he swung us into position in the air above. Meanwhile Maria had shot gunned a sunny thigh burning ridge with fresh powder and her name on it.
Ted is a mountain man, he lives for the great outdoors. In America they'd say his line was 'awesome or gnarly' and he'd say he was 'pumped' but I think Maria put it best at the end of the day with two words "Sweet as."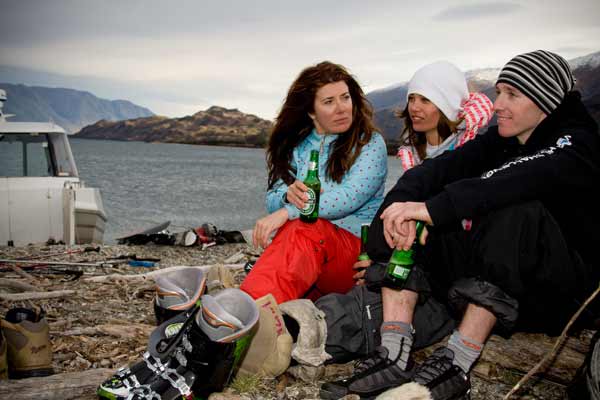 Rachael Oakes-Ash, Maria Kuzman and Ted Davenport contemplate the end of another day in the helicopter in NZ.
Read Rachael's Previous Blogs from inside the world Heli-Challenge