The A to Z of Australian Skiing
September 2nd, 2020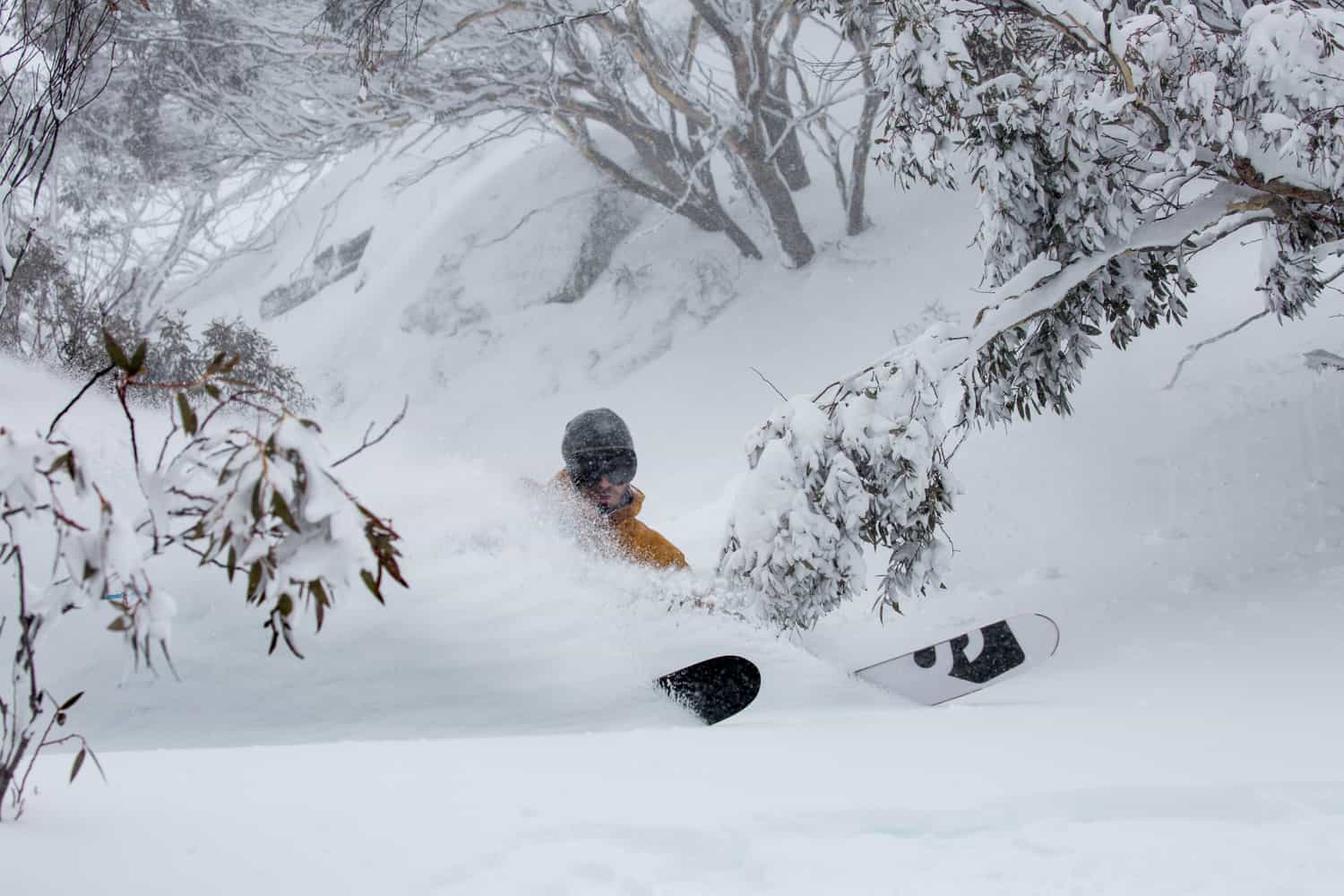 Mountainwatch | Chillfactor Magazine
This story first appeared in the 2020 issue of Chillfactor magazine. Words by Matt Wiseman
Despite the name, Urban dictionary is not a compendium of cool zones for skiers to hit in cities around the world. Yet, it did inspire us to invent our own Aussie skiing dictionary. 
Advanced Skier (/əd-ˈvan(t)st skēr/)
1. The little box ambitiously ticked on 90% of rental forms in Jindabyne.
Base(/beɪs/)
1.The amount of snow separating the skis from the dirt.
2. The underside of said skis, the condition of which depends wholly on the depth of 1.
Binding(/ˈbīn-diŋ/)
1. A mechanical device that connects the skier's boot to their ski.
2.The strip of fabric wrapped around the skier's knee a few hours after 1. fails to release.
Bluebird(/ˈblü-ˌbərd/)
1. A fine day, often consecutive, where the snow (read: ice) has such a brilliant reflective shine to it that you can watch yourself as you slide face first across it.
 Blue Lake (/ˈblü-ˈlāk/)
1. A large body of water on the Kosciuszko Main Range, which many flat sections in resort do an impression of come spring.
the Bluff (/t͟hə ˈbləf/)
1. A reasonably steep and rocky black diamond run descending from Thredbo's Eagles Nest.
2. Telling the guy at the rental store you're an advanced skier.
BullerX(/ˈbələr-X/)
1. An annual extreme freeride skiing event that runs every 4 years or thereabouts.
2. The mountain calls the day
Crackenback(/kraken-bak/)
1. What happens to your vertebrate when you miscalculate 'the bluff'.
2. A pleasant patch of semi-wilderness full of much fauna; ducks, fish, wallabies, wombats and if performing 1. scorpions.
Day Pass (/ˈdā ˈpas/)
1.Printed permission to ride up chairlifts and descend into considerable debt.
Dead Horse Gap
1. Unlike 120ft 'Chad's Gap' in the Wasatch, Dead Horse offers no ankle breaking booters, only occasionally deceased brumbies and introductory ski touring.
See'Chad's Gap'.
Epic (/ˈe-pik/)
1. The snow conditions the week before you arrived, or the day after you leave.
2. The Vail-ification of Australian ski resorts.
 Li'l Orbits (/ˈlilˈȯr-bət/)
1. A cinnamon inevitability when skiing at Perisher.
See'Ski Tube', 'bribe', 'currency'.
Moguls (/ˈmō-gəls/)
1. Big orbits made of ice and ankle bones.
2. Business people that can afford to stay at the snow in Australia.
School Holidays (/ˈskülˈhä-lə-dāz/)
1. Best avoided.
 Skating(/ˈskā-tiŋ/)
1. Technique in which a skier is forced to push from one ski to another, often uphill.
See'Perisher'.
 Ski in, ski out
1. Phrase referring to any accommodation that had snow on its doorstep during the historic snow year of 1981, notwithstanding a lack thereof since.
Ski Tube (/ˈskē ˈtyüb/)
1. An historic Alpine railway from 1987 within which guests can test their ski legs and balance.
Ski Touring (/ˈskē ˈtu̇r-iŋ/)
1. In Australian English, ski touring is the act of skiing uphill to get to a desired backcountry zone, and skiing uphill to return home from said zone.
Slush(/ˈsləsh/)
1. Partly melted watery snow better known in Australia as powder.
 Snowpocalypse
1. A popular portmanteau used by resort marketing departments and News Corp papers.
See also'Snowmaggedon', 'Snowzilla', 'Blizzard of Oz (x3)'.
Snowgum(/Eucalyptus pauciflora/)
1. A hardy eucalypt with smooth white bark found above 700m which survives temperatures down to −23 °C.
2. The chewing gum commonly found under the seats in the skitube.
 T-Bar
1. A surface lift taken reluctantly in pairs that saves resorts from assembling their own slalom course.
Variable Conditions (/ˈver-ē-ə-bəl kən-ˈdi-shəns/)
1. A generic phrase to describe the current state of the hill, when it is anything from unenjoyable to physically unskiable.
Vertical drop (/ˈvər-ti-kəl ˈdräp)
1. The distance the glove/pole/phone/trail map that fell from the chairlift in front of you.