Travel – Five Reasons to Ski in Canada this Winter
September 4th, 2014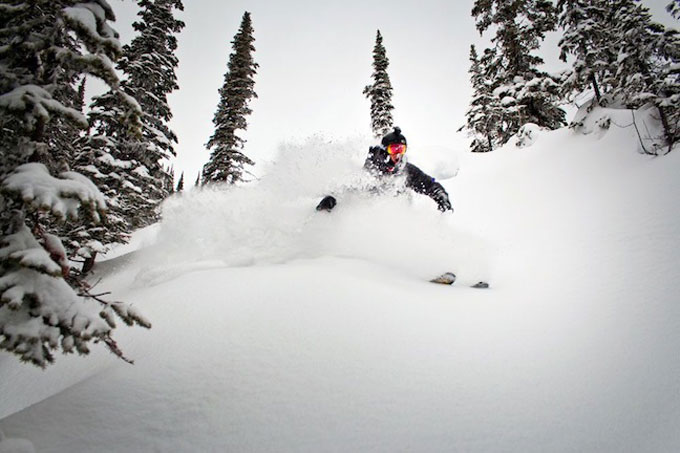 Yep, in Canada, it's steep and deep. Revelstoke, B.C Image:: Revelstoke
In partnership with Air Canada
Mountainwatch | Caitlin Reid
This time of year, every year, our minds start to wander. They wander aimlessly across the oceans, sitting comfortably in first class seats, sipping on French Champagne while we rest our legs in anticipation of the dry, deep powder snow they're about to ski…
Then, we wake up. And our minds wander back across the Pacific and turn to considering how many zeroes currently sit on the end of our bank balance.
If you're considering a trip across to the northern hemisphere this season, then now's the time to book. In order to get your sub-conscience ticking, we thought we'd outline our top five reasons to jet-set across the oceans to your own slice of the Canadian alpine…
1. Best snow vs. terrain ratio in the world 
The Canadian mountains are super steep and super deep. Sure, Europe has incredibly steep resorts and some epic powder days, too; but Canada has consistently good snow with more accessible terrain. What about Japan's powder reputation? Japan's heavy snowfall is truly incredible in its own right; but runs are generally flatter unless you head out of bounds. Luckily, Canada's magazine-worthy terrain is accessible via lifts and cat tracks. Most off-piste runs loop back to a chairlift, and they're usually avalanche-controlled. Heads up: Off-piste riding in most Canadian resorts is mostly well regulated and monitored. Don't expect this in Europe and Japan.
2. An easy door to door journey 
Direct flights to Vancouver make Canada's Whistler Blackcomb an easily accessible Aussie skiing destination. Gone are the days of stopovers in Honolulu and LA just to get to Canada, now it's a speedy and direct 14-hour flight from Sydney via Air Canada. Jump straight on the Whistler Shuttle at Vancouver Airport for a breathtaking scenic drive past Howe Sound to Whistler, and you'll be in the mountains only 2.5 hours after landing. Easy!
3. There's no language barrier 
Traveling overseas is super-fun, but sometimes being able to easily communicate can make your day-to-day life easier. If you lose a ski, it's a lot easier to get the chairlift slowed down when the lifties can understand you. In the worst-case scenario – getting injured on the mountain – a common language can make your life a lot more pleasant. Knowing how to ask for the strong painkillers instead of waiting till the hospital? Priceless. Sharing a common language can help you find the best secret spots, too. It's a lot easier for the local ski bum to tell you where the best tree run is when you understand the directions they give you.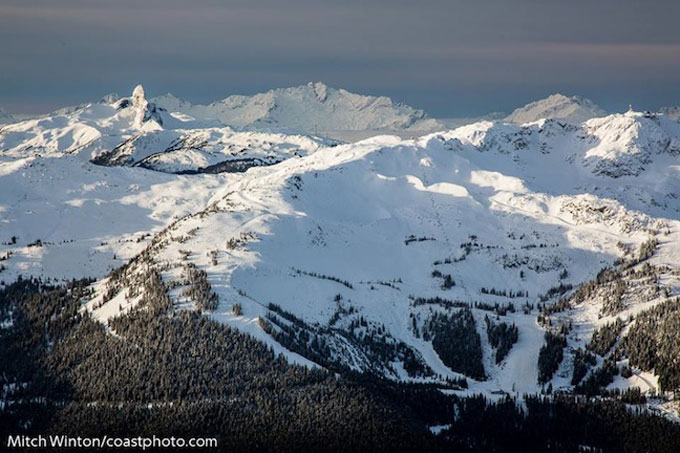 A view like that is hard to argue with. Whistler Blackcomb, B.C. Image:: Coastmountain Photography
4. Most blue bird powder days
Canada's inland resorts – like Banff, Alberta – boast some of the highest numbers of bluebird powder days in the world. Why? The inland location makes the snow dry and light by the time they've crossed the coastal ranges. Result? Clear skies and feathery light powder. That's the dream. Heads up though: Pack extra thermals and layers. Inland resorts like Revelstoke, Banff, Lake Louise and even family-friendly Big White can be colder than you expect. Clear skies and sunshine don't mean warmth! Frostbite is common with tourists who assume the sun is warm. It's not – it can be -25ºC on a bluebird day, so rug up and invest in a good balaclava or merino bandana.
5. Snowboarders are accepted           
Snowboarders rejoice! Canada is your playground, and you won't experience any prejudice for preferring the board to the planks (unlike much of Europe) Skiers and snowboarders get along harmoniously in Canada and you'll appreciate the more relaxed atmosphere in lift lines – no skiers stabbing your board with their poles because you've edged too far forward. There are also more natural side hits on the edges of runs in Canada, and plenty of cat-tracks to keep your speed up instead of traversing and unstrapping.