UPDATED – SNOW ALERT AUS – Party like it's 1992?
August 9th, 2013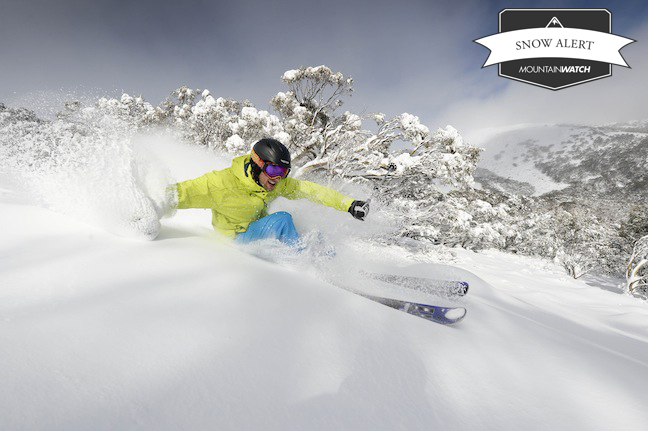 Wolfgang Platzer shredding some Mt Buller pow earlier this week Image:: Andrew Railton
SNOW ALERT
Brought to you by ESS Boardstores
UPDATED August 14 2013
It's happening
AUGUST 14 UPDATE:
Wind is blowing hard and there has been a little activity out there this morning. The Grasshopper has let us know that the real action should begin later today as a front moves into the mountains.
15 to 20 cm fell and yesterday was one easily in the top 5 days of this season. So, what can we expect for the rest of the week?
"That front moves through tonight with about 15cm, possibly more. Flurries clear out early tomorrow as a ridge of high pressure builds across the south-east. Friday will be fine and clear under that ridge, but you'll notice strong northerlies or north-westerlies building ahead of Saturday's front. And Saturday. Ahh Saturday. It looks as though the pre-frontal rain will be mercifully brief, delivering a rapid fire 20mm before the freezing level drops and we pick up 10cm by 9am Sunday."
"Snow showers with another front on Sunday evening should then pile in another 10cm, with a further 15 to 20cm on Monday and 5 to 10cm on Tuesday. You will note that I'm forecasting a bit more that the model data above. This is due to a combination of taking a broader view of all the models and an instinct over what this westerly flow will be capable of."
At this stage it looks like the fun won't be over as even more snow is forecast Wed/Thurs/Fri next week. Stay tuned to the daily forecasts for more.
Filed: August 9 2013
After a fairly strong week the official snow depth at Spencers Creek has busted past the 1m mark! Now we have some even better news instore… Check out the correlation picked up today by the one and only The Grasshopper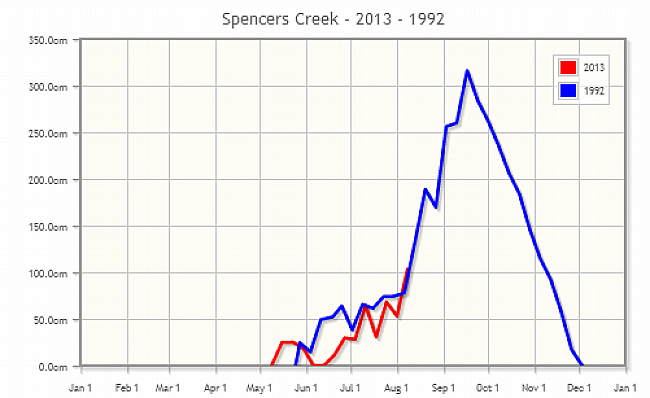 In even BETTER news… There is some solid snow coming next week. A word of warning, we are calling this a long way out, but we do have reason to get excited. "Tuesday and Wednesday look like powder days, clearing Thursday. I've been guiding this one in for some time, and right now I think 20 to 30cm is a reasonable estimate over 72 hours. A bit more up high maybe" wrote The Grasshopper in today's detailed forecast.
"There's another cold change due through on Sunday 18 August. We're still nine days out, and you know I won't often go all in on something that far ahead, but I can't find a single piece of data to disagree with the fact that we should see another cold change, possibly a big one, with 20 to 50cm of snow. We will have to deal with some rain first, but if this plays out as forecast we may just keep up with the Gilchrist-like run-rate set by August 1992 (or should that be Dean Jones?)."
'Not a single piece of data to disagree', not sure about you dear readers, but that seems like cause to celebrate to us!
The Breakdown:
20 to 30cm on Tuesday/Wednesday/Thursday (Alert level: We'll be unlucky if this doesn't come through)
Followed by:
20 to 50cm on Sunday 18 August to Tuesday 20 August (Alert level: Early days, but looking very promising)
Read this morning's forecast analysis here