Grasshopper's Weekly North American Forecast January 27th – Snowfalls Favour the Northern Rockies as an Arctic Airmass Descends
January 27th, 2023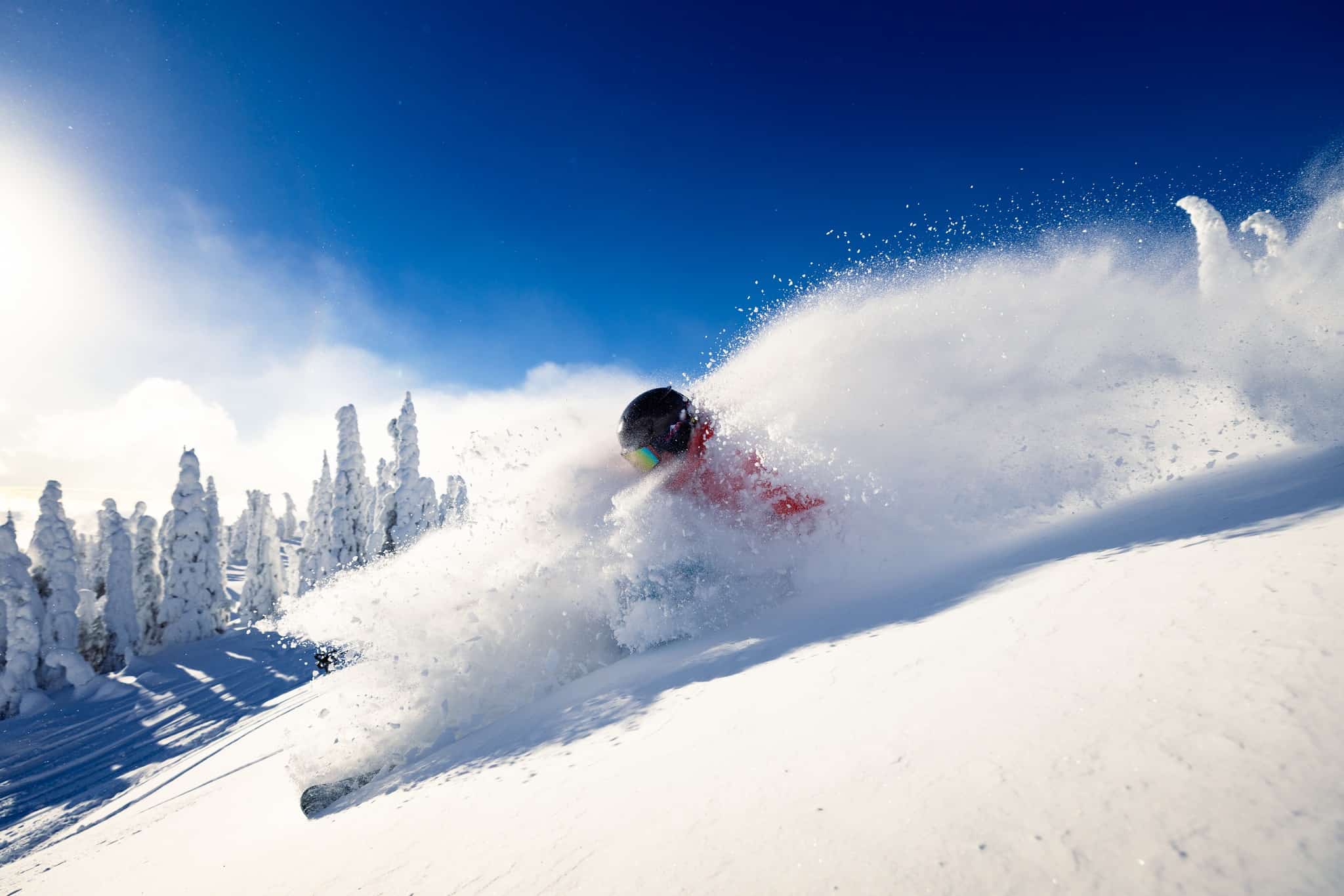 Mountainwatch | The Grasshopper
Written Thursday 26thJanuary (Pacific Standard Time)
It's going to be a great week for resorts in the northern Rockies who've had to watch from afar as resorts to the south have seen most of the action so far this season.
A belt of snowfall marking the edge of an Arctic airmass will slowly sink southwards over the next several days. Only New Mexico will likely miss out on the action in a westwide top-up, but it'll be resorts in Idaho, Montana, Wyoming and northern Colorado who will benefit the most with totals reaching 30-50cm. Resorts in the Canadian Rockies will also have a good showing with 15-30cm expected.
With sunny skies and cold temps in the wake of the snowfall, there will be excellent feel-good conditions to be had for those lucky enough to be in this part of the world.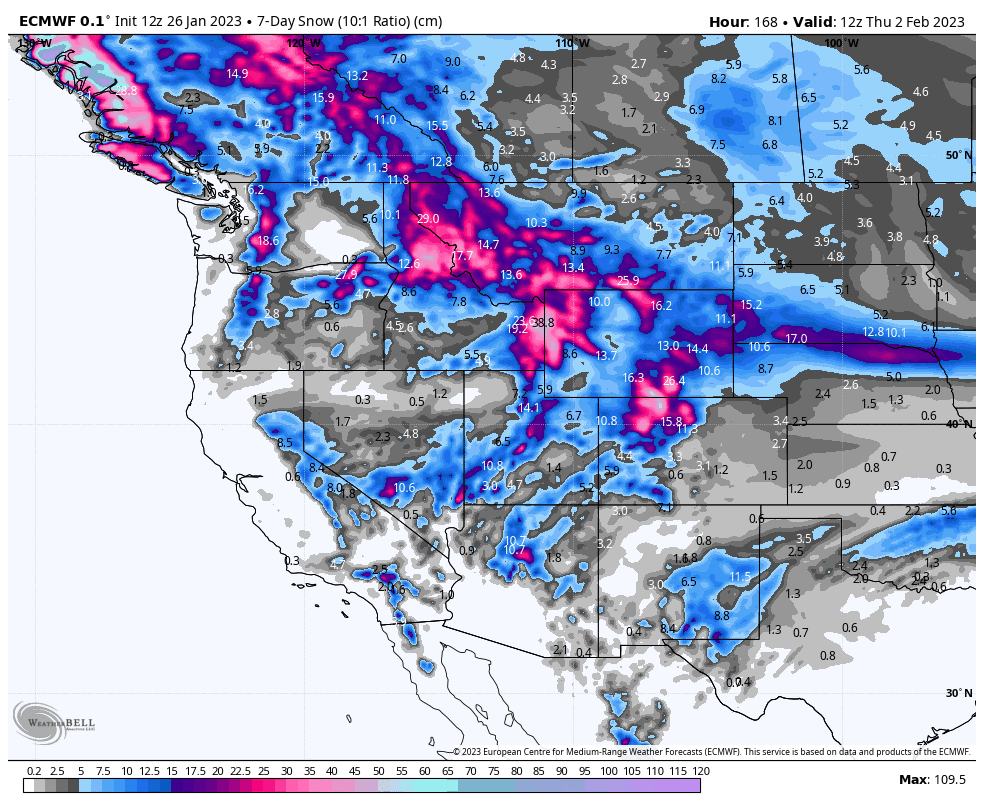 Thursday Jan 27th & Friday Jan 28th
A NW flow aloft has light scattered showers along the length of the Rockies as far south as northern Colorado. Temperatures are mild, however, so it'll be a wet mix of precip at low elevations.
Later today these showers will grow in vigor and breadth as some extra moisture from the Pacific runs into an Arctic airmass pushing in from the NE. There'll be periods of moderate to heavy falls persisting through Friday, especially in Idaho, Montana and Wyoming, with the Pacific NW also getting in on the action.  While the bulk of the snow is falling, temps will remain mild, so we'll continue to see that wet precip mix down low.
The Arctic airmass will start to sink southwards over Alberta late Friday with a significant improvement in snow quality before snowfalls begin to peter out as the atmosphere dries out.
Saturday Jan 29th & Sunday Jan 30th
The Arctic airmass will continue to sink southwards throughout the weekend. The frontier of this airmass is marked by a band of light-moderate snowfall of the highest-quality light n' fluffy kind. Behind this band skies clear as the atmosphere dries up and pressures rise.
During Sunday, this snowfall band will eventually make its way down onto the Sierras, Utah and Colorado, while there will be excellent conditions to the north where resorts will have that perfect mix of sun, powder and icy temps.
Monday Jan 31st to Wednesday Feb 1st
The western edge of the snowfall band mentioned above will pivot southwards, leaving California early Monday while entering Arizona. The eastern edge, meanwhile, will remain in Colorado with persistent mostly light snowfall throughout the day.
While still situated over Arizona and Colorado, the band will dissipate into thin air during Tuesday, with only a few snowflakes leftover for New Mexico whose luck appears to have run out by missing all the action.
While all this is going on down south, cloud will creep in over the north with a period or two of light snow showers as the Arctic airmass is gradually replaced by more mild and humid Pacific air.
Next Thursday Feb 2nd & Beyond
At this point models expect a front to bring decent snowfall to the Pacific crest next Thursday and Friday, with lighter falls throughout the northern and central Rockies.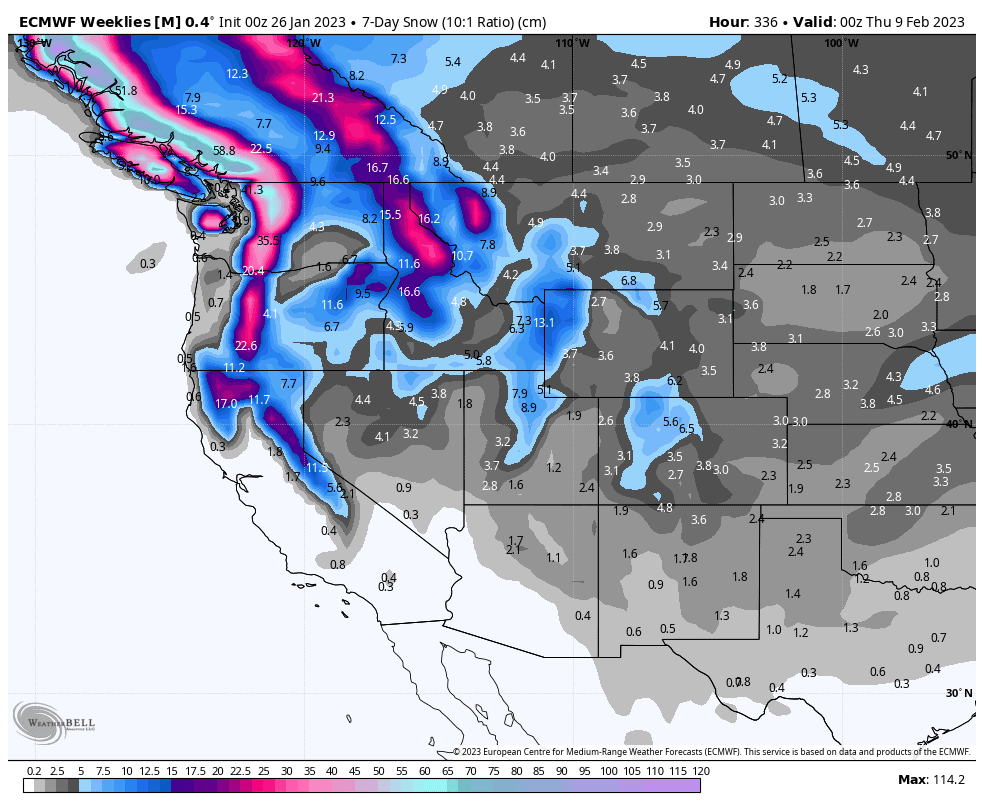 For the remainder of next week ensemble models expect any snowfall will predominantly fall in the north as Pacific air continues to flow in there. High pressure is likely to dominate further south, where dry, cold conditions should make for some great feel-good conditions.
Well, that's all from me this week guys, see you next week.