Why We Should Unite in the Face of Climate Change – Nat Segal
October 23rd, 2015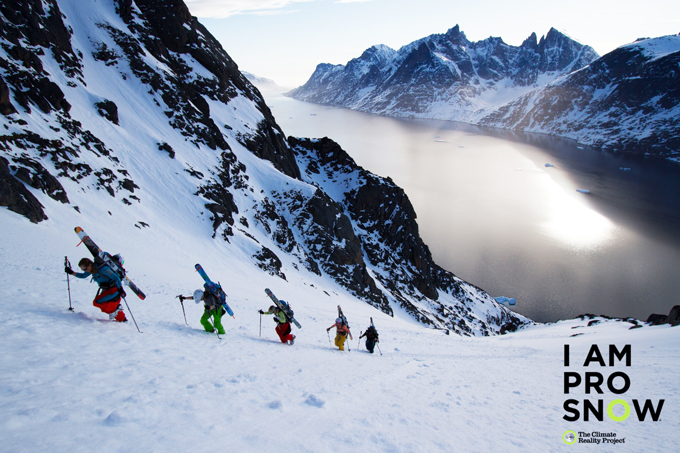 The author and her crew on expedition in Greenland. While there they carried out some key research that informed important climate studies. Image:: KT Miller
Mountainwatch | Nat Segal
Signing petitions and letters has never been something that I take much notice of. I'll occasionally sign an online letter calling for action, but after receiving so many I have started to become desensitised to them and their worth.
The reality is that one name and one voice aren't very loud, and unless you're already in the spotlight, it's unlikely you'll be heard.
To the contrary, public opinion does matter. The voice of a crowd is deafening and often it is the primary stimulus and driving force behind change. Just look at current Australian politics. Whether you agree with the recent changes in parliament or not, public opinion had a significant influence on the most recent leadership change.
I am a skier. It's my career; it's my passion and a lot of the time it's my whole world. Being immersed in this community and culture can sometimes make me feel like I am living in a bubble, where politics and current affairs aren't my primary concerns – I usually spend much more time researching where the snow is falling than watching the news.
However, right now is different. As someone who spends the majority of their time in the mountains, I see confronting changes occurring right before my eyes.
"Globally, the ten warmest years in the past 134 all have taken place since 2000, except for 1998, and 2014 was the warmest year on record, according to data from NASA. In Chamonix, scientists fear July 2015 was the worst of all summers: temperatures peaked at the highest since measurements were first taken in 1934." – Helen Fouquet, Bloomberg Business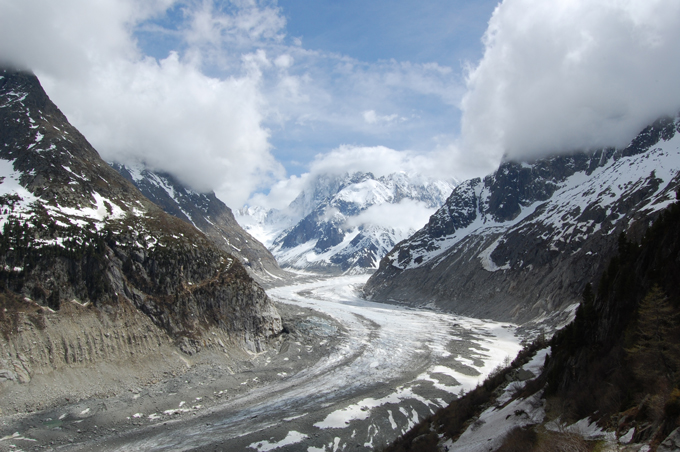 The Mer De Glace, Chamonix. This glacier is currently retreating 4 to 5 meters every year. Since 1988 (my birth year), they have had to add 370 steps below the access cable car for visitors to reach the glacier below. Image:: Wikicommons
Climate change is one of those issues that most of us shy away from. It's because the predictions are scary, the evidence is confronting and the solution requires an ethical revolution.
However, we are not completely powerless.
In less than six weeks, the United Nations are hosting an international summit in Paris, the COP21 Conference, where the goal is to achieve a new international agreement on the climate, applicable to all countries, with the aim of keeping global warming below 2°C. This conference is a follow-up to the Kyoto Treaty (1997) – the first Kyoto Protocol commitment period lapsed in 2012.
"We need deafening, global change made by corporations, big industry, communities, households and everyday people."
The successful outcome of this summit is integral for all of us, not just the skiers in the world who are left lamenting bad seasons and a lack of powder snow.
As I mentioned earlier, one voice and one action is nice, but it's not enough to secure a sustainable future. We need deafening, global change made by corporations, big industry, communities, households and everyday people. While individual contributions are important, it's only when national governments commit and follow through with emission reduction targets, that we will have any hope of combating climate change.
It is for these reasons, and more that I am going to ask you to do something that in the past I have avoided. I'm going to ask you to sign a letter.
The Climate Reality Project, founded by Al Gore, with the help of a board of ambassadors representing the ski and snowboard industry, I AM PRO SNOW, have carefully constructed a statement that will be presented to the UN in Paris from the winter sports industry. The goal is to gain as many signatories to this letter as possible before the Paris conference begins.
By electronically signing this letter to the UN, you will be joining a strong international coalition of the winter sports community to push our world leaders towards acting on climate change.
Please take one minute of your time to read and sign the letter as an individual or on behalf of your organisation or business.
If you have any further questions about I AM PRO SNOW, The Climate Reality Project or the letter, please do not hesitate to contact Talya Tavor at talya.tavor@climatereality.com.
I'll leave you with this:
"Our economic model is at war with life on Earth. We can't change the laws of nature, but we can change our broken economy. And that's why climate change isn't just a disaster. It's also our best chance to demand—and build—a better world. Change or be changed. But make no mistake, this changes everything." – Naomi Klein, 'This Changes Everything' "