Taking The Piste – NZ Travel Blog
August 18th, 2009
Taking the Piste – Rachael Oakes-Ash
Part 1 – Mt Ruapehu, North Island
By Rachael Oakes Ash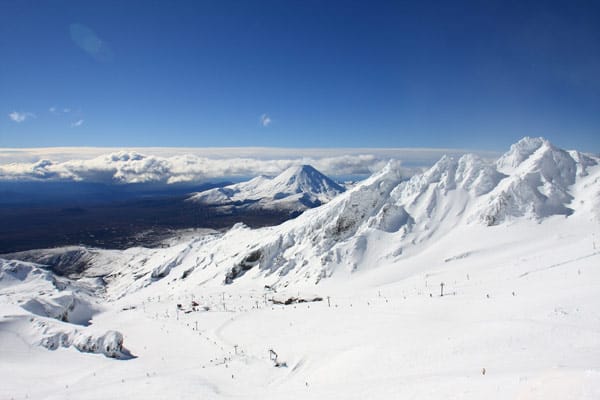 Ohakune is a place designed to drink the sky blue. Who knew this 1400 folk town at the base of Mt Ruapehu in the belly button of New Zealand's North Island was home to some of the world's finest Polish vodka?
Well, I knew, which is why I returned. Ok, that and the mammoth volcanic Ruapehu mountain that is home to 1050 skiable hectares divided between the ski area of Turoa on one side and the mighty Whakapapa on the other.
For the uninitiated Whakapapa is pronounced "farkapapa" which brings scores of giggles from first timers. Personally I think marketing should print t-shirts saying 'Who's your daddy?' on the front and 'Whakapapa' on the back and give me commission on the profits.
But back to Ohakune. Taking the Piste has been sent to New Zealand on a mission to report on all things powder but we all know that some days are better than others in Australasia and Ruapehu is no different. When this mountain is on it's seriously seriously 'on' with natural lava half pipes, lift accessed backcountry terrain, hikes to a crater lake run that has skiers and boarders hollering from both fear and joy and views that go on forever.
I've been here when the sky is blue and the snow fresh but this weekend is just not one of those days despite nine days of pure sunshine prior to my arrival. So, instead, I make my way up their super fast swanky six seater to the top of Turoa, make some turns on what appears to be good snow, if I could see it, but there's no ice under my feet and that's a good thing. A few fast laps as the visibility clears and my teeth begin to ache from smiling but it doesn't last long and two hours later I'm back in town lubricating my brain cells with Polish vodka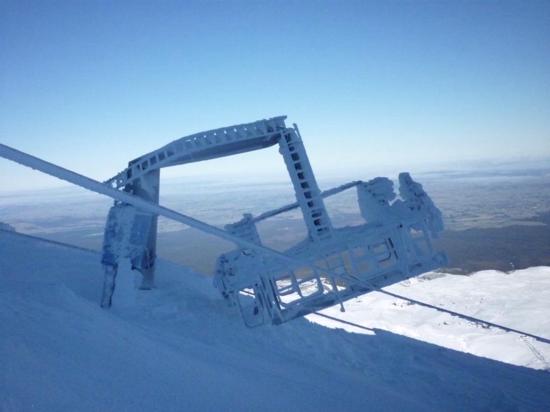 Most skiers and boarders are passionate about their 'home' mountain but I have yet to meet folk more passionate than those who love their Ruapehu. They would defend the mountain to their death, not that they need to, it's hard to say anything bad about New Zealand's largest ski fields, deepest snow depth of two to three metres, highest vertical of 722metres, longest ski run 2.9kms, longest season and highest lift point 2322metres. Well, there is the weather, but while I was skiing by Braille, so were the folk down south in Canterbury and across the ditch back home in Oz. You can't change the weather pattern, it just wasn't my day.
But back to the Polish vodka. You'll find bottles of the stuff in the Projection Room. An Asian fusion style dining space that turns into a den of dancing when the plates are cleared and the DJ starts spinning. Only it was Friday night.
Fridays in Ohakune are not known for their all nighter entertainment. Four hours from Auckland and three hours from Wellington means the big city folk drive down after work, arrive late, get their skates on for Saturday, party large Saturday night, ski or sleep in then drive home Sunday afternoon.
Lucky for me Paul Steigelbaum from the Projection Room was feeling generous. Out came the Medos, a honey vodka designed to burn the soul, in a good way. When the bar is dead there's more room for dancing on top of it, which we did in an attempt to drink the day blue.
We had already seen the forecast but after three Medos vodka's believed we were capable of changing the synoptic chart. Someone should have told the weather bureau because sun up on Saturday we weren't looking good and neither was the sky.
Nothing for it but to try the same process again that night. They say that is the definition of insanity – trying the same thing over again and expecting a different outcome but it is hard not to repeat yourself in a town Ohakune's size.
Thames Street is the entertainment strip that closes in the summer. Start at the Powderhorn, an institution at the 'junction' end of town. Set up by Paul Scarf who was also a big name behind the evolution of Ruapehu Alpine Lifts the Powderhorn is a bar that doubles as a restaurant that doubles as a hotel that doubles as a nightclub when the DJ cranks it up. Then it's a matter of the neighbouring Turoa Lodge pub or The Projection Room before finishing the night back again at the Powder Keg bar.
It didn't work, Sunday came round and the only thing blue was my mood. Never to be defeated we made the fifteen minute drive up bitumen roads (yes, they are fully sealed and safe up here) to Turoa. With every metre of altitude the rain turned to sleet then to snow, phew, but the mist had rolled in, sigh.
Some weekends you get that but you get weekends like that all around the snow globe. You have to trust me that this mountain is worth the effort and that's me and my previous visits talking, not the vodka.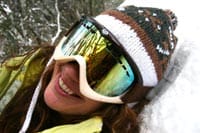 Our intrepid ski columnist Rachael Oakes Ash has embarked on an all-engrossing trip through the NZ ski fields over the next two weeks. She'll be tramping, heli-skiing and partying through the not-so commercial areas in search for the perfect kiwi-ski experience and meanwhile expanding the minds of the Kiwi ski scene and sharing her experiences right here with us on Mountainwatch.
Read the previous Taking The Piste Blog
Turoa forecasts,
snow reports and
live snow cams.
Whakapapa forecasts,
snow reports and
live snow cams