2011 Subaru Australian Interschools Championships
September 14th, 2011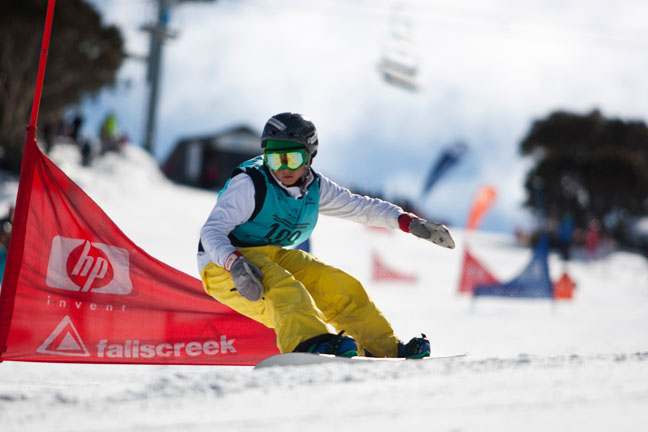 2011 Champ, Joshua Vagne of Jindabyne Central School Image:: Charlie Brown
2011 Subaru Australian Interschools Championships | By Don St.Pierre
Winter kicked in last week to coincide with the biggest event on snow in Australia; The Australian Interschool Championships, which sees the top school-aged skiers and riders from around Australia competing for school glory.
From regional competitions and on to state championships these snowsports athletes represent the best of Australian Interschools. This year Falls Creek played host and while a warmer than average August had many in angst Mother Nature delivered; a sudden drop in temperature along with some fresh snow allowed for excellent courses on fast conditions. "Falls Creek always makes us feel so welcome and the atmosphere in the village was electric from beginning to end. We thank the Falls Creek Race Department along with the many volunteers for making the event a huge success," said Rob Osborne, General Manager, School Snowsports Development Foundation.
Interschools are by far the largest snowsports events in Australia based on participant numbers, bringing thousands of snowsports fans together. The events also make for great camaraderie with each school fielding teams rather than single competitors which recognises more than just the individual's efforts. This year we have to commend everyone who participated and for the parents and teachers who make it all happen.
Interschools are also an incredible feeder program for opportunities and programs that lead to Olympic aspirations. "Each year NSWIS runs the Athletes of the Future Camp where 22 Interschools competitors are selected from their results to spend a weekend training along side members and coaches of our national team. From this camp we see many go on to join local programs taking their skills to the next level eventually competing overseas with the Australian Development Team and beyond," says Peter Topalovic, NSWIS Winter Sports Coordinating Coach.
The success of the Interschools is evident when you consider the five Australian athletes who took home medals at this year's FIS World Championships all received their start with Interschools events.
Complete results from the Subaru Australia Interschools Snowsports Championships held at falls Creek can be found here.
The following photos tell the story.
More Photos can be found at fallscreekphotos.com.au
Falls Creek forecasts,
snow reports and
live snow cams.