2018 Japanese Snow Season Outlook – The Grasshopper
October 22nd, 2017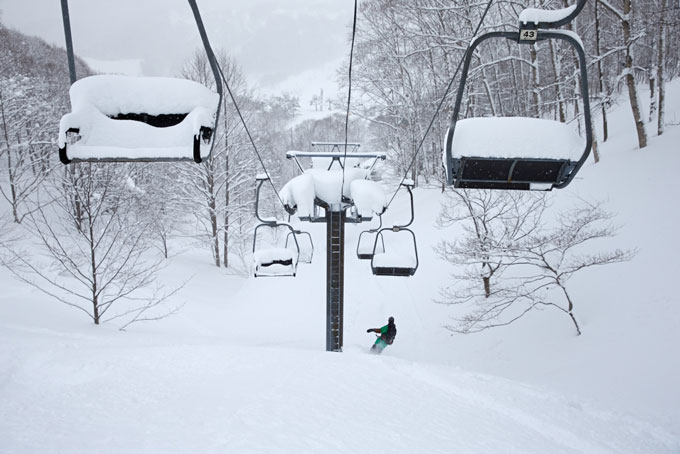 Mountainwatch | The Grasshopper
Presented by
As the ski season draws to a close down here in Australia and New Zealand, it is time to turn our antenna to the approaching northern hemisphere winter. With upwards of 500 ski-jo (literally "ski place") to choose from, and a reputation for some of the best powder in the world, Japan offers something for everyone looking to escape the southern Hemisphere summer. From single lift to full resort, beginner to expert, Japan has you covered. And alongside all that snow, Japan is also blessed with natural hot springs (onsen) and fantastic food, making the apres-ski almost as enticing as the snow itself.
Let me introduce you to the how and why of Japan's epic snow, what seasonal forecasts and indicators there out there for Japan and how the current season is shaping up, and finally highlight a few resorts to get you started.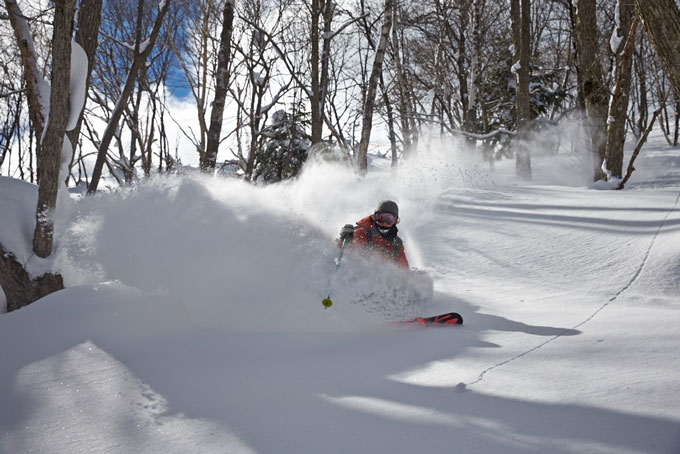 Anna Segal deep in Shiga Kogen / by Andrew Fawcett – Liquid Snow Tours
Japan, land of too much snow.
Japan is one of the snowiest places on earth. Resorts around Sapporo, on the island of Hokkaido, report average annual snowfall of 18m. That's average. In metres. And although conditions vary from season to season, there is one thing I can say with certainty to you right now before the first flakes even fall – there will be epic quality and awesome amounts of snow in Japan this season.
Snow in Japan is the result of a "perfect storm" of snowmaking conditions. The general atmospheric set-up over the winter is a high pressure sitting to the west over Siberia, and lower pressures spinning to the east over the Pacific. This set-up drives frequent cold northwesterly winds down from Siberia over the Japan Sea, which is kept warm by the Tsushima Current flowing up from the south. The temperature difference between the cold air and the warm sea causes moisture from the Sea to be picked up by the passing Siberian air, and clouds form. As soon as these clouds are done forming over the sea they run straight into the Japanese Alps of northern Honshu and Hokkaido. The mountains form a 10,000ft barrier which forces the air up, cooling it further until the clouds can no longer hold their moisture, and the result is dumped on the mountains in the form of deep dry powder measured in metres, not centimetres, and often in double figures.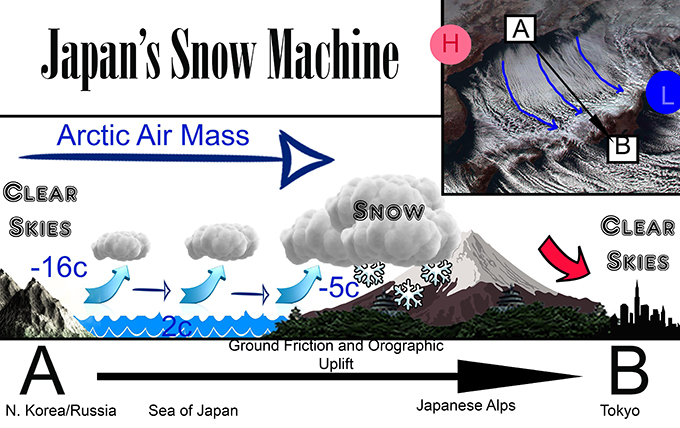 And it's not just this set-up that brings snow, when the pattern is disrupted and low pressures pass through the Sea of Japan this also brings snow. In fact, Japan's problem is sometimes too much snow. Now that's a problem a grasshopper could get used to.
Seasonal indicators
ENSO
Most of you are probably familiar with the El Nino Southern Oscillation (ENSO) as a large scale weather driver that can impact snowfall over a season. ENSO is currently neutral, with about a 50/50 chance for it to stay like that, or develop into a weak La Nina over the northern hemisphere winter.
But what difference does this make to Japan? Well, not much to be honest. Only a 5-10% variation has been attributed to ENSO, and given the already high average snow depths and unreliable snow depth reporting (measurement criteria differ from place to place, and in many places they don't bother to measure) ENSO is not sufficient to make or break a good season.
That said, La Nina is associated with more cold northwesterly flows and heavier snowfall, so we are erring on the right side of ENSO for more snow. It's worth bearing in mind though that in Japan it can be a bit of Trojan horse to get above average snowfall.
The winter of 2005/2006 was a strong La Nina year and saw unseasonably cold temps and record breaking heavy snowfall. Super cold Siberian air came down hard and fast in December, while sea temps were even milder than normal due to an unseasonably warm Autumn. The extremely heavy snowfall that ensued meant avalanches were a frequent problem, and some resorts had to call in the army to remove snow. It may be worth mentioning that my fellow sensei at Japan's Meteorological Agency (JMA) had predicted a warm winter with below average snowfall… ooops. Even sensei masters get it wrong sometimes.
Seasonal Forecasts
Alongside ENSO there are a couple of other seasonal forecasts we can look at as we head into winter. Both the aforementioned Japan Meteorological Agency (JMA) and the European Centre for Medium Range Forecasting (ECMWF) issue seasonal forecasts, which are updated each month. The latest issues from both long range super computers indicate average or below average snowfall for December, January and February. So, they are at odds with any La Nina expectations.
Unfortunately, this is the way of things for long range forecasting, there are lots of indicators about, and they often provide contradictory expectations, making it hard to draw any meaningful conclusions.
Medium range forecasting
There really is no question that Japan will receive sufficient snow, even if the seasonal totals do end up being "below average". It is more a question of 'when' than 'if'. One indicator we can keep an eye on to try and glean advanced warning of large amounts of incoming powder is the Arctic Oscillation (AO). This is a measure of the stability or volatility of the air sitting over the north pole. This air is usually quite happy just chugging its way around the north pole, but when the Arctic Oscillation index drops very low, this puts up a red flag to meteorological sensei around the northern hemisphere that cold air can easily break free from the north pole and move south over more temperate climes. This is what happened in December 2005, and we usually get an indication 10-14 days ahead of such an expected drop in the AO.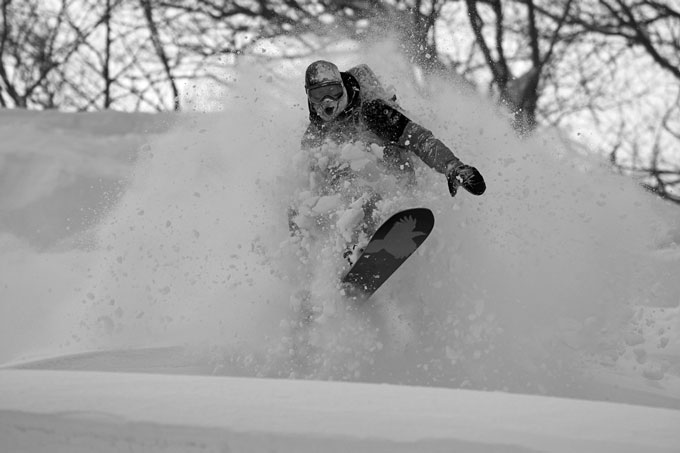 DCP in some classic Japanese Powder / by Andrew Fawcett – Liquid Snow Tours
Resort rundown
So, given the snow guarantee, the next question is, exactly where do I go? That's probably worth a lengthy article in itself, but I'll leave you with a few recommendations.
Quick access from Tokyo
If the thought of travelling by donkey for a day after a ten hour plane ride isn't your cup of sake then fear not, for Japan's rail network is high speed and highly efficient, and not powered in any way by donkeys. It's incredibly easy to get almost anywhere in Japan by train, but if you want to minimise your travel time then Myoko in the Niigata Prefecture is a mere 100 minute train ride from Tokyo, provides a base for nine resorts, and offers a range of accommodation options.
All-round resort goodness
If you're looking for the complete package then take a look at Niseko or Hakuba. Good for families, party animals, powder hunters, both offer a large range of accommodation, onsens, entertainment and food options. In addition English is widely spoken, including childcare and ski lessons. They may not give you the most authentic of Japanese cultural experiences, but if you want a guaranteed good time both on and off the pistes then Niseko or Hakuba are great options.
Hard-core
Kurodake. The literal translation is "Black Mountain" although you might wonder why it wasn't named "White Mountain". With snow base upwards of 4m and receiving around 15m of fresh powder per year it is the go-to place for die-hard, off-piste, deep powder loving skiers and boarders. However, one does not simply book a couple of days at Kurodake and expect to turn up and see or do anything. That 15m of snow means Kurodake enjoys less than one third of its days with fine weather, and in late January and early February it's a definite possibility for the lifts to be closed due to too much snow. Talk about problems we wish we had down here. As one of Japan's northernmost resorts situated in central Hokkaido, deep in the heart of the Daisetsuzan National Park, it is not the easiest to access. The best option if you want to hit the Black Mountain is base yourself at a nearby resort and be flexible.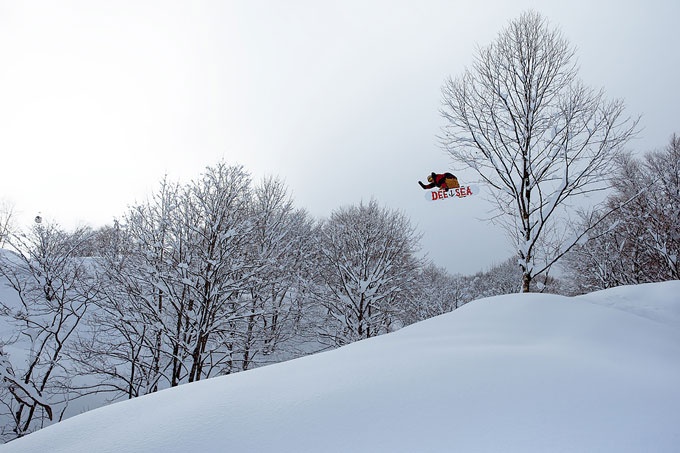 Charles Beckinsale lofty in Myoko / by Andrew Fawcett – Liquid Snow Tours


Top Travel Deals
Sponsored by

Save 15% at Wadano Forest Hotel – packages from $2,464
500m from the ski lifts at The Lab – 7 night packages from $2,464
Niseko
7 nights at Owashi Lodge backpackers hostel – packages from $2,398
Niseko
7 nights modern accommodation at M Hotel – packages from $3,248
Myoko Kogen
7 nights ski package at the Yuki Dake Lodge – packages from $2,221
Myoko Kogen
7 nights ski-in ski-out at Furano Prince Hotel from $2,848