2020 Australian Snow Season Outlook – Cards Line Up For Above Average Snowfall This Season – The Grasshopper
May 1st, 2020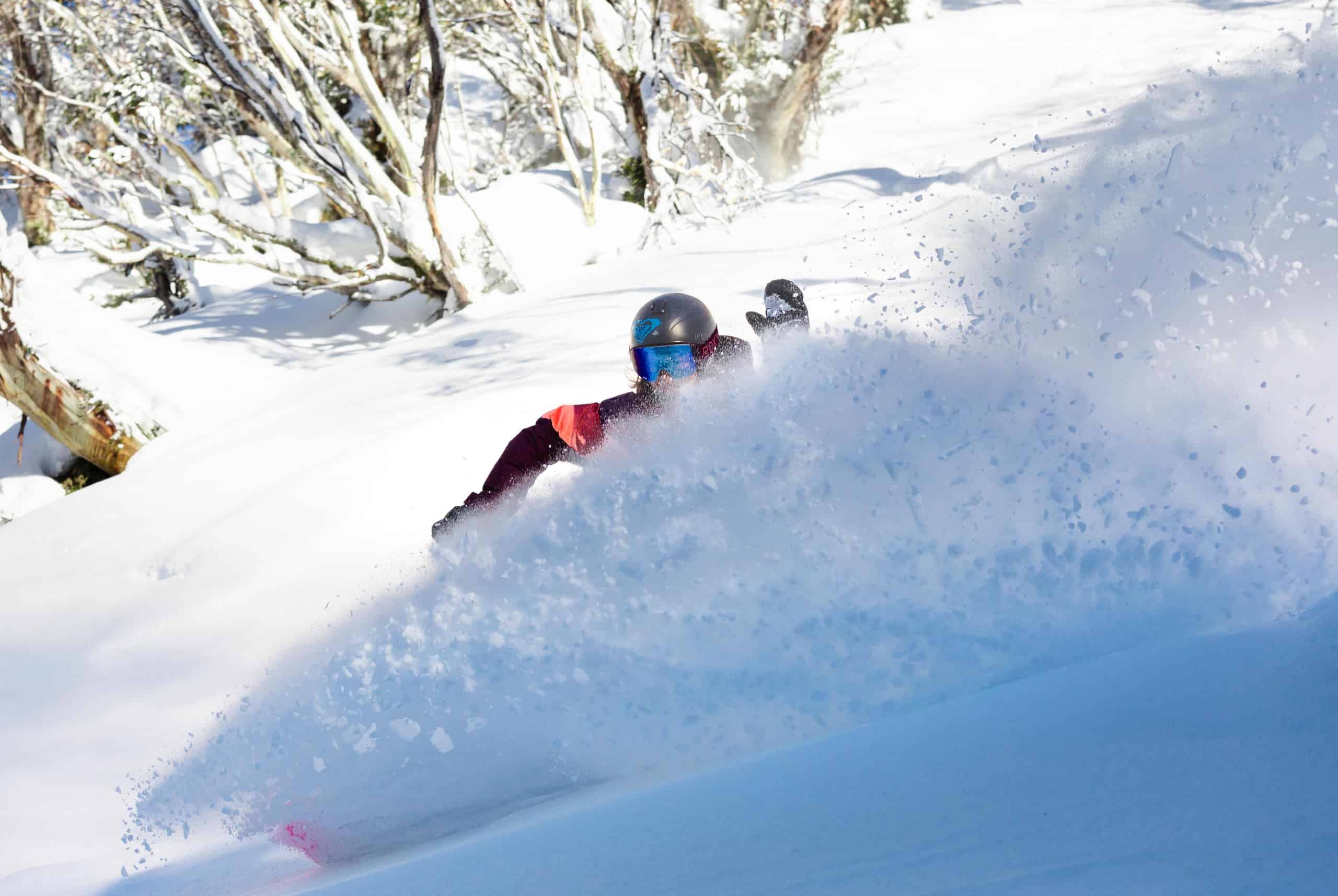 Mountainwatch | The Grasshopper
 Dust off your skis folks; the first snowfall of the year is upon the Australian Alps. It's a big and super early wintry storm that should pile 20-50cm over Aussie ski resorts from Thursday through into Saturday night, with the upper reaches of the Snowy Mountains possibly maxing out at a whopping 70cm. Winds will blow a gale and freezing temps will see snow falling down to about 1000m.
 Although the snow will have melted in a week or so, it's just what we need to pull our antennae's away from all that "other" news to remind us that the snow season is just around the corner and that we should get excited. Maximum snow depths at Spencer's Creek have surpassed the long-term average during the last three seasons. Can we make it four in a row? It's a gamble, but the climate is dealing us a good hand, not quite a royal flush, but one worth going all-in on.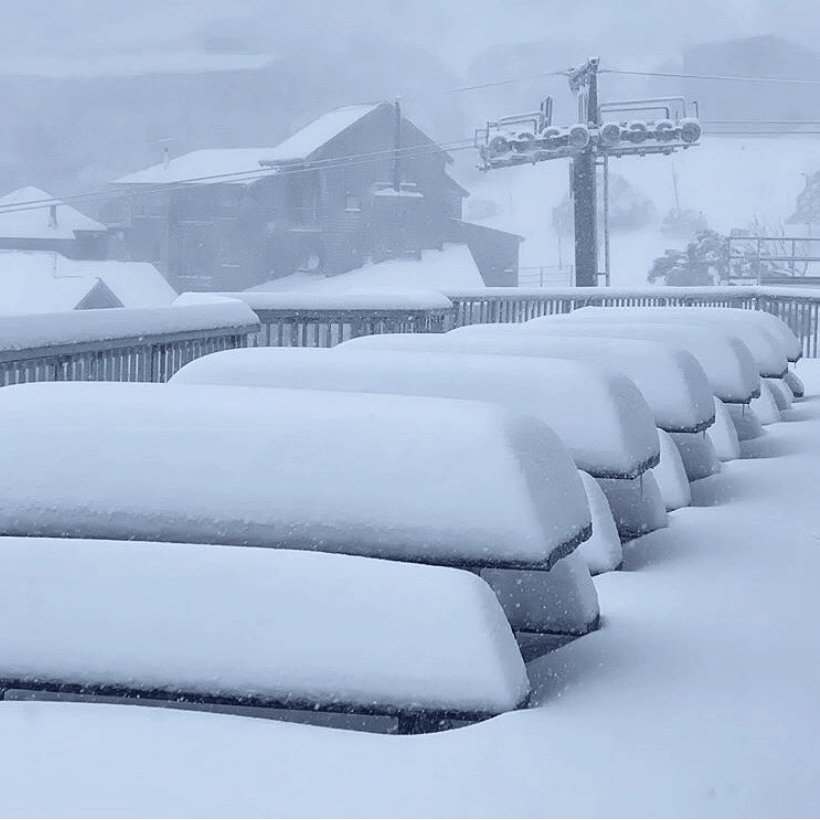 Climate Drivers and Models – Next Best Thing To A Royal Flush
Two major sources of variation in Aussie snowfall, the El Nino Southern Oscillation (ENSO) and the Indian Ocean Dipole (IOD), are aligning nicely for the season ahead. The ENSO is likely to remain neutral, while the IOD should become negative sometime during July or August.
At present, waters across the tropical Pacific are on the warm side of a neutral ENSO, but central and eastern areas are expected to gradually cool through winter. Although the majority of models keep ENSO within neutral bounds, a number of models suggest we could reach La Nina thresholds during spring.
Coupled with a negative phase of the IOD, a La Nina would give us that elusive royal flush, providing the best chance for a heavy snow season. The next best thing though, is when we combine a neutral ENSO with a negative IOD. On average these years pump out a peak snow depth of 234.3cm at Spencer's Creek. Compared to the overall average of about 195cm, we're looking good indeed.

Negative IOD events increase the likelihood of above average precipitation in the Australian Alps by feeding extra moisture from the Indian Ocean into approaching fronts. More precipitation usually means more snow, and there is good agreement between climate models as well as the Australian Bureau of Meteorology (BOM) that precipitation is likely to be above average this season.
While precipitation is strongly correlated to snowfall, it does beg the question of whether we'll also cop a lot of rain. This largely comes down to temperatures. Fortunately climate models don't favour a warm winter, which would leave us soggy and snowless, but they also don't favour it to be colder either. Average temperatures coupled with high precipitation would likely mean we would just see more storms where warm temps and a heap of rain will precede cold air and snow.
More frequent and/or stronger storms are what we usually expect during seasons with a neutral ENSO and a negative IOD, as these tend to result in lower pressure anomalies stretching over southern Australia and New Zealand. Although some individual models suggest this may be the case, the model consensus doesn't necessarily support this pressure pattern.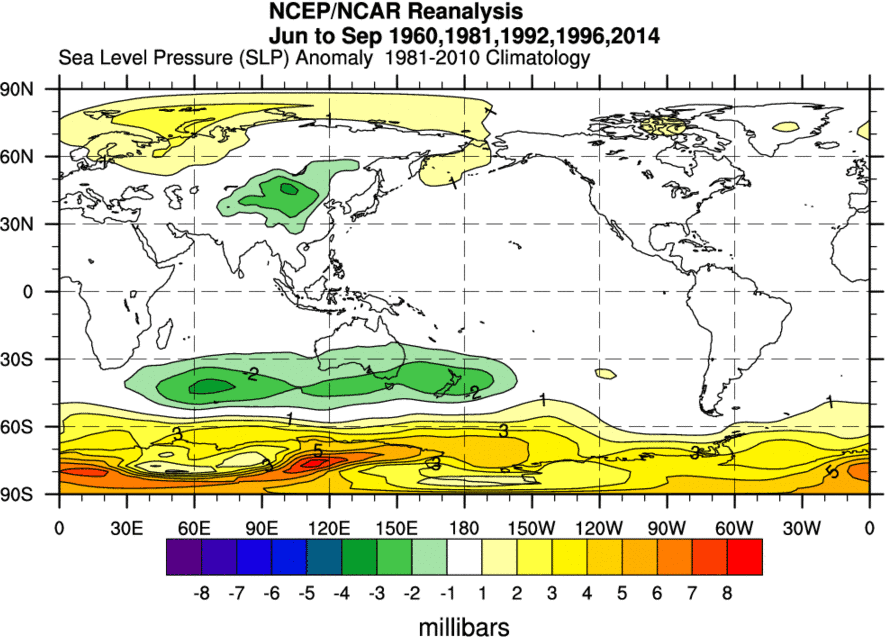 Most models do, however, place low-pressure anomalies over the Indian Ocean and Indonesia, with some also extending them over much of Australia. While this may mean the Southern Ocean doesn't cough up more storms than it usually does, the moisture feed coming from these warmer climes may intensify approaching systems and help break down that perennial belt of high pressure that sits over Australia, thus allowing storms easier access to the Aussie Alps when they do show up.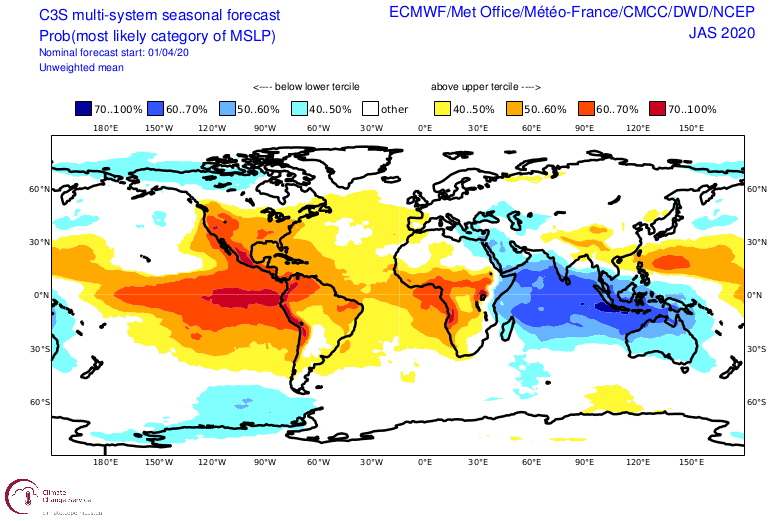 A Ray of Light Amongst The Gloom
With the climate dealing us a good hand and enough support from models egging us on, it's worth the bet to expect above average snowfall this season. Influences from the ENSO and IOD usually grow through the season, with the most notable changes in spring. Although we're battling the effects of global warming, which has been chipping away at our spring snow, the second half of the season particularly stands a decent chance to be good this year.
This outlook is a positive ray of light amongst all that working to derail the upcoming ski season. New Zealand is looking good too, and there are no strong signs that it won't be the usual skiers paradise, the Southern Lakes particularly standing a good chance for plenty of snow. The full New Zealand snow season outlook will be published in a few weeks.
Until then folks, that's all from me. If you've got a different theory on what's going to happen this winter, or just want to provide feedback, then please hit me up on Facebook. 
If all this snow falling has got you hyped on a ski trip this season, our partners at Liquid Snow Tours have some earlybird NZ packages available. In anticipation of New Zealand's borders opening up to Australians, they've put together some great packages. Click through below to check them out or fill in your details to express your interest and they'll contact you when borders open.