Alterra Mountain company to acquire Crystal Mountain Resort in Washington
September 7th, 2018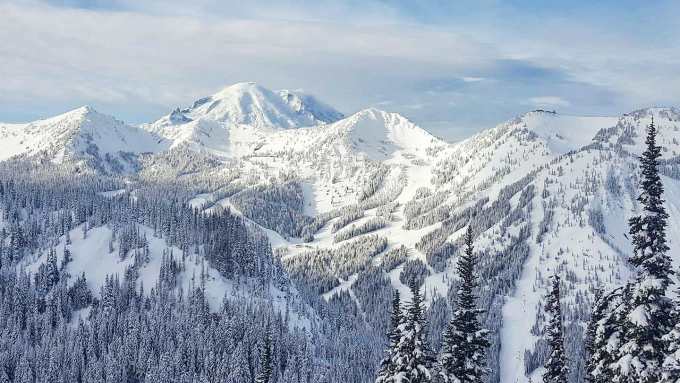 Mountainwatch | Press Release
DENVER, CO, September 6, 2018 – Alterra Mountain Company announces that it has entered into an agreement to purchase Crystal Mountain Resort in Washington, which would bring the company's total to 14 year-round mountain destinations throughout North America, including the world's largest heli-skiing operation.
"With the addition of Crystal Mountain Resort in Washington, we are able to expand our reach into the Pacific Northwest and offer our guests incredible experiences in the Cascade Mountains, while also giving Crystal Mountain Resort skiers and riders the opportunity to explore all the other premier destinations on the Ikon Pass," said Rusty Gregory, Chief Executive Officer, Alterra Mountain Company. "Crystal Mountain is Washington's premier resort and has been a favourite year-round destination for those in the greater Seattle-Tacoma area for years, and we are excited to include it in the Alterra Mountain Company family."
Crystal Mountain Resort will be available on the Ikon Pass for winter 2018/2019. Access will be unlimited with no blackout dates on both the Ikon Pass and Ikon Base Pass. (Any Ikon Pass access or benefits at Crystal Mountain Resort is contingent upon the completion of Alterra Mountain Company's transaction to acquire Crystal Mountain Resort.)
Situated in the Northeast edge of Mt. Rainier National Park, Crystal Mountain Resort is less than two hours from the Seattle-Tacoma International Airport (SEA) and boasts the largest and highest lift-serviced terrain in Washington. The mountain offers skiers and riders a gondola and 10 lifts, 57 runs, and a vertical drop of 3,100 feet across 2,600 acres. The village is home to a number of lodging properties, shops, services and year-round activities.
"It has always been my goal to ensure Crystal Mountain Resort be taken the farthest in the shortest amount of time in order to keep Crystal at the top of Northwest skiing," said John Kircher, Owner of Crystal Mountain Resort. "Alterra Mountain Company is able to offer a depth of experience and resources, as well as inclusion on the Ikon Pass with its outstanding destinations throughout the world. The mountain sports business has changed more in the last year than I have seen it change in my entire 40-year career, and I am excited to see what lays ahead."
The transaction is expected to close in the fourth quarter of 2018, and is subject to certain closing conditions, including regulatory approvals. Terms of the transaction were not disclosed. More details will be released once the transaction has closed.
Alterra Mountain Company's destinations offer premium ski, snowboard and all-season activities for those who seek adventure, freedom, and fun in the great outdoors. Current destinations that make up Alterra Mountain Company are spread throughout five states and three Canadian provinces: Steamboat and Winter Park Resort in Colorado; Squaw Valley Alpine Meadows, Mammoth Mountain, June Mountain and Big Bear Mountain Resort in California; Stratton in Vermont; Snowshoe in West Virginia; Tremblant in Quebec, Blue Mountain in Ontario; Deer Valley Resort and Solitude Mountain Resort in Utah; and CMH Heli-Skiing & Summer Adventures in British Columbia. Alterra Mountain Company was created when affiliates of KSL Capital Partners, owners of Squaw Valley Alpine Meadows, and affiliates of Henry Crown and Company purchased Intrawest, Mammoth Resorts, and Deer Valley Resort in 2017.
In January 2018, Alterra Mountain Company introduced the Ikon Pass for winter 2018-2019, the new standard in season passes. The Ikon Pass offers skiers and riders access to 35 mountain destinations throughout North America, Australia and Japan, including 13 Alterra Mountain Company destinations, plus 22 partner destinations.