August – The Month That Keeps On Giving
August 25th, 2018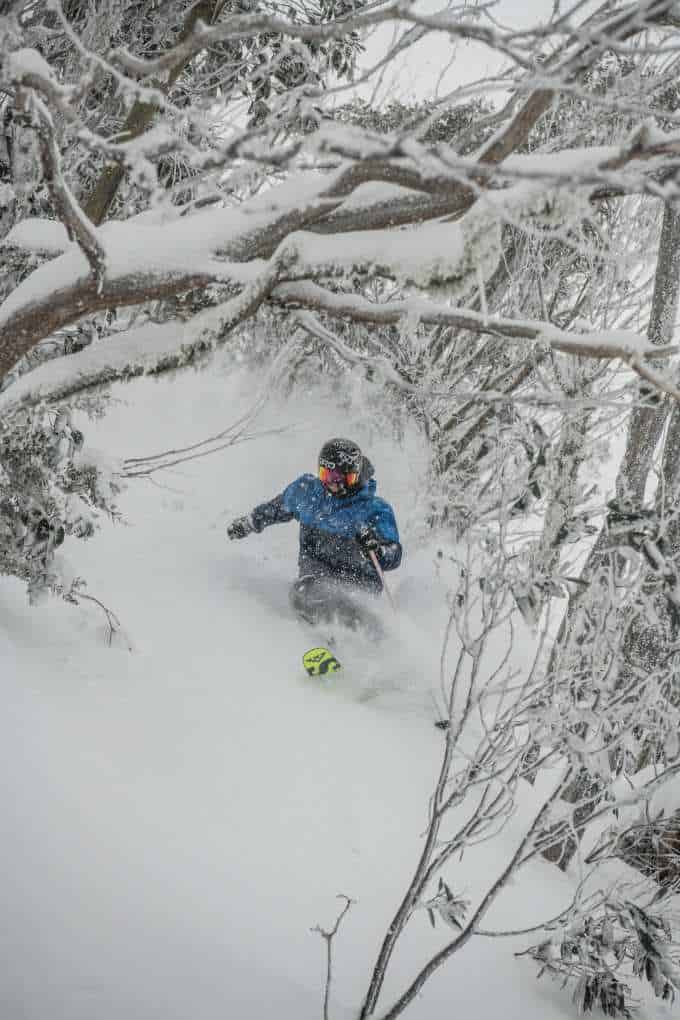 Mountainwatch | Reggae Elliss
This August has turned out to be one for the books with consistent snowfalls over the past three weeks, cold temps and some incredibly good days in all resorts.
There has also been a lot of wind with strong west/north westerlies which resulted in wind-hold issues on a number of days. However, the combination of the snow and wind has seen the base build significantly over the past three weeks and most resorts cracked the two metre mark last week and the latest snow depth reading from Snowy Hydro, taken at Spencer's Creek, has come in at 224.6cms, 40cms more than this time last year.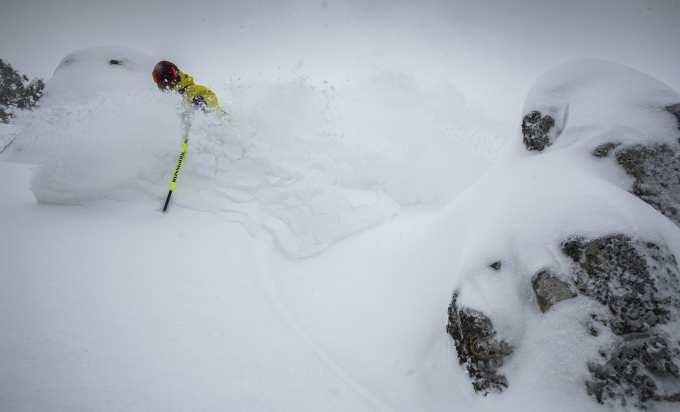 Here in Thredbo it looks like there is more snow on the upper mountain than at the peak of last season with very deep drifts up high and it will be interesting to see how long it will take to dig out the upper mountain bike tracks in time for the opening of the mountain bike season in mid-November.
This winter has been referred to as the season that keeps on giving and while we have had two or three big snow events since the first big storm way back in June, it has been the regular top ups of 10-15cms, cold temps, the wind and, most importantly, minimal rain that has helped get us to this point and maintained a deep, quality snow-pack.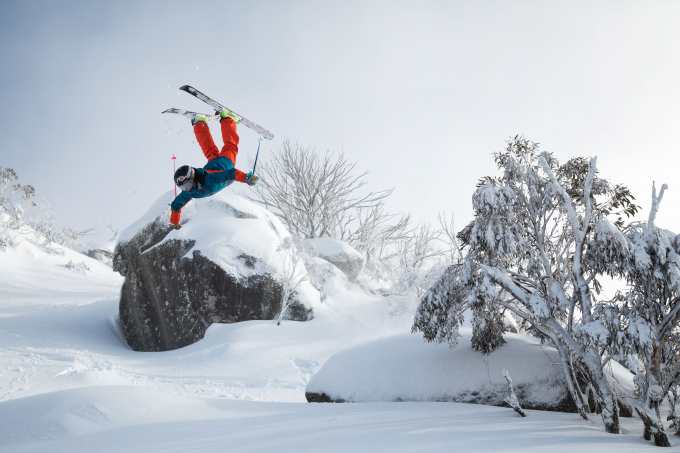 August is usually the snowiest month of the season and it kicked off nicely this year with 10cms of snow on August 1 with moderate to strong WNW winds that blew in a lot of more snow. Another front came in a few days later on August 4 also dropping 10cms of snow across most resorts, but the accompanying winds were strong to gale force and wind-hold was an issue for three days in a row on August 3, 4, 5.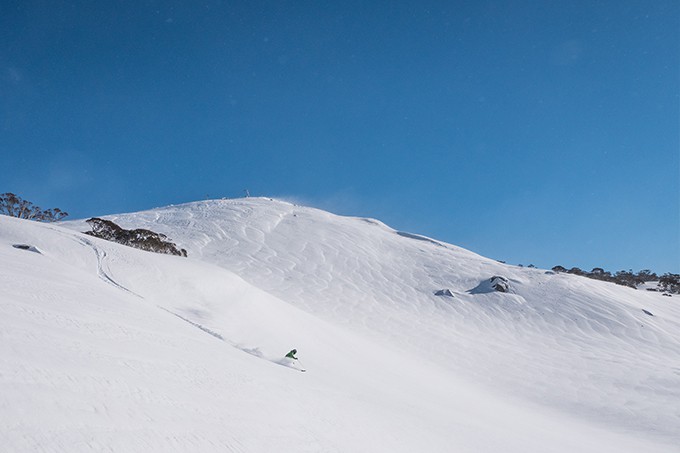 However, the snow was high quality, particularly up high, but as I wrote in a Thredbo snow report on August 5, it was a battle and a case of braving the elements: "The snow up around the T-bars was awesome yesterday, with big drifts of dry wind-blown snow and it should be similar today, you just have to brave the ice pellets bashing into your face, especially at the top of Sponars and the Basin, but it will be worth it".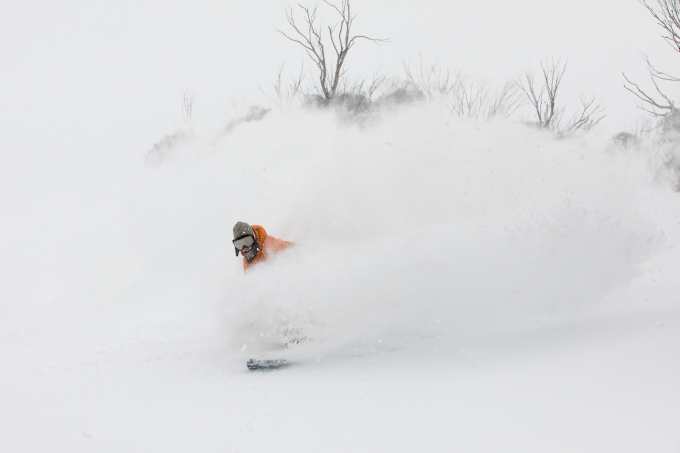 That cold front was the prelude to another due on August 7-8, the Grasshopper confident it was going to be a big one and the snow during that period turned out to be the best of the season. On the morning of Tuesday, August 7 the NSW resorts had received 25cms of snow overnight, taking the total to 35cms in 24 hours and it was cold, the temp at -6, the wind 60km/hr out of the WNW and the wind-chill -20. The snow was awesome, with constant refills for most of the day thanks to consistent snow showers and the relentless wind. You sometimes hear people say that Australia doesn't get real powder, and while our powder might not be as deep as other parts of the world, in the right temps and conditions it can be just as light and just as dry.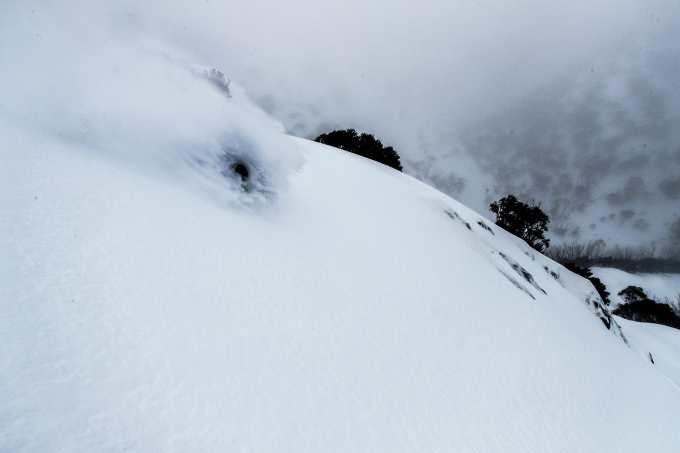 Matt Hampton, who owns the Rhythm store in Niseko and has lived in Niseko every winter since 2005  grew up in the Snowy Mountains and has skied Thredbo since he was a kid. He rates that Tuesday as one of the best days skiing he's had in the past 12 months. "I can confidently say that Tuesday was one of the best pow days I can remember. Getting first tracks down Funnelweb gave me a few flash backs to last winter in Japan."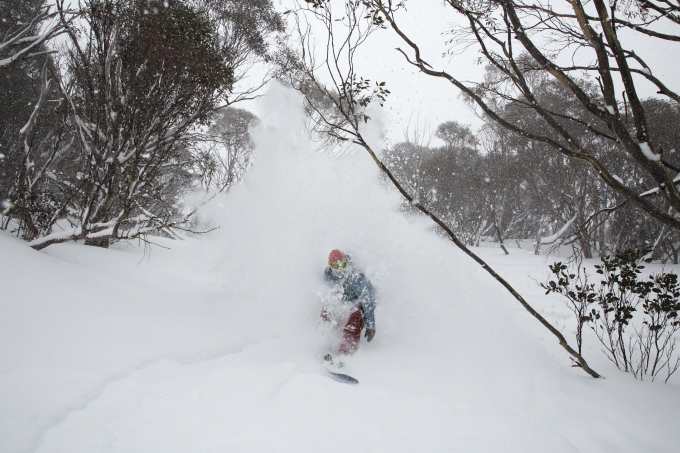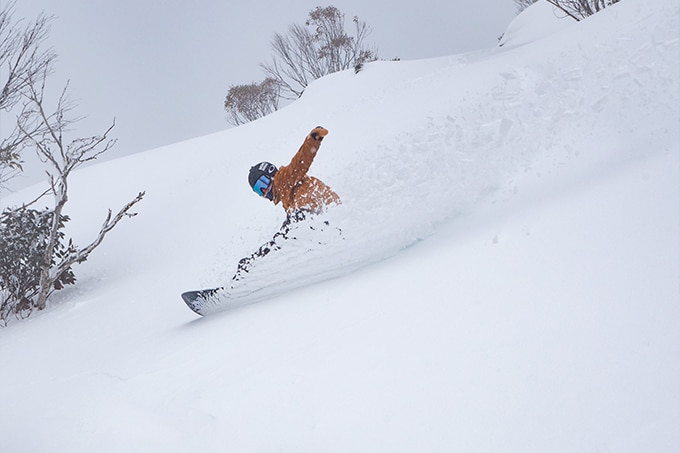 The August snowfalls kept coming with a solid dump on Saturday August 11, dropping 20cms in a few hours, and the following day was one of those classic clear powder days and as Bill Barker wrote in his Hotham snow report on August 12 it was another epic day: "We have had 24 cm of cold dry snow in the past 24 hrs with about half of that falling overnight and there is the odd flurry still coming through as I write this.  The wind has backed off another notch and has swung to the south-west, the temperature is a crisp minus 6 and we are heading for a top temp of minus 3.  It will be awesome for everyone out there today."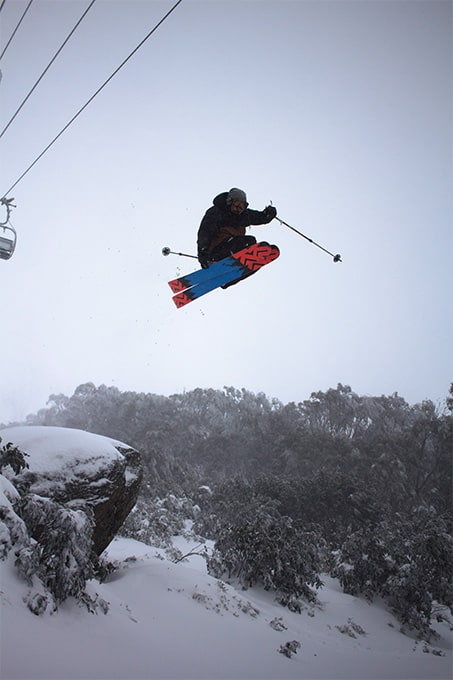 Another front was due a few days later, with potential for 15-20cms but after an initial burst on Wednesday August 15 with good snow, the temperature fluctuated so and the snow was variable with "periods of cold snow followed by some dampness and then another dry fall."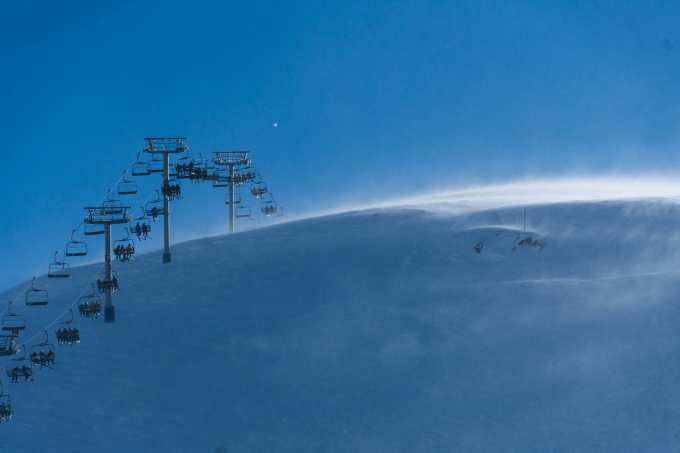 At the time, the Grasshopper was calling for a much colder and stronger front for last weekend and as all now know, it came through in a big way with significant snowfalls on Saturday and Sunday and snowfalls down to low levels which caused a bit of havoc on the roads leading into the resorts. Last weekend may have been as good as August 7 and 8 with 40-50cms falling over a 48-hour period and cold temps maintaining the high snow quality. It also made it three weekends in a row with fresh snow and some great storm skiing and the only people not happy were the fair-weather skiers.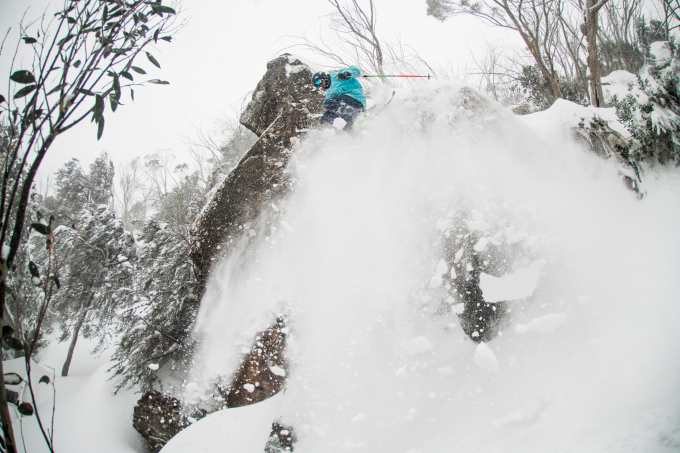 The past two days have seen fine weather with sunny mornings and light winds and a bit of cloud in the afternoon. It has been pretty nice to experience the sunshine for a few days and while the snow off piste has been a little firm, the groomed runs have been perfect and the terrain parks in all have been on point.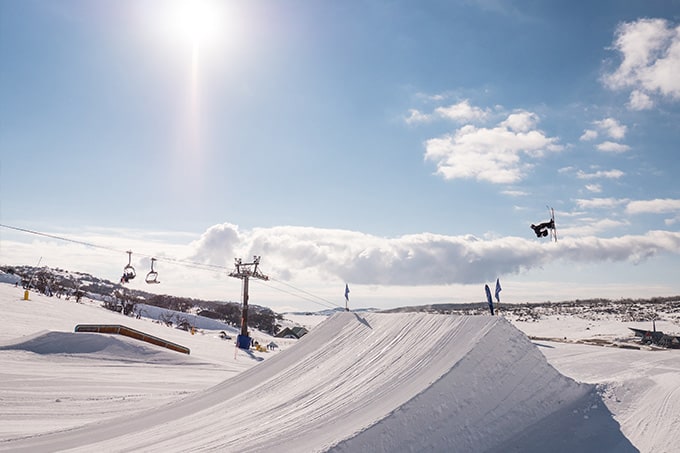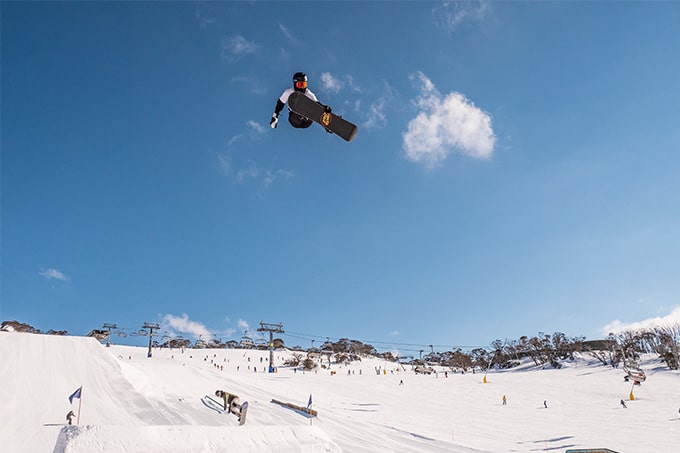 It is only a week until spring and only five weeks until the end of the season although at this stage Perisher, Hotham and Buller will have lifts spinning until October 7 and given the excellent snow pack we should be in for a very good spring.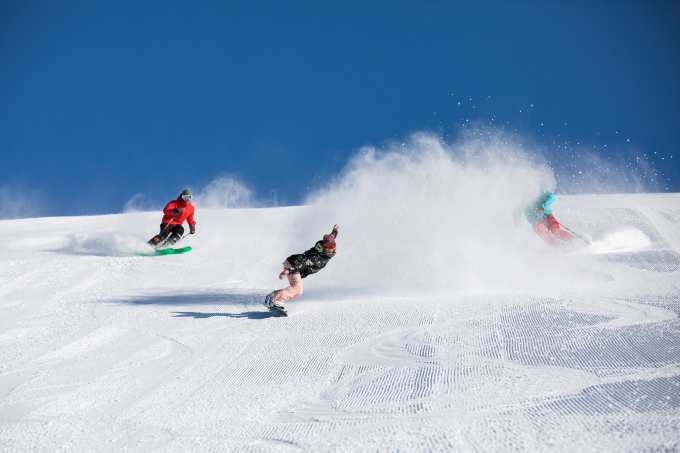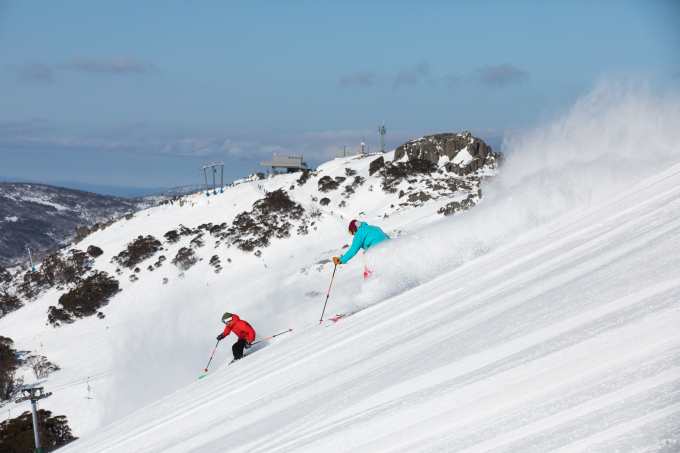 However, winter isn't done with us yet and we are going to have cold temperatures and a few snow showers this week ahead of another cold front next weekend and the Grasshopper's extended outlook in his forecast today is looking good for yet another powder weekend: "Warm northerlies will bring in a bit of wet mucky stuff next Friday … lucky for us, freezing SW winds should sweep over the Aussie Alps next weekend with what could be hefty snowfalls." This really is turning into the season that keeps on giving.