AUSSIE WEEKLY SNOW JOURNAL – A Cooling Re-fresh
August 10th, 2011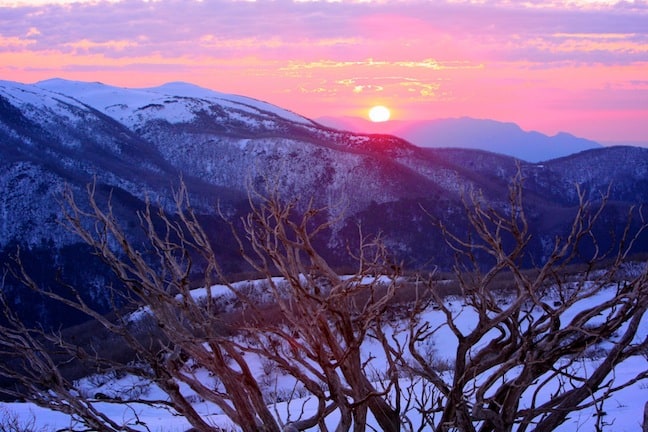 Sunset over Falls Image::Courtesy of Falls Creek
Aussie Weekly Snow Journal | Alex Horvath
With the current state of seemingly global turmoil those of us engulfed in the snow bubble lifestyle were stoked to be graced with 10-20cms of fresh snow come Monday morning. Markets are crashing, youths are rioting, in Australia however, we're just happy it's snowing. This storm succeeded in healing the wounds inflicted after the heat wave of the last two weeks and reminded us that winter is indeed not yet over.
Although the snow has returned the damage was most certainly done by those anomalous temperature trends. The Spencers ck depth last week measured at 135cm, this marked a total snow loss of 30cms from the previous recorded depth 165cm. Thankfully the 15cms or so that fell on Monday replenished most of this and we should be back to around about the same depth, at least in snowmaking areas anyway.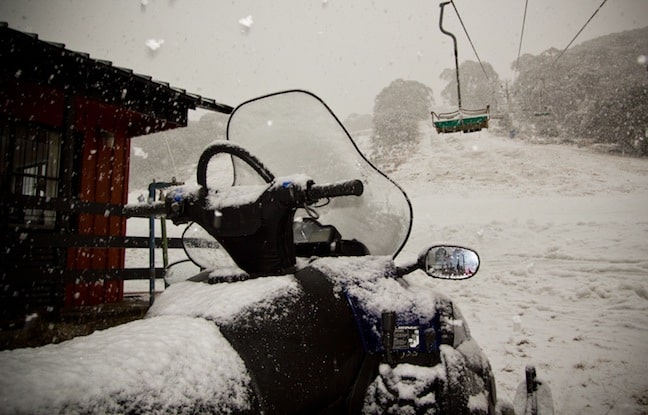 Snowfalls all the way to the Village in Thredbo Image::Steve Tognazzini
One big letdown of last weekend was the cancellation of the prominent Thredbo Top to Bottom event. The event was due to take place on Saturday 6 August though unfortunately rain prevailed and the conditions were deemed unsuitable for the race to proceed.
August and September Outlook
The recent warm trend that we experienced combined with the modeled mild temperatures for this week inspired me to carry out a little climatic investigation. "The majority of international climate model forecasts of ENSO show that neutral conditions are likely to continue for the remainder of the southern winter and into spring with the chances of an El Niño developing now considered unlikely. In fact, more models are now predicting further cooling over the coming season" said the Bureau Of Meteorology in their latest El Niño / La Niña update.
This cooling that they are referring to is in relation to ocean temperature anomalies that govern the presence of either an El Niño / La Niña event, unfortunately it doesn't relate directly to temperature trends on land, "The national outlook for maximum and minimum temperatures averaged over August to October shows a moderate to strong shift in the odds favouring higher than average temperatures across most of Australia." Mentioned the Bureau, "The pattern of seasonal temperature odds across Australia has been produced using recent Pacific and Indian Ocean temperature patterns. This outlook is primarily a result of warm conditions in the Indian Ocean."
Time will tell whether this outlook will keep the mountain temperatures on the just-too-warm side of the knife-edge for the rest of August. It is important to keep in mind that these outlooks refer to AVERAGE temperature patterns, snow-storms will still arrive it's just a matter of it being cold enough at the time that they do.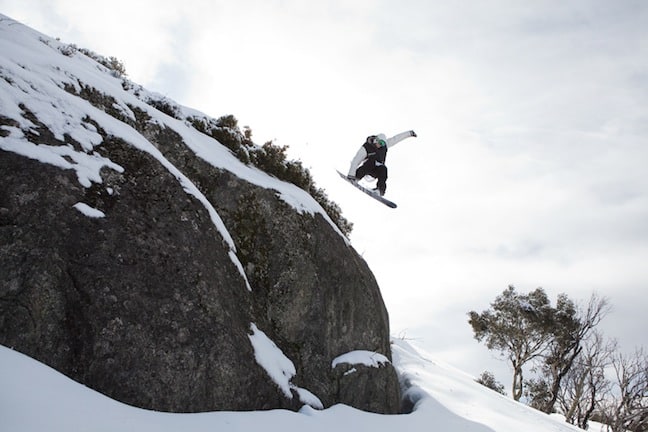 Sending it in Perisher Image::Dom Kieler
Weather this week
As the low and associated trough slides east off into the Tasman we are going to see a moist southeasterly flow establish which will bring light snow flurries, mainly in the VIC mountains and steadily rising freezing levels. On Friday and Saturday a ridge of high pressure will establish itself bringing with it calmer conditions and slightly warmer temperatures that should hover around about the 3-4°C mark with sunshine all weekend.
In terms of the next big snowfall we are again waiting for any signs as they begin to show themselves, "In the super long distance we have signs of a monster low next Friday. Nine days out, this is almost guaranteed to change significantly over the next couple of days, so this is just a heads up. I'll follow this for you and let you know when it's time to get excited." Mountainwatch alpine weather guru The Grasshopper said.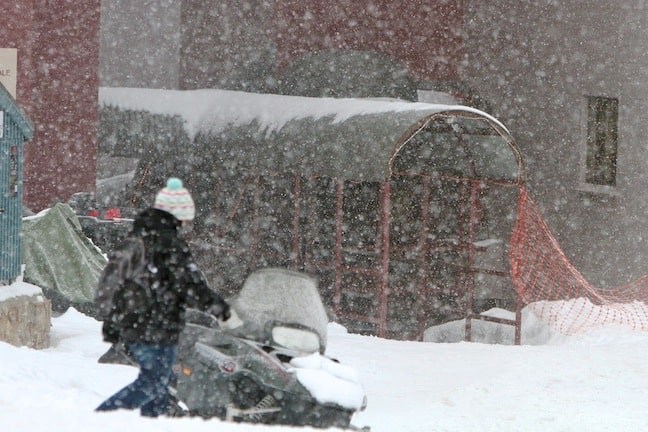 Snowfalls came in heavier in VIC then NSW yesterday Image::Courtesy of Falls Creek
Resort Breakdown
NSW
Perisher Today's conditions should be great in Perisher with further snowfalls expected and temperatures remaining cold for the next day or so. Unfortunately temperatures will rise gradually until the weekend when mainly sunny conditions are expected. The good news is that winds are expected to remain light, from the W today before a S/SE shift with some more moisture tomorrow. Mainly sunny with light N/NW winds on the weekend and early next week. The best snow will be in the high alpine and in the trees for the next few days, north aspects will become soft in the sun over the weekend so get out there early.
Charlotte Pass Some light snowfalls are likely today and tomorrow at Charlottes before the S/SE change arrives tonight. Freezing levels are likely to be borderline tomorrow at around 2000m. Conditions should clear on Friday before a mainly fine and sunny weekend with light N/NW winds continuing into early next week. The higher altitude favours Charlottes this week as freezing levels remain high, get out early before the sun softens the snowpack.
Thredbo Light winds, high cloud and fresh man-made snow today after the guns pumped out 4500m3 last night. Some more snow should fall up high in Thredbo this afternoon and this evening as the SE change begins to move through. This weather will clear on Friday to a mainly sunny weekend. We will see light winds only from the W/NW across the weekend and into early next week. Higher groomers will be the pick over the next week or so in Thredbo, head up nice and early to beat the sun and take advantage of the corduroy while we wait for the snow. Tomorrow morning the Bluff and Basin areas should be full of fresh for those out early.
VIC
Falls Creek Further snowfalls are continuing today and tomorrow at Falls Creek, the SE change should occur this evening resulting in a slight rise in freezing levels then compared to the last few days. The good news though is that it is expected to clear on Friday when the sun will come out, a mainly fine weekend with light winds is expected to persist through to Tuesday next week. With all this sun forecast the place to be will be in the Castle park, the set up looks super fun as Falls Creek primes itself for Stylewars later in the season.
Hotham Very similar outlook at Hotham to Falls Creek, some snowfalls today and into tomorrow as the SE change moves through the area. This will clear on Friday setting up for a partly fine weekend with light N/NW winds. Pretty similar conditions on Monday and Tuesday, although the models are suggesting the chance of some snow on Tuesday. Some awesome free-riding will be on offer tomorrow morning with the fresh snow, make the most of the extreme zone as with the warmer weather it may not be open much longer.
Mt Buller More snow should fall today in Buller before conditions clear into tomorrow. Winds will be from the E/SE until Saturday when they should swing back round to the N. The sun should stick around until next Tuesday where we may see some snow flurry activity. Lines off of the Summit will be the pick tomorrow, they should hold the best snow as things warm a little.
Mt Baw Baw A dangerous mix of snow and rain for Baw Baw today, fingers crossed they won't lose too much snow with the rising freezing levels, luckily this will clear by Friday and the weekend should see some cloud with sunny breaks, E/SE winds before a N/NW shift across the weekend. Temperatures are looking a fraction too warm next Tuesday and Baw Baw may see some rainfall. Go looking for those park features hidden amongst the trees, otherwise the bar might be a good option with all the rain on the way.
EVENTS THIS WEEK:
Australian Junior Snowboard Series at Perisher 12-13 August
FIS Race Week continues at Thredbo today and tomorrow
Thredbo Masters takes place on Saturday 13 August
Hotham Banked Slalom takes place on Saturday 13 August
Thredbo Freeride Series kicking off on Tuesday 16 August
BREAKING NEWS:As at time of publishing it is dumping across most resorts to quite low levels, fingers crossed this will end with some solid accumulations.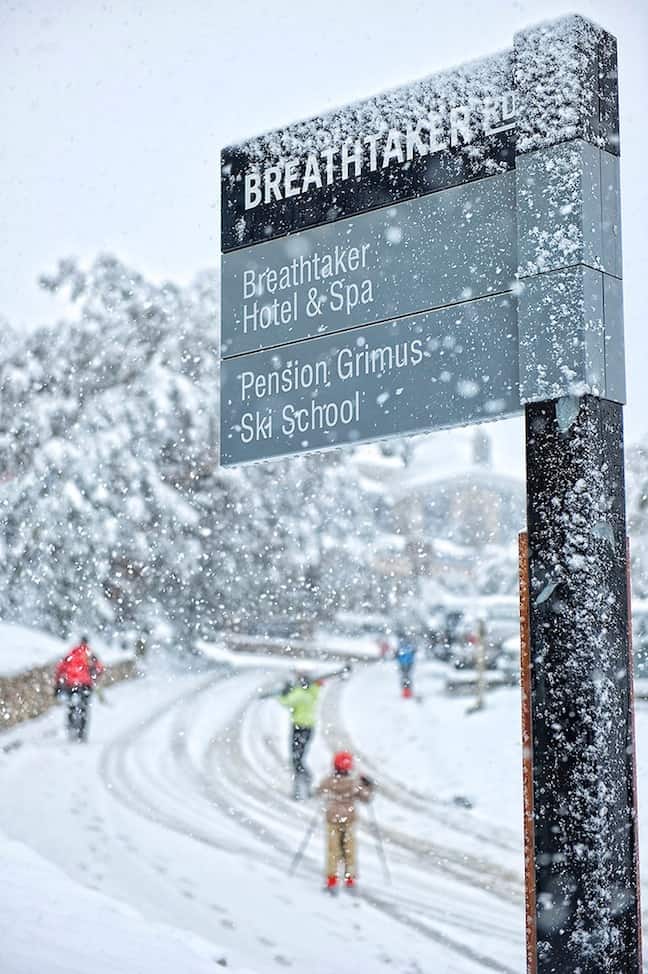 Heavy snow falling in Mt Buller at 1:01pm today Image::Courtesy of Mt Buller
Perisher forecasts,
snow reports and
live snow cams.
Falls Creek forecasts,
snow reports and
live snow cams.
Mount Buller forecasts,
snow reports and
live snow cams.
Charlotte Pass forecasts,
snow reports and
live snow cams.
Hotham forecasts,
snow reports and
live snow cams.
Thredbo forecasts,
snow reports and
live snow cams.
Mount Baw Baw forecasts,
snow reports and
live snow cams.