AUSSIE WEEKLY SNOW JOURNAL – The Waiting Game
July 20th, 2011


Drew Jolowicz tearing up the windblown last week Image::Mark Tsukasov
Aussie Weekly Snow Journal | Alex Horvath
More fresh snow has fallen over the last few days although this was not without some of the dreaded rain that we all love to hate in the Australian mountains. For Aussie farmers rain is never welcome enough, for us in the business of winter the frozen version is much more appreciated.
Sunday night saw the rain soften up the cover before the mercury dropped and we saw snow start to fall on Monday morning. As the saying goes all good things must unfortunately come to an end and Tuesday afternoon/evening saw things heat up and the rain kept falling making for a soggy Wednesday morning.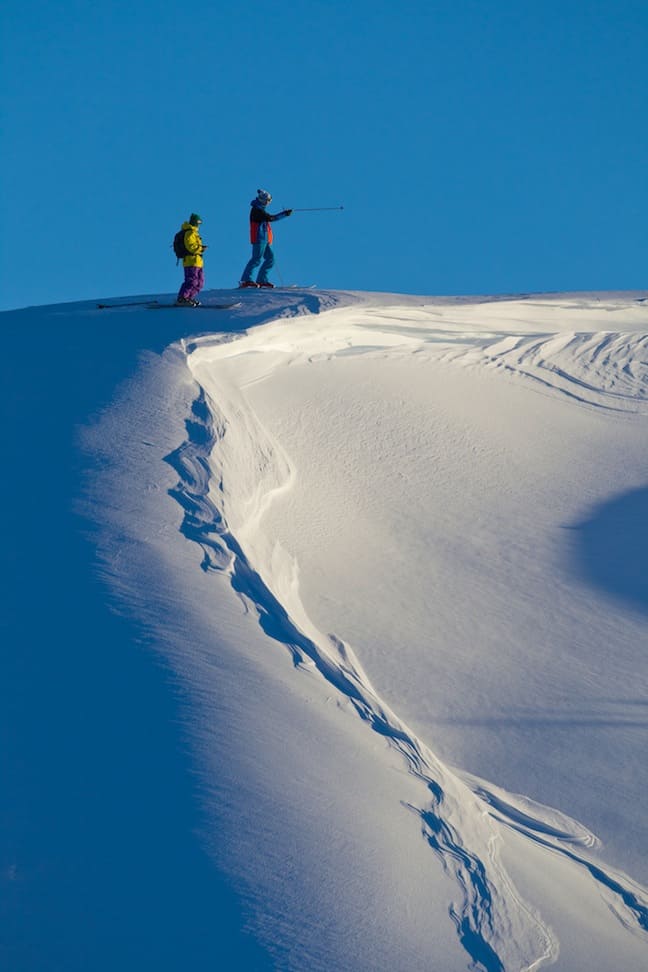 Scoping some BC lines Image::Mark Tsukasov
Most resorts saw accumulations around about the 5-10cm mark early in the week. In contrast to the recent big storms, the weather of the last few days has been predominantly from the south/southeast, this pattern favours the Victorian resorts, Mt Baw Baw in particular. This meant that freezing levels have been lowest across the more southern resorts and unfortunately borderline in the more northern NSW resorts. For Thredbo and Perisher this has meant wet snow mixed with periods of rain. This pattern is not all negativity though as the wet snow freezes overnight further consolidating the epic base that is still building.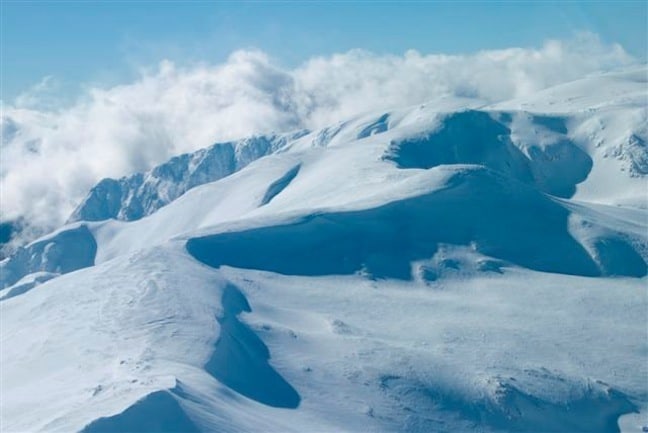 The main range looking perfect. Choose your line! Image::Courtesy of Perisher
Weather for the remainder of the week
Looking at the charts to work out what we can expect for the next few days it is very borderline. The key factor in the mix right now is the freezing levels, cold air is expected to come in from the strong southerly stream, and the timing of this cold air is going to determine the snow accumulations that we will see. Unfortunately due to some very tightly packed isobars those south/southeasterly winds are coming in strong. This is going to mean wind holds on exposed lifts over the next few days.
The weekend should see a return to sunny and cool conditions, overnight temperatures will drop and the snowmakers will be able to freshen up the snow!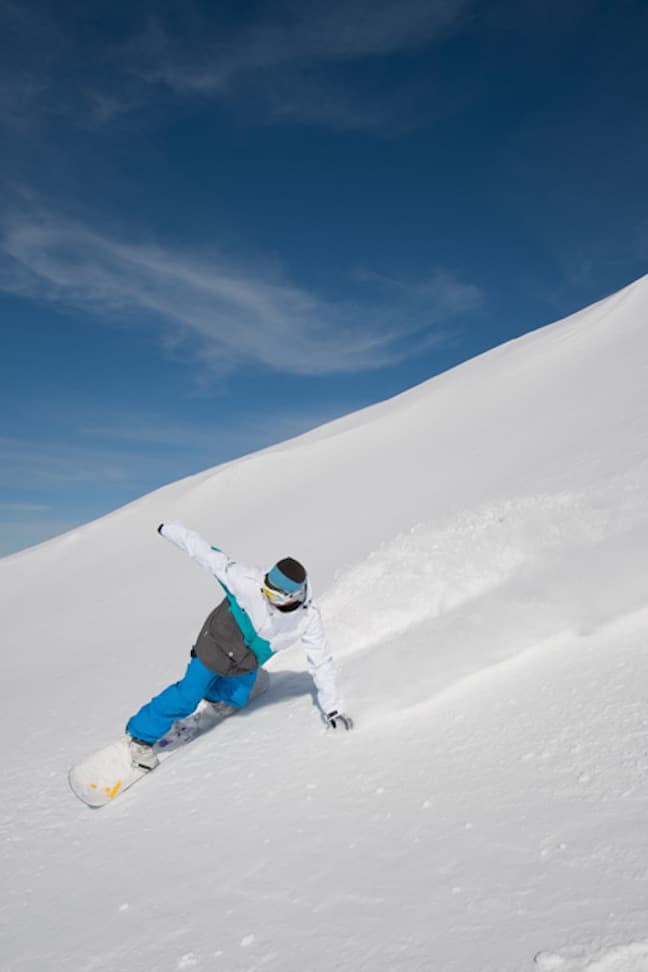 Ed Richards slashing. Image::Mandy Lamont
Resort breakdown
NSW
Perisher Fog and light rain this morning created some wet conditions for anyone out and about early today. It turned to snow around about 10am and more snow is expected for the rest of today and tomorrow. The freezing levels will be around 1800m meaning Perisher should do quite well. Accumulations of 10-15cms by the weekend are a real possibility. Winds may cause some lifts to be put on hold. With the addition of the Blue Cow park Perisher now has five parks on offer.
Thredbo Unfortunately a wet and rainy start to the day in Thredbo. This has made for a soft cover over the majority of the mountain. Reports say that it has turned to snow up top so fingers crossed it will continue to get colder and we will get some nice accumulation. Plenty of park options with three parks now in operation, a ridercross course and the air bag open today.
Selwyn Snowfields Mild conditions in Selwyn today with some overnight rain. The cover is in great condition thanks to the recent snowfalls although it will soften with further showers expected today.
Charlotte Pass The higher elevation enjoyed by Charlotte Pass is helping it to stay clear of the rain, although it has warmed up with a current temperature of 1.3°C light snow is expected today although visibility might be a problem. Snow flurries will continue through to the weekend, sunny conditions will return on Saturday.
VIC
Falls Creek High winds from that strong southerly have meant that most lifts at Falls are on wind hold. Fingers crossed the air cools down and more snow comes through. Plenty of snow across the resort and the cover is still in great shape.
Hotham Mild and overcast in Mt Hotham today, winds are strong from the south at around 41-60km/h meaning wind holds are likely. A few snow showers are expected over the next few days.
Mt Buller Wild and windy in Buller today, some lifts have been placed on wind hold. Cloudy conditions with light snowfalls are expected for the next few days.
Mt Baw Baw Recent snowfalls have set Baw Baw up perfectly, the resort is running 5/7 lifts today, 2/8 parks are open with 15/28 features already installed, 6/9 trails are open. Baw Baw will see cloudy conditions with the possibility of more snow over the next few days, before a sunny weekend.
For now we are sitting, waiting and wishing for snow over the next few days, the weekend is set for clear weather and sunshine, perfect conditions to get out in the mountains and enjoy this epic winter so far. The backcountry is likely to be the place to be on the weekend, if you can, get out there and go for a hike!
Perisher forecasts,
snow reports and
live snow cams.
Falls Creek forecasts,
snow reports and
live snow cams.
Mount Buller forecasts,
snow reports and
live snow cams.
Charlotte Pass forecasts,
snow reports and
live snow cams.
Hotham forecasts,
snow reports and
live snow cams.
Thredbo forecasts,
snow reports and
live snow cams.
Mount Baw Baw forecasts,
snow reports and
live snow cams.