Australia – The Hotham Road Gap, A Mountain's Legacy
April 21st, 2020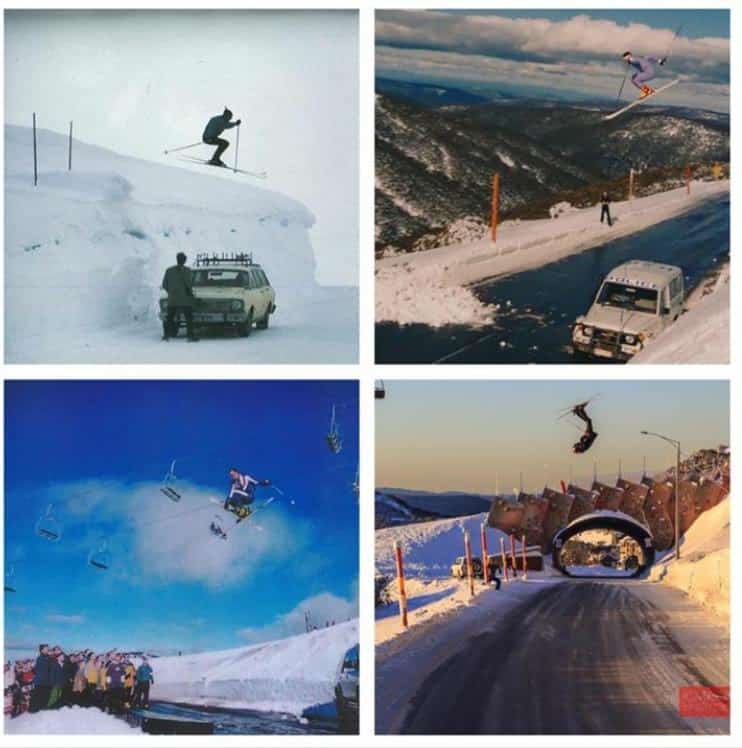 Mountainwatch | Chillfactor
This story appeared in the 2016 Chillfactor Magazine. Words Katya Crema
Hotham is famous for many things; a village at the mountain's summit, rugged alpine terrain with spectacular vistas of Feathertop, wicked sidecountry, après-ski at Zirkies Bar, and of course… the infamous Hotham Road Gap.
Everyone knows of the jump, some have even witnessed it. In 2015, Hotham's history was reignited and the road was once again jumped in spectacular style when Bailey Johnson continued the legacy. Chillfactor looks at four unique personalities who have conquered the road gap. Each of them has a unique story to tell.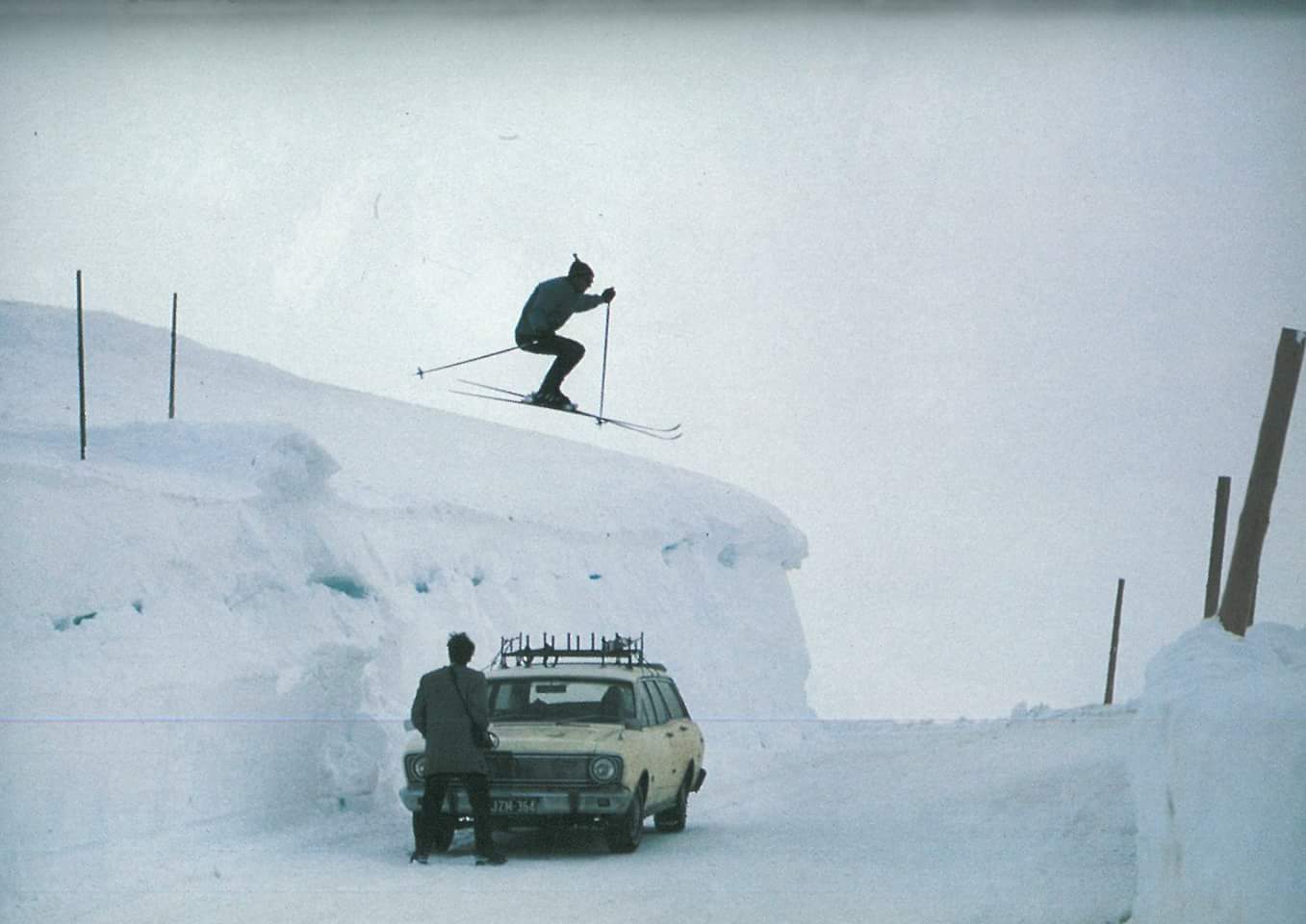 THE LOCAL LEGEND – Peter Zirknitzer, Jump Year, 1960s
Peter Zirknitzer, known to most simply as "Zirky", is one of Australia's most iconic mountain characters. Together with his wife Heather, Peter started Zirky's in the 1970s, a small ski hire and snack bar in Mt. Hotham village. Zirky's grew each season to include a terrace bar, restaurant, bistro, accommodation, ski hire and shop. At 82 years-of-age, Peter can still be spotted each morning launching himself down the slopes of Hotham. He is a die-hard skier who is passionate about the resort he calls home.
 CF: What drew you to Mount Hotham?
PZ: I first came to Hotham in 1963 from Carinthia, Austria. It's fairly close to Lienz. I went to school there. A friend had a chalet up at Hotham; it's now CSIR. He needed ski instructors on the resort. So I went and eventually I got stuck!
Were you one of the first people to jump the Hotham road on skis?
I don't know that I was the first one. It was nothing very special really… We always had to take the skis off, so we just put a couple of branches on the edge of the road for a little take off. There was still the poma lift going up the summit and we worked below the road. We just hopped across. It was nothing special; nothing at all. Instead of walking across we just jumped.
How has the resort changed since you first arrived?
The change has happened so slowly. When I first arrived, the road was closed in winter. I had four pairs of skis in a big bag, a suitcase, and the road ended at Blowhard. So I had to walk in with all this stuff. In 1968, they had the first snowcat come in and it kept the road open during winter. There was no lift up the summit, only a little poma. And of course the rope tow down at Blue Ribbon. It has changed but that's normal.
The black and white photo of the man jumping the road at Zirkies; tell us about this.
We jumped over a Porsche that morning. We were there at about seven o'clock to jump across to get to work. We framed it up and put the car there. But the photo is not actually me, funny enough. We all jumped it… there were about six guys. We were all instructors.
You're 83 this year; how often do you get out for a ski?
I ski quite a bit. Nearly every day when I have time. Hotham has some interesting gullies, it's always different.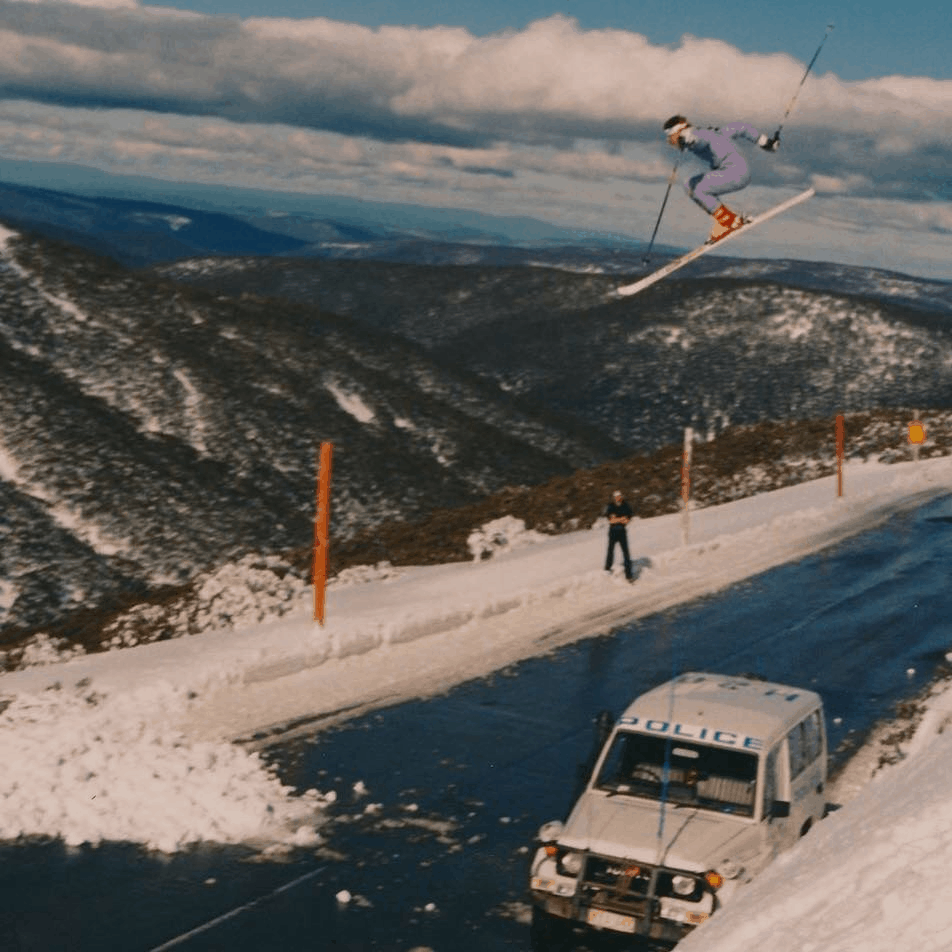 THE OLYMPIC SKI RACER – Richie Biggins, Jump Year: Early 1990s
Richie Biggins competed at the 1988 Winter Olympic Games in Calgary at the young age of 20. An exceptional all-round skier, you'll find Richie ripping GS turns early morning down snake gulley, or commentating the alpine FIS events at Heavenly Valley. Richie is a Hotham local skier, and continues to ski during the winter with his family.
 Do how did you get into alpine racing?
My parents were complete mad skiers and used to take us up to Hotham when we were young kids. That's how we got into those winter adventures. I did slalom and giant slalom and then got into downhill through Steve Lee, who was focussing on the speed events; downhill and super-G.
You finished racing quite young; why was that?
My sport took a few weird turns. I broke my back when I was 18 years-of-age in a motorbike accident. It took me out for quite some time. I was lucky enough to be able to get back into the sport, and be healthy enough to race again. It was only a short career for me. I finished at 21/22. Physically, just not being able to do the sport any longer, my body was pretty worn out from all the injuries that I sustained.
Where did you learn the skills to jump?
I had some good teachers. I remember when Steve Lee was courageous enough to teach Alberto Tomba how to do 360s in downhill training on his downhill skis, and managed to cause him a nice little injury at the time when we were training. There were a lot of really courageous, great skiers around at that time; Steve Lee, Mark Steven… Around my time we had a number of really cool athletes that were fabulous skiers. We used to hang out with the freestyle guys too. We used to go in bumps competitions and get big air. We skied all different sorts of terrain. At Hotham, it was park and pipe skiing down the natural gullies.
So what inspired the road gap?
The road was something that inspired a lot of us. There was this fantastic picture at Zirky's where this guy was jumping the road over a Porsche. We always thought, "Where is that?" We assumed it couldn't have been Hotham because the snow bank was too high. That picture inspired a lot of us at an early age to jump the road.
Tell us about the day of the jump.
At the time, when I first thought I really wanted to jump the road, I spoke to a couple buddies of mine, Dave Speirs was there. I was 22 and physically fine to do something as crazy as that. Jumping the road was one thing; working out where we were going to jump the road was another. We wanted to make sure it was a big jump. There were other parts of the road that I had jumped before, but nothing quite as big as this particular one. The challenging part was working out speed, the type of jump we needed to build, and ensuring we were actually going to get over the road and land it.
Judging from the photo, it looks like you go absolutely huge. Were you nervous hitting the jump for the first time?
Yeah, I would say that I was jumping out of my skin. There was a huge amount of adrenaline and nerves. I actually did have a beer at lunch before the jump. I was more nervous about the speed and how much air I needed to get. It could have all gone really wrong, landing on the road. We pushed a bit of snow onto the back bit of the road… but that wasn't really going to do much good. You certainly would have broken a leg or two legs landing on that flat bit of road.
I don't recall exactly where I landed past the road but it certainly felt like it was a long way. That was before they had put in the cat track that crosses below the road to get back to Heavenly Valley… so we didn't have to negotiate that as well. The speed I came in at was quite fast; I think I was probably doing 60 or 70 km/hour when I hit the jump. I was on a pair of 210 GS skis.
Did you go back for another hit?
I only hit it the once. My snowboarding friend, Gary Wall, who is now head of Quicksilver in Europe, wanted to do it. I looked at him and said, "Mate, I will never ever jump from where I jumped… ever again. I think it's too dangerous." I didn't think he could get enough speed on a snowboard, he probably would have needed to be towed in by a snow mobile. Luckily he listened to me and he decided not to do it. It goes down in the history books as one of the craziest things I have ever done.
 What did you think of Bailey's jump this year?
Wow, going invert on the jump the way he did, Bailey took it to another level. It was a different part of the road that he jumped. It really was quite an inspiring photo. Bailey and his brother are such amazing freeride skiers. They do a lot of specific air training. I think Bailey's mum and dad were more excited than scared.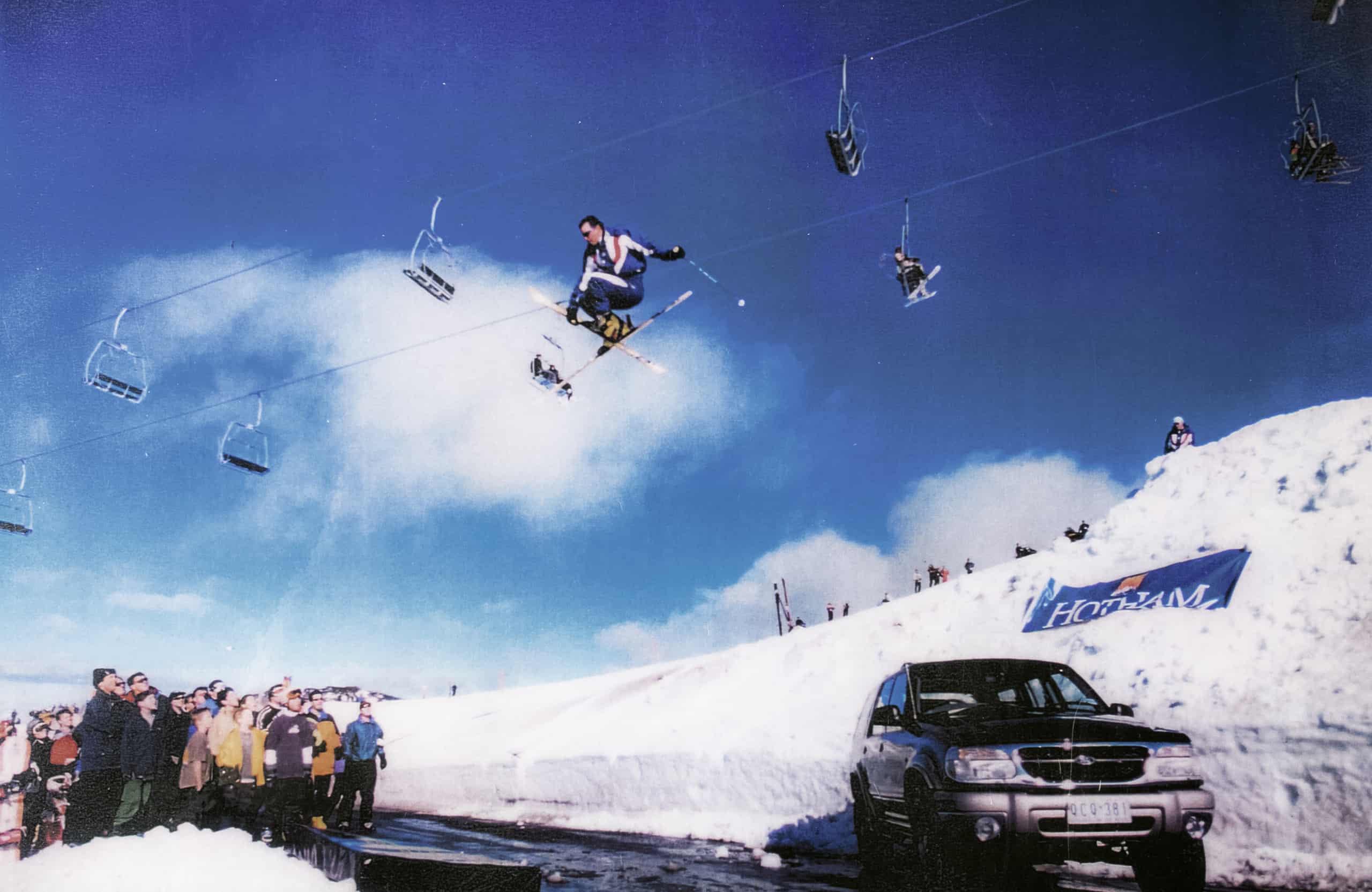 THE FREESTYLE ATHLETE AND COACH – David Spears, Jump Year: Late 1990s
David Spiers is the current Chairman of the SSA National Freestyle Committee. He has been heavily involved in mogul skiing as an Olympic mogul coach at Salt Lake City in 2002, the Australian Development mogul coach from 1997-2002, and the Mt. Hotham Freestyle Program Director. He knows a thing or two about calculated risk. For Dave, the Hotham Road Gap was far from spontaneous; it was planned and measured.
Has your passion always been freestyle skiing?
Yes, definitely, moguls had always captured my imagination. Later in life, I have found a real passion for the longer runs as the body deteriorates.
What was the freestyle culture like when you were competing compared with today? How have you seen the sport change?
I think the event size and the courses themselves have changed dramatically. Mogul jumps and landings in the 1980s and 90s were minefields. You could either land in the right spot or land in a hole. Now we actually calculate and measure the average landing slope over a chopped prepared landing, which enables athletes to jump highly technical tricks that they never would have been able to execute on those older style courses. So that is probably the biggest change. And technically, the focus on skill development has been dramatic too. Good skiers with alpine backgrounds back in the day, like Nelson Carmichael and Edgar Grospiron were amazing skiers, but you have a look at where the world's best are now, at a technical level, it really has been refined.
What gave you the idea to hit the Hotham road jump?
Well I was at Hotham when Richie (Biggins) jumped the road, which was incredible really. Richie had the idea to get a snowcat and build that jump. He decided to build it in an area where they couldn't get the cat close to the road because it just would have fallen onto the road. So he had to deal with not only a vertical drop but also the extra ten metres in distance from where the jump was built to the road.  And it was huge. Huge, huge, huge! I was one of many that day that saw him get carted up to the top of the summit and come in at high speed. Then he just hit it right on. It was a fantastic jump. I have spent the last few years reminiscing with Richie from time to time. It was Richie that wanted to bring that jump back into the light because it was such a great memory.
Who built your jump?
Well I did, but the type of person I am, I had been working on it for a few weeks. I had the Lift Company, the Police and Vic Roads all involved. I had the road closed. We had to watch the weather, and I liked that spot near the bridge because it had a much lower vertical drop, and I wanted to treat it like a stunt. I built that jump with the cat, we salted that whole in-run because with the sun, it was catching direct sunlight. Also, we had an aerial World Cup coach to do some speed tests on it prior to jumping it. The reason behind that was I had three athletes that I was coaching in Olympic qualifications at the time that I wanted to also expose to that jump. They were minors, so obviously the responsibility of getting the speed right and the take-off point right was on me and wasn't just something that you could "wing". So the weather cleared, we managed to build a return track from the top of Hill Valley, put a huge road right in the middle of a landing during the week and um, yeah and it was, it was pretty visible and noticeable what we were doing so we attracted quite a crowd.
Did the famous black and white photo on the wall at Zirky's Bar give you any inspiration?
Oh yeah. Peter is one of my favourite people in the industry by a mile and one of my favourite things to do is to have long chats with him at the start of the season to hear his stories. You see the historic photos of road jumps which are classic. But I think Richie's was certainly the one that caught my imagination.
What would you say if one of your kids wanted to do the jump?
I would handle it the same way I handled it then. I would make an assessment on whether I think that their skills and strengths are up to it and of course absolutely manage the in-run speed, speed tests and a commitment to not slamming on the anchors. As long as you hit the landing, even if you make mistakes, you are going to be flipping down a landing and not hitting road. You have to have the right skill sets. The preparation we did for that jump was extensive. No one would have hit it had we not prepared it the way we did.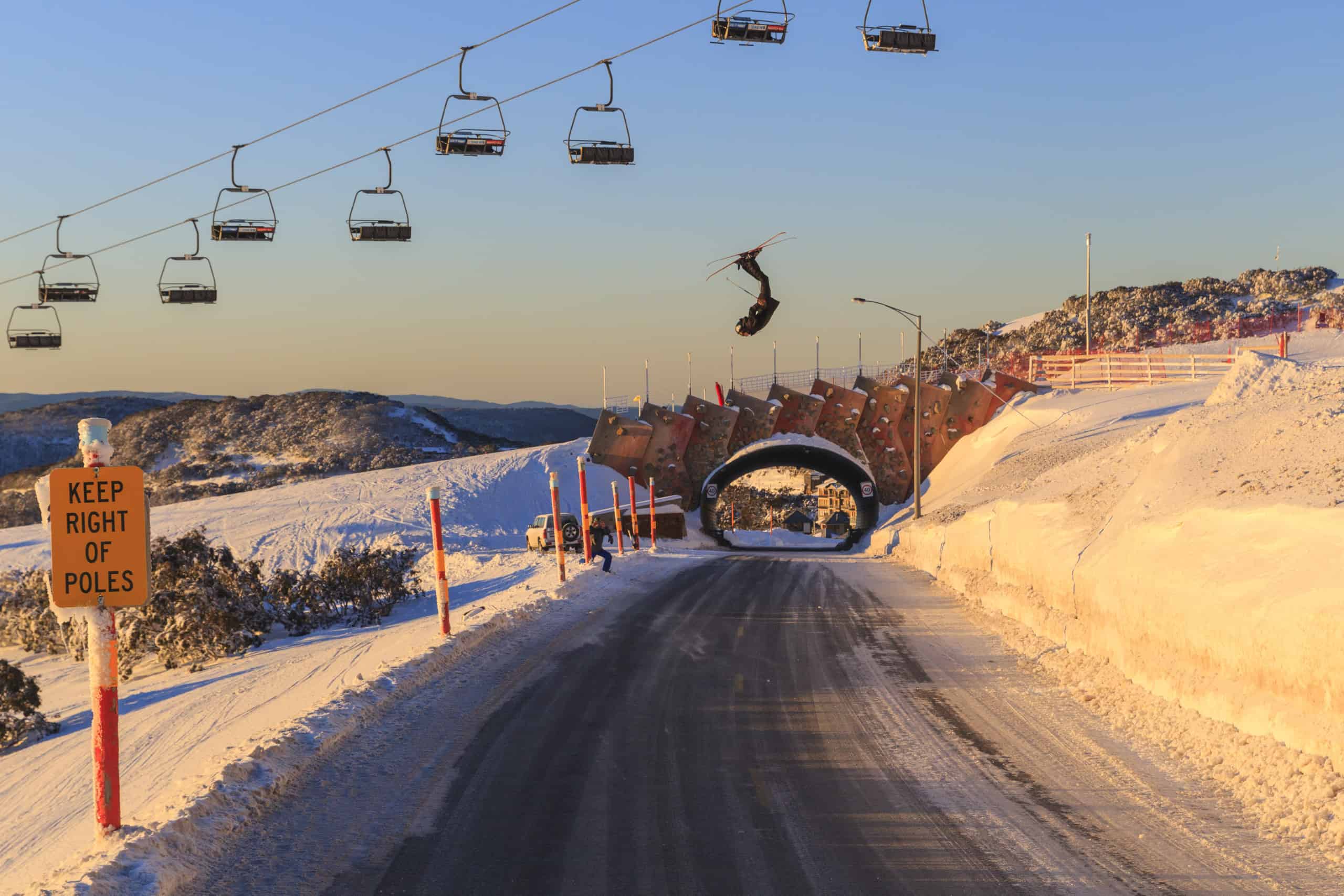 THE BOY WHO BROKE THE INTERNET – Bailey Johnson, Jump Year: 2015
It was Sunday July 19, 2015 when young Bailey Johnson took to Mount Hotham's infamous legacy road gap. The 16-year-old performed a huge outstretched backflip over the Hotham Road Gap that sent social media spiralling out of control. Bailey was the inspiration for this article, an opportunity to delve into Hotham's history and discover a little more about the people who have helped shape the mountain.
 Bailey, your jump was the one that inspired this article. Tell us about it.
Ha-ha, it was pretty awesome. We went out at about ten or 11pm that night and shovelled it. We had to keep an eye out; we kept ducking every time we saw the lights and stuff. It was me Charlie and Jake. We all jumped it one time each and cleared it. And then someone from Lift Operations showed up on a Ski-Doo and tried to get us to leave and shut down the jump. That's when Mark Tsukasov rolled up in the back of his car with the camera and I just went for the backflip.
How did you first get into skiing?
Well my whole family skis and my granddad, he still skis up at Hotham, so I really got into it through my family. The family has been involved at Hotham for about 60 years. My dad, he and his dad built Swindler's Lodge at Hotham.
What do you love about Hotham?
I just love the people there and the atmosphere. It's a really good kind of environment, everyone is kind of friends up there and gets along and skies together. And the terrain there at Hotham is just the best in Australia I would say.
So what inspired you to do the road jump this year?
Well it has kind of been a dream of mine ever since I've been at Hotham really. Me and my brother have discussed it. One weekend, we got there and it just looked perfect. We decided to get out there and build it. We got really lucky with the conditions and the weather and everything that morning. We built the jump the night before at about 11pm and went to bed, got up at about six o'clock and hit it.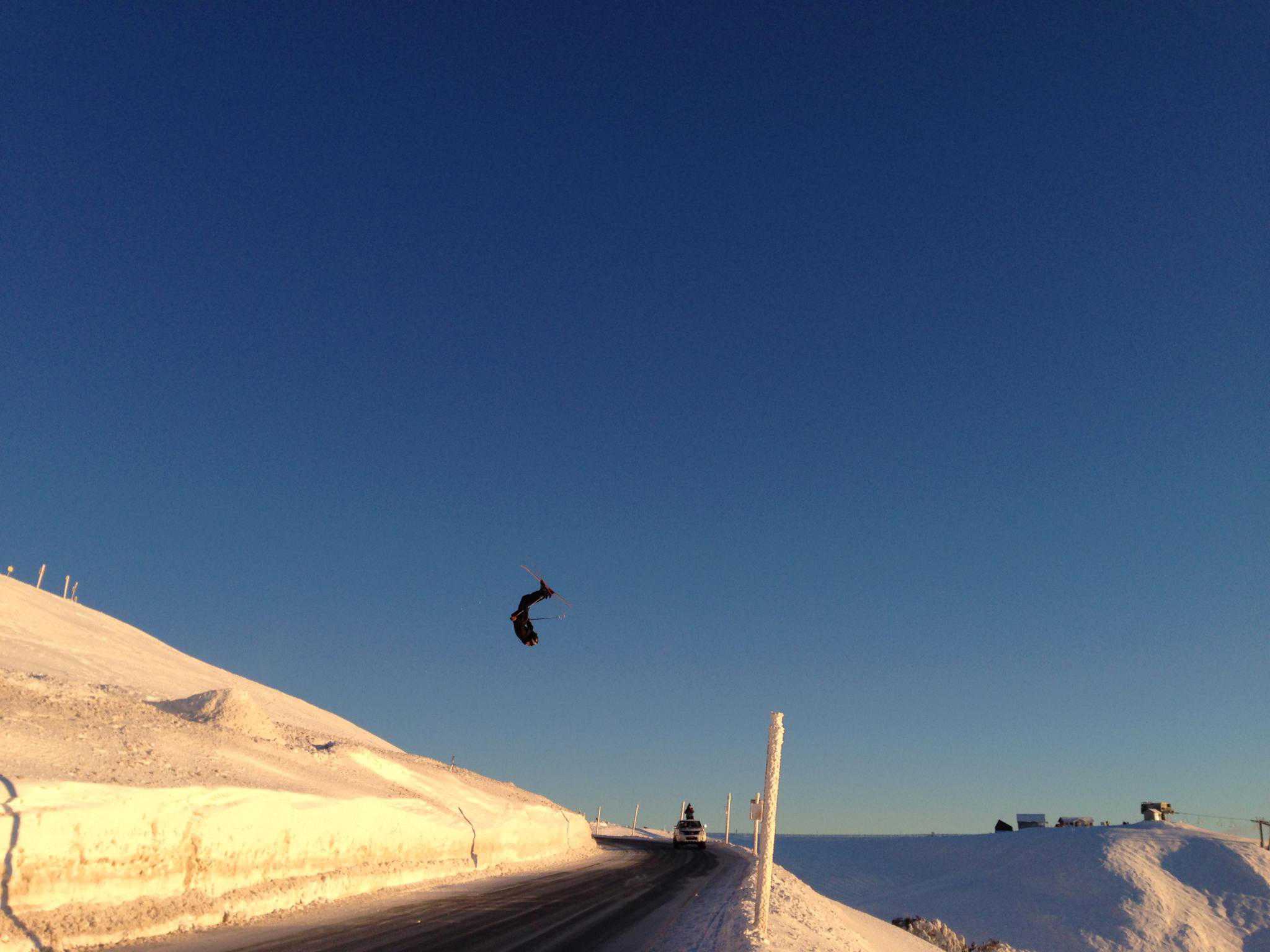 Had you seen the photos of some of the older guys hitting the jump? Like Peter Zirknitzer or Richie Biggins?
Yeah, the photo at Zirky's I've seen about 50 times. That was probably some of the motivation as well, seeing that was so awesome, I wanted to do it myself.
 And why the backflip? Is that your signature trick?
Yeah, the backflip is my go-to. I thought it would look pretty cool over the road and Jake and Charlie kind of pushed me to do it so that was another reason to go for it.
Were you confident hitting the jump?
I kind of had the attitude to go fast rather than slow. I would rather clear it by a lot than not make it over. Once I jumped it, I wasn't really thinking about the road. I like to zone out and just do it and you don't really think about it too much until you have landed.
So what's next on the cards?
I'm going to be training in Breckenridge, Colorado for two months over the summer with a New Zealand ski team called Freestyle Academy. So I'm hoping to really progress in my skiing while I'm over there and ski a few competitions and hopefully get under some points. I really want to get onto the Australian team, so I really just want to progress to that level in the next year or two.
Who do you look up to in the freestyle ski world?
Um, probably my brother, my brother really got me into freestyle skiing to start with. I kind of just tagged along with him ever since I've been young. I've done what he has done and that has really showed in my skiing.
What is your favourite spot on Hotham to ski?
Avalanche Gully because most spring seasons we usually build a jump down there and grab a big crew and go out there. It's just really awesome terrain, like the corners and the wind lips out there all season.