Australian Forecast Thursday August 6th – Heavy Snowfalls Friday Through The Weekend
August 6th, 2020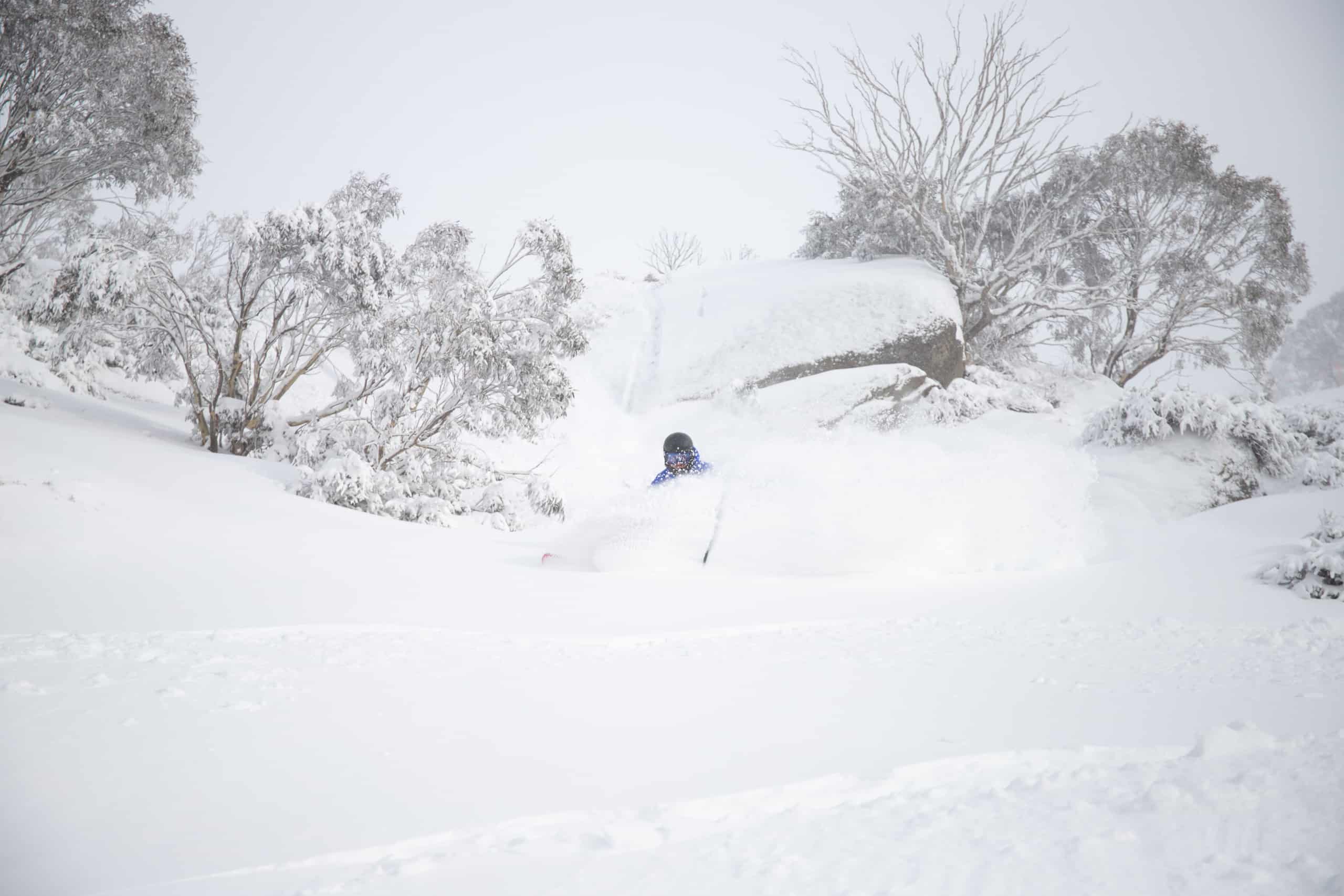 Mountainwatch | The Grasshopper
Valid Thursday 6thAugust – Monday 10thAugust
It's the calm before the storm, and after a top up of fresh snow from the last couple of days, today will be one of the best of the season so far. Mt Baw Baw actually received 30cm, one of their biggest falls of the season. It's unfortunate timing, however, as they've had to shut up shop until the 13thof September due to COVID-19.
The storm I speak of is another one of these wandering lows, which has taken a detour through the Outback. This system will approach from the northwest, directing a moist easterly flow over the Aussie Alps, dumping heavy snowfalls this Friday and throughout the weekend.
Temperatures are rather mild, with freezing levels lifting to about 2000m Friday night. So the snow will be the wet, heavy stuff, causing havoc like that last storm did with fallen trees etc, and it may actually turn to rain on lower slopes at times.
For NSW resorts, we can expect 70-100cm to fall on upper slopes, and about half as much on lower slopes. Victorian resorts could also see 30-50cm on upper slopes, and half as much lower down.
The storm should eventually morph into the Tasman Sea and then hightail it during Monday, leaving us with fine weather to survey the aftermath.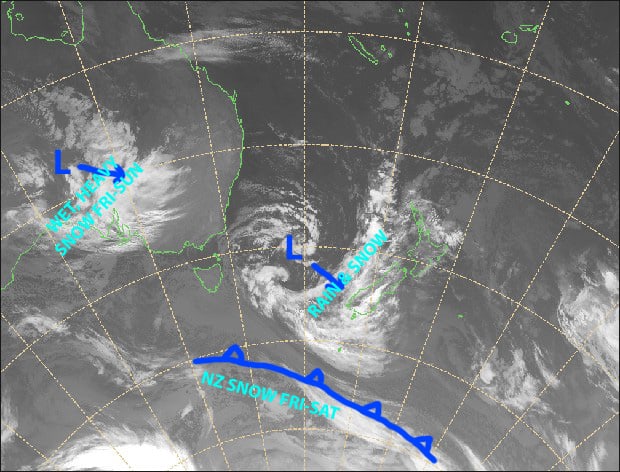 Thursday 6th
It's an icy start to a beautiful sunny day, as any cloud will clear this morning. Freezing SW winds will gradually ease while turning to the southeast.
Friday 7th
Snow spreading south over NSW during the morning and over Victoria during the afternoon, with heavy falls later in the day. E-NE winds rising to gale.
Saturday 8th
Snow will continue with heavy falls possible, especially before dawn and after dusk. Temperatures will be an issue, so we may see snow turn to rain on lower-mid slopes for a time. E-NE winds.
Sunday 9th
The snow will keep falling, with heavy falls mostly over NSW. Again, temperatures aren't ideal and it'll be wet, heavy snow, and it may turn to rain for a time at base levels. SE winds will be strong, or become strong.
Monday 10th
Any remaining snowfalls will clear to a fine sunny day as SE winds drop away.
Extended Outlook
Northerly winds will pick up Tuesday, and then rain will set in Wednesday, although it'll fall as snow on upper slopes. A cold front next Friday or Saturday should see snowlines lower to base levels before easing, giving us a nice top-up.
After that, early the following week looks interesting, with potentially good snowfalls around Tuesday 18th– Wednesday 19th
That's all from me, get out there and enjoy.