Australia's First Paralympic Gold Medal in 16 years
March 13th, 2018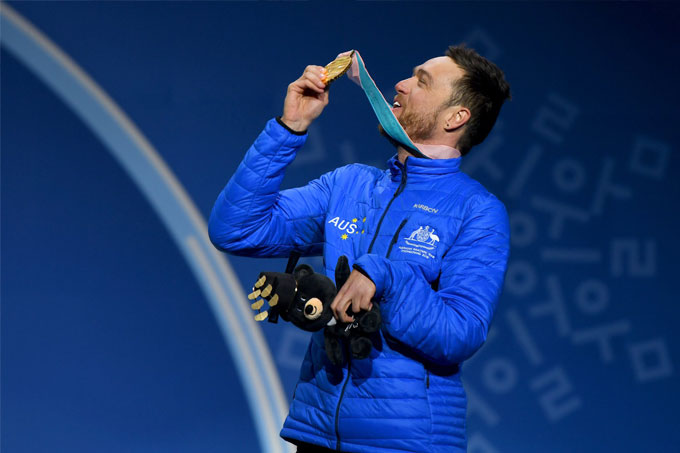 Image: Australian Paralympic Committee
Mountainwatch | Reggae Elliss
The 2018 Paralympics are now into the fourth day in PyeongChang and the Australian team has won its first medal after Simon Patmore won gold in the snowboard cross yesterday. Patmore beat Italy's Manuel Pozzerle in the two-man final.
Patmore's victory has been a long time coming for Australia, his gold for Australia since Michael Milton and Bart Bunting won at Salt Lake City in 2002.
Patmore had a big day yesterday, racing six times – two qualifying runs, third round elimination, quarterfinal, semifinals and the final. The win takes Patmore into the upper realm of Australian sport as he is the first man in Australian sporting history to win a medal at both the Summer and Winter Games.
Patmore claimed bronze in the 200m T46 sprint final at the London 2012 Paralympic Games.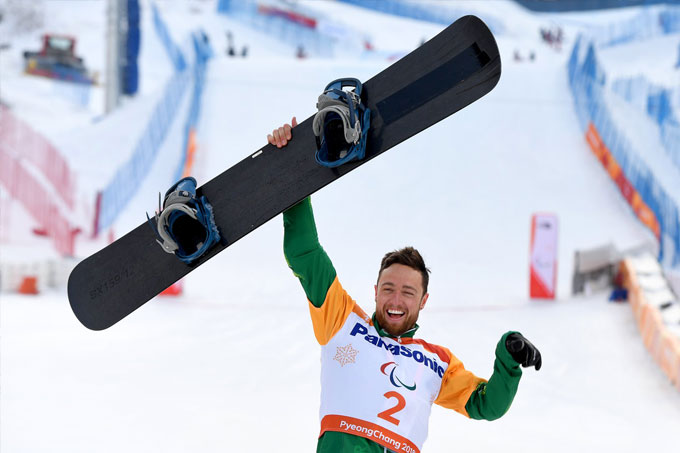 Image: Australian Paralympic Committee
Prior to Simon's win yesterday, Jessica Gallagher was the only athlete to win medals at both summer and winter games. She won two bronze medals in Slalom at the Vancouver 2010 Games and the GS at Sochi 2014 Paralympic Winter Games. She also won bronze in cycling at the 2016 Rio Paralympics after she switched sports.
"When you guys say first gold for a while and first male athlete for Summer and Winter, I'm really proud," Patmore said after his race.
"I really want to show everyone that it can be done and all you have to do is put in the effort and put in the time and trust the process."
"I've been doing sports for eight years now and I've had the highs and lows," an emotional Patmore said. "You just keep pushing do you can get those highs again."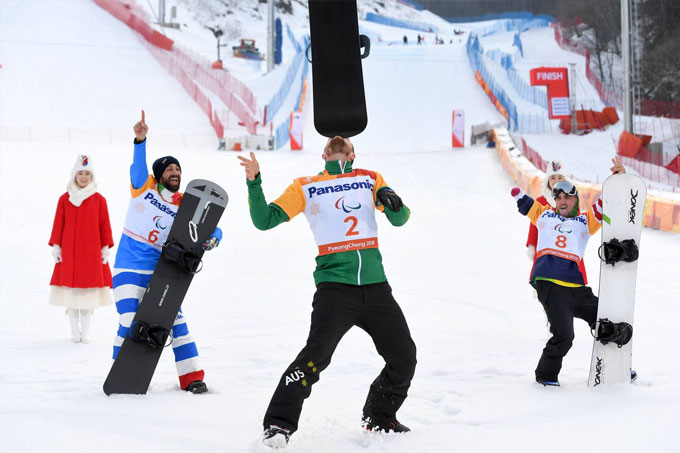 Image: Australian Paralympic Committee
In other results Australian snowboarders Sean Pollard finished 9th in the same disability class as Patmore while Ben Tudhope place 10th in the lower limb disability class. They both raced well, making it through the first two qualifying runs but missing out on a quarter-final spot.
All three will be back in action on Friday for the snowboard banked slalom.
On a disappointing note for the Australian team, flag bearer Joany Badenhorst had to withdraw from competition after injuring her left knee cap during training on Saturday.
Australia had six athletes competing in the Super Combined Alpine skiing today, March 13, and all were looking to improve on mixed results in the Downhill and Super G. And in some late news this afternoon, Australia did win another medal today, with Melissa Perrine winning bronze in the Super Combined. Melissa is a visually impaired skier and she won with the help of her sighted guide, Christian Geiger. This is Melissa's third consecutive winter Paralympics and it's a well-deserved result. The Games continue until March 18.