Backcountry with Steve Lee in Falls Creek
August 19th, 2010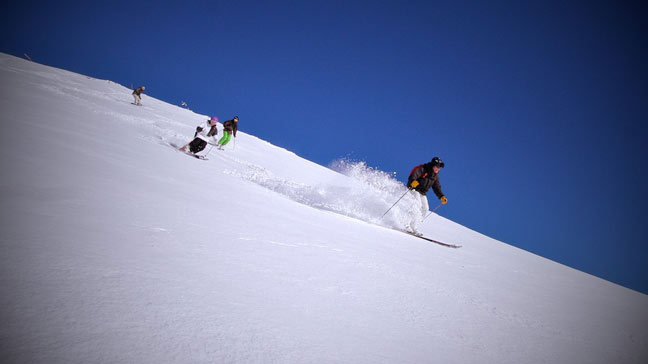 Getting some backcountry powder. Image:: Chris Hocking
Words | Steve Lee
Falls Creek's Backcountry Tours with Steve Lee launched in picture perfect conditions on 17 August, proving a big winner. Yes it has been a fair wait for conditions to allow the tours to kick off, but when they did all those who took part got a fantastic experience unique to the Falls Creek region.
Two groups went out, the morning group was a mixed bag of skiers, a telemarker and boarder. The afternoon group was all boarders, including me, yeah I can go sideways to. While skiing will be my main mode of transport while guiding I was interested to get a feel for the terrain on a board also. All got nonstop fresh tracks as we ripped up some of the best terrain you'll find in the mountains of Oz.
On a purpose built set up of snowmobile and sled, access in and out of all the available areas was quick, easy and fun. The half day tour kicks off in the Village Bowl where you sign your life away, get a briefing and have your last pitstop (no amenities out back) before heading up Eagle chair. There we meet with ski patrol for a safety briefing and ability assessment run down Scotts. You will need to be a strong intermediate skier (level 5 with good parallels and 20 to 30 days under your belt) or boarder (level 4 comfortable on blue and black runs and again 20-30 days of riding) to handle the terrain and enjoy the experience. So no lying or talking up your ability when booking as it would be horrible to turn you away after the visual, however you will get a refund, that's the least we can do.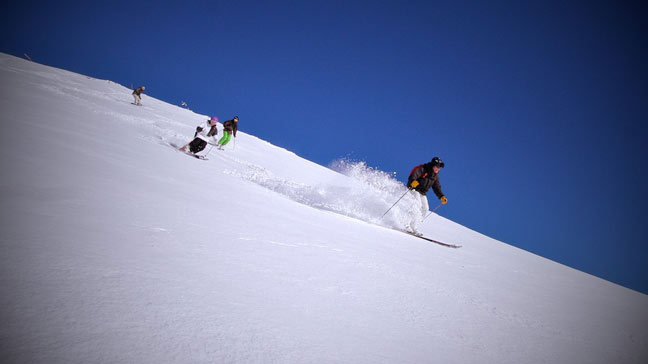 The custom built sled. Image:: Chris Hocking
All being good with the group we then head up Ruined Castle to meet our ride and are off into the backcountry for a bunch of the best runs of your life. The runs range from long cruisers to as challenging as I feel the group can handle. I have long said, this region of Falls offers some of the best fall line runs in the country. Now you can check it out for yourselves.
So if you are looking for something akin to a cat skiing experience and a fun half day out in some majestic countryside then come join me at Falls for a tour. We take up to four guests on the sled set up at a time. Optimally we try to book each group of similar standard, however we all have our ski or boarding buddies, or family we like to ride with, so better still to get a group of four together and book out a tour for yourselves.
Call the Falls Creek activates desk on 1800 20 44 24 for bookings.
Falls Creek forecasts,
snow reports and
live snow cams.