Black Crows – The French Ski Brand with an Australian Connection
October 25th, 2018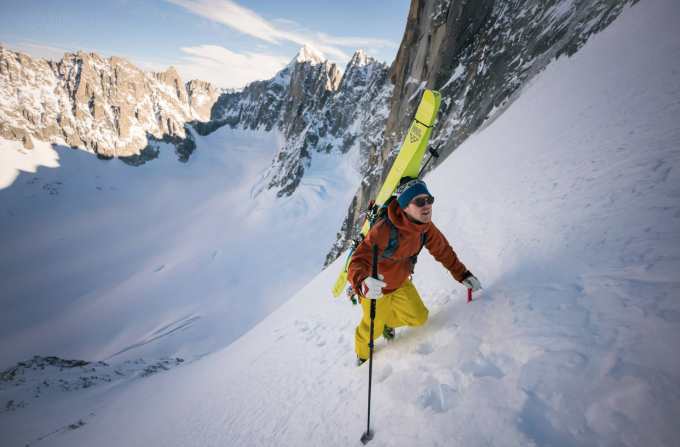 Chris Booth on moving to Chamonix, Black Crows' growing success as an international ski brand and the state of the ski industry in 2018
Mountainwatch | Reggae Elliss
Over the past few years, Black Crows has been one of the success stories in the international ski industry. The boutique big mountain brand that was founded in Chamonix by pro freeskiers , Bruno Compagnet and Camille Jaccoux, in 2006 has spread its wings and is now sold in 32 countries and has grown 70% globally year on year. Black Crows is now the largest independent ski brand in the market with 32 models, accessories and high-end technical outerwear.
Black Crows has also achieved success in the US market, a rarity for a European ski brand, which now counts for 25% of its turnover. Much of this growth has occurred over the past four years and one of the team driving Black Crow's success is Australian Chris Booth, a long term team skier for the brand, who was appointed as the brand's first marketing director in 2015.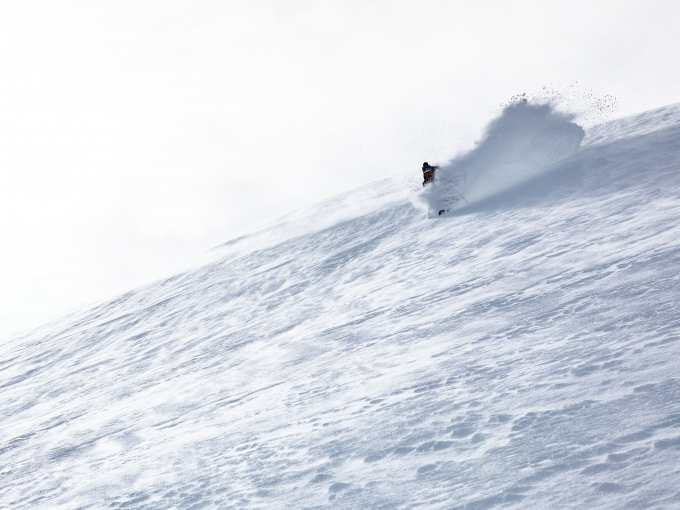 Chris, one of Australia's leading freeskiers for the past two decades, first came into prominence in 2001 when he was 15-years-old and won the Red Bull Air Raid in Falls Creek, beating a number of older skiers and pocketing the substantial $5000 first prize. There was a healthy freeskiing scene in Australia at the time and Chris was also Rip Curl's number one skier, garnering a strong profile in the Australian snow industry and media. However, Chris also understood the fragile reality of being a "pro skier" in Australia and was equally committed to his education, graduating university with a law degree.
However, a life in corporate law, spending most of his waking hours in a Sydney office block, never sat well with Chris and when he saw an opportunity to work for Black Crows he knew he had to go for it.
"When the offer came the choice was easy. It was either stay at home and know exactly what would happen for the next 15 years or roll the dice on something that you just might fall in love with."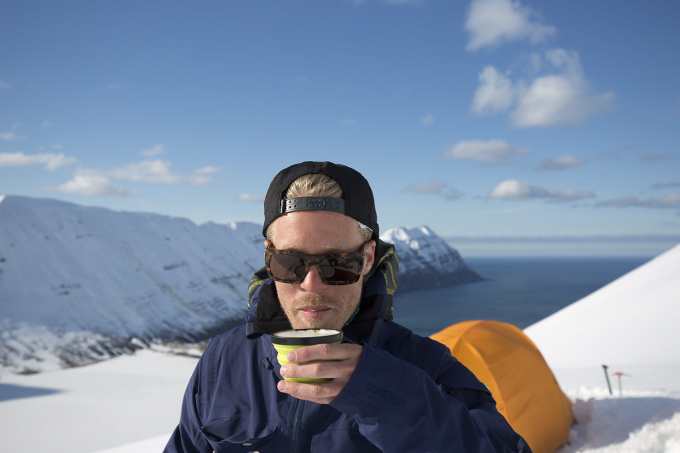 MW: Black Crows have been your ski sponsor for a long time. How did a boutique, big mountain French brand end up sponsoring an Aussie freeskier?
CB: I was always a K2 guy. The company sponsored me at an event in the USA when I was 14-years-old, and for six years they gave me incredible support and created a lot of opportunities. That was the progressive brand then. By the time I was 20 I was skiing a lot less and studying at university. I was in France one winter attending a trade fair (with K2) when I noticed, among all the bright stands, a small stand with a plain black wall. There were just two skis on the wall; one was pink and black, the other was grey and black. A tall, stoic, vain looking man with expertly coiffed hair was standing in front, extremely French looking.
A friend introduced me to him. His name was Camille Jaccoux and he was the founder of Black Crows. He was from Chamonix and he believed in this idea of ski culture and giving it a modern expression. That's what Black Crows stood for. I think it was the second year that Black Crows existed. I felt connected to it immediately. A month later I quit the K2 team, wrote off almost all my salary and joined his cause.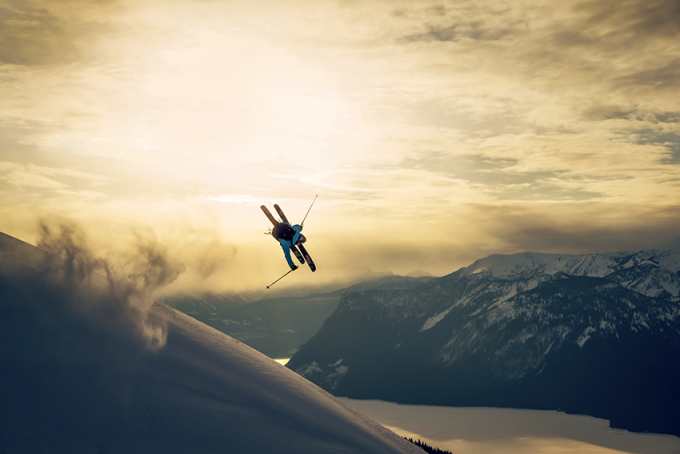 And how did the move from sponsored skier to Black Crows marketing director come about?
Slowly. I was a professional skier in name only. I always went to school and I committed to university after that. At the end of my studies I went to work in the legal services industry and just skied on weekends at home. Camille didn't seem to care. He kept sending me skis and kept me in the circle because in his world being a skier is something that you don't pick up and put down. It's some sort of identity.
I was a young lawyer and it didn't feel right. I was missing the sense of adventure, the idea that work could feel like play and that I wasn't making the best and highest use of my time.
One day Camille called just to say hello, as he usually did once or twice a year. He is sentimental like that. It was a Friday night and I was driving alone to the mountains after work. He mentioned in passing that he was trying to find a new marketing director. "I could do that," I thought. I'd done a business degree and a marketing thesis, but that was about it.
It took six months to get the job. I had to interview with the board several times and I had to be persistent. There were other candidates – from Gore-Tex, Hilfiger and Nike – all more qualified on paper. But I think Camille fought hard so that I could have the job.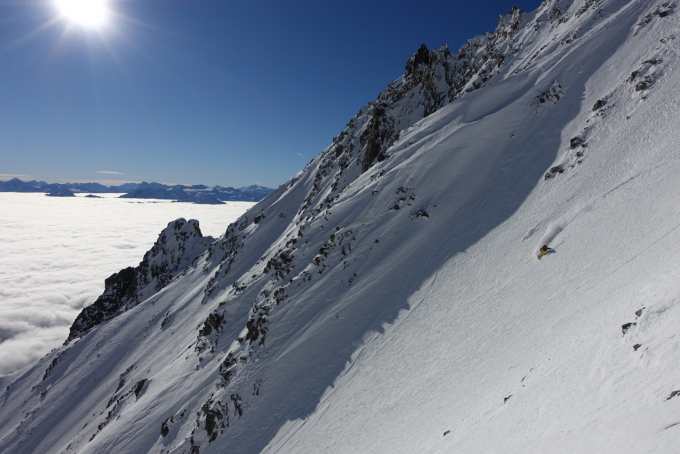 Black Crows are a relatively young brand. What is the story behind them?
Relatively. Major brands in the ski and outdoor industry are all over 50 years old. Black Crows started in 2006, together with the cluster of start-ups that emerged as skiing re-emerged – most of them from the US. Black Crows was born in Chamonix and started as a project not to make a new brand, but to make a ski for Chamonix. It had to be strong, made of noble materials that lasted, and that skied well in the demanding conditions that Chamonix provides – where you ski from 3800 metres to 1000 metres in a single run.
They built the ski and called it the "Corvus" – Latin for "corvid" which is the black bird that flies about the granite peaks of Chamonix playing in the updrafts. The skis were adopted immediately by the community, and Chamonix being such an international place, that community soon became global well before the ski was sold anywhere but Chamonix.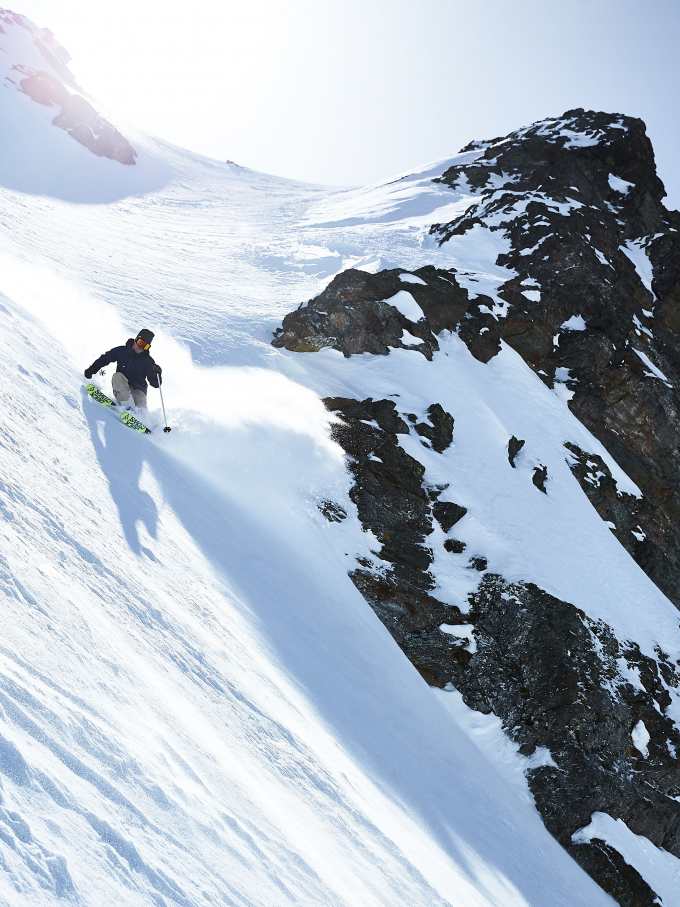 Fast forward ten years and Black Crows has changed, along with the industry and the ski industry "boost" from freeskiing has matured. The start-up generation of brands from 2006 have either been bought by major holding companies (like Line skis and Armada) or have failed to really evolve into sustainable small businesses.
To our regret, many have shut their doors. The major brands on the other hand have debt problems, mostly taken on during the Global Financial Crisis, and that debt is now falling due. Consequently, they are applying price pressure to the ski market to maintain market share against falling revenues. The result is the commoditisation of skis and ski equipment in a global ski market that has not really grown in 25 years, plus or minus one per cent.
How is Black Crows doing in such a stagnant industry? It doesn't sound like the time is ripe for a global expansion.
Well, among this, we are doing very well. Today Black Crows is the largest independent ski brand in the market, and the fastest growing. This year we will pass the €10 million milestone – an essential step. People are picking up what we are doing, and we see it in our business fundamentals. That's because Black Crows is universal. It's exclusive but not excluding. We might be small compared to Rossignol, but we are not niche like Armada or Faction or Dynafit. We appeal to skiers from all walks of life and in all practices because Black Crows isn't about one skier type, one scene or one type of skiing, instead, it's about creating the space to embrace skiing as part of modern life.
The skier as a modern identity, if you will. It used to be that to have a cultural life you had to live in a capital city and go to a theatre or sit in a cafe somewhere, today that idea been thrown out. Today a cultural life is one that recognises the need to live in an urban environment but embraces every opportunity to escape it. Today culture is found in nature and the means by which we play in it. Just think back to Camille when I first met him. He could feel the vibrations of what ski culture needed, and Black Crows seeks to fill that void.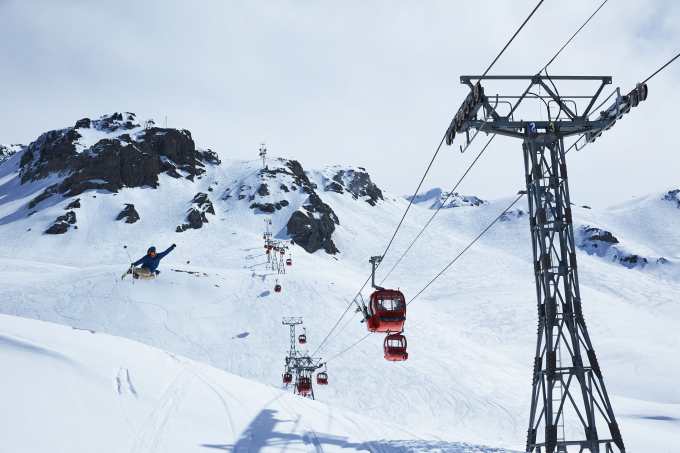 Black Crows' move from being a pure ski hardware company into outerwear pretty well coincided with your appointment as marketing director. Must have made things challenging from the start.
Actually, the big challenge was making Black Crows digital. The next key challenge was opening the brand up to the world and entering new markets – like the US, Canada, Japan and China. The apparel launch was more of a brand extension that flowed naturally from what we were already doing.
As you might tell, the role was straight away more than a marketing promotions director. It touched every aspect of the marketing mix: product, pricing, distribution, people, business structures, and all sorts of other things that just come up. A year after I started at Black Crows my role changed to business growth and development, today I am the commercial director. Funnily, I still do the same job I just have the luxury of more people working with me to help make it happen.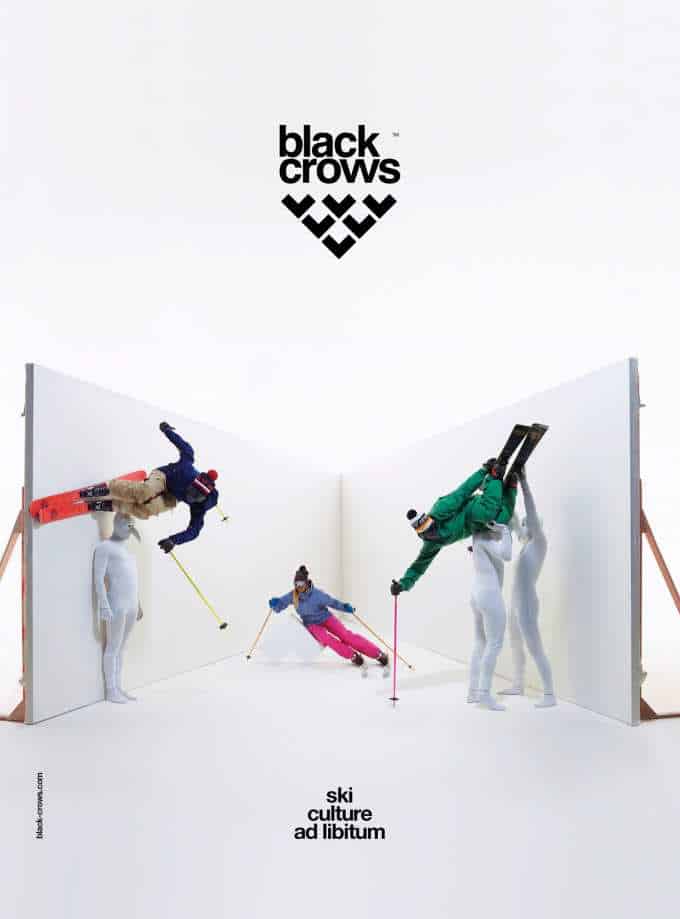 The brand has made a big push into North America, and I saw a lot of the skis in Jackson Hole last year – is the US a focus for you?
Absolutely. It's the single biggest ski market in the world and most European companies fail there. It's a dismal record. The good news is that we have succeeded, in the space of two years the US alone now accounts for 25 per cent of our total revenue and it's growing in multiples of three. And it's not just sales, it's momentum. This you could call "notoriety" or "presence" and it's the hardest part to create. Next year the US will be our number one market, and really now we need to surf the wave and scale up the business to cater to the customer service need and ensure that we can be that personal, thoughtful brand to anyone who comes across it.
That's just the business though, really, it's more personal than that. When I go to the US or Canada and I see our products in the hands of people, I talk to them. These people are happy people. They aren't rich. They aren't projecting luxury. Most of them see their equipment as an investment and save up for it. They see their time as precious and they feel that skiing is an important way to spend their free time. They see what we see. To me that's very meaningful.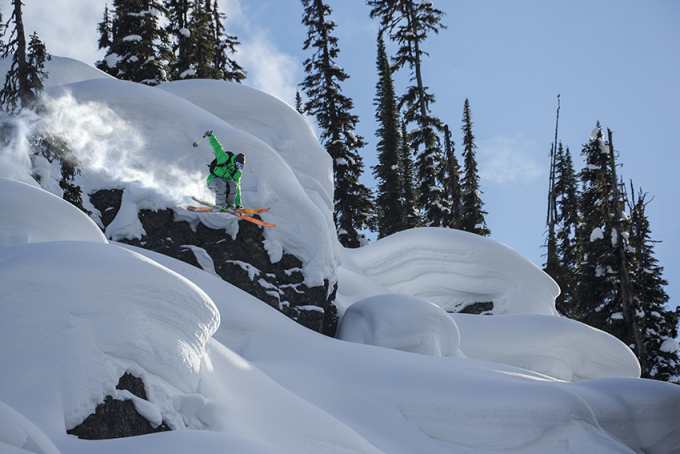 The skis have been available in Australia the past two years and it's a core ski. Who do you see as your market here?
It's a core ski in values alone. We make the best possible products we can using noble materials, and we sell it at the lowest possible price we can. Skiing is expensive enough as it is, and we believe it should be as democratic as possible by being as affordable as possible without compromising on the ski's performance or its design. Our market is people who care, they might see themselves as core or they might not. It doesn't matter.
You've picked up some influential skiers in North America – Michelle Parker, Mark Abma, Callum Pettit. What do you look for in a skier? 
We have. But that's not necessarily where we come from. We don't do the big pro team thing, we do people. Because people choose to go skiing and make sacrifices to do it, whereas pros just get paid to do it. Tell me, who is more believable? That's why we have some 300-plus ambassadors around the world. These people are by majority ski bums who live to ski at any cost and who ski every day, but they are also social workers, entrepreneurs, dentists, woodchoppers, labourers and so on. Actually, one guy sold his company to Adobe when he was 28 and now just skis every day, I don't know why we give him free skis.
"The pro skiers you mention, I recruited for the US market entry. They are accelerators, and we needed accelerators to raise awareness in a large market, where we sought to do in two years what took 10 years to do in France. But they are good people, take the sponsor logos away and they are ski bums just like the rest of us."
Team rider Michelle Parker's segment from Matchstick productions Drop Everything.
Who do you have skiing for you in Australia?
In Australia we have some friends skiing on our products. There is Teddy Laycock, an old friend who is spending a lot of time wandering around the NSW main range and sleeping in his tent. There is Boen Ferguson, pro skier turned photographer and working at Thredbo in the media department and Adam Kroenart another Jindabyne local who also happens to work for Thredbo media. Katya Crema and Liam Wallis both live and work in Melbourne and escape to Hotham at the weekends. And then there is Coen Bennie-Faull, who coaches kids at Mount Hotham and spends his summers in Jackson Hole – a perfect ski bum.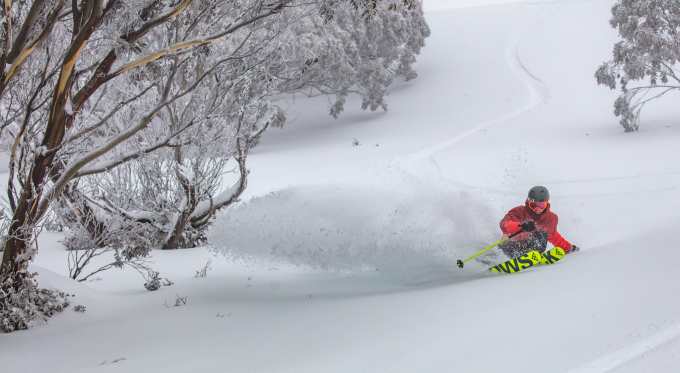 How was the move from Australia to France? Chamonix is an amazing place and for a skier it's the pinnacle. How have you found living there?
As a skier it's still quite frightening to be honest. It's very high and very steep and there's a lot of ice in that environment. Living there over time, you go out skiing in extreme conditions on a fairly casual basis. You get used to skiing with a lot of technical gear and climbing a lot. I'm very conscious about safety and I take it pretty easy, but I've already had enough scary moments. It's just that your range increases there. You can climb for six to seven hours on a casual day and find yourself skiing things you swore you would never do. Not out of ambition, but out of some kind of osmosis.
Thankfully the best, most experienced skiers there are very wise. Mostly French and American, they are there still after their friends have literally fallen away over the years. But for every friendly, experienced local, there are like 10 heroes just going way too hard with not enough knowledge and often not enough skill. They see Chamonix as like a theme park where they need to tick off all the rides. It's very statutory, "I skied therefore I am." Regrettably these people are mostly Swedish or Norwegian.
As a resident, Chamonix is very nice, especially in the summer. Though living in a deep valley has its peculiarities and I miss the smell of salt in the air every day. I go surfing just once a year now which I tell myself is temporary.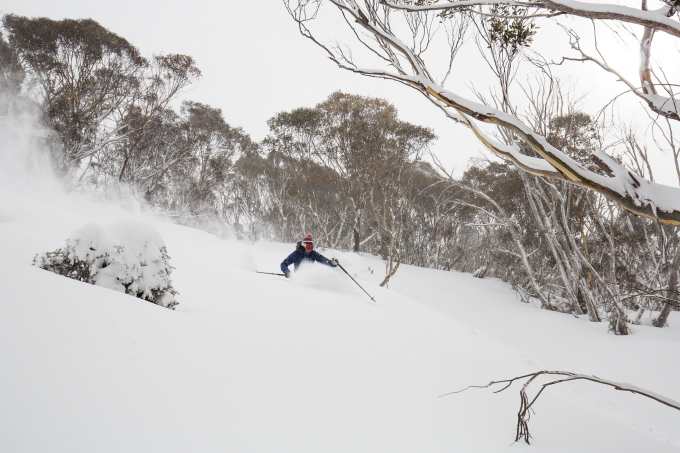 This might sound like a weird question considering you are living in Chamonix, but is there anything you miss about skiing in Australia?
There is a lot I miss about skiing in Australia. I miss the shape of those mountains, I love the way they roll and meander. I miss the cold crisp mornings and the slushy afternoons. I miss the Australian backcountry, with long consistent vertical and a view that spans a million eucalyptus trees. I miss the fragility of powder days, where you are just so sensitive to the environment, where you are willing to go out skiing in the most horrendous storms because in the trees it is settling just right. I miss staying at the club lodge my parents signed up to in the 80s. I think most of all though I just miss the feeling of feeling lucky to be skiing in Australia.