BLOG Taking the Piste – Snow Way to Start a Season
May 27th, 2010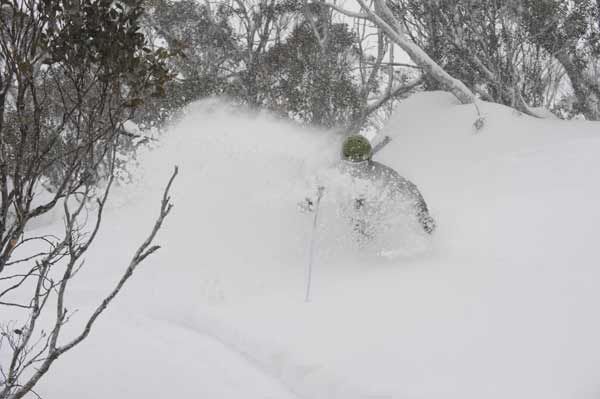 Skiing pow in the gum trees at Thredbo. Image – Thredbo
Rachael Oakes-Ash
I always feel in limbo at this time of year. Caught between a summer daze of late night rooftop dancing flashbacks and the new snow season imprints yet to be made. Sure, the weather is cold. Cold enough for ugg boots and beanies and four bar heaters in the early eve. But not cold enough for snow, or certainly not enough snow to strap on some planks or a board, maybe enough for a snowman if Danny De Vito was making it.
If I was smart I would be preparing for the season ahead, pounding the treadmill at the gym, crunching my core at pilates and taking on stairways two at a time instead of supping Baileys soaked microwaved hot chocolates in front of Masterchef each night. Knowing how to flame a peach, dice an aubergine and burn a brulee is not going to help me in the powder we pray for in a month or so's time but it will help god's insulation otherwise known as my thighs.
Truth is, I am not a boy scout and rarely come prepared. I don't have a direct line in to the powder gods so have no idea what season is ahead no matter how many cows are smoking joints in the back left paddock, or how numb my grandmother's left toe is or whatever other myth is being touted by snow fields to talk up a bumper season.
Don't get me wrong, I am excited, yes. Who wouldn't be? We're coming off the back of a northern winter that saw Australians win gold at the Olympics including a blonde girl from Cooma who has taken snowboarding out of the terrain park and into the average home. She may have gone to Utah in order to do it but you don't see Dale Begg Smith filling up on gas at the local BP in Jindabyne mid summer either.
Skiing Australia (and New Zealand) is about managing expectations. If you're expecting Japan conditions then go ski Japan, there's nothing worse than a boaster on the chairlift who thinks he single handedly discovered Hakuba long before the Austrians introduced skiing to the Japanese in the early 1900s. If you did mate, they'd be a sushi roll named after you and we'd be eating it. Powder snobs can stay home too, you'll lessen the lift queue and miss out on the real goods because there is something special about skiing in Australia if we open our eyes.
It's the familiarity of snow gums found nowhere else in the world that just spell 'home'. The comraderie on the chairlift forced by slow two seaters just begging for an upgrade, the fancy dress lifties on retro weekends, the ski in fireside comfort when sheltering from wild weather that threatens to turn the powder into slush and the condition forced ability to take the good with the bad.
We've all had those magic bluebird days when we swear the snow under our feet rivals Colorado as if we've eaten the wrong mushrooms for breakfast, when we lap Thredbo's Supertrail as if it's the Indy 500. When we're first on the lifts, first to carve our mark into the snow and first at the bar come happy hour where the only ice we find is that in our drinks.
There's a reason we've produced the first non European to win a world cup, Malcolm Milne, the world best female extreme freeskier, Andrea Binning and the likes of Torah Bright , Anna Segal , Russ Henshaw and Lydia Lassila. We are passionate and loyal about our ski fields. Like our mothers, we can knock them, we can whinge about the cost of one hundred dollar lift passes, complain about the price of bottled water known in these part as liquid gold but we'll defend them to our core if others try to do the same.
These are the fields of world greats. We're not Austria or Switzerland and we don't have the might of Bode and his friends from the U.S of A but for a sunburnt island miles from the Alps and Rocky Mountains we're doing all right on the snow stage.
I'm beginning to sound like a James Cameron film, cue the crescendo muzak and raise the American, sorry, Australian flag but I've secretly discarded my uggies while writing this and am standing in my ski boots, knees bent ready to take on the three flights of stairs to my office as though they're moguls that need to be tamed. I may even swap the four bar heater for a ski jacket and the Baileys for a Jaigermeister and if only the bus stop came with a liftie, I might start my day with a push.
In 2010 it is time I came prepared.
Thredbo forecasts,
snow reports and
live snow cams.