BLOG Taking the Piste – What makes you go back for more?
June 15th, 2010
Taking the Piste – Rachael Oakes-Ash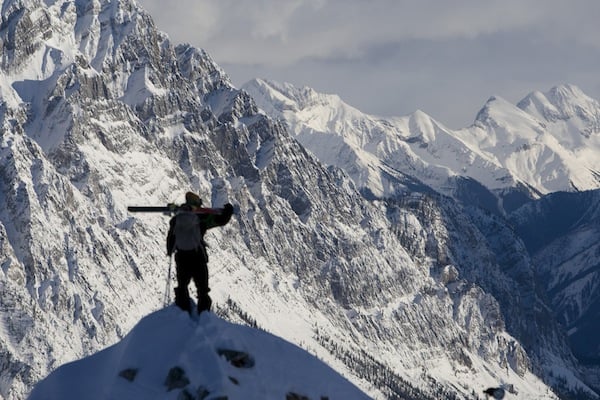 The endless quest for the perfect turn… Image: Gallup Photography/gallupphoto.com
Rachael Oakes-Ash
If the dried saliva on the corners of your snow obsessed mate's mouth didn't give it away then we're here to tell you, it's been snowing.
Web forums, page three news and breakfast television go into a frenzy every year at the first sign of the white stuff in Australia as though we've discovered gold – not just let the weather gods do their stuff.
Yet there has to be a first time for everyone. Thousands of folk each season see snow for their first time, some strap snowboards and skis to their feet and tackle the terrain, others put garbage bags under their butt as make do toboggans that don't require a lift ticket. Opening weekend is never a whole mountain experience so what makes them come back for more?
My first trip to Thredbo in the nineties was quite frankly hideous. I spent a morning in a group lesson not understanding my left foot from my right before my 'friends' decided it was time to take me up the chairlift to work my way down. I threw my toys out of the cot, spat the dummy and started crying for my mummy and that was before the white out set in. Let's just say it wasn't enough to make me return.
A decade later I found myself in Queenstown, got myself a private instructor and a blue sky day. I loved it so much I returned to Thredbo three weeks later with a different perspective and stayed for a week.
Snow reporter from Mt Hotham , Marcus Lovett, calls it 'memory versus experience'. He'd say my first time in Thredbo is a memory, my time in Queenstown an experience. Those who ski and ride powder do it again and again for the experience because when you're in the deep stuff in that moment it is the best feeling in the world, one you'd pay big money to go back and do again. In a word it's 'addictive'.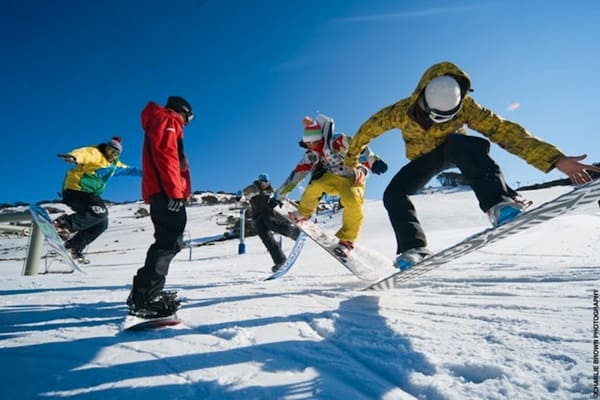 The learning experience can make a life-long snow lover Image: Falls Creek
Taking five kids onto the slopes during a wet windy school holiday can't honestly be addictive, but it is memorable. The snow trip alone creates memories you don't necessarily wish to repeat but one that still bonds the players in the memory together.
Which is better? I personally return year after year to interior British Columbia in search of serious powder. Why? Because I got it a few years ago, for a week heli skiing. The powder was over my head, metres and metres of the super dry stuff. Put simply I couldn't get enough. Have I seen the people I skied that week with again? No. Would I travel the world to see them again? No. But I have travelled the world in search of that powder experience. This last northern season I went in search of it but never found it. Taking a helicopter didn't help, nor did taking a snowcat, a snow mobile or skinning. I knew what I was looking for, that experience of being in the powder, in the moment. The weather gods however were turning the other cheek. Some years are like that.
When we did find it, it only lasted a few turns but all of us begged to be taken back to that one spot to try to get the fresh lines to the left or right of where we had skied. We were mad as drug addicts in Cabramatta searching for the last of the stash.
Would I travel the world to find those particular turns again? No. Why? Because I'm still searching for that experience, for the week long powder, the full day of every turn a fresh one, when you don't have to ferret around like a sniffer dog at the airport.
Would I travel the world to see the people I skied with again? Yes. Why? Because the memory of the fun we were forced to create in the cat ski lodge at the end of each day, knowing there was no real powder day to be had, bonded us. I laughed more in that lodge than I had in years.
Some would argue the memory is an experience itself, only I am searching for the experience of laughter. It's all semantics to me. I'd rather be skiing. Oh, and just for the record, the lodge scored the powder goods the week after we left. Sigh.
You can follow Rachael Oakes-Ash on Twitter or join the Taking The Piste Facebook page.
Thredbo forecasts,
snow reports and
live snow cams.