BOOTHY'S BLOG – Blue Lake
August 31st, 2010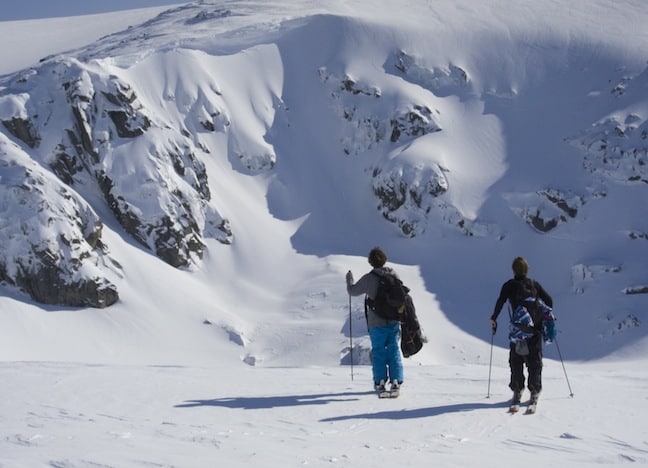 Ben and Simon contemplate. Image:: Courtesy Chris Booth
Words | Chris Booth
Henry Ford once wrote that obstacles are those frightful things you see when you take your eyes off your goals.
At 4pm Saturday I was sitting in traffic in South Sydney when I received a phone call, it was my co-driver and ski buddy who had planned accompany me to Blue Lake and back. He said in no uncertain terms that driving back and forth from Sydney for a one day backcountry mission was simply not worth the effort, that he would not be joining me on the drive later that evening. To compound this, I had recently learned that my commercial law assignment due date had been brought forward to the coming Monday morning. Suddenly the prospect of skiing Blue Lake at its seasonal best seemed like a dwindling fantasy. Indeed it felt like something was against me.
Wise people often call these fateful events warning signs. But wise people are quite commonly abrasive, old and boring. So one man down and encumbered with new pressures, I hurtled down to the Snowy Mountains in my thirsty, rumbling, bitumen-swallowing Landcruiser. Approaching our pre-determined date of obsolescence together, at ever increasing speed.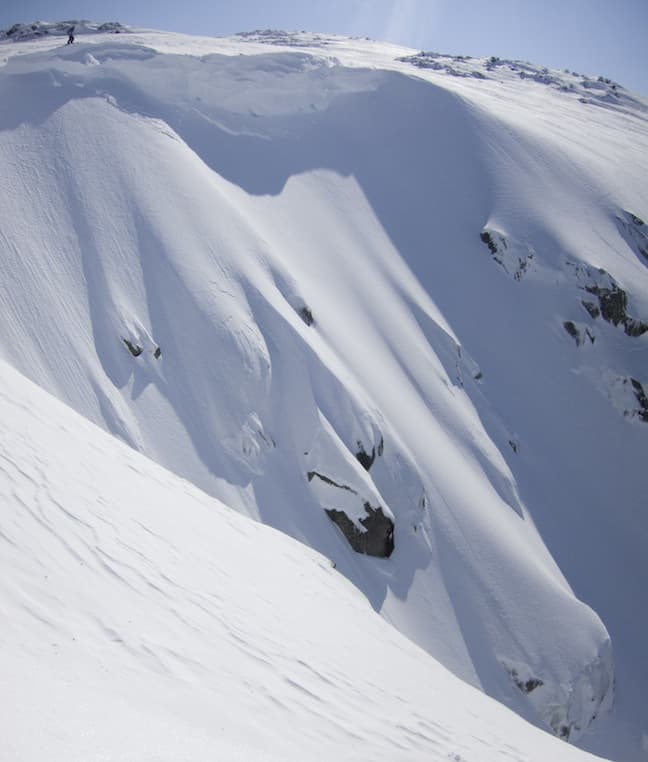 Australia imitating Alaska. Image:: Courtesy Chris Booth
Backcountry ski trips are irrational beasts. To successfully undertake them requires a certain species of human, someone whose blood boils with impetuosity, who can clear their schedule at a moments notice and who sees five hours of walking for three runs as a worthwhile investment; Such was the group assembled at the Perisher Valley Terminal at 6.30am Sunday morning. Simon Dawes Blondel – a French-trained big mountain man and perennial frother-at-the mouth, his eyes alight with excitement was waiting eagerly beside the Charlotte pass snow-shuttle. And Ben Hansen, photography wonderkind and junior photographer at Chillfactor magazine, was quietly preparing his pack.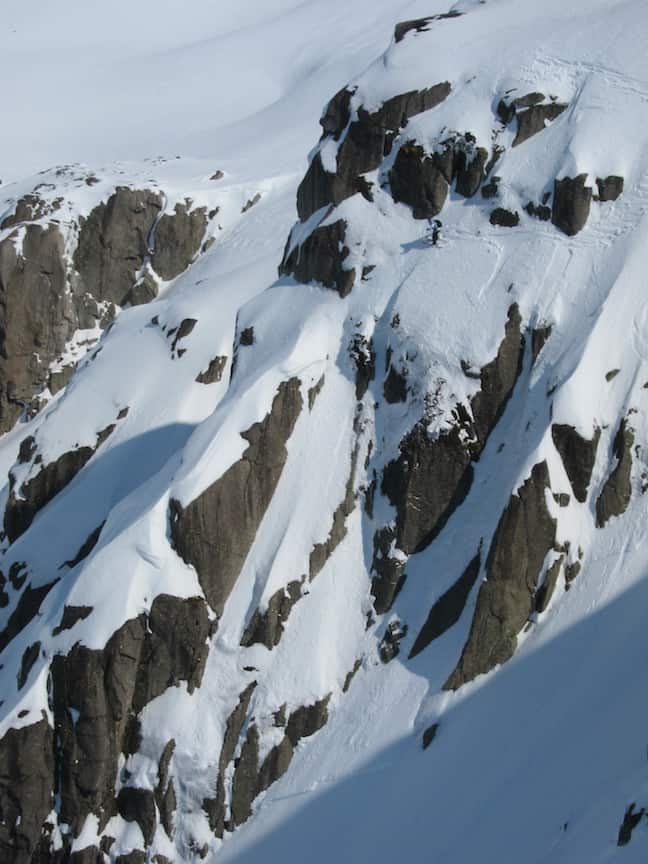 Simon putting his French training to the test. Image:: Courtesy Chris Booth
By 9.30am the three of us stood at the foot of Blue Lake, 2.5km from Charlotte's and just short of the Western Faces, bang in the middle of nowhere, gazing in silent wonder at the Amphitheatre that lay in wait before us. "How many people in Australia even know this place exists?" asked Dawes breaking the silence, "You'd swear this could be Alaska".
The near-50 degree slope was abundant with features, all of which were fluted with wintry goodness, thanks to the near 2m of snow that had fallen only days before. I had never seen the Australian alpine region resplendent in such remarkable beauty.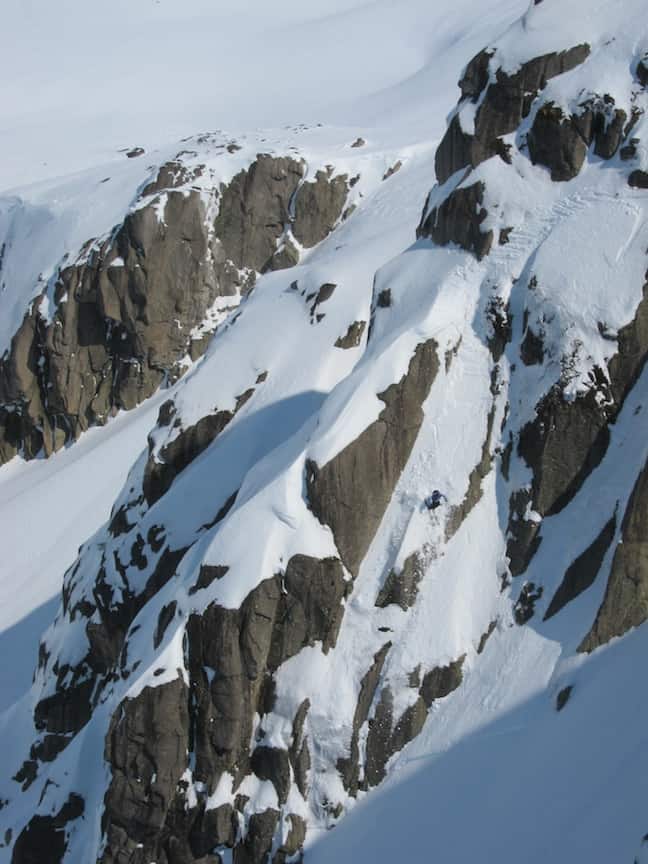 Simon again. Image:: Courtesy Chris Booth
A huge thanks to Rhythm Snowsports in Cooma for the top-tier backcountry equipment, our boy Ben could not have made the trip without it. And lastly, massive thanks to Charlotte Pass, we love the early departure from Perisher Valley – that's what made the trip possible!
This is just a teaser, for the full story make sure you buy yourself a copy of next year's edition of Chillfactor magazine!
Perisher forecasts,
snow reports and
live snow cams.
Charlotte Pass forecasts,
snow reports and
live snow cams.