Boothy's Blog – Do it like the Kavos this winter
July 7th, 2014

Welcome to 2014's first instalment of Boothy's blog. Penned each week by the discerning pro-skier with a hell of a beard.
Mountainwatch | Chris Booth
Last winter, the Mountainwatch office received an email from 16 year-old, Nick Kavo. It went like this: 
Hi Mountainwatch,
After reading Chris Booth's article on the marvel that is Australian skiing, we went skiing down in Perisher, Thredbo and Charlotte Pass. Not fully understanding what Chris meant, me and a group of kids from Southern Alps Ski Club, finally discovered it. We discovered the sidecountry, where perfect untracked snow that we only dream of is available and waiting (although with a long hike back to the lift). We discovered how lucky we are, that our mountains are high enough to offer us unlimited fun while the sun is up … there is no phone reception, no fuss, just a group of kids and the snow. Speeding through the gum trees on a bluebird day IS the best thing that us young, avid, skiers can experience. Thanks for opening this up to us, we made a movie about it, here it is:


After seeing his e-mail, I thought to myself: "Man, I've been trying to capture the vibe of Australian skiing for years. Then Nick, his brother and a couple of mates come along and nail it in one." When I was 16, I was an absolute idiot and it's taken me years to finally tack on to just how lucky we are to have skiing right at home.
So I wrote back to him…
Hey Nick!
I appreciate that you guys felt inspired by the article, but what I'm most stoked on is that you guys actually got out there and got a taste of it yourselves. Most people ski here their whole lives and never see what you guys did. It really is pretty cool out there, and as I'm sure you know, you don't have to go far to feel that sensation of being in nature…
I hope you and your mates continue to get out there and enjoy what our mountains have to offer.
Chris
A few days later, Nick got back to me:
Hey Chris.
Thanks so much! Really is cool of you to check out our video, means a lot.
… We just traversed as far as we could off Eyre T-bar and when we saw no tracks, we went down, then had a brisk walk along the road back. For a first time side-country trip it totally opened my eyes, there is so much rad terrain there…
 I think it's time to invest in a pair of skins, and twin tips – the race skis I was using made turning a bit difficult and the walk back to the t-bar was getting like a bit of a trek!
I also forwarded your email to some of the guys in the movie, and one of the nine-year-olds who was with us (who shreds) already put skins on his christmas list!
Been watching Mountainwatch recently, by the sound of the Grasshopper looks like it is absolutely going off down there!! So, so, so bummed I can't get down there

Nick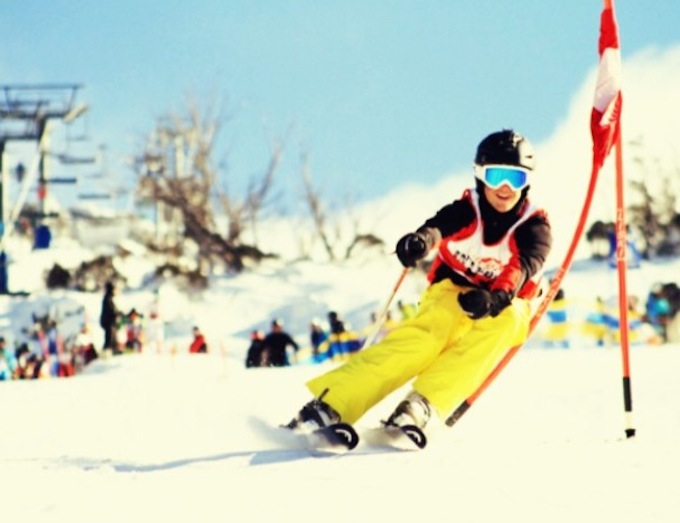 Nick Kavos. Looking like he's just stoked to be on his skis Image:: Supplied
This weekend marks the beginning of the ski season, and yet already I'm hearing doubt – on the tele, in coffee shops, at the Snow Travel Expo and wherever else. Yeah, it's been hot in Sydney and we haven't had our first winter fall yet – it's not the first or last time we'll see that happen – but when it arrives, and it will, take a leaf out of the Kavos' book and get out there and get amongst it. Bloody marvellous.
Take a bow Nick Kavo, the skiing public of Australia could learn a lot from you