Boothy's Blog – More than turns down a hill
June 15th, 2014
Mountainwatch | Chris Booth
When I ask myself why I go to the 'snow', my natural response is 'turns down a hill'. So when faced with the prospect of going to the 'snow' over opening weekend and not being able to actually make turns down a hill, I had a strong sense to not bother. But Sophie was keen, so we packed the car – without skis – and left Sydney.
We drove down Lawrence Hargreave drive, through Coledale then over the hills into Berry. We followed the river to Nowra, then went south through Milton, Mollymook, Mogo and Moruya. We crossed into Bodalla Shire and bypassed Dalmeny. We wound down into Narooma and stopped for a beer at Bermagui. We overnighted by the beach at Cuttagee then said goodbye to the sea at Tarthra. We drove west through deep green paddocks towards Bega and over to Bemboka, where we stopped by the old Presbyterian Church before snaking up the many switchbacks of Browns Mountain. Once up the escarpment we coasted along the Monaro plains and stared into the golden rolling nothingness for what felt like hours. We turned left at Nimmitabel, for Dalgety, and passed a wind farm up a long dirt road, then followed the Snowy into Jindabyne and up to Perisher. We made a fire at the lodge and read last year's newspaper. We walked the main range track and saw Blue Lake and Hedley Tarn. We made cups of tea. We watched the 'Ukes' play the Sundeck. We watched as snow fell slowly from the night sky then settle into the grass. And for the first time in a little while, we felt far away from home.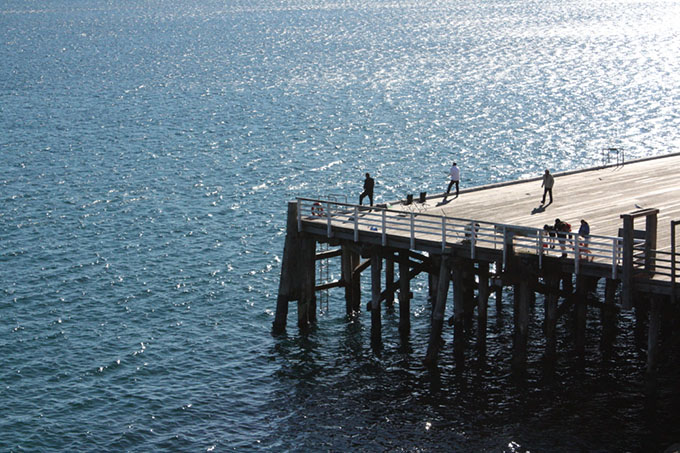 The old Tathra wharf, an idyllic place to stop Image:: Chris Booth
By Monday night, as we ambled slowly back through greater Sydney, I wondered whether my attraction to the 'snow' really is about turns down a hill. I slept on the idea and then thought about it some more on Tuesday. By Wednesday I was once again ensconced in the throw of a regular week, in everything I knew, and realised that there is a great deal more to why I go to the 'snow'.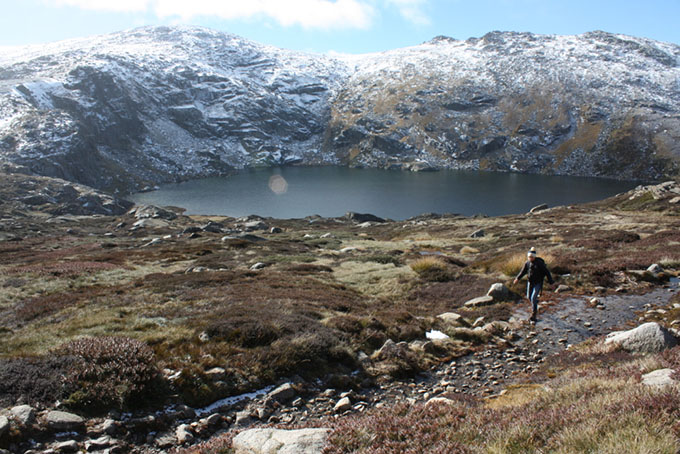 Blue Lake, in the transition to winter. Come July and that lake will be frozen over Image:: Chris Booth
It's this idea of an escape to the mountains which, more than anything, is able to pull me from the whirlpool of my regular life, and awaken my senses to an existence a little bit bigger than the one I'm living. As a city person, and as a coastal person, this idea of mountain life as a 'thing' has taken me the last 20 years to grasp, and will probably take me the next 20 years to actually understand. But I'm slowly getting it. It's not just turns down a hill that I'm after, it's the whole breathtaking notion of being in the mountains; the escape from the city, the journey from the sea, the altitude, the eventual cold, and every passing cow, rolling plain, and rusted tin roof that gives me an opportunity to feel something that isn't my suburban, coastal life. That's what keeps me coming back. Snow or not.
Turns down a hill are pretty good though.