Buller X – Proof of Big Mountain Freeriding in Our Backyard – Event Recap
September 22nd, 2017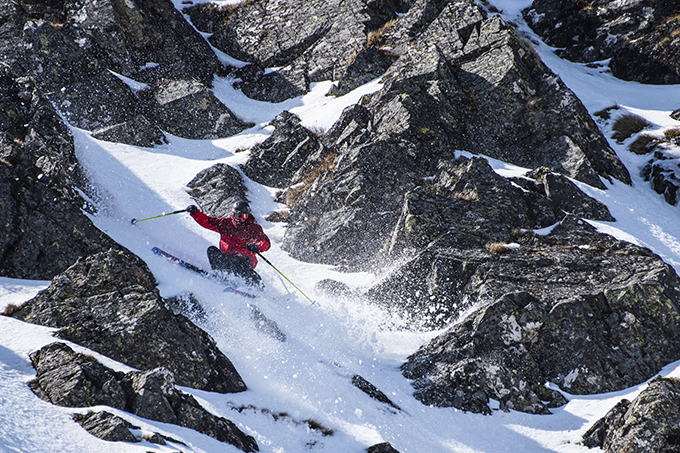 Coen Bennie navigating just one of the coight-clenching chutes on Thursday's finals. Photo:: Harro
Mountainwatch | Buller X
After a tantalizing wait all winter for snow and weather conditions to align the first "Buller X" extreme freeride competition got underway at Mt Buller yesterday afternoon in superb spring conditions. Australia's freshest elite snowsports freeride event took place in the steep 'double-black diamond' rated terrain off Mt Buller's summit with an enthusiastic crowd of onlookers taking up viewing points in resort and an international audience tuning in for the live webcast.
An international panel of judges reviewed all the runs and settled on Coen Bennie-Faull and Nate Johnstone as the overall winners for ski and snowboard respectively.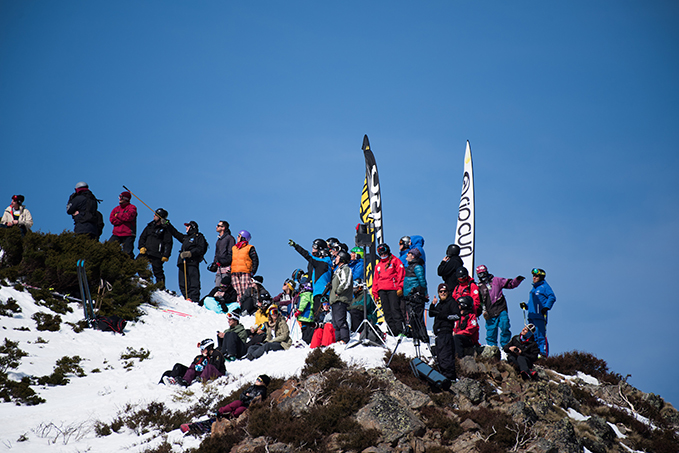 A spectacle of sorts, the crowd took great pleasure in watching Australia's best skiers and boarders navigate the less-than accommodating terrain. Photo:: Harro
Bennie-Faull and Johnstone were unanimous choices by the entire judging panel and the athletes' own vote for their courageous line choices and superb execution on the steep course.
"It was an incredible display of Australia's rich freeriding talent and I am blown away by the lines these athletes produced for the first ever Buller X presented by Rip Curl. They are all world-class," said event founder and director Tony "Harro" Harrington.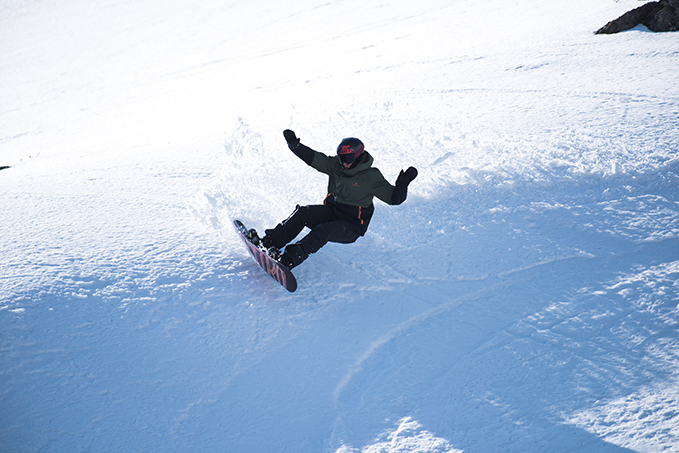 Not quite blower, 1st place winner Nate Johnstone still managed to throw buckets anyway. Photo:: Harro
"It's a daunting exercise to put 16 athletes through such a technical course in a tight weather window and do it safely. It's thanks to a tight, professional team here at Mt Buller this has been possible and I think we inspired a few people today with the show these athletes put on. The athletes picked some intense lines and put on a jaw-dropping show. I don't think anyone at Mt Buller will look up at these chutes in the same way again after seeing what these skiers and boarders were able to do in there."
Neil Ridgway, Marketing Director for Rip Curl Australia was watching the event and cheering in the crowd, "I think people watching around Australia and overseas will be awestruck by the extreme terrain here at Mt Buller and the sheer depth of talent in our local freeride skiers and boarders. Rip Curl is proud to be associated with a new style of event like this that is all about fostering stoke in skiing and boarding and celebrates snow in Australia."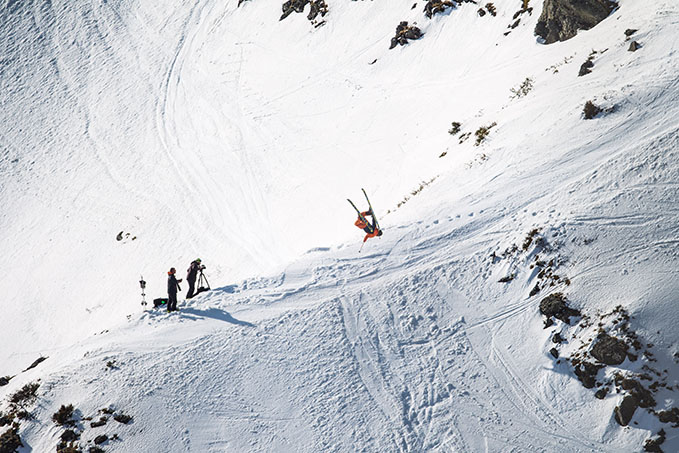 This wasn't a case of huck and hope, competitors such as Ben Murphy here were precise in their planning and executed with destinction. Photo:: Harro
Buller X 2017 Results
Snowboarding
Nate Johnstone (NSW)
Ryan Tiene (NSW)
Allie Coates (Vic)
Nathan Louis (NSW)
David Gill (SA)
Tim Vlandis (NSW)
Sabrina Fiebig (Vic)
Skiing
Coen Bennie-Faull (Vic)
Edward Casey (NSW)
Ryan Cooke (NSW)
Danny Foster (Vic)
Ben Murphy (NSW)
James Mort (NSW)
Katya Crema (Vic)
Harrison McInnes (NSW)
Tom Weber (Vic)
Buller X – Wrap Up Video
For full individual runs, click here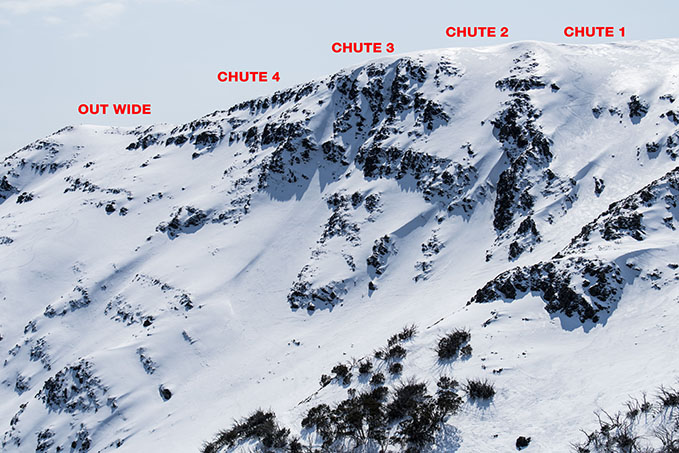 No matter which ending you choose, either way will give you Goosebumps. Photo:: Harro
Coen Bennie-Faull and Nate Johnstone have each won a 'money-can't-buy prize' from Jackson Hole Mountain Resort in Wyoming, USA. They are heading off to film with the Teton Gravity Research film company while exploring the majestic Teton Range this northern winter. Teton Gravity Research is regarded as snowsports most progressive and award winning production company who produce documentary work with the world's best skiers and boarders.
Buller X Ski Champion Coen Bennie-Faull summed it up with "It's so sick, definitely some of the best big mountain terrain I've seen in Australia and definitely one of the best venues in the world that you could hold an event like this on".
World Champion snowboard Halfpipe athlete, Olympian and Buller X Champion Nate Johnstone exclaimed "It's unreal, I've only been to Mt Buller a handful of times and to ride this terrain is so much fun, especially in these kind of conditions".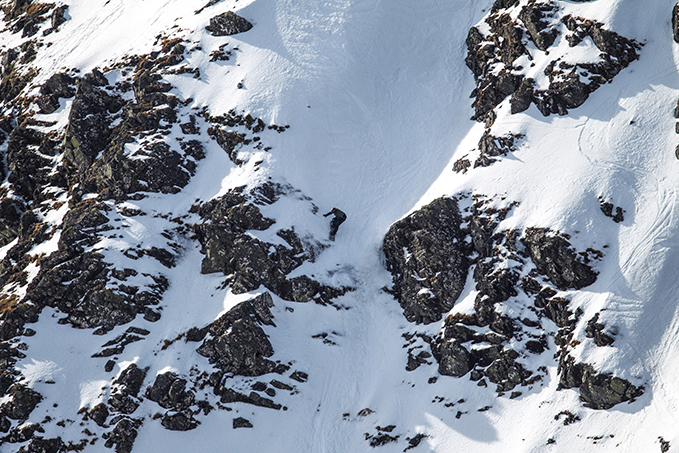 Think fast or finish last, lucky Nate Johnstone didn't do the latter. Photo:: Harro
Tom Weber explains "The Summit runs compares to nothing else in Australia, to find something like that you've got to go overseas".
Mt Buller local boarder David Gill took out the Giro "Best use of a helmet Award", Buller X runner up skier Edward Casey as the "Giro Emerging Talent" award and NSW skier Ryan Cooke claimed the "XTM Best Air" award with multiple cliff drops down the extreme terrain.
Thanks to event supporters for making this all possible: Mt Buller, Mt Buller Mt Stirling Resort Management, Rip Curl, Jackson Hole Mountain Resort, Teton Gravity Research, Giro Australia, Volkl, le Bent, XTM Performance and HarroArt.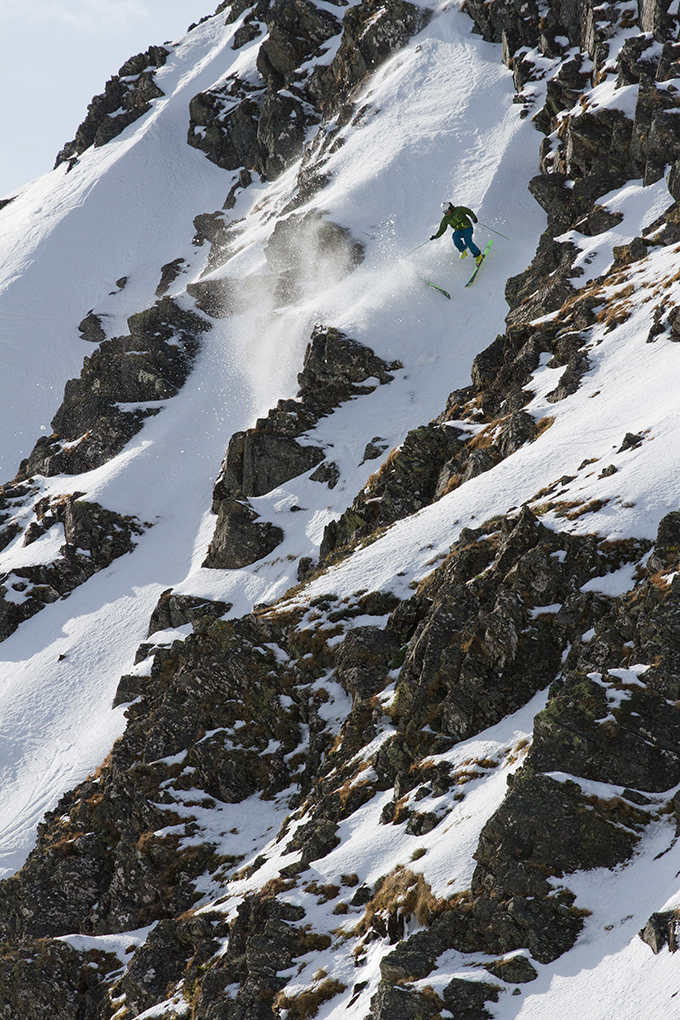 … and at about this point, Danny Foster knew something was wrong. Photo:: Harro
For more information click here
Mount Buller forecasts,
snow reports and
live snow cams.